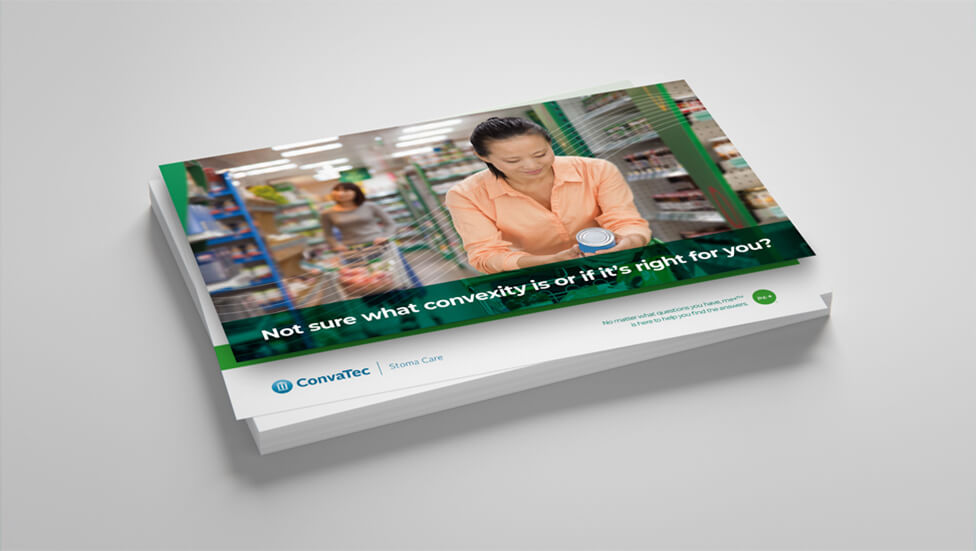 Inspired by the wide range of product options available, this healthcare direct mail pack is driven by the concept of flexibility, both from a design and format perspective.
Background
With over 8,000 employees doing business in 100 countries, ConvaTec focuses its efforts on the development of medical products and technology for the management of chronic conditions, such as continence and critical care, and ostomy care.
The company's products provide a whole host of clinical and economic benefits including preventing infections, protection of at-risk skin, reduced cost of care and improved patient outcomes.
Challenge
Within stoma care, ConvaTec offers an extensive range of products to suit different patients' stomas, abdomens and lifestyles across different stages of the process: post-operative, home recovery or while using the product in their daily lives.
Focusing on their range of convexity solutions, ConvaTec came to us to help them raise awareness of their portfolio through a direct mail campaign that needed to immediately engage and trigger a response.
Our client also wanted to help their customers select the right type of product within the convexity range depending on individuals' specific needs. Regarding positioning and messaging of the healthcare direct mail campaign, our design should align with other assets already developed for the wider convexity campaign, such as a series of emails.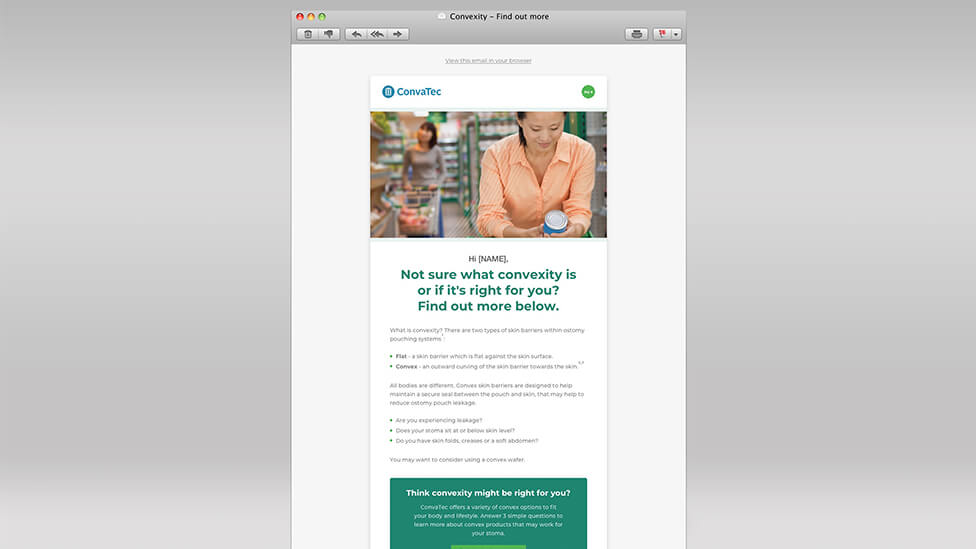 Solution
Inspired by the wide range of convex options available to suit different body types, our creative solution was driven by the concept of flexibility, both from a design and format perspective.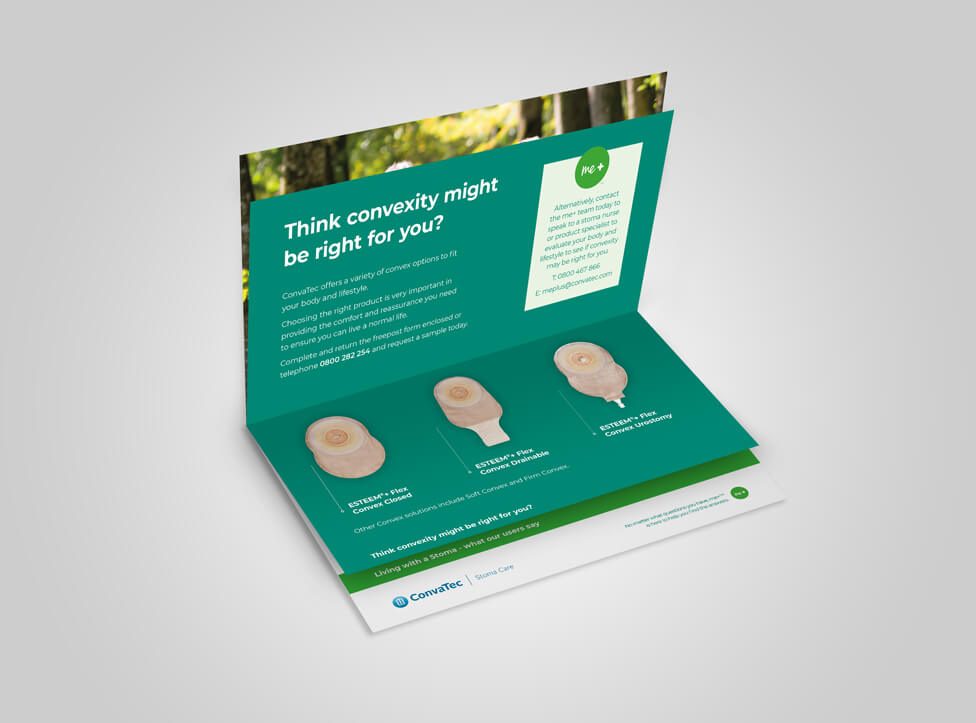 To show the levels of flexibility offered by the product, we commissioned photography to show how the different options available can easily flex and mould to the body.
With lots of detailed information to include in the healthcare direct mail pack, and also to provide the target audience with a sense of build-up and reveal, instead of a standard 4-page leaflet we opted for a fan, tab-based design.
This format also allowed for the pack to be self-seal, encouraging the target audience to open it straight away, instead of the potentially more cumbersome envelope & inserts format. We designed the last page of the DM pack in a slightly larger size than the rest, which gave us room to include logos and key messaging in the bottom section, always visible as target customers browse through the different pages of the mail pack.
From a content and messaging point of view, real customer stories – including testimonials – help bring the product benefits to life.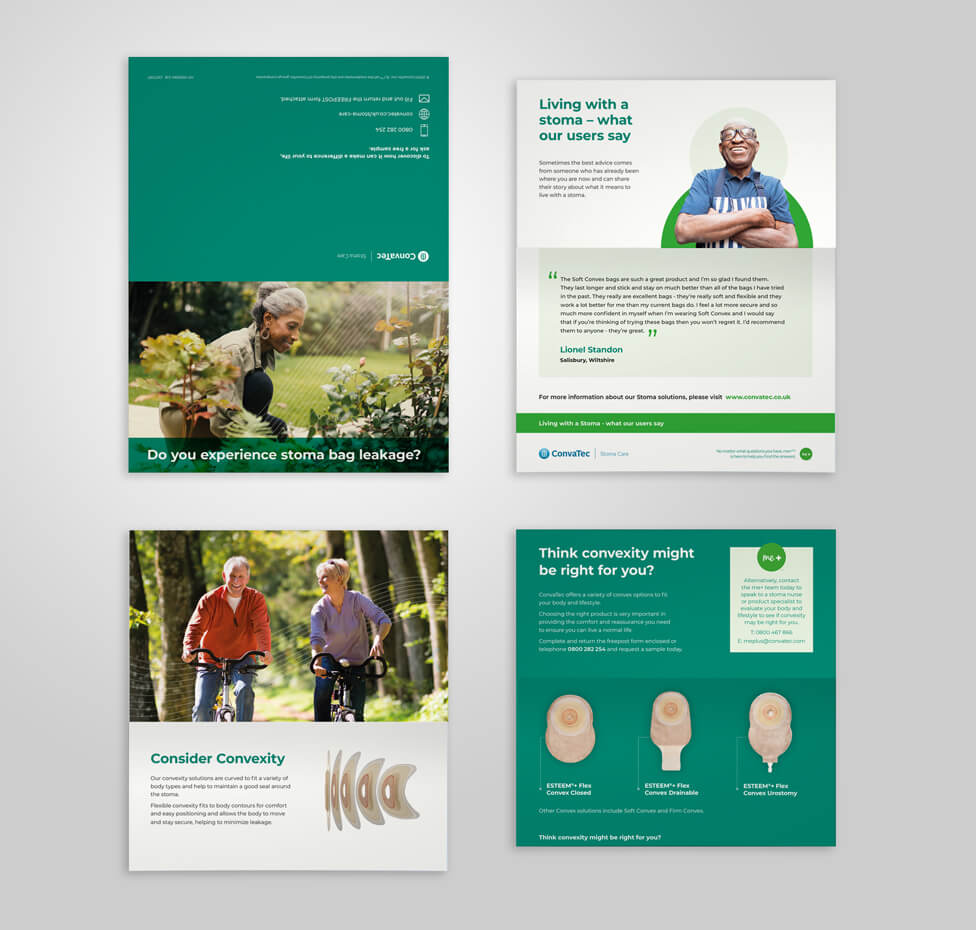 The theme of movement and flexibility continues in the design thanks a set of graphic lines that flow through the hero images, carefully chosen to transmit a sense of trust and reassurance: the lifestyle shots show customers carrying out activities that otherwise wouldn't have been possible without ConvaTec Stoma Care solutions.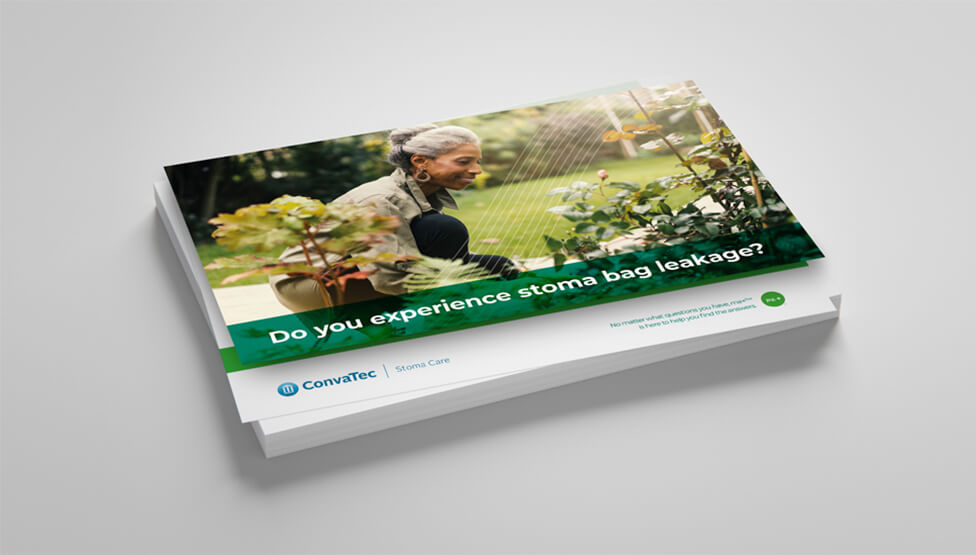 Leading headlines constructed as a question act as irresistible teasers, helping start an honest conversation and encourage audiences to find out more.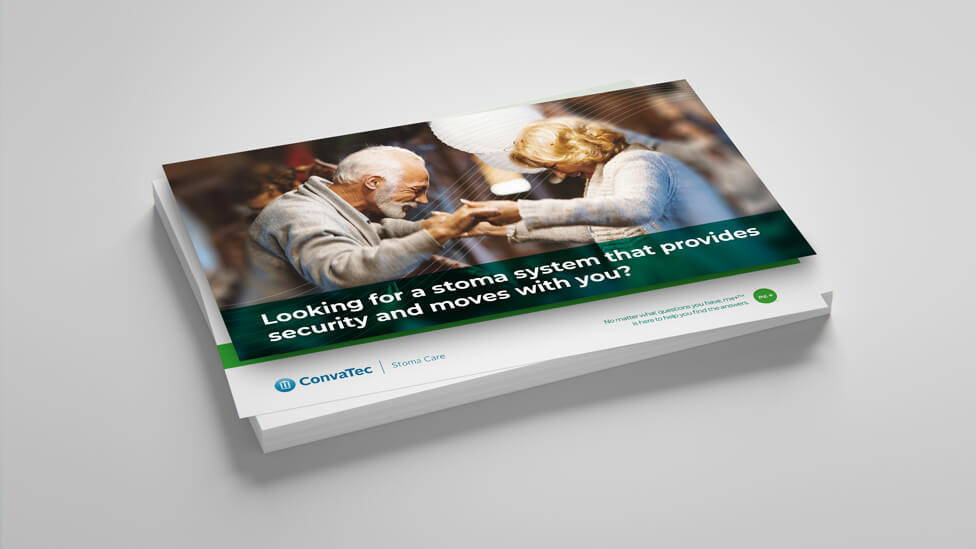 Tone of voice and branding were aligned with brand guidelines to ensure a consistent and familiar customer journey.
"Huge thanks for your attention to detail with this creation, I'm really pleased with the finished article.

It's been a pleasure working with you." – ConvaTec Marketing Manager
The healthcare direct mail pack also included self-seal sample request slips.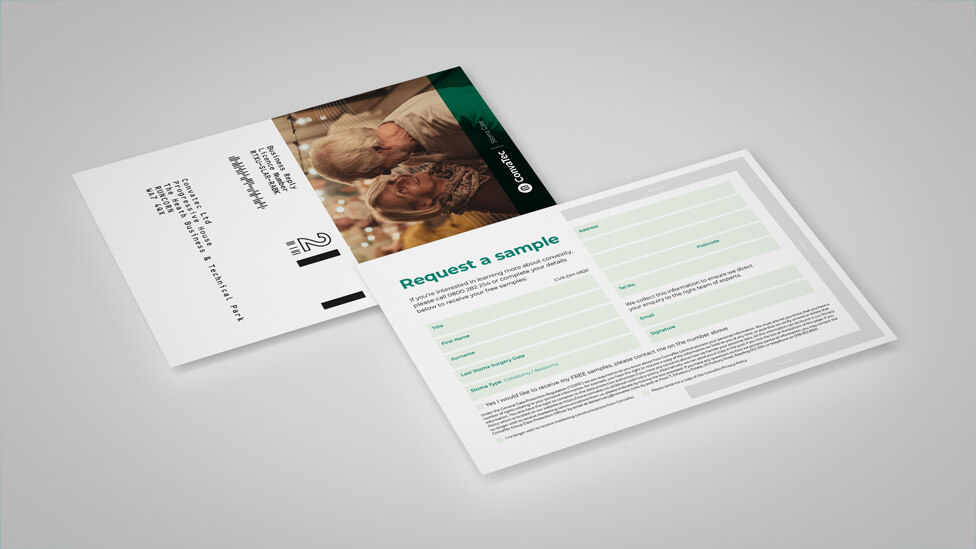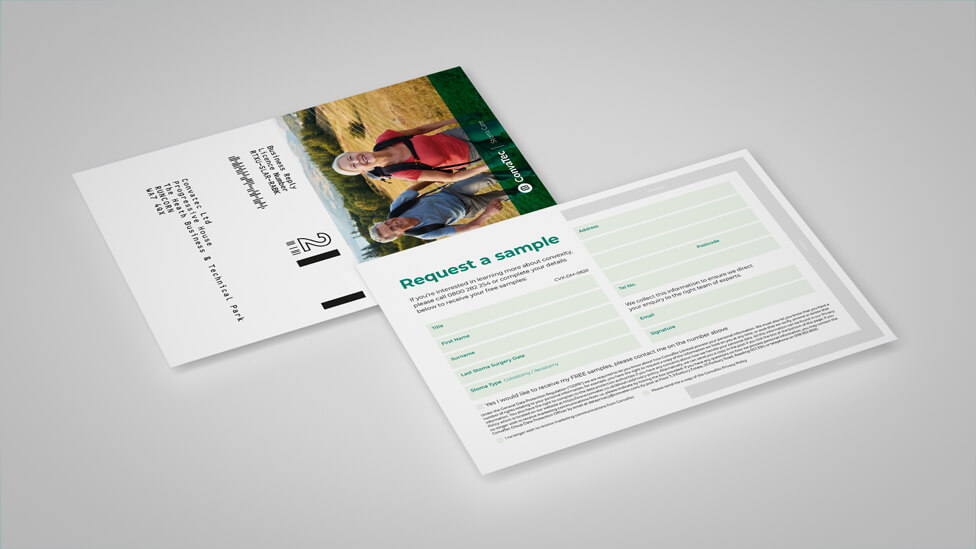 In total, the direct mail campaign consisted of three mailings, with differences in creative and messaging depending on which product was being promoted. Distributed to targeted data cells across a 3-month period, early analysis of response rates and sales uplift have been encouraging.