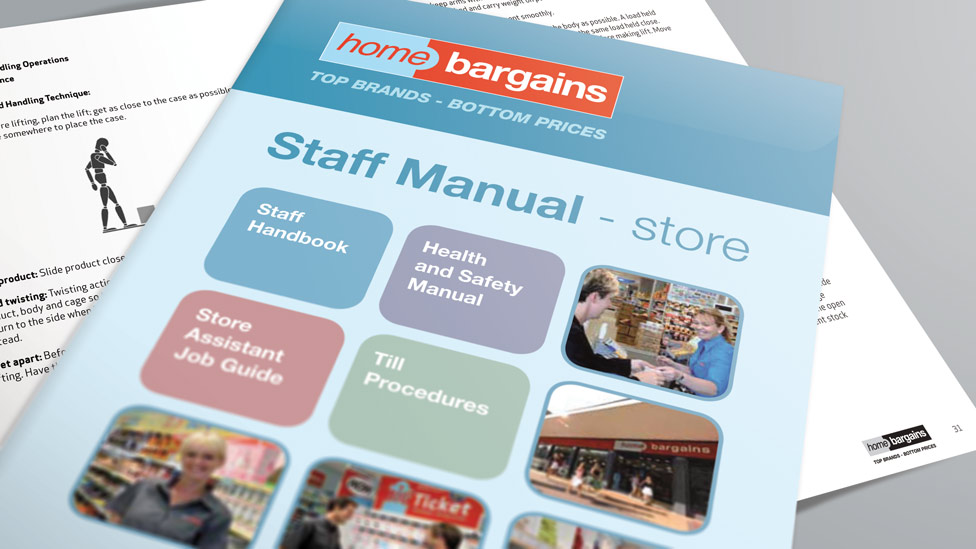 We designed a valuable staff manual that helped Home Bargains formalise their processes and procedures.
A staff manual design is a useful business tool for any company. It helps improve the consistency of working processes and is an effective communication tool, setting out company rules and statutory or regulatory procedures. Generally, employee handbooks include induction procedures, terms and conditions of employment, basic skills and training, health and safety advice, remuneration and reward schemes.
Home Bargains were keen to formalise their processes and procedures in a comprehensive and informative manual design, and create a valuable document which sets precedents for existing and new employees alike. Also included within the staff manual design is a guide for new store assistants and comprehensive instructions on cash till procedures.
Information design requires a particular skill to create layouts which are easy to understand on all business levels, with clear diagrams and easy to digest sections. In order to do this, we developed a crisp layout with clean typographic hierarchies and custom-drawn illustrations. The cover features the familiar Home Bargains brand style, and shows a variety of store photography.