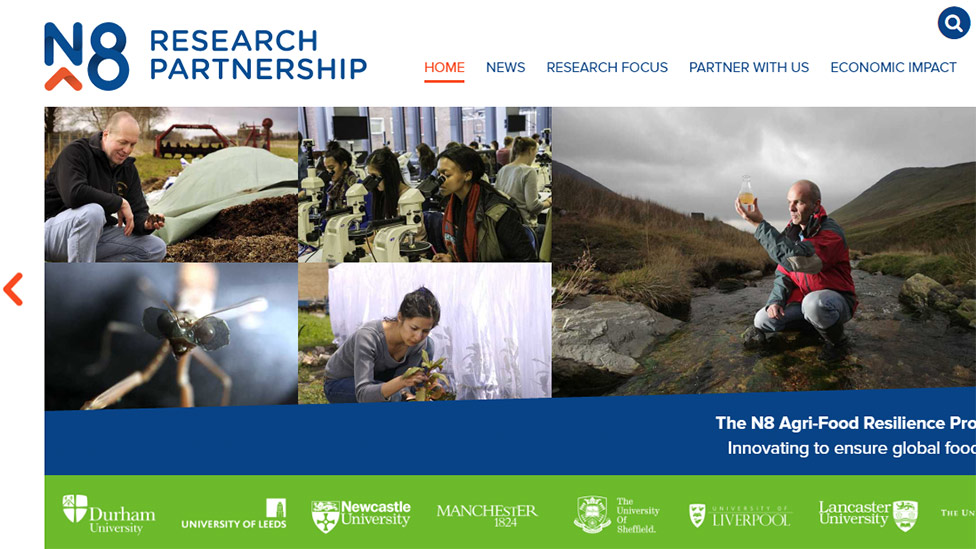 98.5% increase in new visitors – The N8 Research Partnership came to Parker Design to help them with a new brand and website design that matched their ambitious 4-year vision.
Background
The N8 Research Partnership is a collaboration of the Universities of Durham, Lancaster, Leeds, Liverpool, Manchester, Newcastle, Sheffield and York, the eight most research-intensive Universities in the North of England. The partnership drives collaboration between Universities, industry and society with the aim to maximise the impact of this powerful research base. N8 achieves this by promoting collaboration, innovation, and driving economic growth. N8 also plays a pivotal role in the Northern Powerhouse proposal, the government initiative to boost economic growth in the North of England, designed to rebalance the UK economy and shift the traditional focus from London and the South East to the vibrant and dynamic North.
N8 works closely with industry to ensure businesses can easily access world-class research. The impact of the collaboration is evident from the latest figures: collectively, the Universities generate more than £800m of research income per year and employ more than 19,000 academic staff, the largest research partnership in the UK.
Challenge
As part of the unveiling of their new 4-year vision, N8 required a new brand and website design. The website, and the digital strategy behind it, had to be designed and built in a way that would fully support their ambition to continue to foster innovative research and collaboration between academia, business and society. The website needed to serve as a flexible resource to showcase N8's latest research and innovation initiatives.
Solution
To support N8's ambitious 4-year vision, we fully overhauled their brand and website design: we created a new identity, brand guidelines, new templates for brochures, presentations, e-newsletters and reports, and we also refreshed their Twitter feed and LinkedIn identity.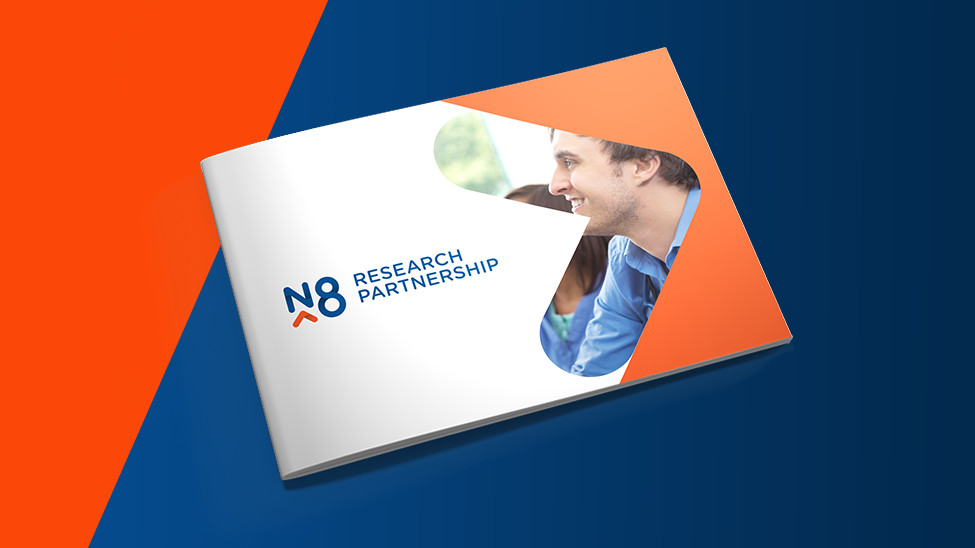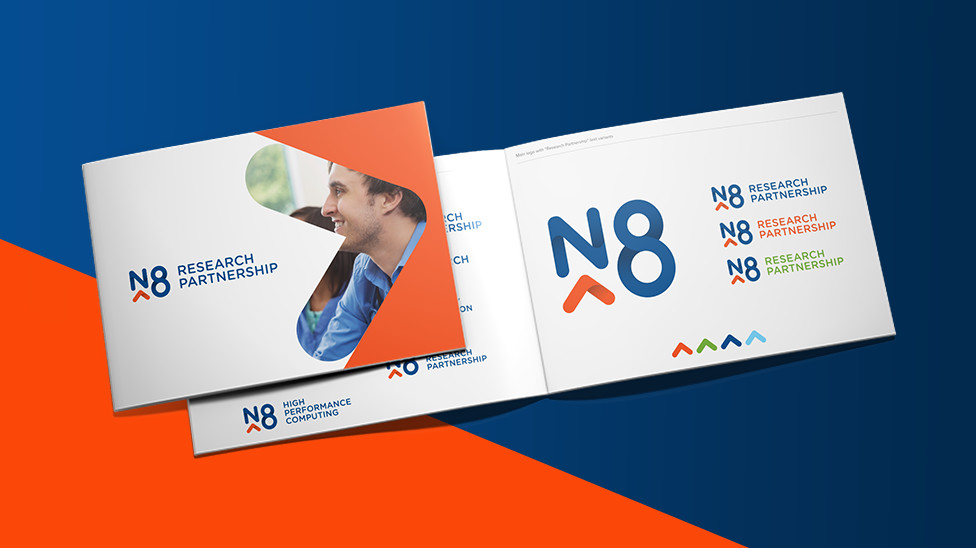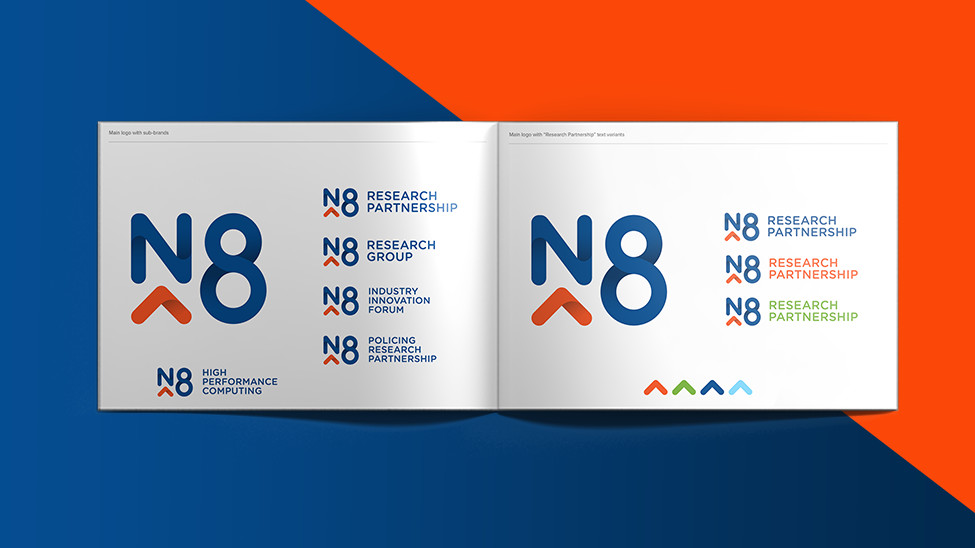 All these enhancements would be lost without a website design that reflected what N8 represents and wants to achieve, both in terms of design and functionality. The website plays a major role in N8's strategy, and we delivered a new approach and design that reflected N8's future direction and strategy for the next 4 years, both in terms of design and functionality. The design and build make it easy for visitors to collaborate and interact.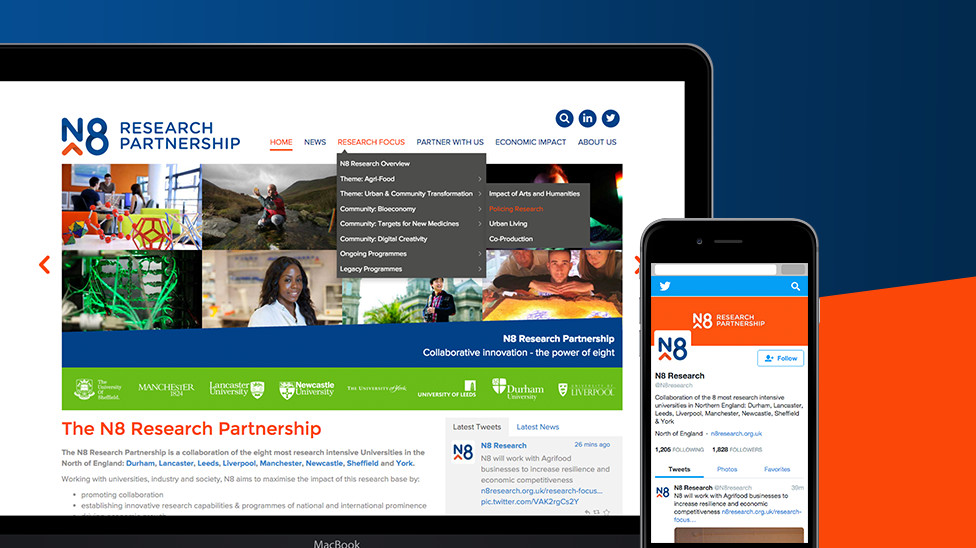 The website also showcases the different research themes and individual Universities, and never deviates from the collaborative and unified approach the partnership represents. It hosts a vast pool of research information and guarantees the smoothest journey for the savvy audience – a combination of users already familiar with the partnership, academics and industry leaders, along with government, research, private and public bodies, and the general public. The website is a celebration of the talent N8 represents and the digital equivalent of N8's role as facilitator.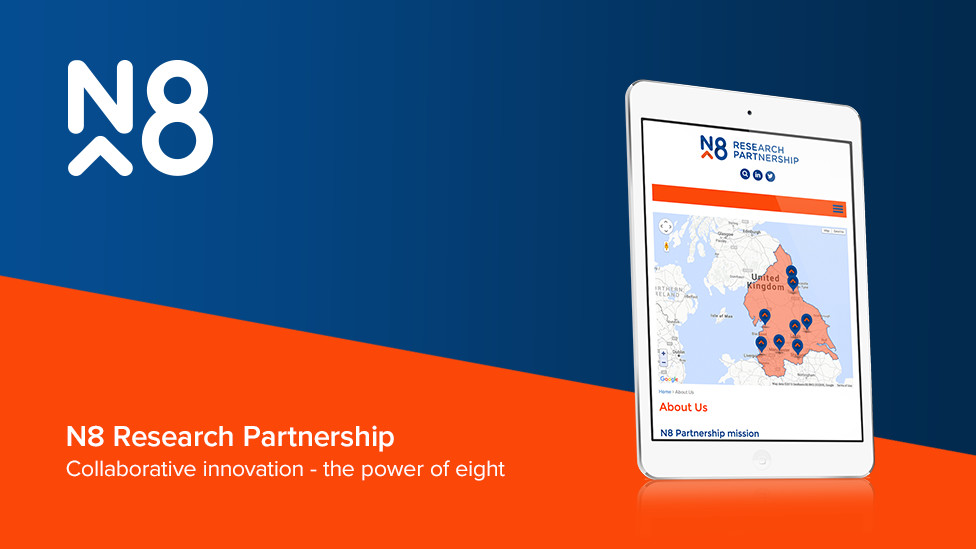 We were faced with the creative and technical challenge of having to accommodate vast amounts of information, as well as ensuring that the website evolved at the same pace as the research. After a consultation process with N8, we designed a customisable and flexible CMS (Content Management System) that makes it very easy for administrators to publish dynamic content easily in line with the latest research.
We structured the website with interchangeable key focus areas so that the flow of information could be changed quickly and easily. We carried out a full redevelopment of the existing website – migrating 100+ pages of relevant content – as well as making it fully responsive on all devices.
Highlights
Strong and powerful images to help highlight the partnership's expertise.
Insightful and inspirational testimonials behind the images to support the overall message and encourage the user to spring into action.
Impactful infographics of key call-outs on landing pages, powered by animated HTML5 Canvas and jQuery elements.
Modern paired typography for easy article reading with imagery-led page card system.
Retina (high resolution display) support throughout.
Customisable CMS allows full control of all assets, related content-tagging in carousels, downloads, and more.
Integrated newsletter sign-up and e-newsletters.
Potential for hosting interactive activities and dynamic linkage to other sites.
Potential inclusion of videos from events, research programmes, and more.
Scope for future initiatives and their developments.
Extendable SEO functionality.
Results
A year on year comparison of analytics further proves that the website is the successful information and collaboration tool we were asked to create:
Overall sessions increased by 29.8%.
98.5% increase in new visitors.
157% increase in returning visitors.
Mobile usage increased by 43%.
Homepage is 132% more efficient (based on unique page views).
User engagement increasing in every timeline/duration.
"The new N8 website is a key tool enabling us to communicate effectively the exciting range of research programmes that the Northern Universities are putting in place."

Director, N8 Research Partnership