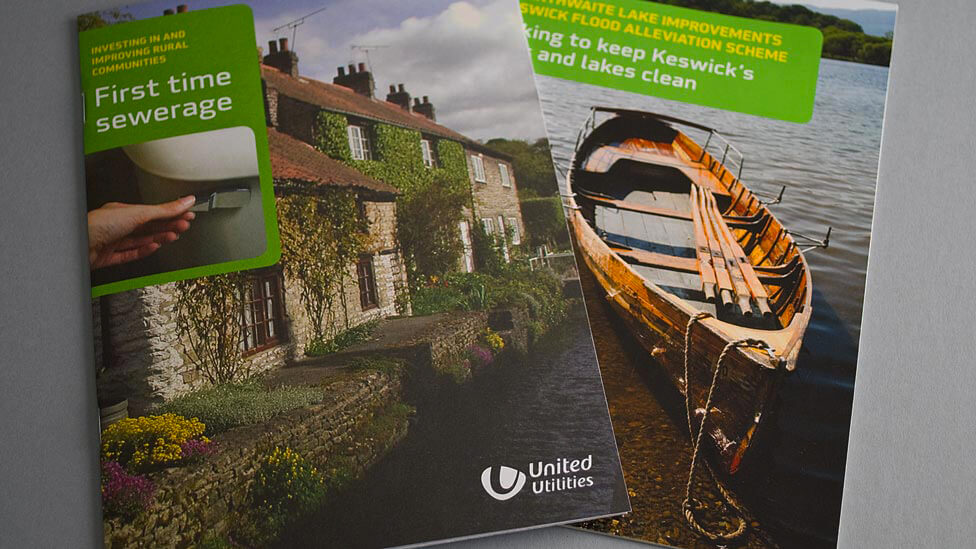 Information booklets that helped United Utilities to keep their customers informed in an engaging and memorable way.
Booklets are a great and cost-effective way to keep customers informed. As one of the North West's largest utility companies, United Utilities really understand the value of building good customer relations.
As the one of the North West's largest utility companies, United Utilities serve over 3 million households and 200,000 businesses. With an operation of that scale it's vital that it builds and maintain a good reputation with those customers. Working alongside United Utilities' communications team and project managers we produce a huge number of information booklets, informing customers of any latest developments or initiatives.
Although United Utilities don't have a regulatory requirement to keep their customers informed, it understands the immeasurable value in good public relations. If it has to dig up a road, divert traffic, temporarily close a car park, it's going to cause disruption for those in the vicinity. Through a series of well designed and well written information booklets the 'disruption factor' can be reduced substantially.
"We have thrown pretty much everything at Parker Design over the past six months,

from fast turnaround report covers to developing innovative exhibitions and their response has been

consistently enthusiastic, creative, helpful and always on time."
We have found over the years of producing these information booklets the number of complaint calls received by United Utilities can be vastly reduced. When people know the reasons behind a disruption, they are far more likely to be understanding. The information booklets are written in a sympathetic, conversational tone of voice and we'll often commission photography of the local area to give them a personal touch. Where required, we'll also draw stylised and simplified maps showing phases of work, area's affected, traffic diversions, to include in the information booklets.
As part of United Utilities' commitment to sustainability and corporate responsibility we suggested that all information booklets be printed on recycled paper. We also utilise digital printing technology to ensure just the right number of booklets are printed to minimise waste and help protect the environment.