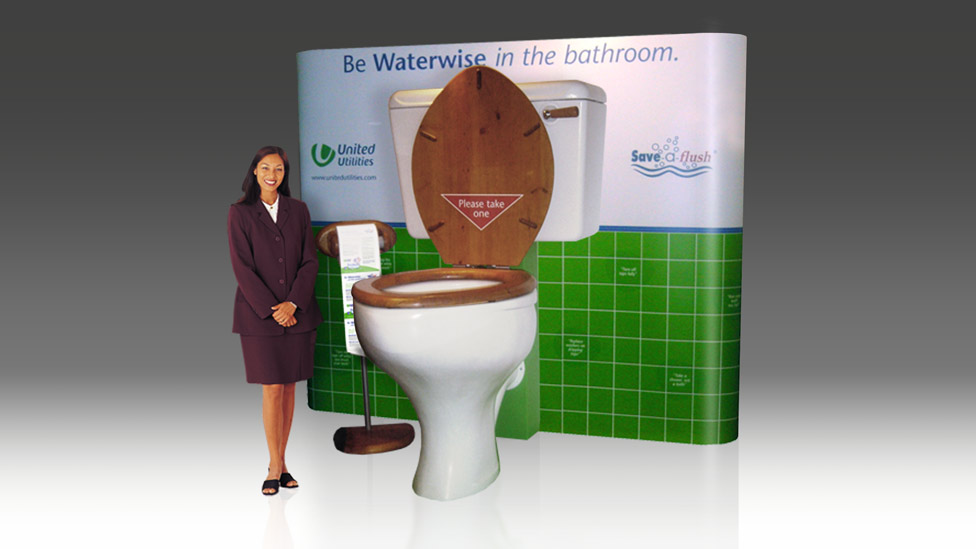 When United Utilities wanted a portable exhibition stand to promote the use of their 'Save-a-flush' product, they came to us looking for ideas.
The portable exhibition stand was to be used on a roadshow tour around industries across the North West. As part of a promotion encouraging people to use less water in their bathrooms, United Utilities wanted to give away packets of the Save-a-Flush crystals, designed to reduce the amount of water used in each flush, along with accompanying literature. It didn't take long for us to come up with a novel idea that would ensure the exhibition stand couldn't help built get noticed.
Working with a Manchester based model makers, we designed and commissioned a 7′ model of a toilet. Hand carved from polystyrene, coated with GRP plastic and painted in high gloss white, the model had the look and feel of a real ceramic loo. The look was completed with a solid wooden seat, lid and handle. To set the loo into context, we produced a pop-up portable exhibition stand to fit behind the model, designed with graphics to look like bathroom tiles. The entire portable exhibition stand was designed to collapse down into component parts and fit into the back of a van to allow it to be easily transported around North West venues.
The bags of crystals were piled up in the bowl of the toilet, and despite going against every better instinct, people couldn't resist reaching in and helping themselves to one! The real crowning glory to this magnificent throne was the accompanying literature. We sourced a printer who could print and perforate the double sided full colour A4 sheets on a long roll. When fitted to the oversized loo roll holder we had made to match the toilet, the experience was complete!
The portable exhibition stand, affectionately nicknamed 'The Big Bog' by United Utilities staff, was no flash in the pan, in fact it has been so popular that we've gone on to build two further matching models.