"The overall feeling was one of excitement that left people talking about the Light concept. There was a very positive response from everyone on their new dynamic and unique new brand development"
Background
Corporate reputation is a tangible and measurable concept that can significantly affect a company's performance. In today's digital era, reputation should be managed closely and carefully. And Polecat can help.
With a passion for technology, Polecat helps global organisations successfully manage their reputation and make effective decisions thanks to a suite of reputation risk solutions which, powered by machine learning and AI, are the result of combining the most advanced analytics with human expertise.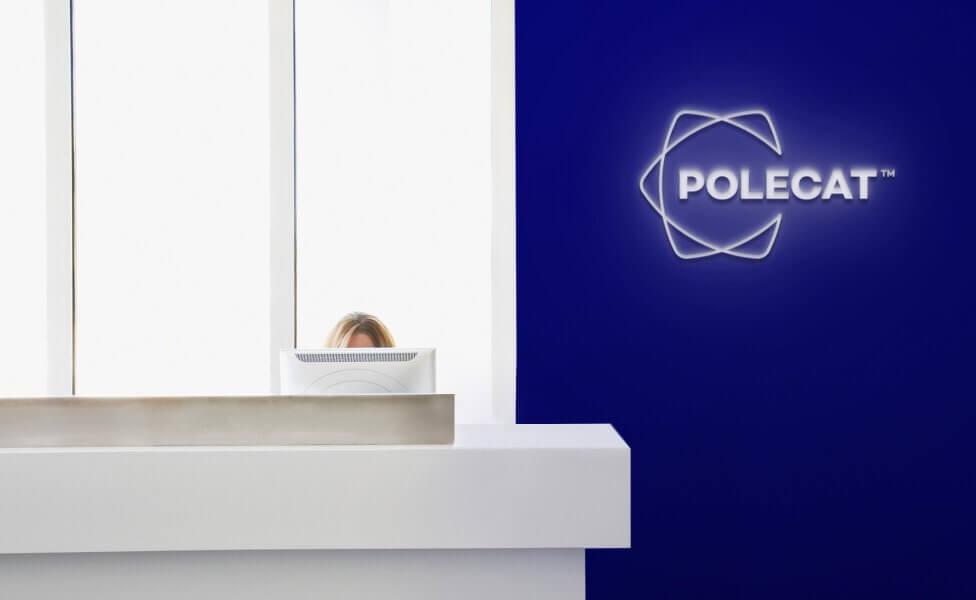 Polecat helps clients proactively lead the narrative, and not just rely on a reactive approach. How? Through a risk intelligence platform that's fed information and data, drawing on over 300,000 sources including broadcast data, advanced analytics and tens of millions of real-time social media posts every day.
Challenge
Polecat felt it was time to explore brand perceptions, reinvigorate it, reach consistency around what the company stands for, and strengthen its ability to communicate it, both internally and to external audiences.
A deep brand development exercise was needed to present Polecat as tech-driven organisation that provides answers to everything its audiences need to not only protect their reputation, but also to be seen to protect it.
Key Points of Focus

Strategic brand planning to deliver:
the brand's purpose, mission and vision (with internal and external reach); value proposition, messaging and company positioning; a perfect fit of proprietary products within overarching corporate brand.
Creative development:
one single distinct brand identity (including consistent tone of voice, and visual and online identity); visual look and feel that embraces the complexity of what the brand stands for; online visual look and feel that carries the strength of Polecat's innovative technology focus; creation of brand assets (brand guidelines, PowerPoint template, sales brochure, website, flyer, white paper, initial brand campaign ad).
Solution
Following a process of discovery – interviews with internal stakeholders, both in London and the US, Polecat customers, a brand workshop with key members of the Polecat team, and a full audit of existing brand materials – we were able to gain a deep understanding of the brand internally and externally, and the company culture.
This then allowed us to formulate a brand strategy inspired by the excitement that innovation, technology and the power of human intelligence bring to Polecat's reputation risk solutions.
For the brand proposition, we considered several themes: Human intelligence, Technology-led, Owning reputation, Thought leadership, Ambition, It's for the big players.
Themes came together in the new core brand message we articulated –

"Our technology, passion and expertise work to help you

forecast the future in which reputation is no longer a risk,

it delivers the economics of success that you and your business needs"
A set of values was identified:
Enabling – thanks to Polecat's imaginative focus, reputation is no longer only about risk, but about ambition and brand
Valuable – reputation understood as a measurable KPI, it adds value to the bottom line
Compelling – our client's expertise in shaping the reputation industry through technology exceeds expectations
Credible – Polecat's objective approach delivers a platform to create accurate data intelligence that can be as trusted as the human care and intelligence behind it
Visually, our conclusions are carried by the concept of light.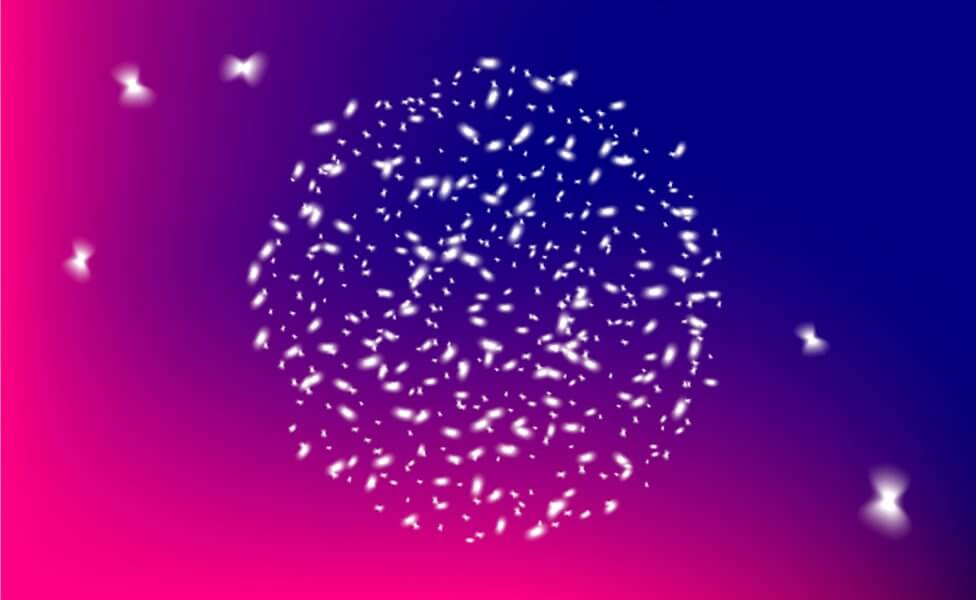 Light travels faster than sound, it illuminates what you can't see in the darkness, it gives vision, in the physical form and to forecast the future by removing the shadows of uncertainty. Light gives a clear path forward. And Polecat harnesses light to understand what lies ahead.
The brand development includes colour tones and gradients full of energy and possibility.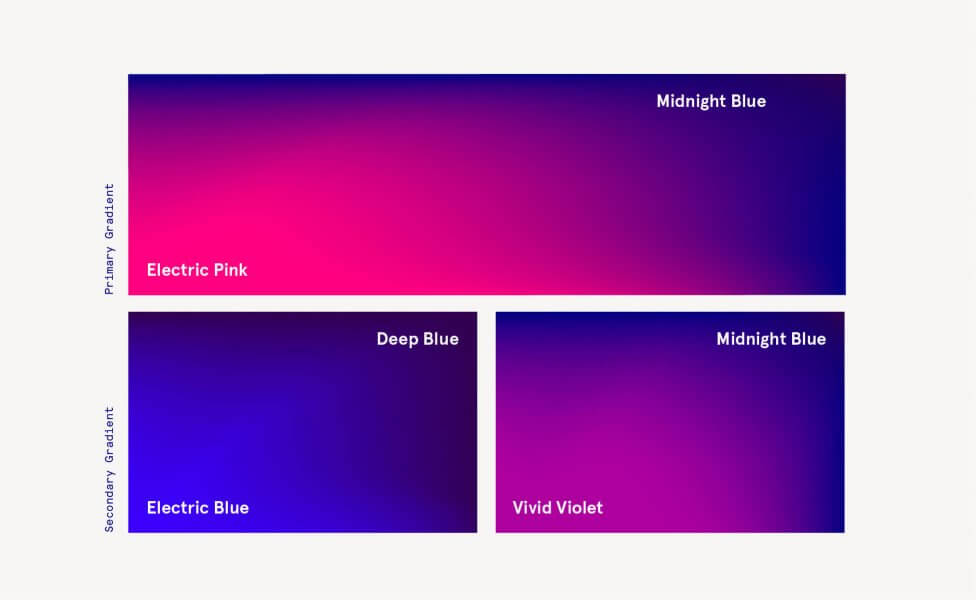 Light as a revealer of certainty and truth.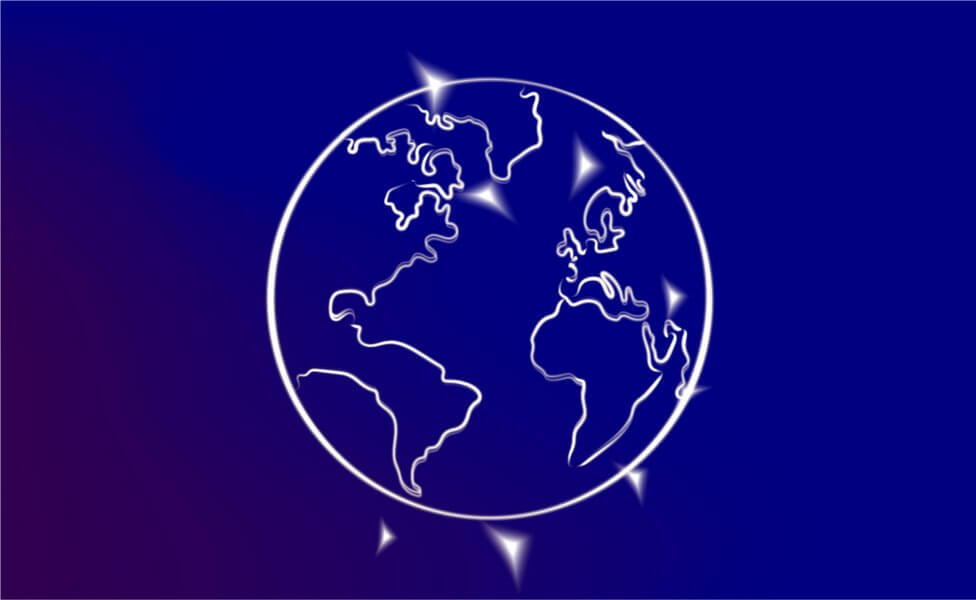 Brand development applications
Logo and strapline lock-up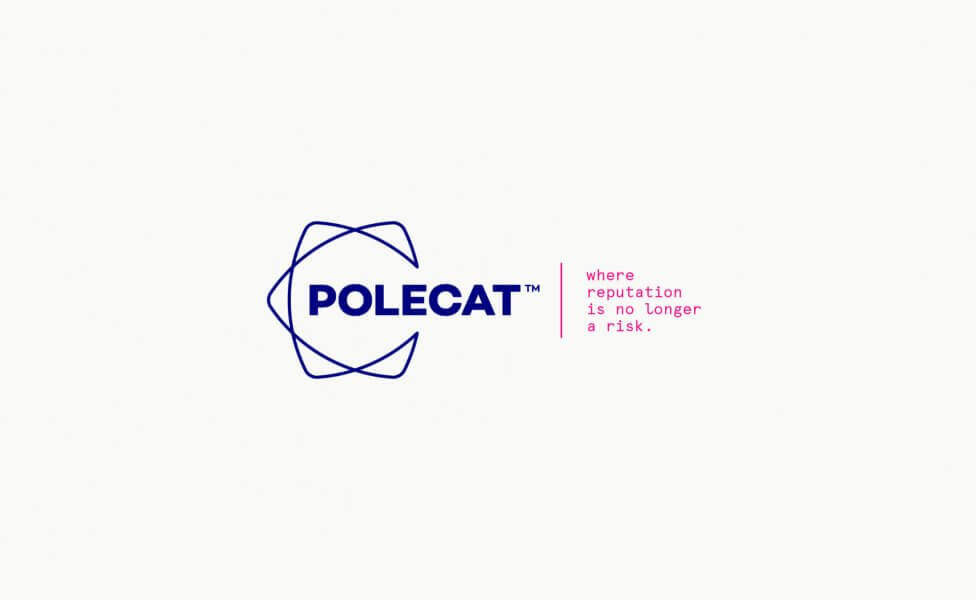 Website
A colour and light-rich canvas helps highlight core messaging and tone of voice – intelligent, clear and consistent, not jargon-led, demonstrates listening and attentive thought.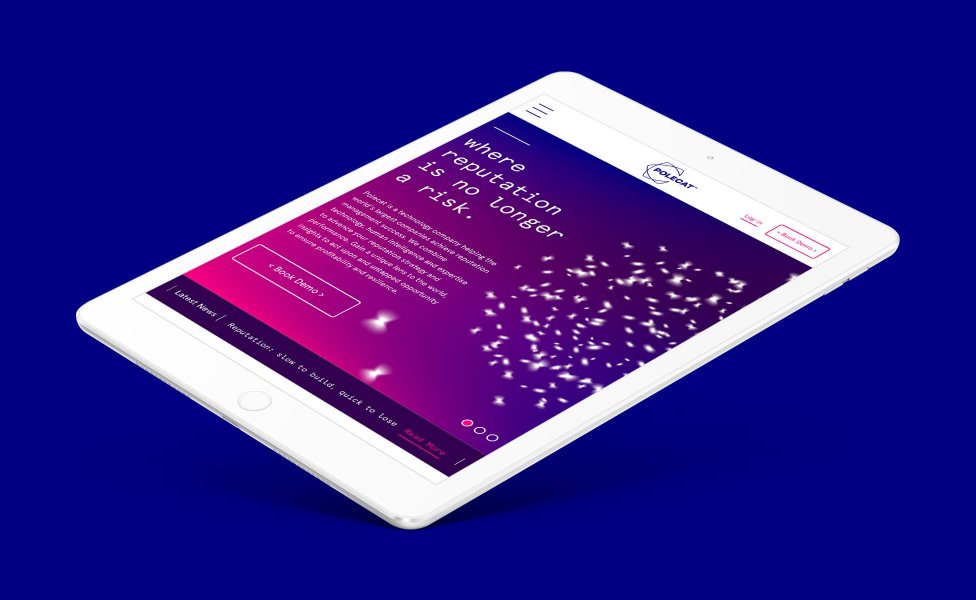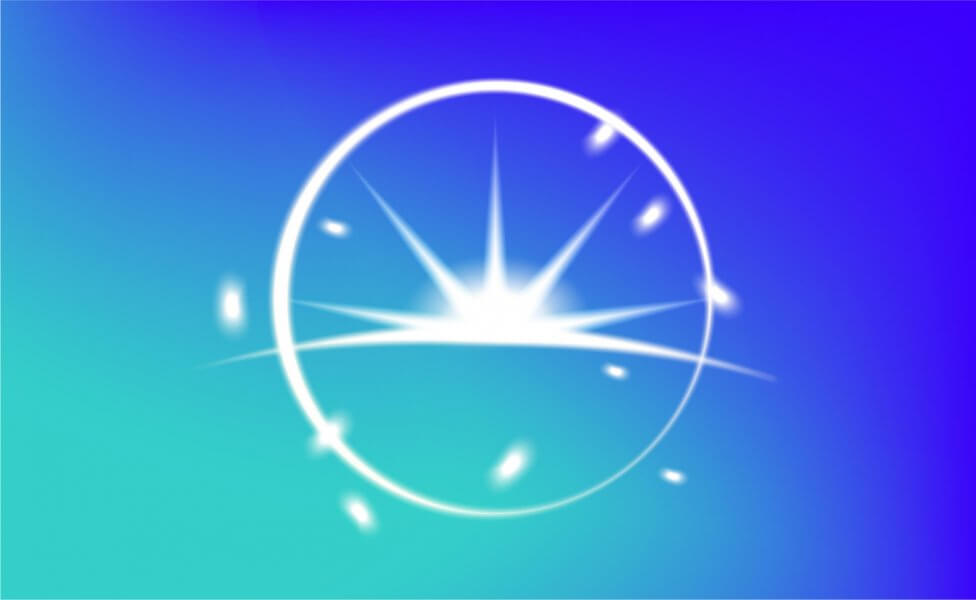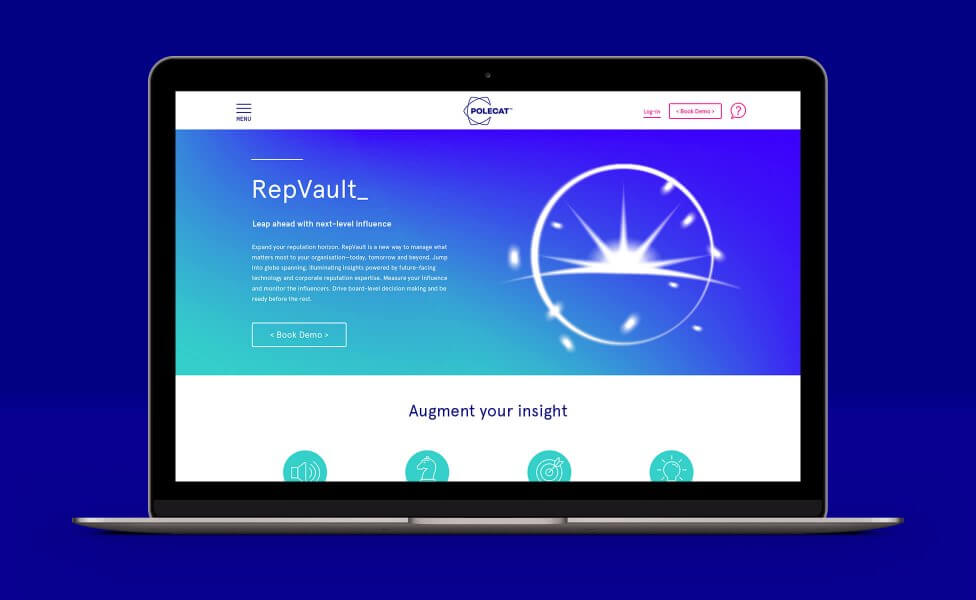 Social media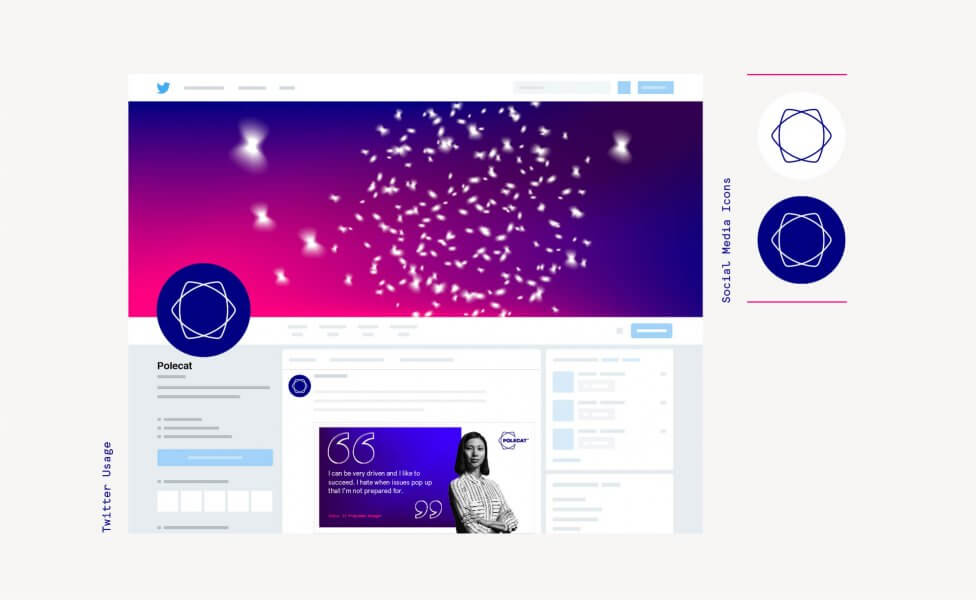 Whitepaper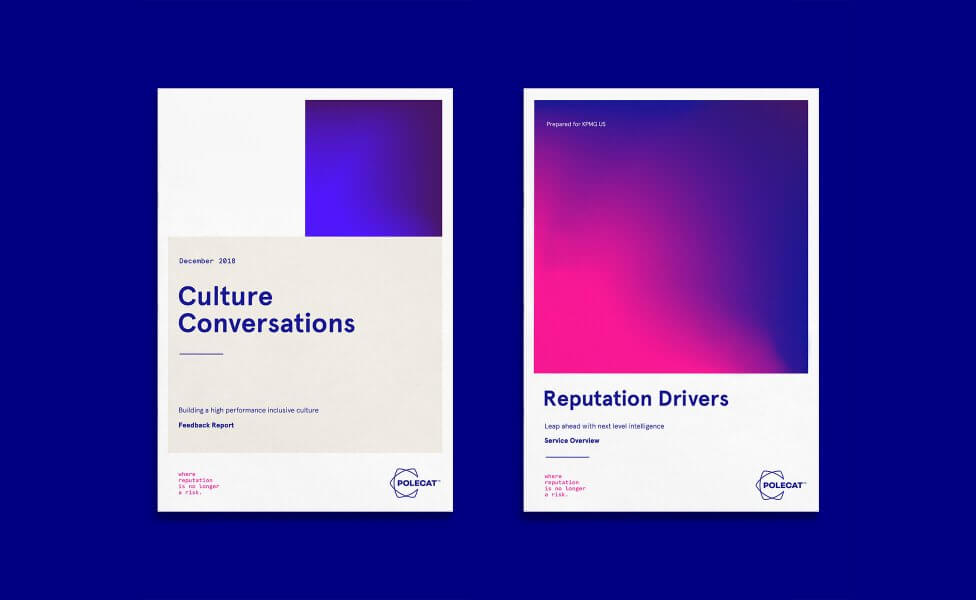 PowerPoint template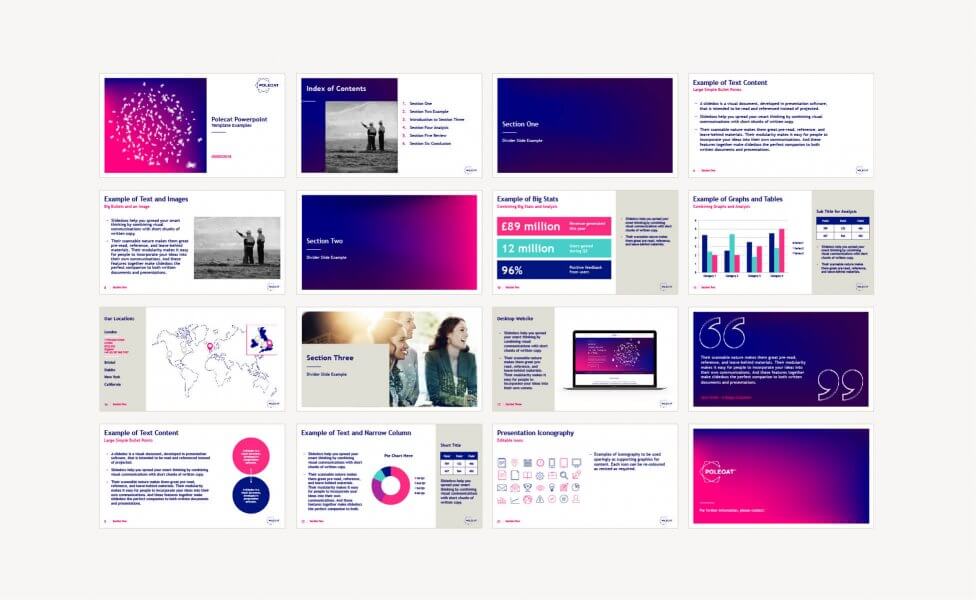 Sub-brand flyer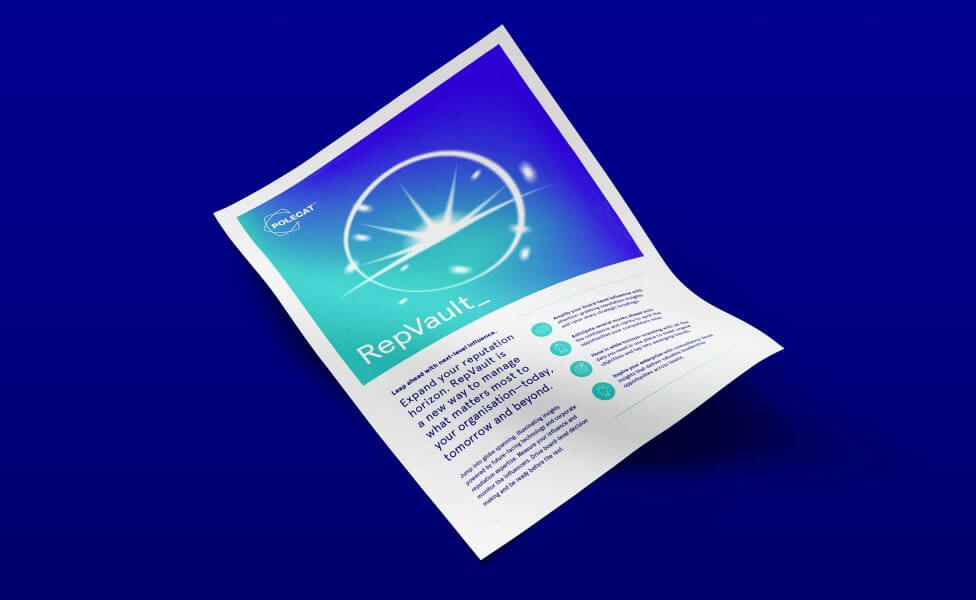 The new brand and website were revealed at the company's annual conference – and it was a success.
"Last week's company annual conference included the reveal of the new brand development and website design.

The overall feeling was one of excitement that left people talking about the Light concept. There was a very positive response from everyone on the 'dynamic and unique brand' which came as a surprise to the CEO, who imagined there might have been at least one person to object – but no.

The strapline was very well received and has made a real impact, and the animated version of the logo also got a great reaction."

The CEO shared the new brand with the board. In her words,

"it was a slam dunk."
For maximum internal and external brand exposure, each employee received a branded tote bag at the conference.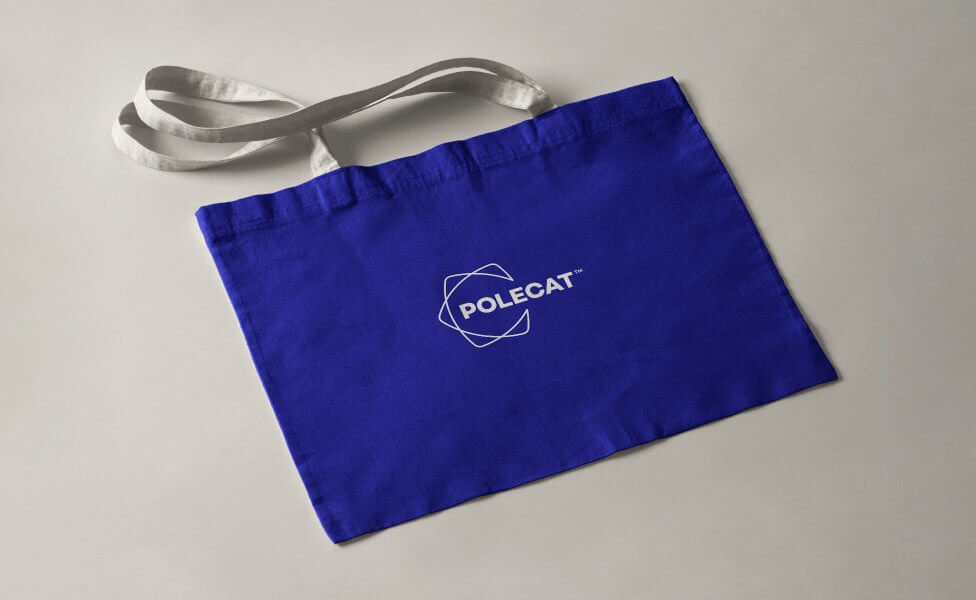 We also produced an animation for the launch event.
The dynamic nature of animation makes it the perfect vehicle to showcase the brand's usage of movement and light.