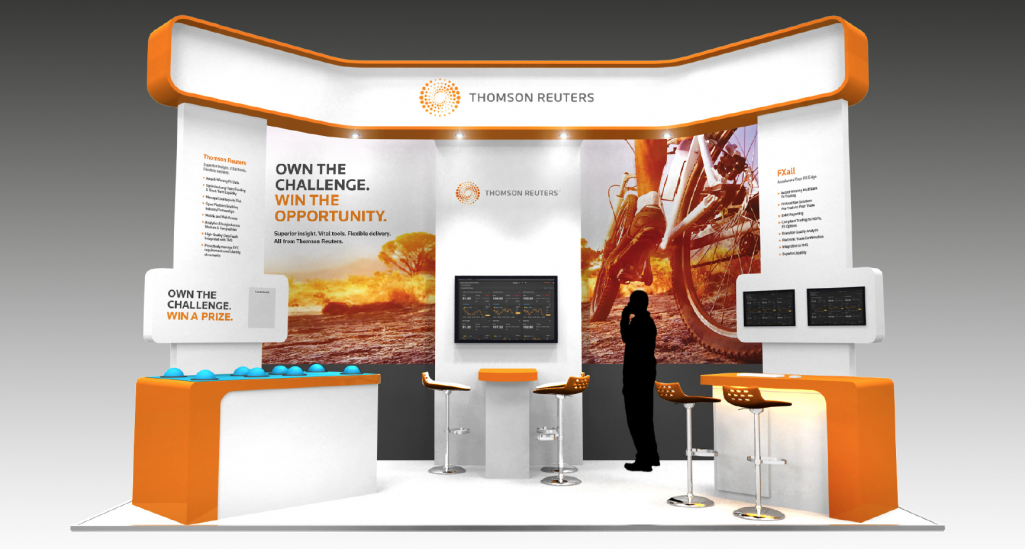 When Thomson Reuters wanted to raise its profile at a major European exhibition, we devised a custom exhibition stand concept that proved irresistible to attendees and encouraged repeat visits.
Challenge
The brief involved helping Thomson Reuters showcase its range of trading products at EuroFinance – a leading international conference for CFOs and professionals in treasury and cash management. Focused on attracting the attention of senior decision-makers, the exhibition stand had to maximise the existing event space and boost engagement.
Solution
As an experiential agency that understands the power of using gamification, we designed and built their stand with a challenge that proved irresistible to attendees.
We travelled to Budapest to ensure that the unique stand was built to the correct specifications. Raised strategically to a height of 4m, the booth towered above those of other exhibitors, allowing Thomson Reuters to attract attention in a relatively small space.
We also made use of the bright orange tones in our client's logo to increase the visibility of the custom exhibition stand and complement the brand.
As well as two multi-purpose product demonstration areas – which could be transformed into a wine and cheese tasting experience at the end of the day – the stand featured an electronic 'strike-a-light'-style game, featuring the slogan 'Own the challenge. Win a prize'.
By tapping into the competitive nature of delegates, this two-player game created a visual spectacle that drew crowds to the booth and generated a talking point at EuroFinance. It also included a magnetic leaderboard, regularly updated with the highest scores by the Thomson Reuters team.
The space was virtually irresistible – the custom exhibition stand encouraged people to return to the booth again and again, generating significant ROI for Thomson Reuters, thanks to the high quality interaction and development of new client relationships.