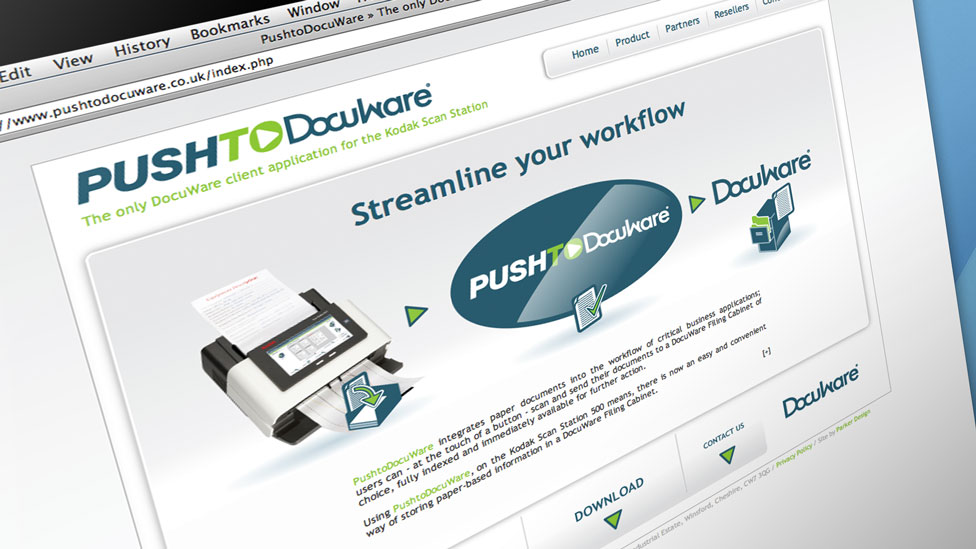 We created a simple yet effective document website design to echo the ease of use of our client's product.
Background
Our client offers a range of document management and workflow solutions that help its customers to become paperless, reducing costs and helping reduce carbon footprint, save time and increase productivity and efficiency.
Challenge
Pinpoint Digital Systems asked us to create a document website design for their PushToDocuware product – a unique way of recording paper-based business documents and filing in a digital format. The design needed to be relatively simple, echoing the process of the product itself.
Solution
For the website design, we chose a contemporary teal and lime colour scheme with a clean background of white and grey. Using a round-edged central panel to contain the main content and imagery, we we were able to simplify the navigations for users and allow them to find the content they needed quickly and easily. We created tactile buttons and icons similar to those used on the digital touch-screen panel. We also designed a row of large call-to-action buttons along the footer, which led customers to either apply for a licence key, download the software or contact the business.
At Parker Design, we have been creating effective websites that deliver a great user experience and tangible results for over 20 years. Click here to see our latest work.