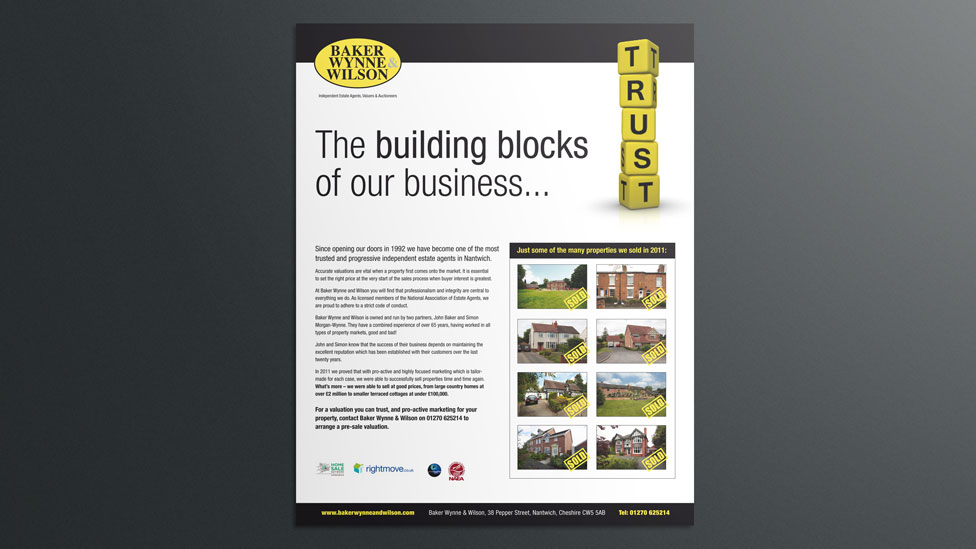 We helped our client communicate the success of their property business with a simple yet effective advertising concept.
Challenge
A successful and prominent estate agency in Nantwich, in the heart of Cheshire, Baker Wynne & Wilson tasked us with the job of creating an estate agent advertising concept which would highlight their continued success in selling and letting properties in the Mid Cheshire area. It also needed to clearly display the reasons behind this success in a bid to raise awareness and increase customer enquiries.
Solution
With the company being incredibly proud of their status as an extremely trustworthy and progressive agency, we made this the basis of the advert. We created a layout which drew attention to the key messages our client wanted to convey to the target audience. The advert also reinforced the element of trust which the company instils in every customer relationship. The estate agent advertising design also features engaging descriptive text, with clear calls to action, and a panel showing some of the properties sold in the previous year. The purpose of this is to underpin the description of a successful estate agency by displaying factual proof.
The advertisement was placed in several local printed press publications, and an electronic version was designed to fit into the company's existing website. Following on from this, the client requested the design also be adapted into an A4 format for use as leaflets which were designed and printed for distribution in the local area to increase awareness of Baker Wynne & Wilson's credentials.