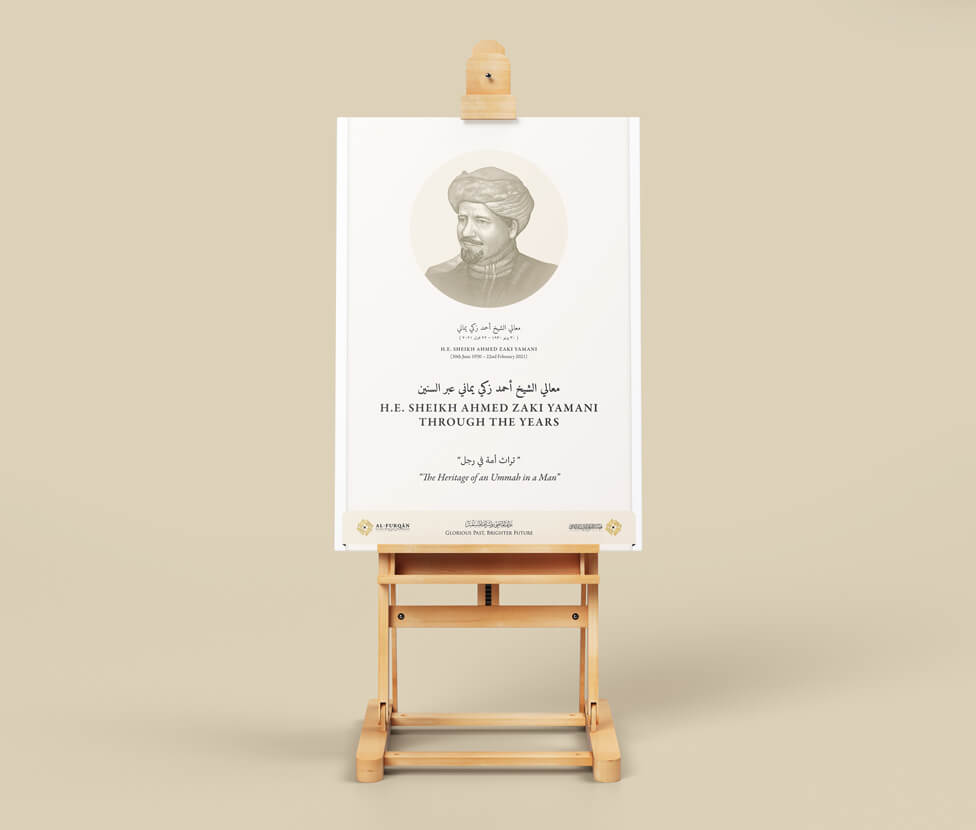 An uncomplicated, tasteful exhibition panel design that focuses on telling a story that flows through Sheikh Yamani's life following his passing.
Background
Born in Saudi Arabia in 1930, His Excellency Sheikh Ahmed Zaki Yamani was a lawyer by profession, having studied at the University of Cairo. His studies were followed with a Master's degree from Harvard Law School and NYU School of Law, and also with a doctorate from the University of Exeter. Between 1962 and 1986, he was Saudi Arabia's Minister of Oil and Mineral Resources, first Secretary General of OPEC, and was regarded as the architect of a number of Saudi Arabia's modern laws and regulations.
With interests outside of the Law and public service, Sheikh Yamani established the Al-Furqan Islamic Heritage Foundation in 1988 to preserve and publish historically important Islamic manuscripts that otherwise may have been lost forever. With time, the scope of the Foundation expanded, and now consists of three centres:
The Centre for the Study of Islamic Manuscripts
The Centre for the Encyclopedia of the cities of Makkah and Madinah
The Centre for the Study of the Philosophy of Islamic Law
Challenge
Following his passing, the Foundation wanted to honour his life and invaluable legacy with an exhibition at The Royal Society in London. Having worked with the Foundation a few years prior, our brief was to create an exhibition panel design that would celebrate Sheikh Yamani's life milestones and achievements through a series of historic and personal photographs as well as stories.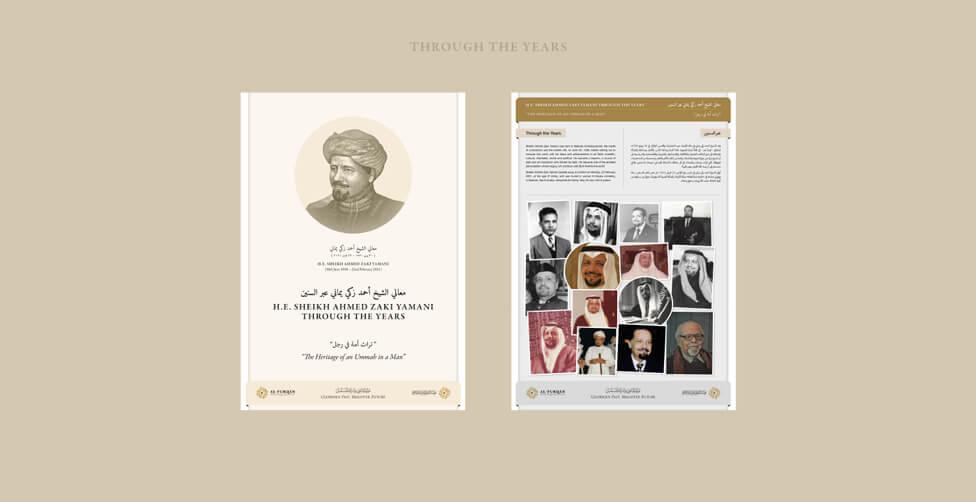 A key consideration was the Arabic translation of the English source text: with a right to left script direction, and individual characters and punctuation offering their own idiosyncrasies once the translation had been pasted onto the design software, we had to be careful when handling the Arabic version, having to apply a different formatting strategy to ensure it would flow naturally for Arabic speakers and with no errors.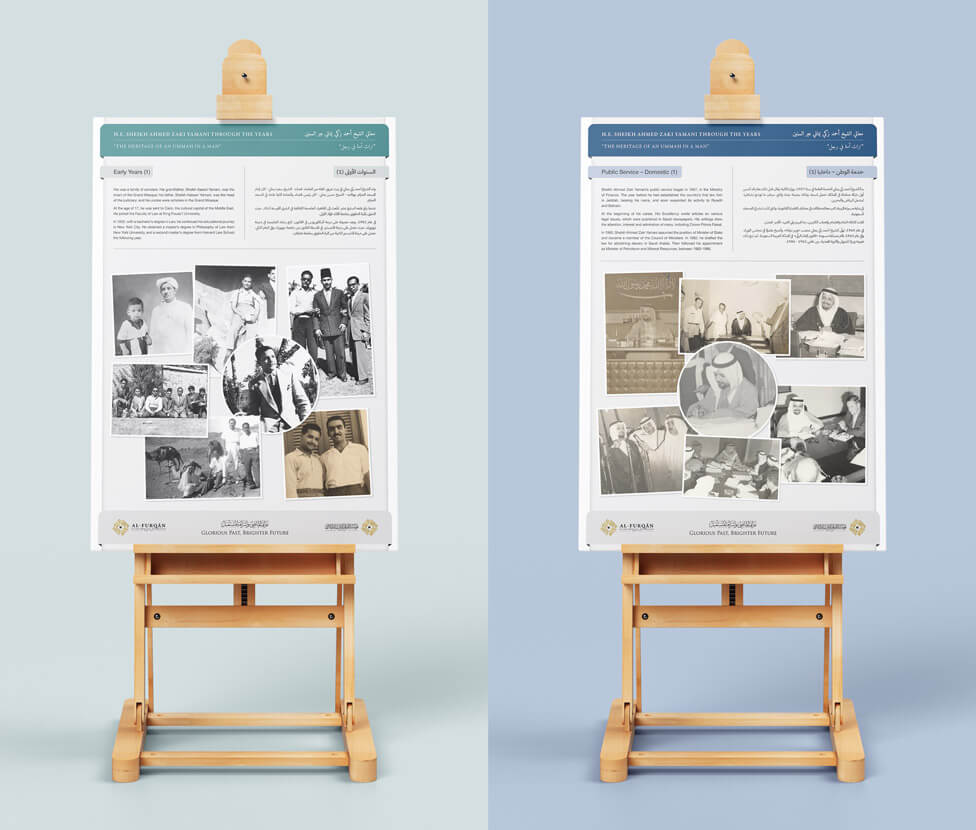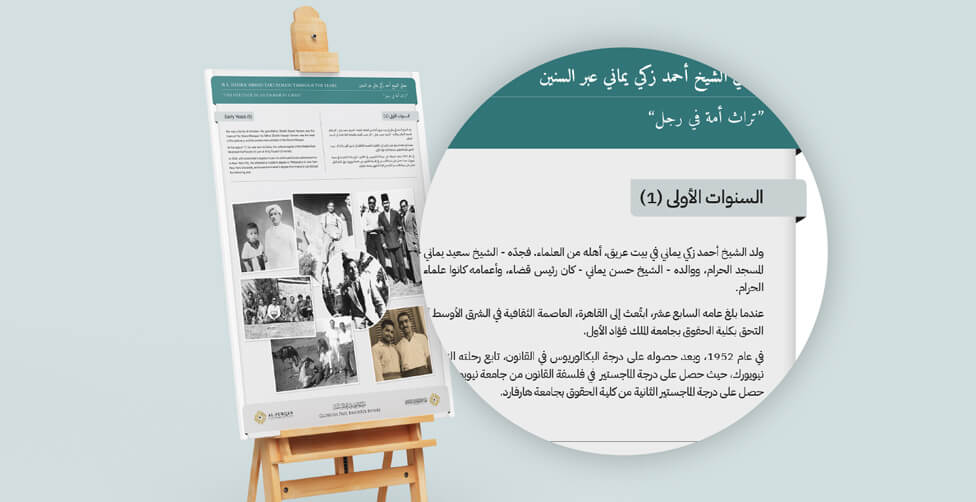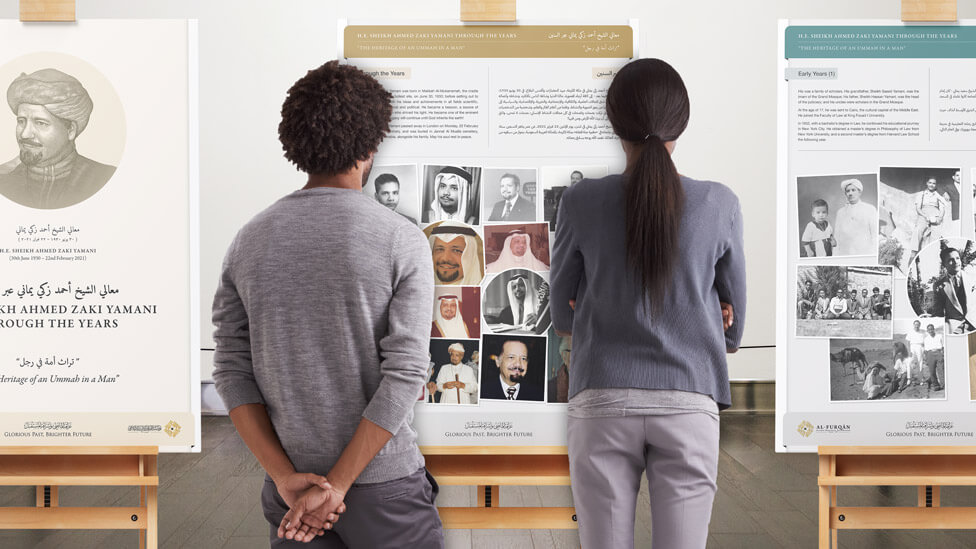 Solution
The exhibition panel design focuses on telling a visual and written story that flows through Sheikh Yamani's life in an uncomplicated yet highly considered way.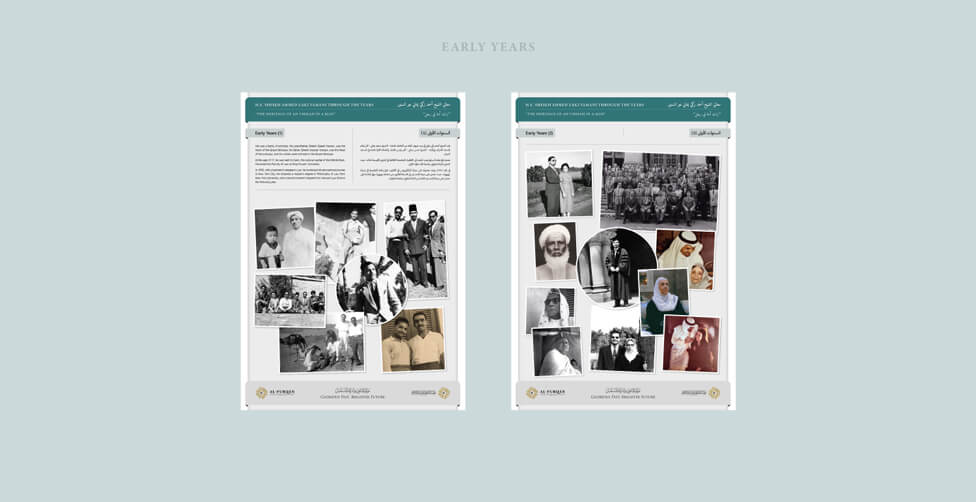 With a large number of photographs to include, and several life milestones to cover, we used colour and a simple collage design technique that allows flexibility to showcase each stage of his life in a visually consistent way.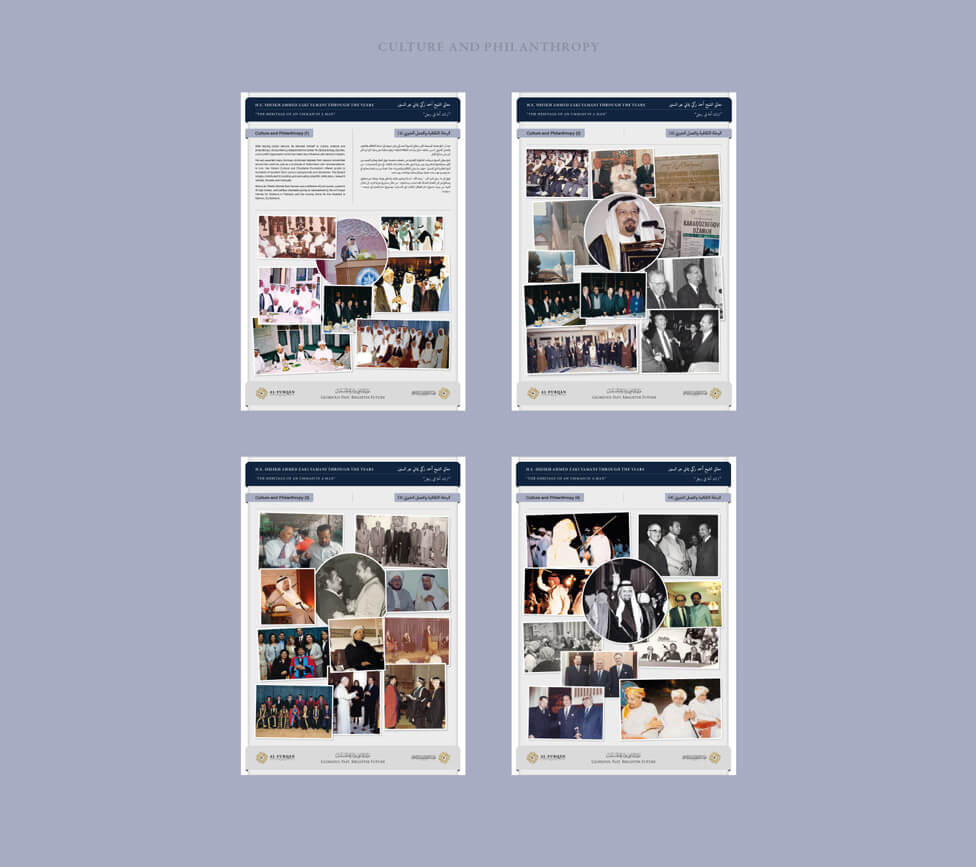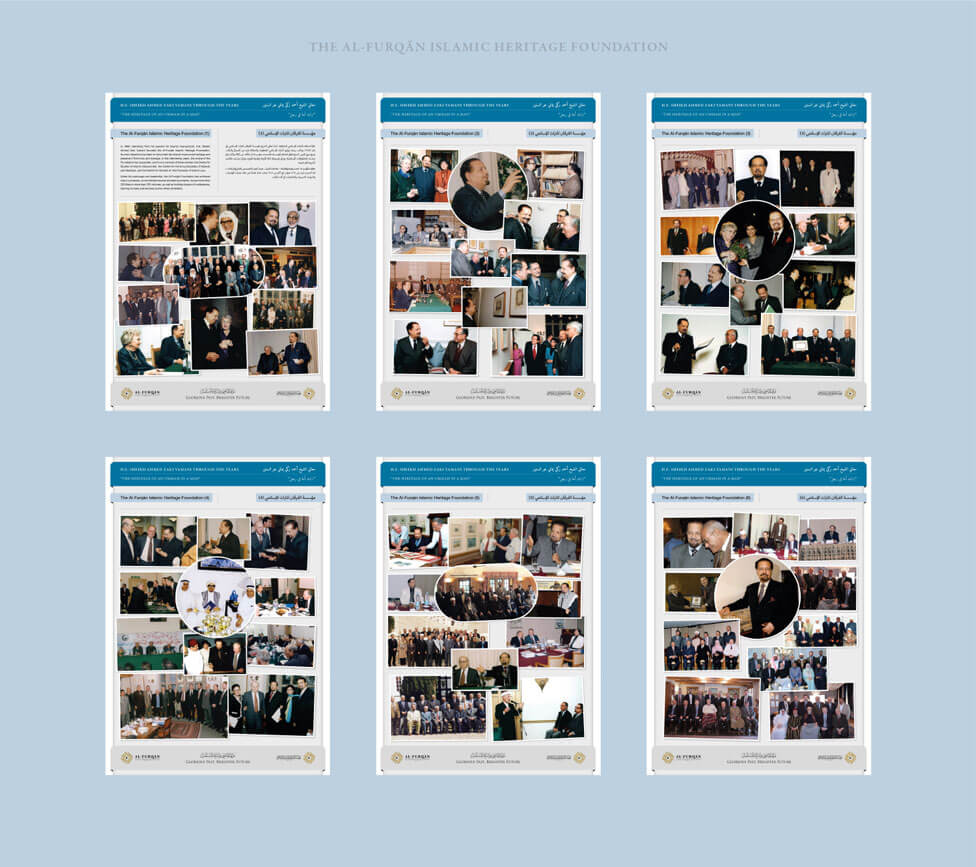 Careful asset management was essential to be able to organise and classify each photograph before being added to the relevant exhibition panel.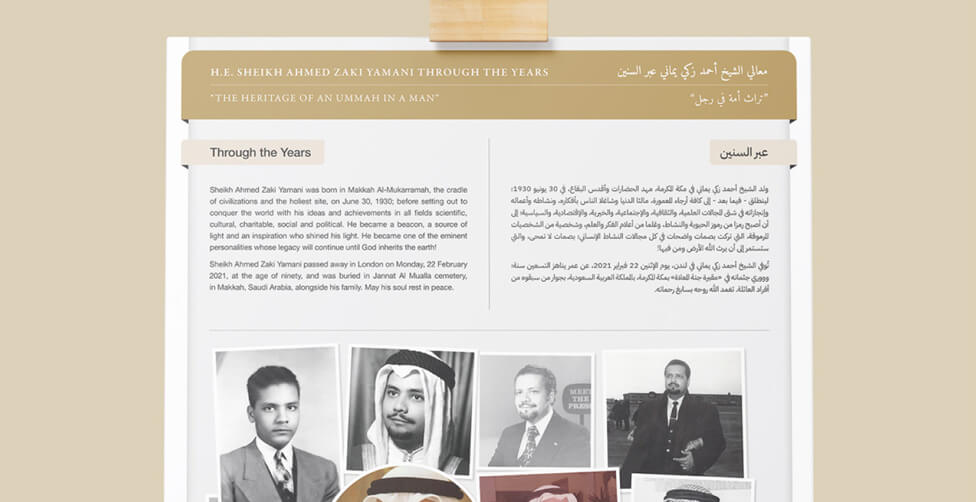 Working in close collaboration with our Arabic-speaking client, not only was copy thoroughly proofread, but we also discussed other elements such as choice of font to ensure the most appropriate and culturally sensitive choice.