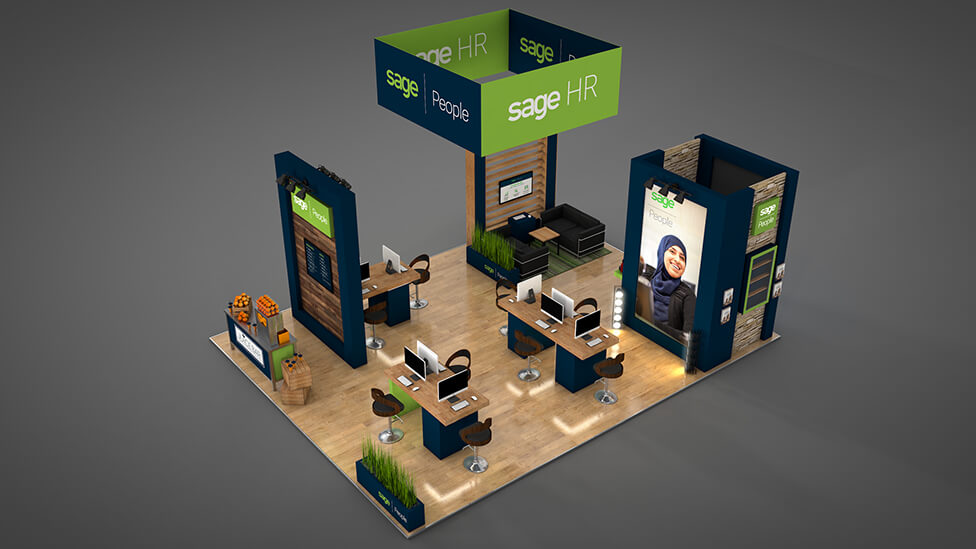 Repurposed for the 6th time, this expo stand design helped maximise ROI and exposure for our client at the CIPD show.
Background
A division of Sage, Sage People is a cloud-based HR and People software system designed to help multinational, mid-size organisations respond to the ever-changing priorities of the industry. Thanks to automation, comprehensive analytics and user-friendly workflows, Sage People ensures that HR teams can support employees to swiftly adapt and thrive, always staying connected and engaged.
Every year, the company attends the CIPD Annual Conference and Exhibition, a key date in the event calendar where the global community of people professionals can connect to rebuild a better future for employees.
Challenge
With a strong commitment to sustainability and a desire to adhere to a set budget, our brief was to deliver an expo stand design that would offer an engaging and informative Sage People software demo experience, while maximising materials used at previous CIPD shows without compromising on quality and impact. The exhibition stand would also need to help the Sage People team communicate product information and key messaging. 
Solution
A stand design and build solution that maximises ROI and exposure for our client. 
Occupying a 9 m x 7 m plot, this was the 6th time the expo stand design we had originally created was used for the CIPD Show, always in different configurations and on different footprints. Although the stand is custom-built rather than using a modular system, the design and construction allows for the position and orientation of each element to be reconfigured, providing the flexibility that has helped keep costs down year after year, and will continue to do so at future CIPD shows.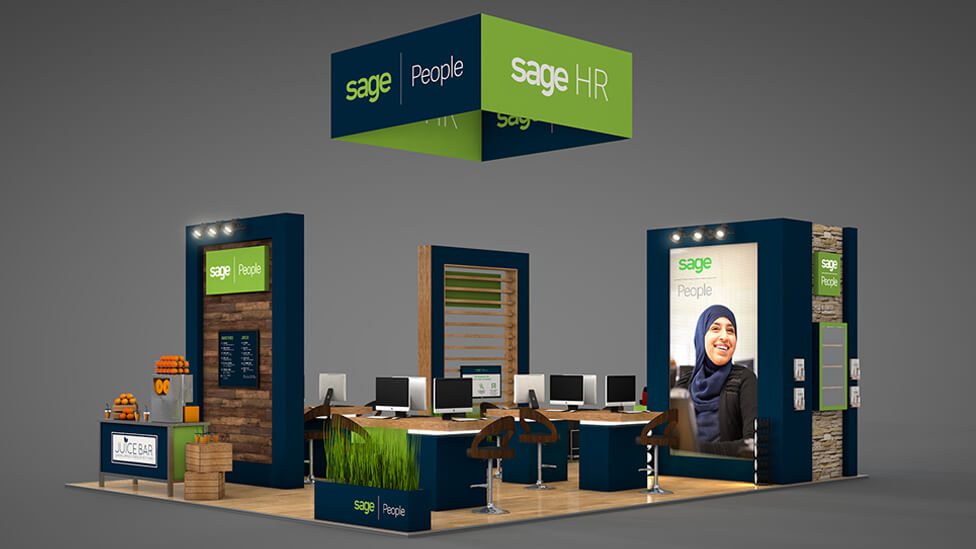 Sage People immediately stand out thanks to a stand design that leans on height and an open, welcoming structure. Benefitting from a prominent position in the hall, the hanging banner helps attract visibility from all corners of the hall.
A key point of difference in the design of the stand is that most of the content and messaging is carried on screens rather than using the more traditional printed graphics, helping our client create a clean, uncluttered stand whilst adding movement, variety and light to the stand.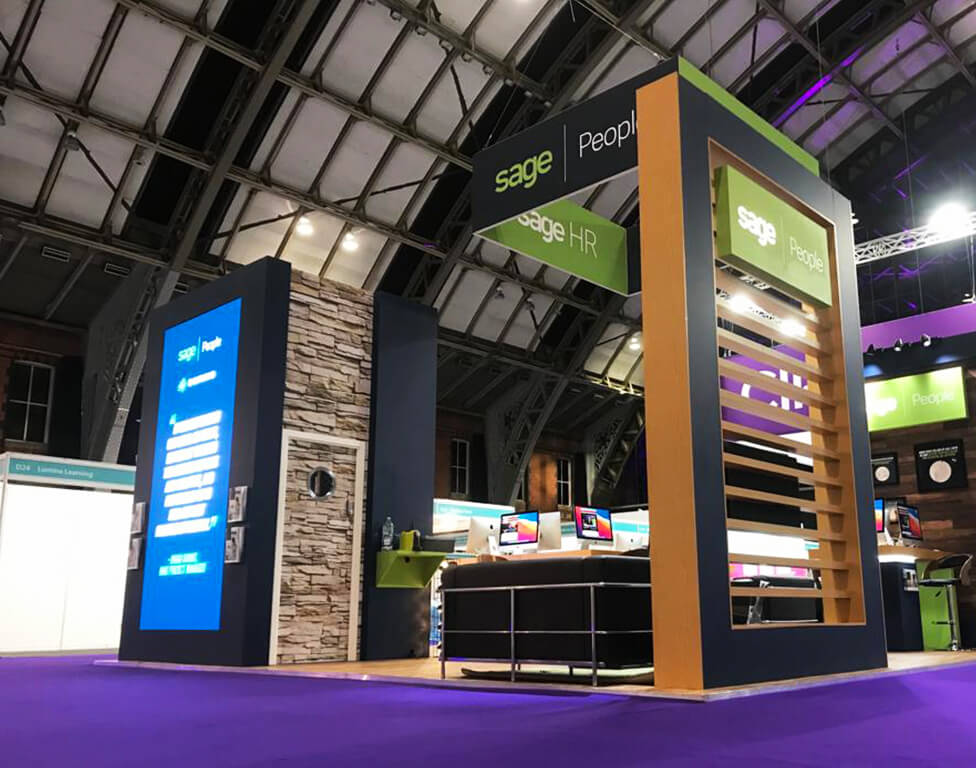 Carefully thought out to maximise impact, and making use of the empty walls, we installed two large screens of unusual proportions (vertical 3 m x 1 m LED screens) to promote content.
We created 9 bespoke animations that played on loop throughout the duration of the show: after developing and storyboarding the script, we built the animations, working out a running order which could be changed during the show as required.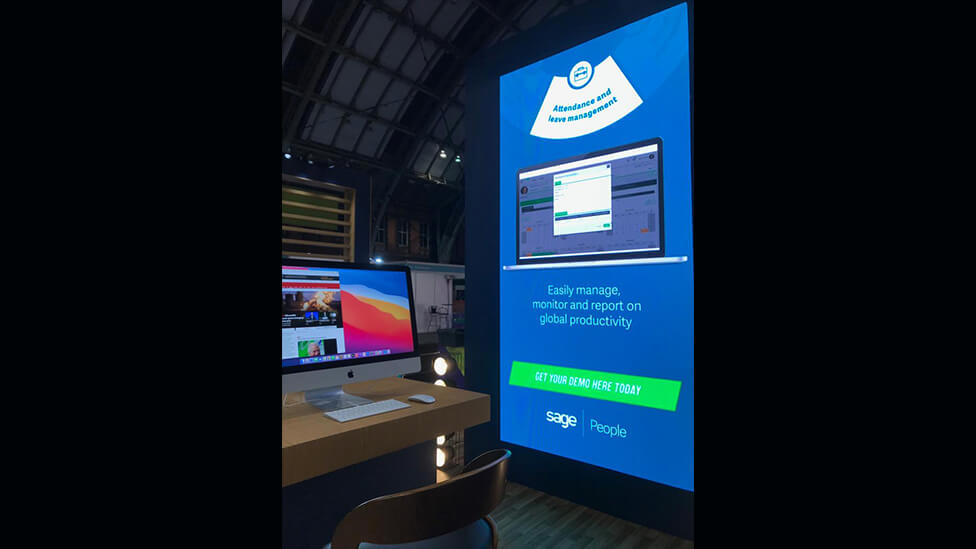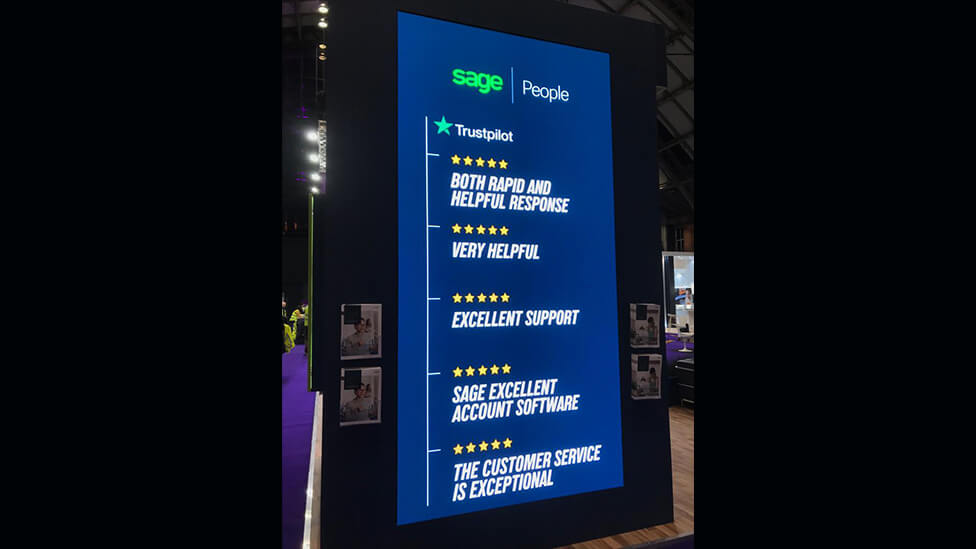 Created with maximum delegate engagement in mind, the animations include a mixture of summary headlines from reports, ebooks, customer testimonials and Trustpilot reviews. The animations were also used for calls to action encouraging delegates to pick up printed collateral from the various display racks dotted around the stand.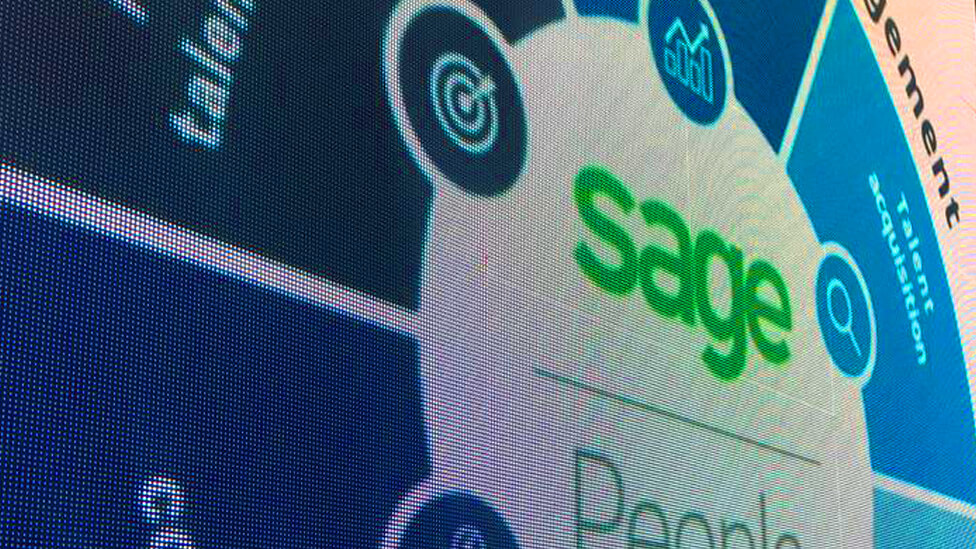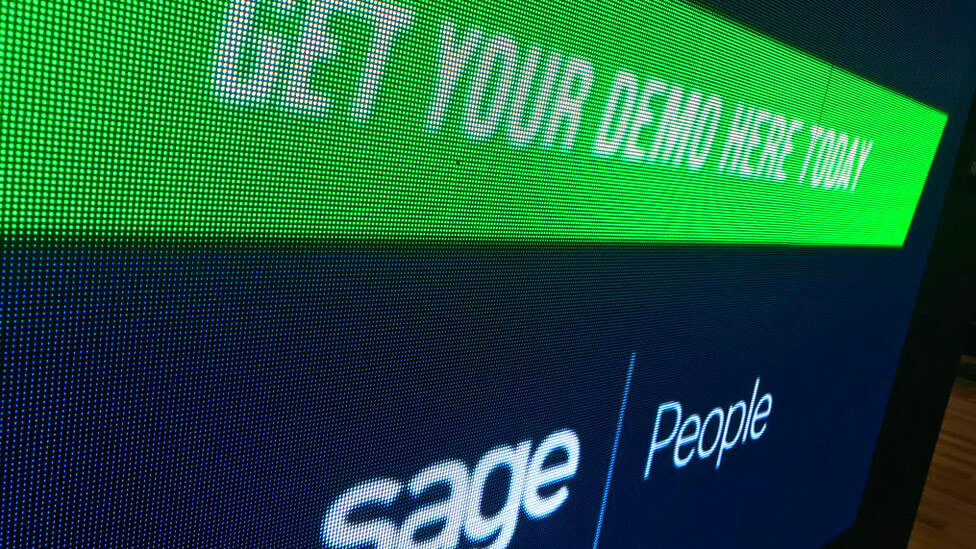 We included 10 self-contained iMac demo stations across 3 socially-distanced desks, ensuring every delegate felt at ease during the software demonstrations. Given that the Sage People software is cloud-based, all that was needed was an Internet connection and a web browser.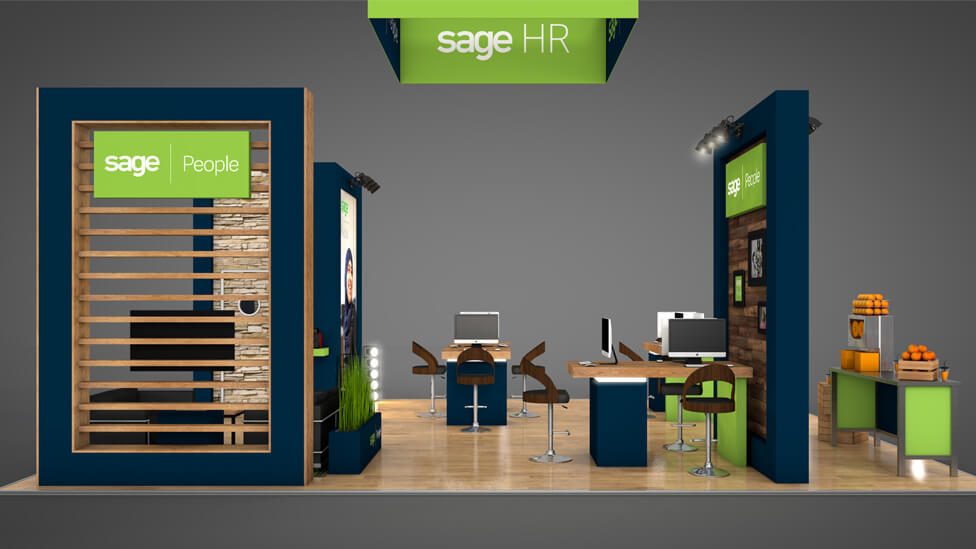 The demo area is clean and crisp-looking, welcoming, and at the same time focused on function and results.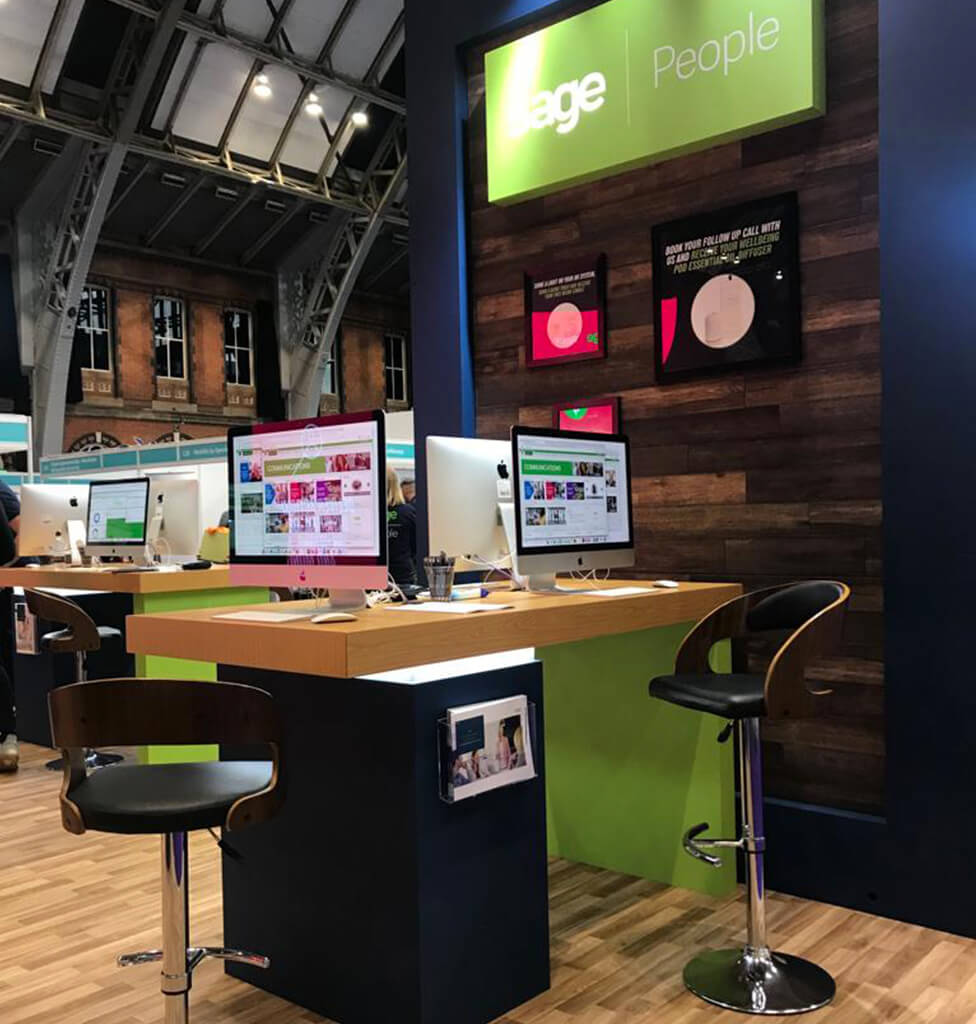 Rolling content played on the iMacs while they were not being used for demos, adding movement to the stand and sparking curiosity amongst passers-by.
To ensure continuity, an AV technician was on standby all day, every day of the expo, at hand to deal with any potential technical issues, guaranteeing a smooth delegate experience and peace of mind for our client.
The expo stand also incorporates a relaxed area that could be pre-booked for 121 demo sessions or simply an informal chat. The space is also fully connected, with a laptop and a screen for looping product messaging.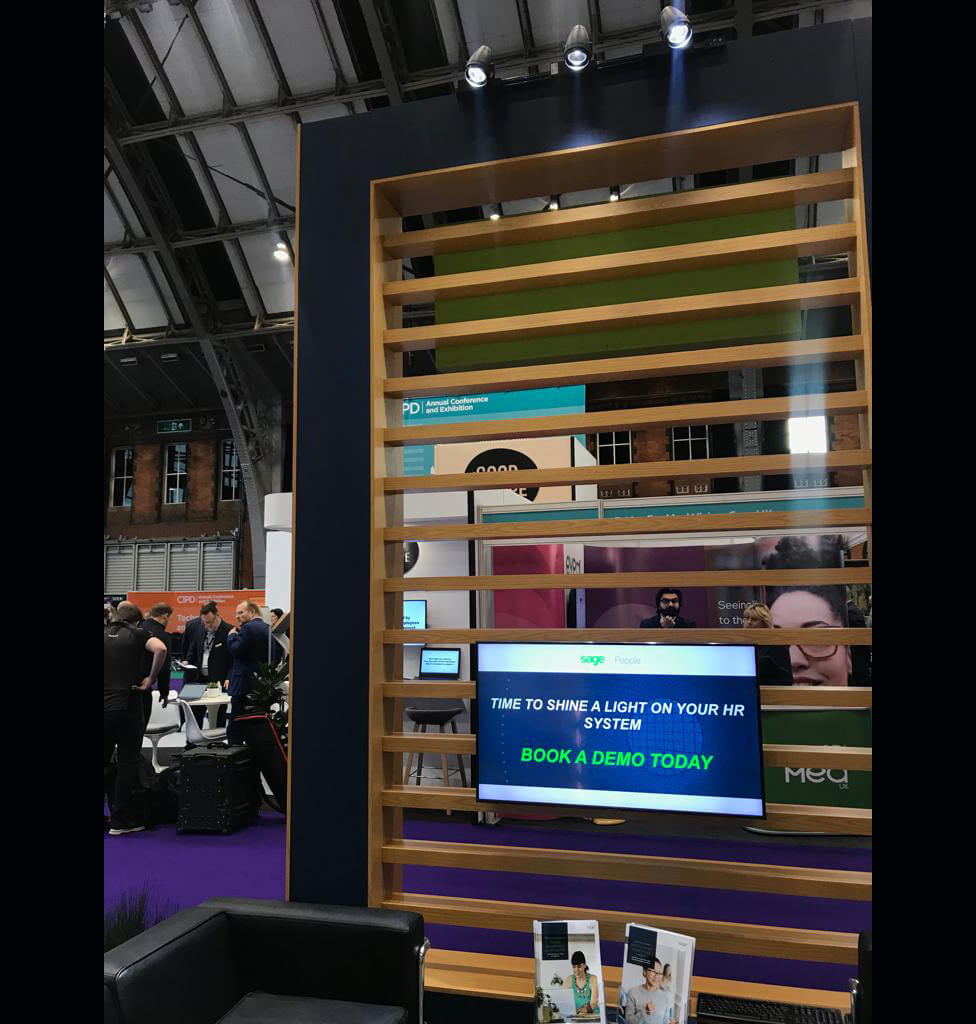 The stand also gave delegates the chance to recharge during the day: a fully stocked refreshments bar offered healthy smoothies and freshly squeezed orange juice. Open from 9 am, the refreshment bar also kick-started the day for delegates, who could grab a refreshment before attending one of the morning seminar sessions taking place in the hall, and then return to the stand for a demo or a chat.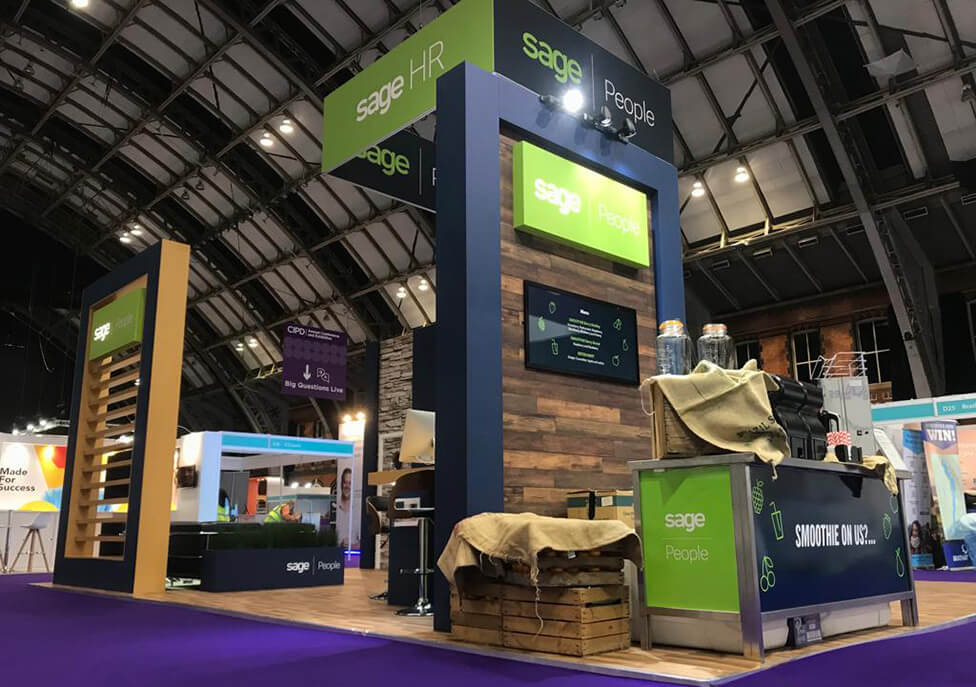 We also took the refreshment bar, and Sage, "out of the stand" as empty Sage-branded cups were handed to delegates wandering around the hall, encouraging them to visit the stand, and acting as a hook for others to follow, driving yet more traffic.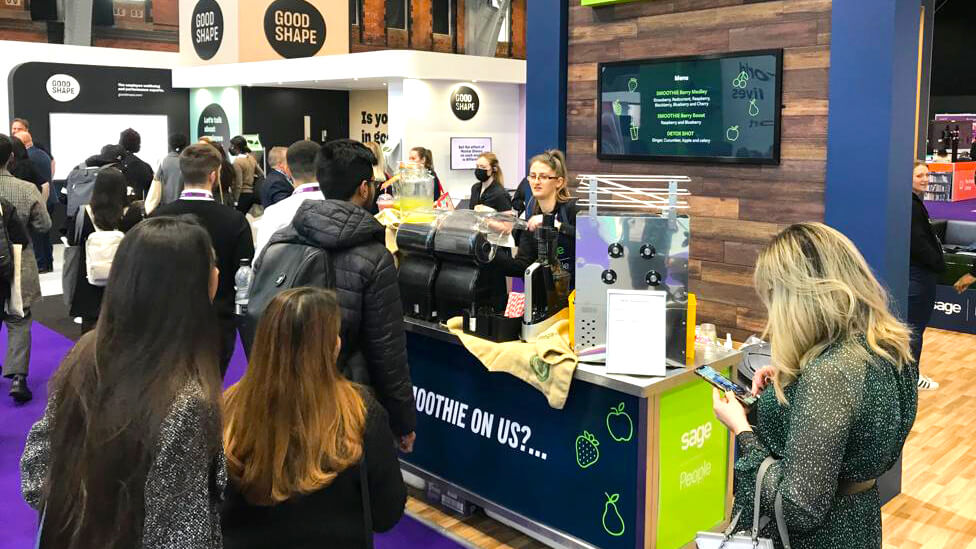 We paid special attention to the quality and appeal of the give-aways and opted for Bluetooth speakers and luxury scented essential oils Neom candles, both a success amongst delegates.