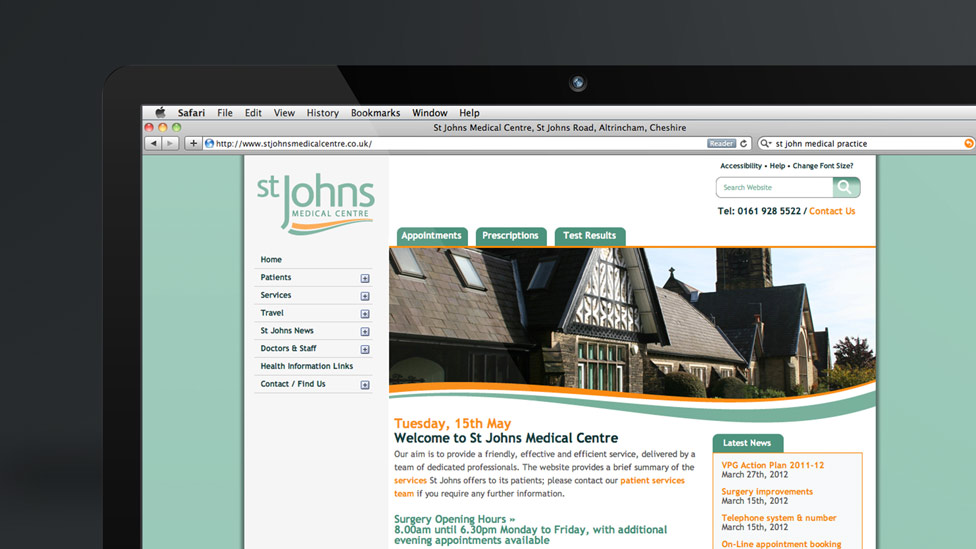 A user-friendly medical practice web design that transmits a sense of community.
Challenge
The team at St Johns shared their ambition for a website design and content management system that gave their patients access to regular practice news, service information and surgery opening times, as well as the option for them to book an appointment online and order their own prescriptions.
Solution
We developed the new website using the WordPress content management system platform to enable the team to manage their own website content on a regular basis.
Have a look at other examples of

effective web design.
We created a medical practice web design that was suitable for patients with varying levels of online skills. We wanted to ensure that all patients could access the information online as an alternative to calling the St Johns switchboard, which is often inundated with general enquiries. We custom-built key sections for patients to book appointments, order prescriptions and request test results.
We suggested to our client that to further improve the resource, it should include functionality to allow patients to upload patient forms onto the website, an idea which was well received by St Johns, and so we incorporated the patient Registration Form, Change of Address Form and Patient Feedback Questionnaire into the WordPress web design.
As part of the new website design project, we also refreshed the St Johns logo design with a vibrant orange accent and fresh green tone, which mirrors the interior décor of the medical centre itself. St Johns were delighted with the overall effect – an extremely professional look that also instils a sense of community.