The brief for this practice brochure design was to create a communications piece that could be used as a practical education tool for GPs.
Background
GSK is a global company with a pharmaceuticals business portfolio of medicines in the areas of oncology, respiratory, immuno-inflammation and HIV. GSK is also the world's largest vaccines company by revenue, and is a leader in consumer healthcare all over the world.
Challenge
When producing a practice brochure design, the key is to present complex healthcare information with as much clarity as possible to guarantee audience understanding. The brief provided by GSK was to create a practical education tool for GPs. The medical communications piece would support and enhance best practice for those treating male patients who suffer from lower urinary tract symptoms (LUTS), in line with recommendations from NICE.
Solution
To help the target audience navigate through the publication, we split the content up into sections utilising colour-coded tabs, making it easily digestible. The complex content was further broken up with the aid of tables, charts and diagrams. The use of full colour photography also adds interest to the pages, turning it into a more engaging learning experience.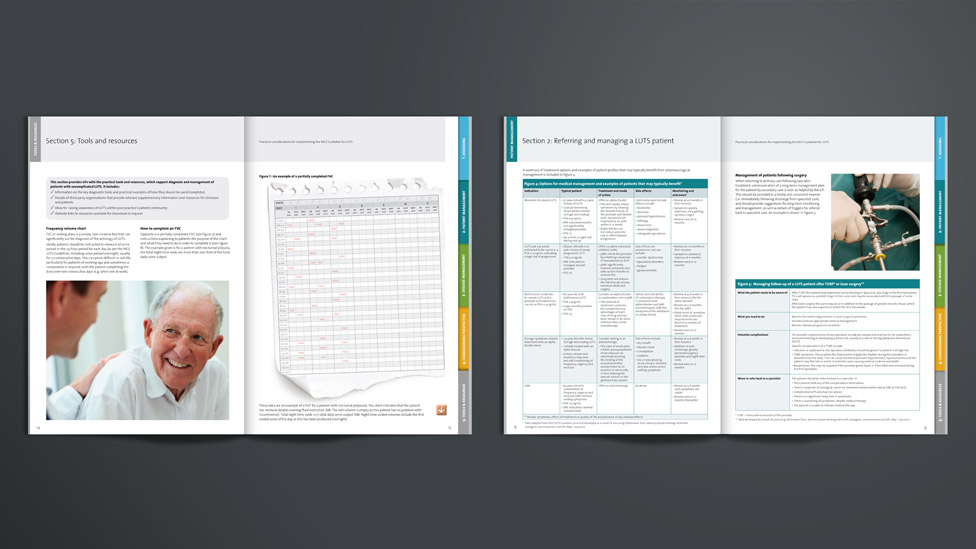 Over the years we have helped our clients reach their goals with memorable and effective brochure design – have a look here to find out more.