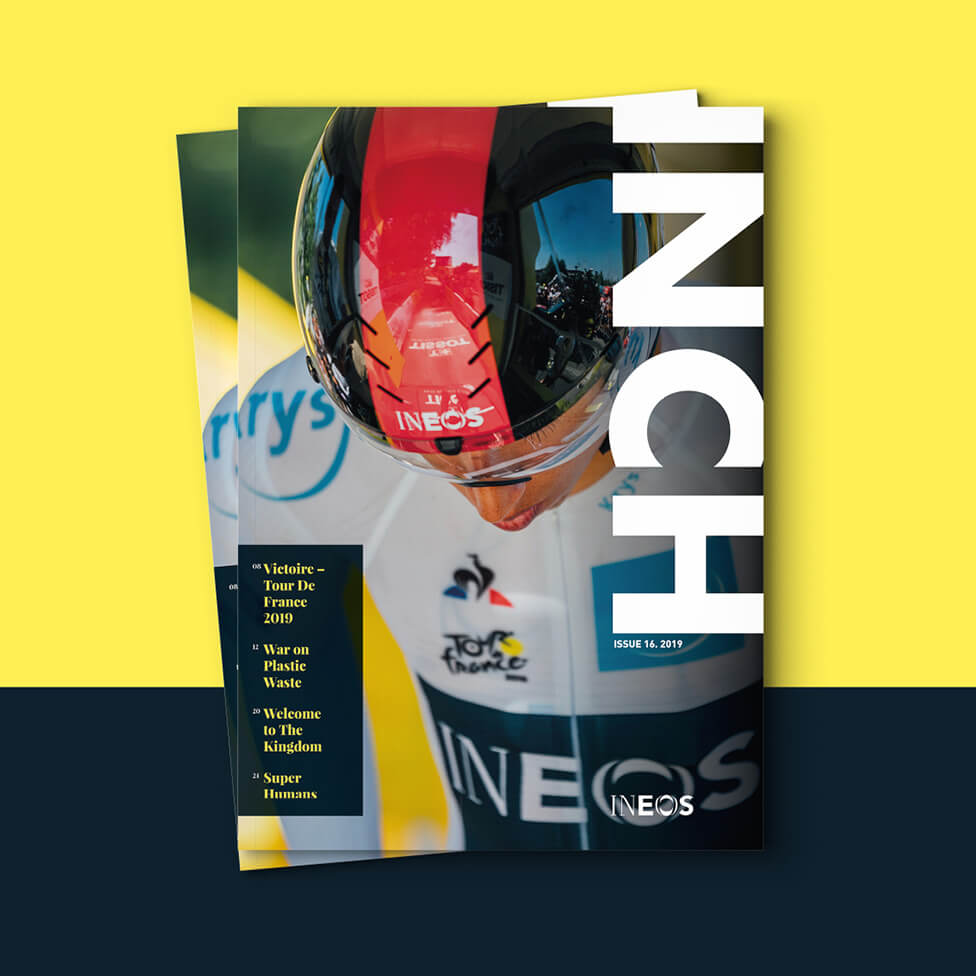 So much more than a traditional newsletter, this is a company magazine that educates, empowers, inspires and maximises employee engagement.
Background
INEOS is a global manufacturer of speciality chemicals, petrochemicals, and oil products. The company – with a 168-site network across 26 countries – is underpinned by a strong set of values:
Excellence in safety, health and environmental performance;

Customer satisfaction;

Continuous improvement focused on quality and cost-effectiveness;

Encouragement for innovation and rewarding achievements;

Empower employees to create real value for customers and the company.
Challenge
With the sector as a whole going through a period when clarity and well-timed information is more vital then ever, INEOS wanted to elevate its communications and give audiences much more than a newsletter. Our client wanted to educate, inspire and empower employees to continue to push themselves and the company forward. The new company magazine needed to excite employees and immerse them in all the company initiatives, energising them to continue to play their part. It was time to revitalise the company newsletter, which at the time of our brief was in its 14th edition.
INEOS's INCH magazine not only needed a design refresh and new stories with every issue, but also new ways to interpret those stories. It needed to go beyond the role of a traditional newsletter, and become an education tool that allows INEOS to share their expertise and opinion on key industry topics.
An essential element of our brief was that the magazine would need to engage a broad group of stakeholders, not just employees. The magazine would need to explain our client's business and what a key role it plays for things we all take for granted. The magazine would also need to highlight some of the great things INEOS makes happen every day and the challenges the company tackles, from helping to reduce CO2 emissions, creating a circular economy for plastics, to producing zero carbon fuels such as Hydrogen.
Solution
After presenting a variety of creative ideas, our client chose a design infused with energy and the idea of magnitude and scale. It's bright, colourful and interesting. The name – INCH* – remains, ensuring continuity and familiarity, but little else stayed the same.
At first glance, employees know they're in front of something totally different, new and exciting. The new company magazine is ambitious and brave: the oversized A4 format commands attention and encourages employees to pick it up, and as the magazine does, think big.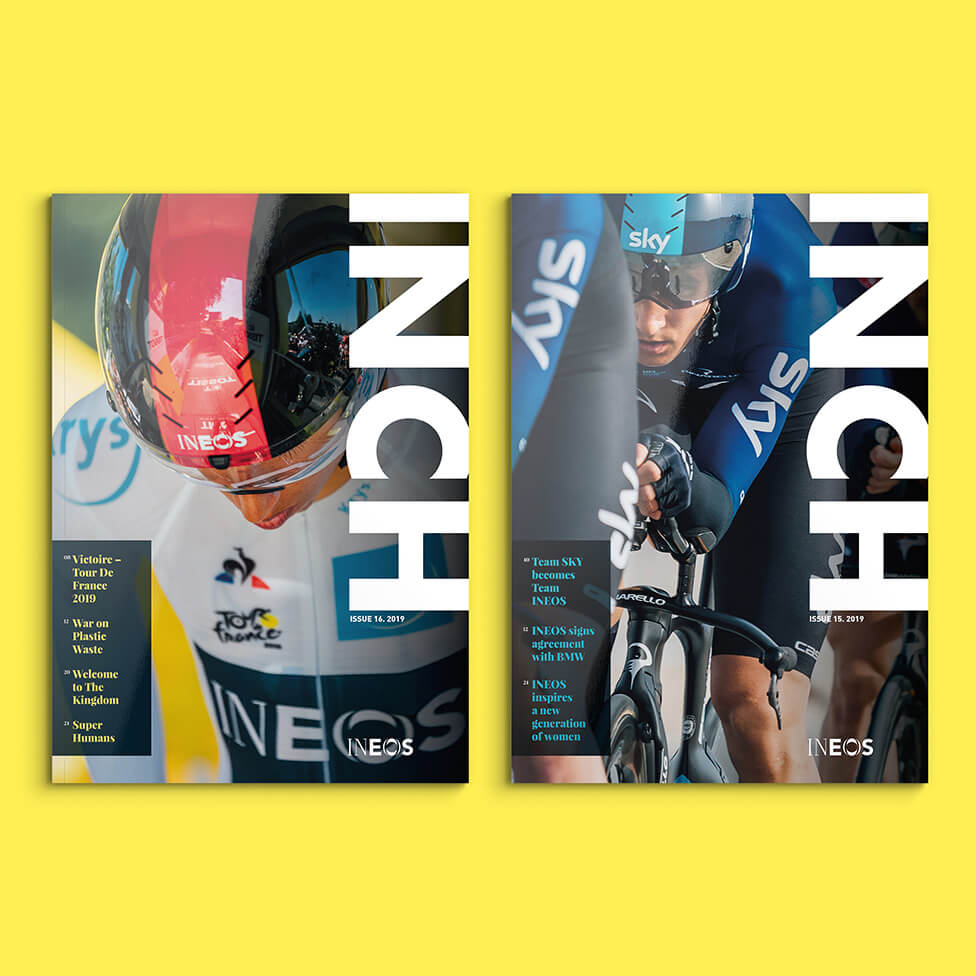 The cover of the new look and feel company magazine leads with the news of our client's acquisition of Sky's and 21st Century Fox's winning cycling team, Team Sky (Issue 15, above right).
By the time Issue 16 (above left) had been published, it was time to celebrate the new Team INEOS victory at the Tour de France, another historic milestone for the company.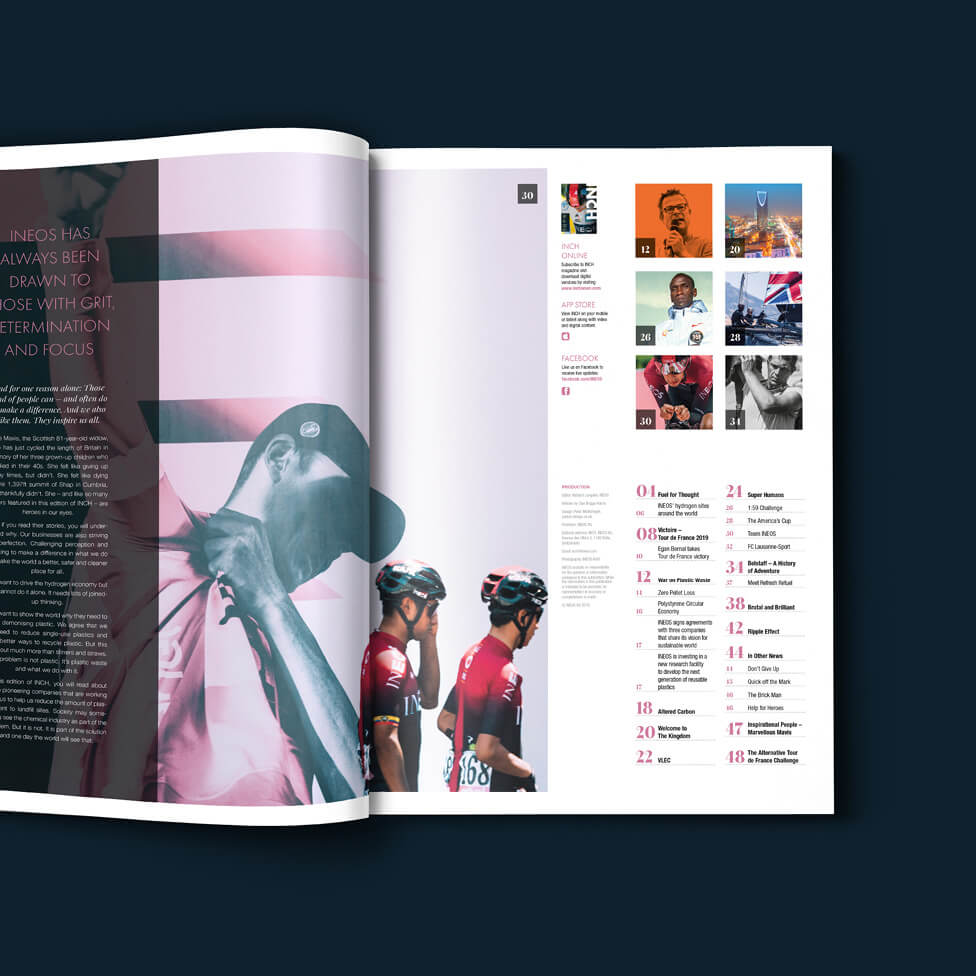 Team INEOS's victory at the Tour de France is given pride of place, with the colour scheme for many of the magazine's pages inspired by the Tour's own brand scheme.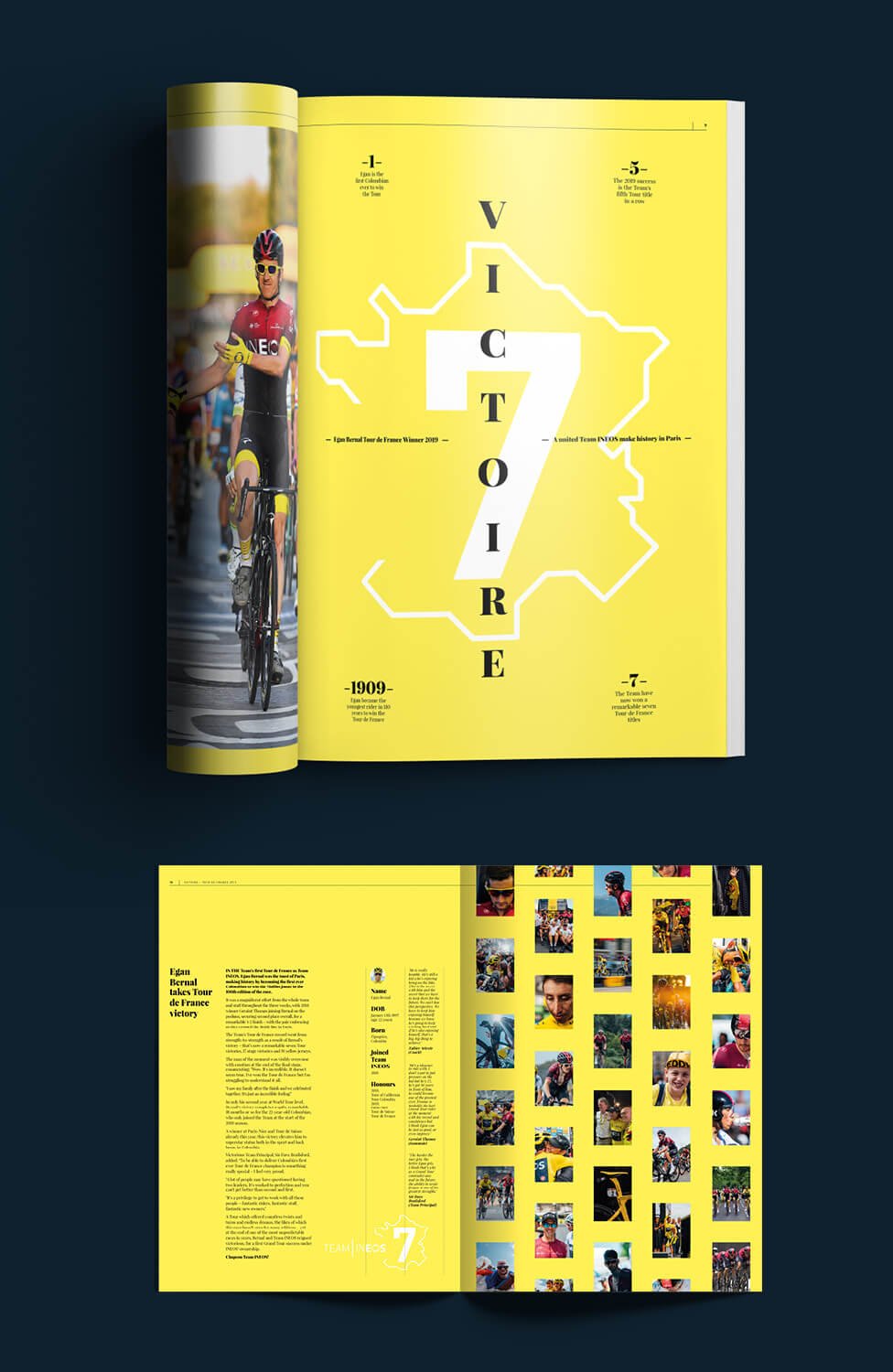 The magazine's content is varied, with our client's copywriter and our editing editing team ensuring there is a wide range of stories, big and small. Corporate stories filled with powerful professional photography may be followed by more personal stories of what INEOS and its employees have helped achieve in the local communities.
With one of the main contributions being amateur photography to illustrate employee stories, we ensured the design could comfortably accommodate photographs sent in by INEOS employees, regardless of timings (often close to publication date), quantity or image resolution.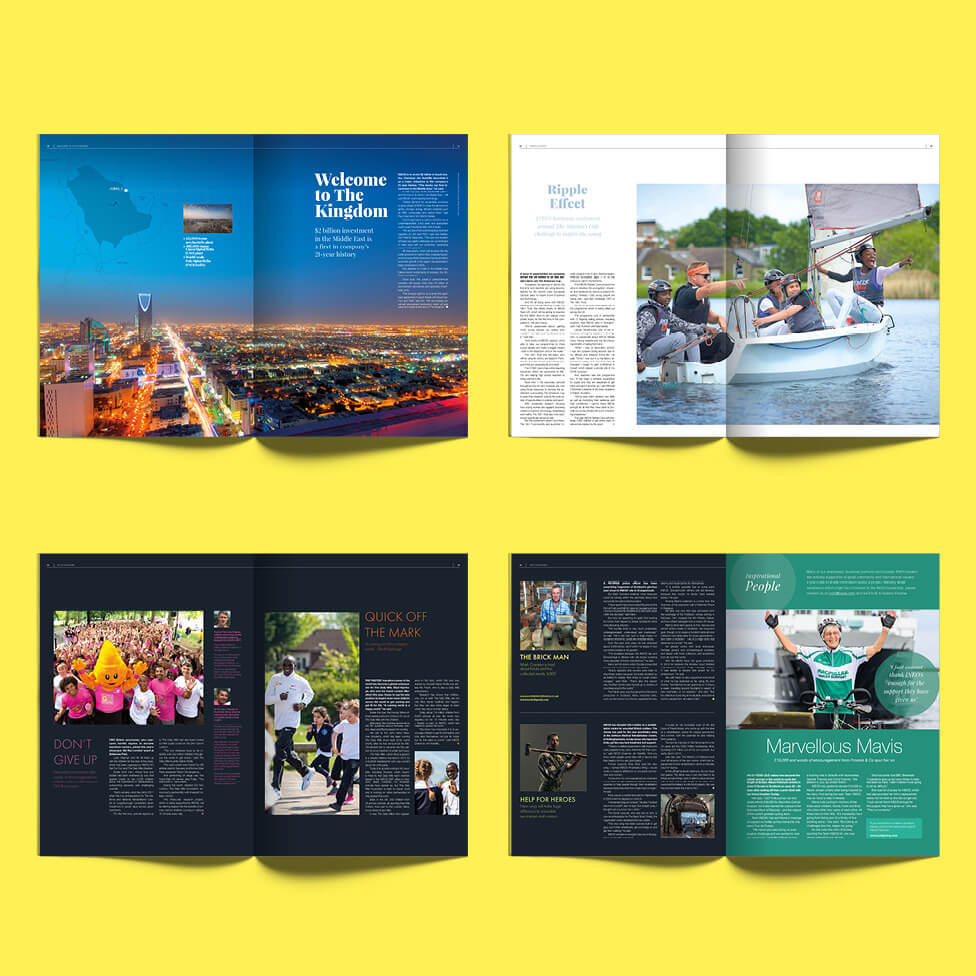 We worked on content from scratch: after being supplied with some of the article headlines and a simple editorial plan with number of pages for each issue, the copywriter planned content and carried out in-depth interviews.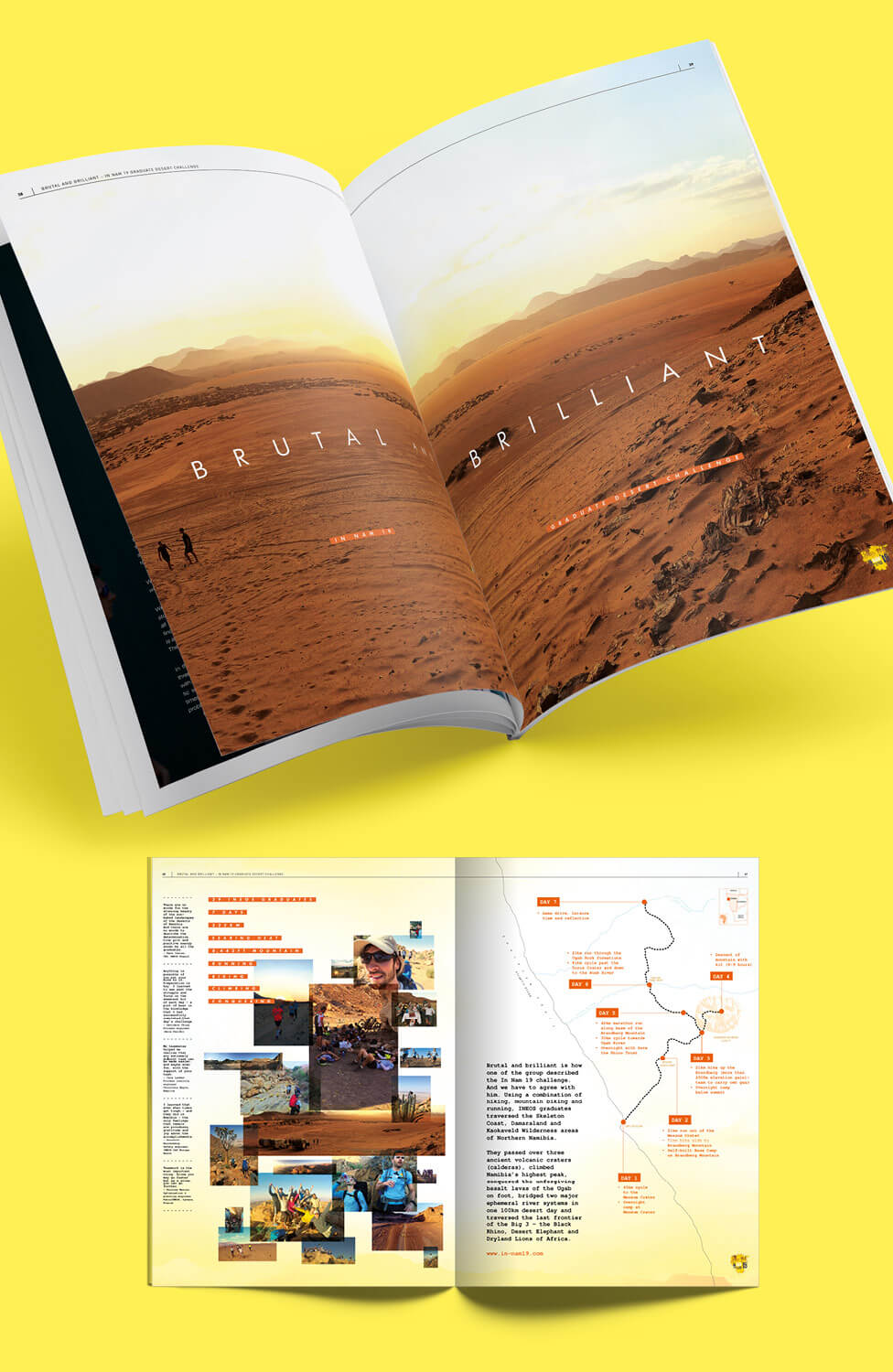 The company magazine feels like a premium publication. Strong pieces immerse the reader in content and layouts that wouldn't be out of place in a prestigious Sunday magazine.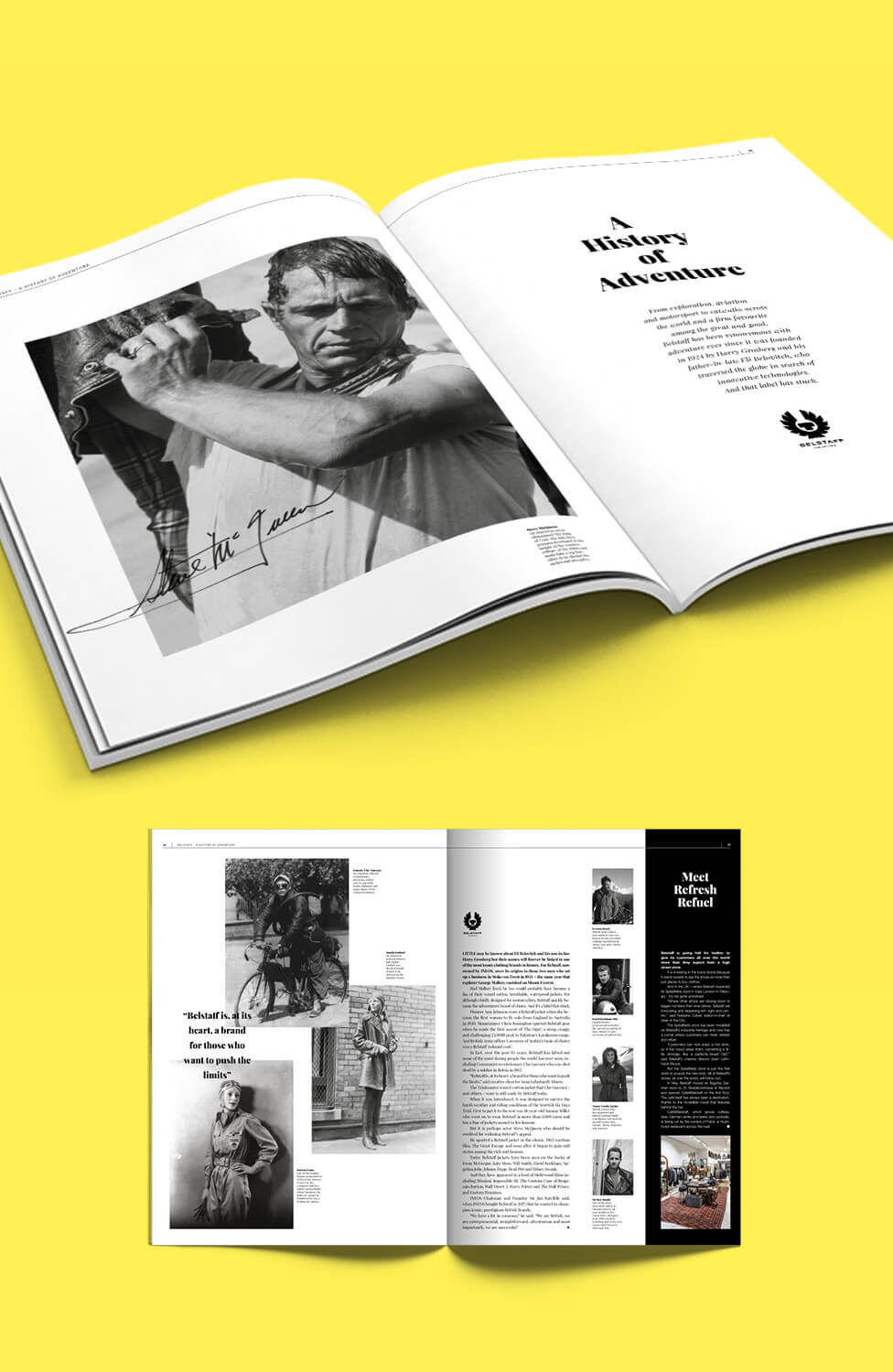 Using large vertical blocks to structure some of the imagery allowed us to maximise space on the page, whilst also hinting at the concepts of scale, aspiration and achievement.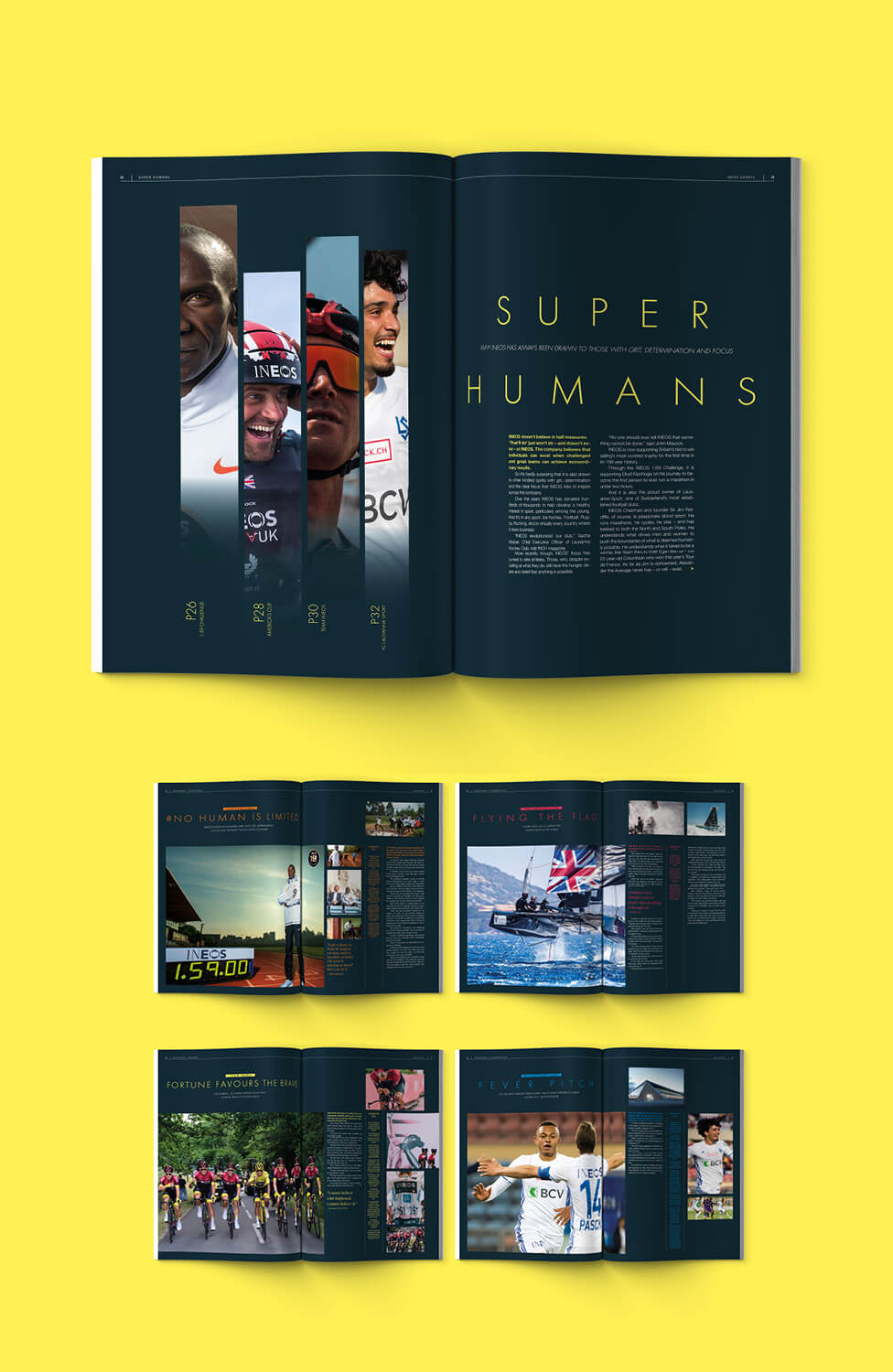 The company magazine faces hot topics head on, displaying confidence in our client's commitment to providing industry solutions focused on sustainability. An issue that made national headlines is addressed with determination, with unambiguous copy and strong warm colours, hinting at our client's passion for the subject.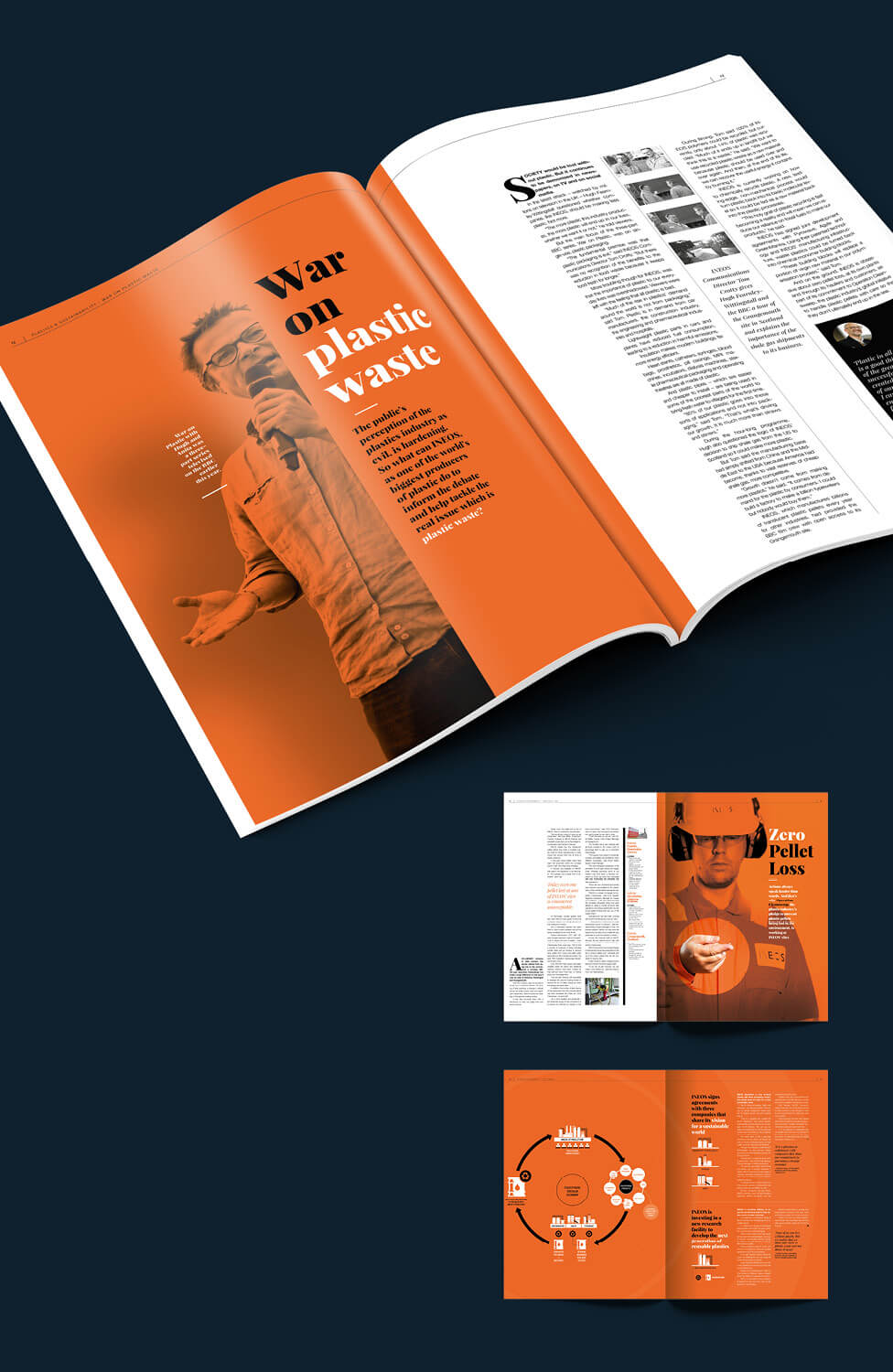 The company magazine is peppered with beautiful photography that transmits the power of energy, effort and true commitment.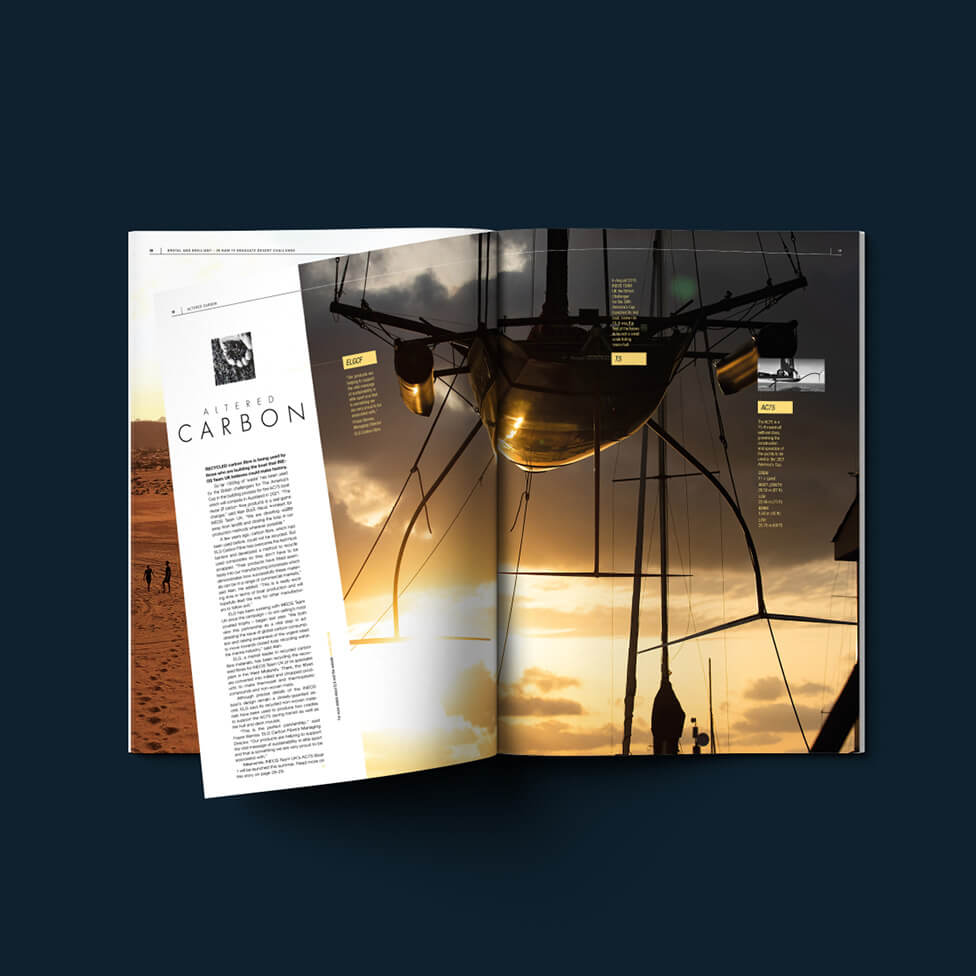 We also communicated the idea of size and scale through impactful typography, resulting in visuals that command attention straight away and stay in the mind long after putting the magazine away.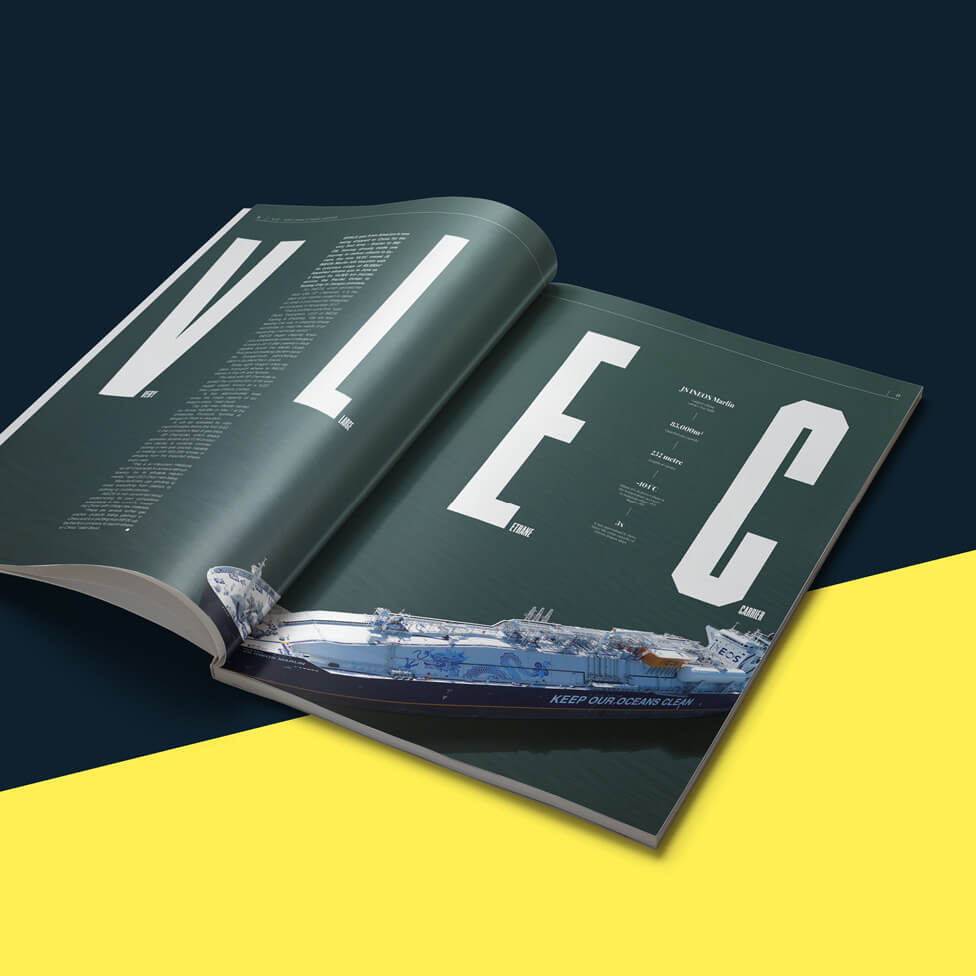 The style of the thought leadership article headlines is both playful and inspiring, with infographic-inspired illustrations helping explain complex processes.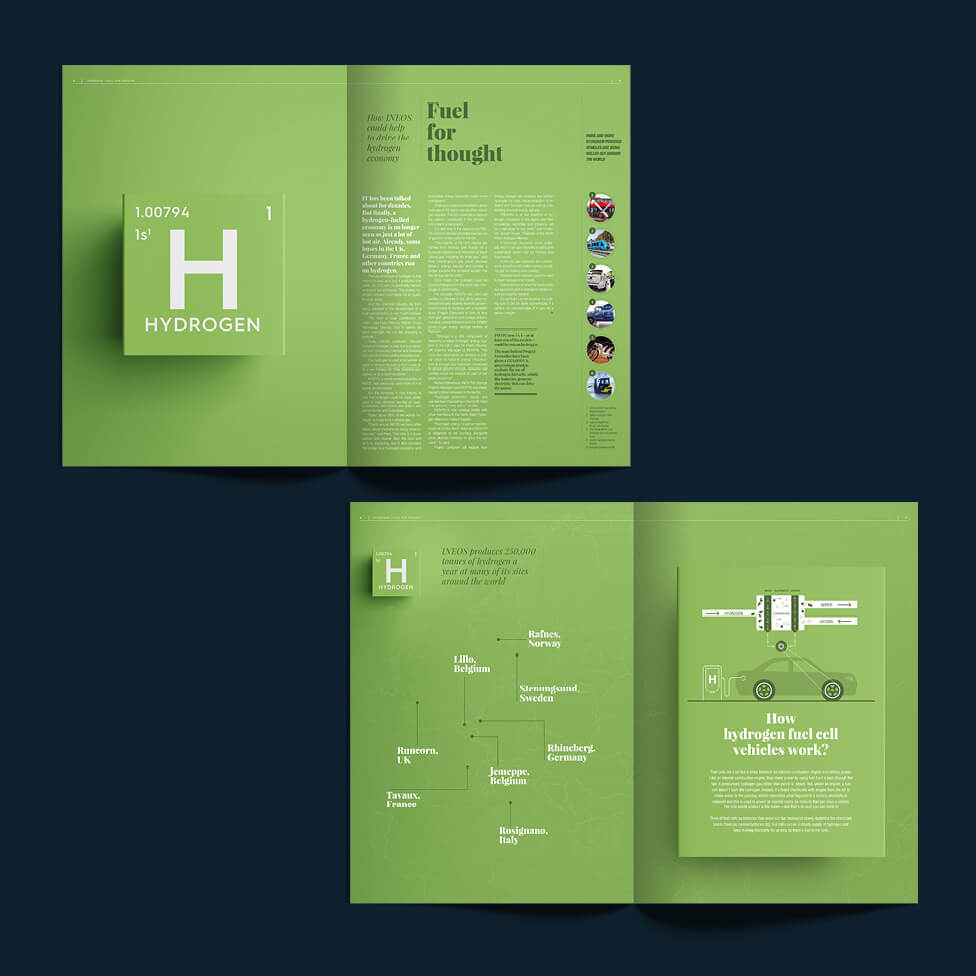 The magazine has also been translated into several languages, further maximising employee engagement regardless of where in the world staff operate from.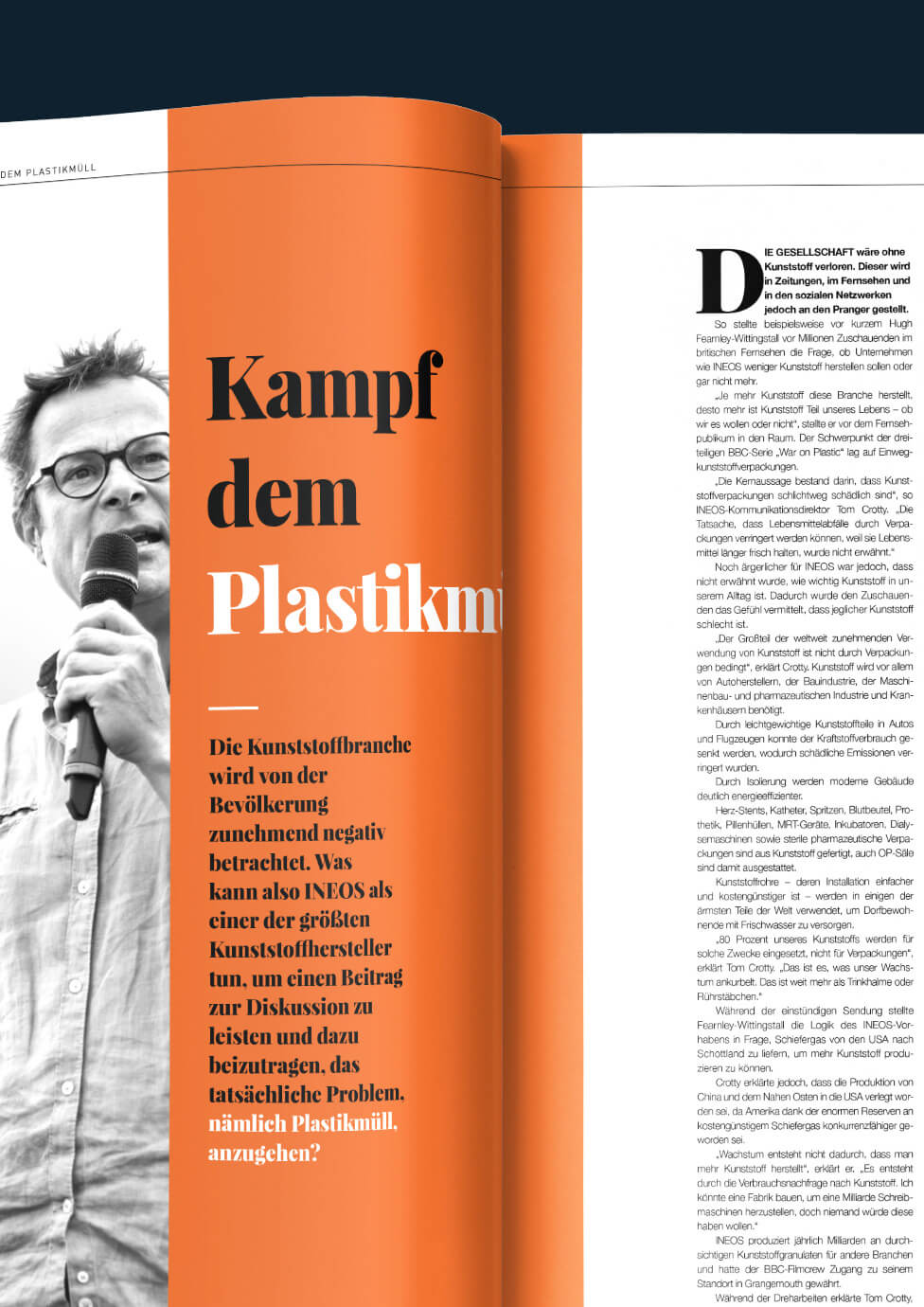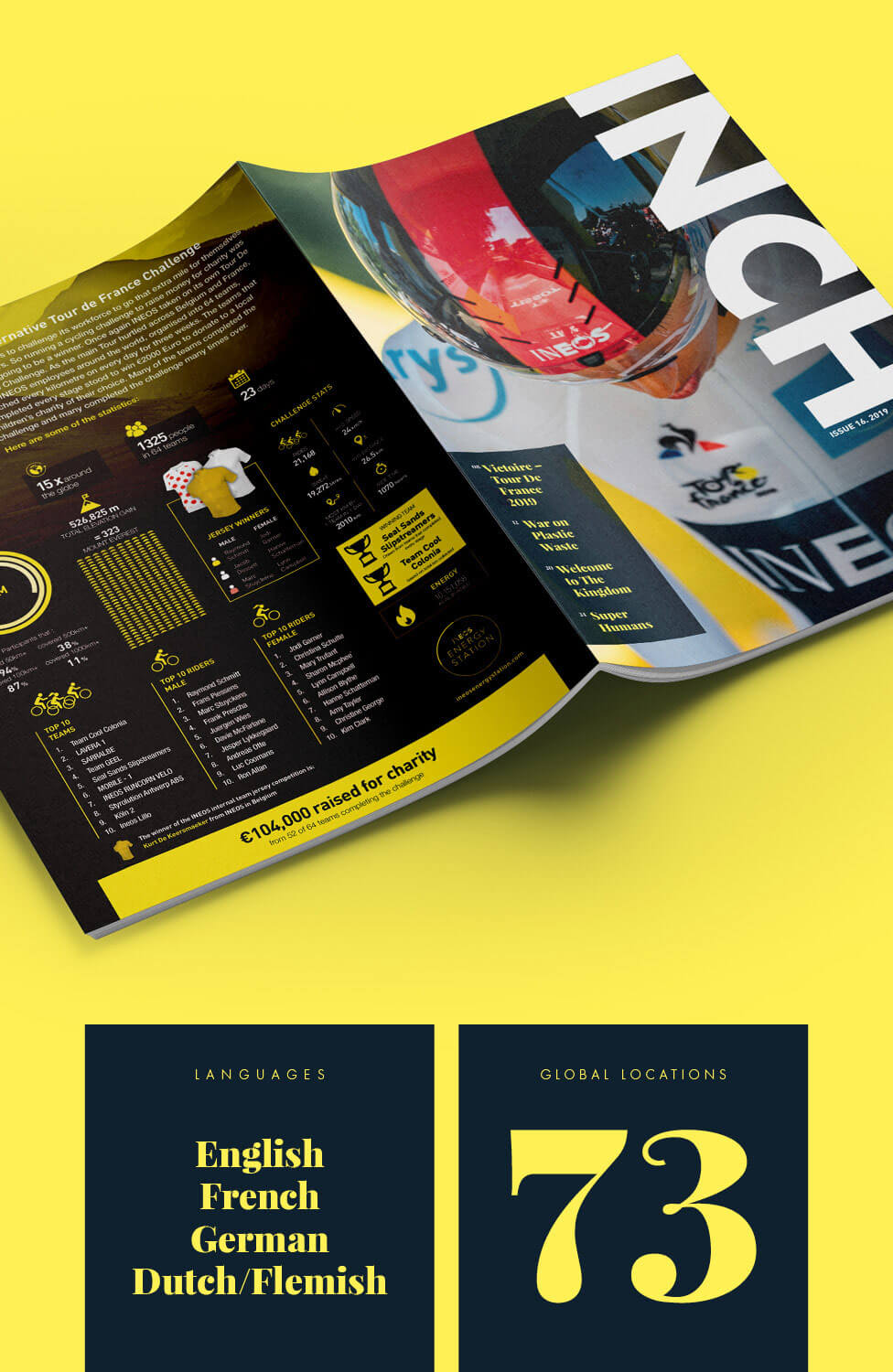 As well as managing the fulfilment to 70 different addresses, we also supplied assets for an online microsite version of the company magazine.
(*) The name INCH is a combination of IN from INEOS and CH, which stands for the Latin version of Swiss Confederation (Confoederatio Helvetica), as the company's HQ is in Switzerland.