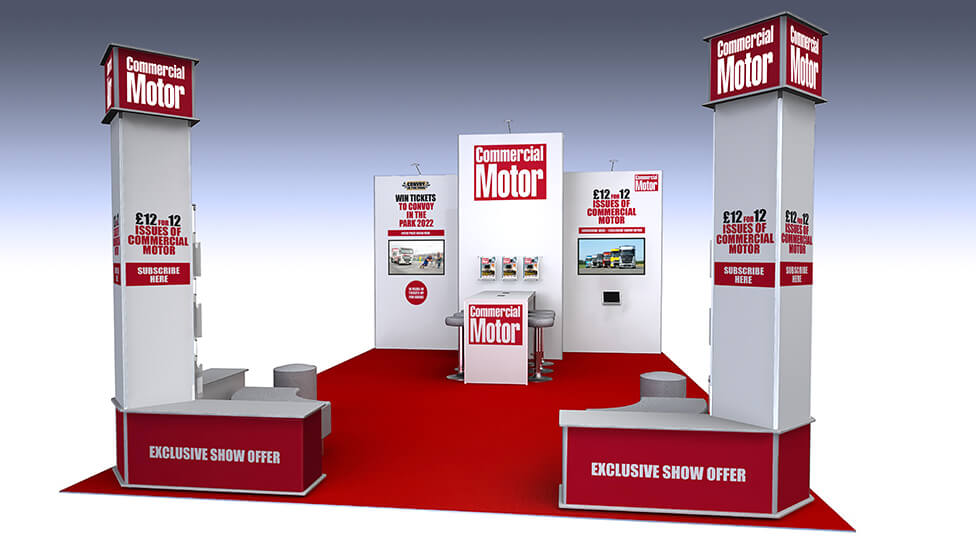 With this modular stand we kept it simple, relying on a confident approach to branding and an open and fluid structure that attracted delegates despite Covid-19 still being front of mind.
Background
Also with a major online presence, Commercial Motor is a leading print publication in the used trucks, trailers and commercial vehicles industry. With a circulation of 10,000 for the printed weekly, the magazine also features road transport sector news and buyers guides.
With the Commercial Vehicle Show returning to Birmingham's NEC after Covid-19 lockdown measures around in-person events had been relaxed, our client was exhibiting at the show, where fleet operators and other industry professionals get the opportunity to network and showcase their brand and products to audiences in the thousands over the three-day trade show.
Challenge
To design and build an uncomplicated yet effective modular stand that would generate awareness of Commercial Motor, and ultimately generate new subscriptions to the weekly trade magazine. The primary hook to attract delegates to the stand was a promotional offer that would have to feature prominently in the space.
Solution
We kept it really simple. After working closely with our project partner – Venues and Events International – on three different concepts, Commercial Motor opted for an uncomplicated modular stand that focuses on structure, light and space and moves away from previous exhibition designs, where different elements would fight for attention.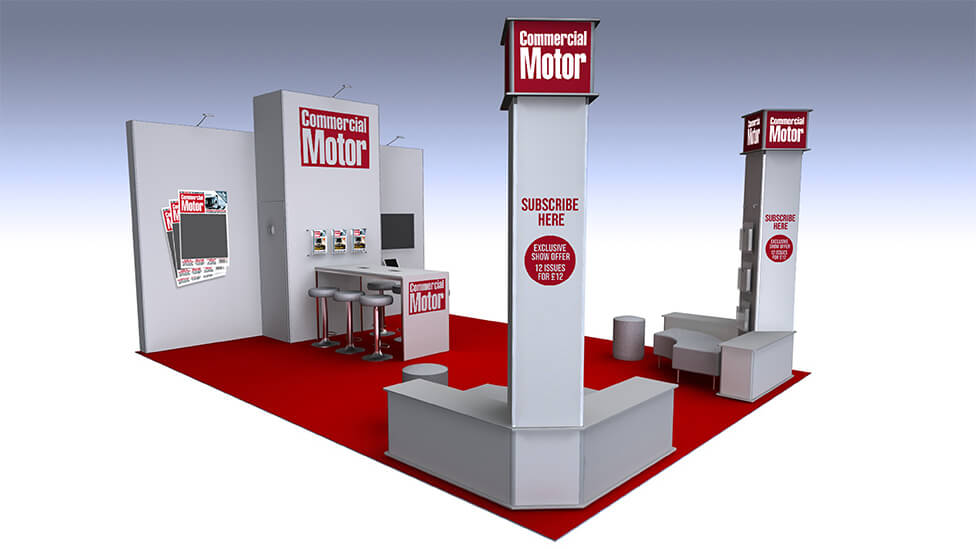 A strong and confident approach to branding is one of the most prominent features of the 7m x 5m modular stand, with messaging kept to a minimum to allow the subscription offer to stand out. We kept the structure open on three sides, which allowed for a comfortable flow of traffic and plenty of distance between delegates, a key consideration with the pandemic still in everyone's minds.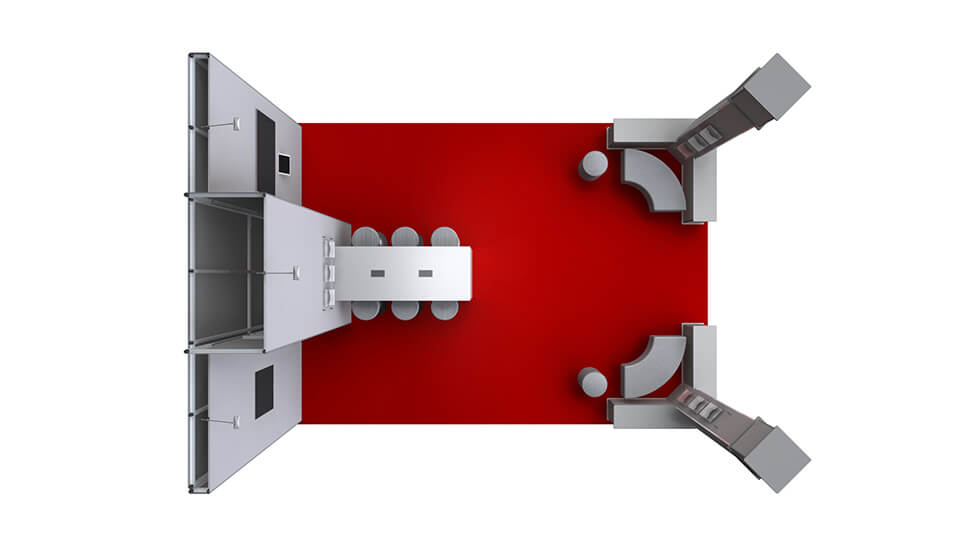 On-brand red and white tones add a striking contrast to the exhibition hall's blue carpeted floor, making the stand an energising and welcoming space to attract visitors.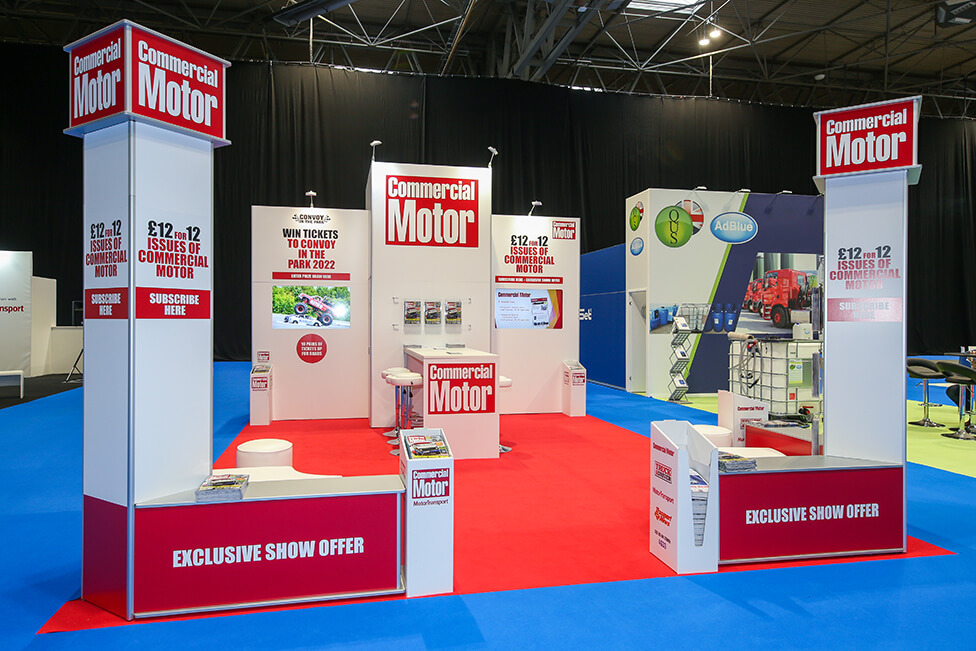 The stand is flanked by two imposing fully branded corner totems, which help to add a clearly defined structure whilst keeping the exhibition space open. Magazine holders placed on the totems, on the side facing the centre of the stand, act as a hook to attract passers-by to step into the space and pick up the latest issue. Once inside the stand, a seating area strategically placed by the totems encourages delegates to dwell in the space for longer.
At the back of the stand, the storage area adds visual interest, as well as keeping the stand decluttered and clean. We maximised space on the back walls by mounting two screens that show promotional content on a loop. The back wall was also used to promote Commercial Motor's secondary message – a competition to win tickets to Convoy in the Park, organised by Commercial Motor – and also as a backdrop for a set of literature holders and two magazine bins.
The area also includes a meeting table where existing and new customers can relax and network. The tall table can comfortably sit 6 people and includes USB charging and 3-pin points, which also help increase dwell time.
The modular stand system was a success at the show, and will allow Commercial Motor to roll it out for future exhibitions. Easy to reconfigure, the stand is an extremely cost-effective solution, regardless of floor space allocated or messaging focus.