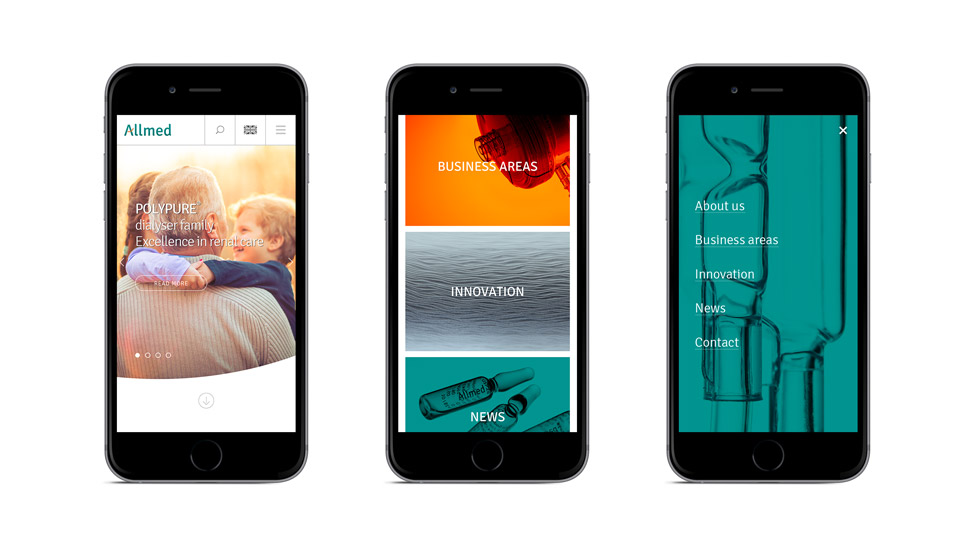 To present Allmed as a streamlined and unified team, we created a striking website that effectively gets across their passion for innovation and commitment to making a difference.
Background
Allmed, which delivers world-class dialysis treatment therapies, is a young company made up of people who thrive on building relationships and working towards a brighter future for renal care.
The company designs, delivers and distributes the very best patient-centred care. Passionate about innovative, high quality and flexible products that improve the quality of life of patients across the globe, Allmed employs over 1500 staff working across eight countries and serving over 40 markets.
Challenge
The Allmed family only came together a few years ago, but their heritage goes back over 30 years. Theirs is a story of collaboration: a group of smaller long-standing companies, each with its own area of specialism, joined up to do things better. As their previous website wasn't a true reflection of who they are as a company, they asked us to design a new website that would help them communicate their mission.
Solution
The mobile responsive web design we created perfectly transmits the idea of a streamlined and unified team driven by innovation and making a difference to patients everywhere.
Full of personality, the clean design, striking photography, bright yet elegant colours and uncluttered layout and navigation allow our client to illustrate their services and expertise in a seamless way, helping generate brand awareness and establishing them as an authority in their field.
The four business areas Allmed specialises in are introduced through stunningly beautiful photography that makes Allmed's products evoke desirable works of art, and bring the people they help closer to the audience.
Inspired by the curved line in Allmed's logo, we used it as a visual device to inject subtle movement whilst structuring content on the pages.
We built the website using WordPress as the Content Management System (CMS), allowing Allmed to keep the website fresh with the latest news and company developments.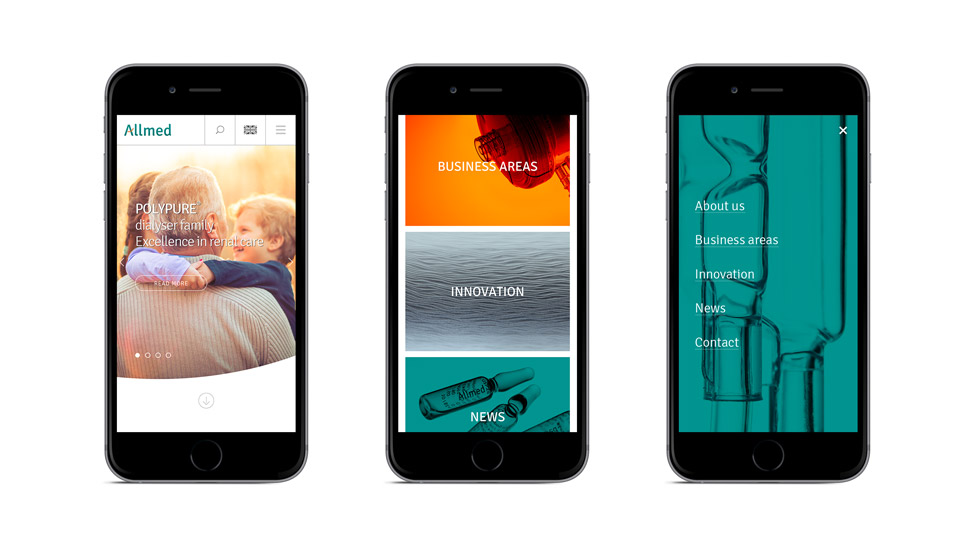 The mobile responsive web design and accompanying materials were launched at the 54th ERA – EDTA Congress in Madrid, where over 7,000 physicians met to discuss the very latest industry innovations. Both delegates and Allmed employees agreed on the success and impact of the new design, with the client now looking to mirror it in other communications.