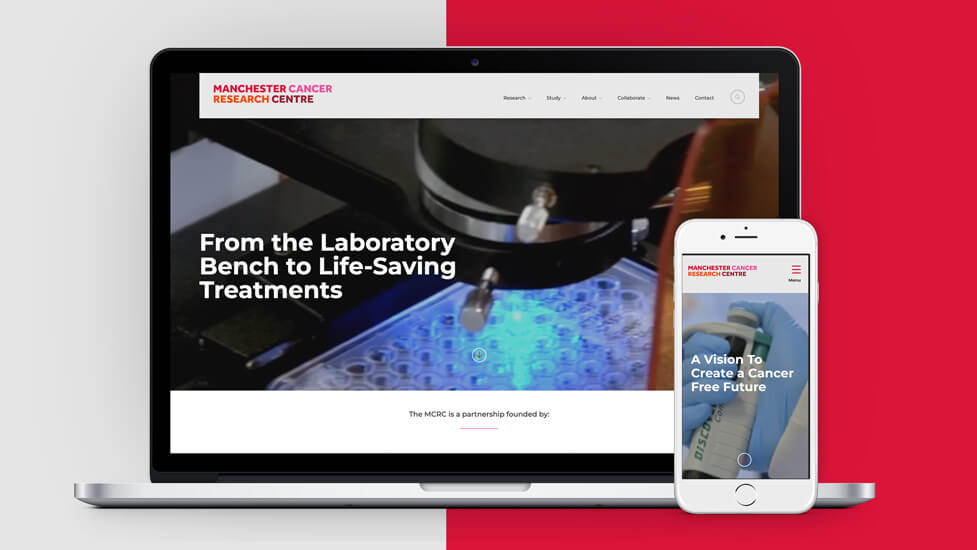 With a strong focus on improving the user experience, clearer routes and navigation, and refined messaging and CTAs, this website redesign helped elevate MCRC's digital presence, bringing it in line with the organisation's status as a world class research facility.
What we delivered, at a glance:
Significantly improved design and content publishing capabilities
Comprehensive revision of user experience, journey and desired outcomes
Full featured and flexible Content Management System built on WordPress
Mobile first, fully responsive, block based 'page builder' system
Adherence to WCAG 2.1 accessibility guidelines
Fine grained performance through progressive enhancement and page speed optimisation
Structured approach to SEO focused on core fundamentals and industry best practice
Background
The Manchester Cancer Research Centre (MCRC) was set up in 2006 by three partners: The University of Manchester, Cancer Research UK and The Christie NHS Foundation Trust. This unique collaboration brings together expertise, vision, resources and formidable individual reputations in the field of cancer research.
MCRC's reputation across all aspects of cancer research has been driven by this collaborative and multidisciplinary approach, developing various centres of excellence to promote its offering.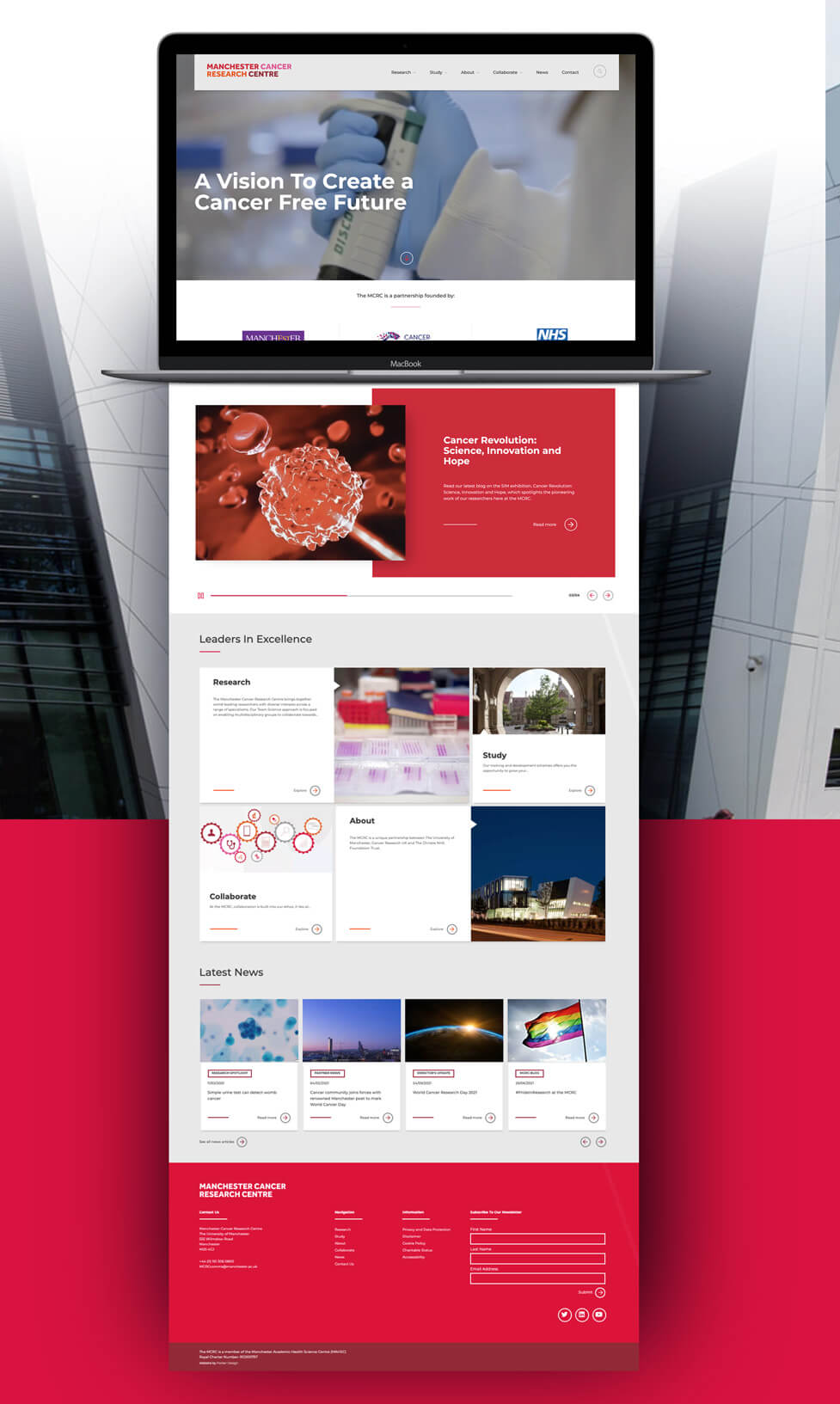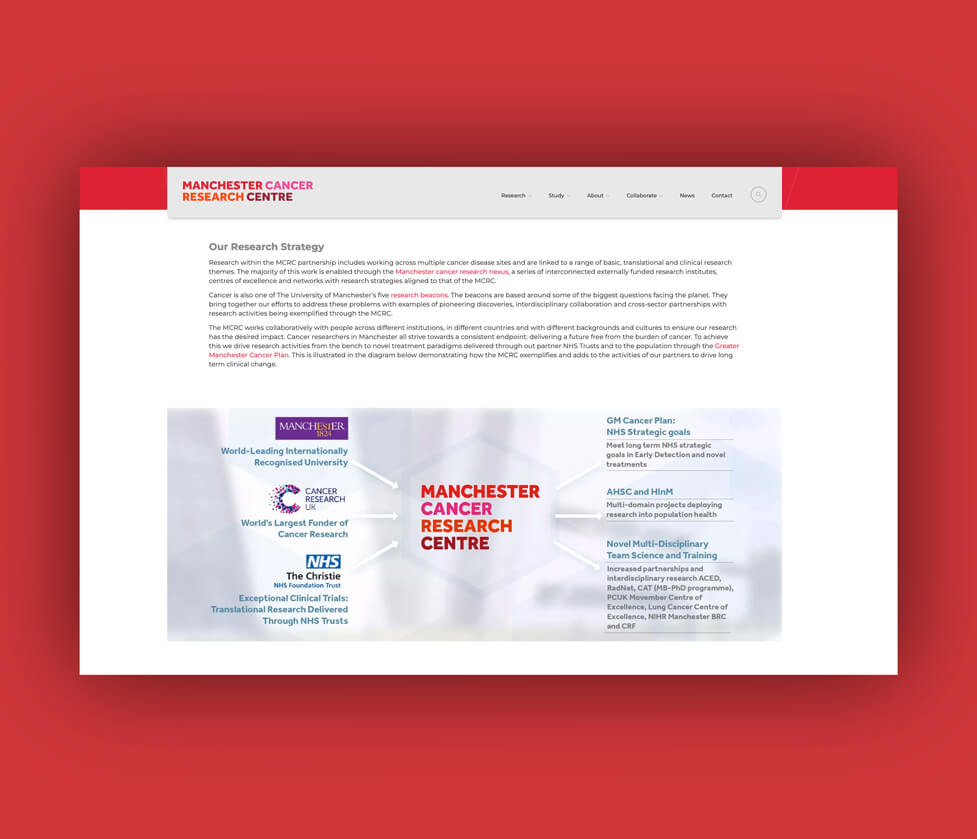 Challenge
Whilst MCRC has remained at the forefront of this research, other specialist centres in the UK had begun to detract the focus of attention away from the North West.
Our client wanted to put Manchester and the region back on the map, with the MCRC as the umbrella organisation that encapsulates all of this important life-saving work.
To achieve this goal, our client had decided to embark on a full website redesign and redevelopment exercise with a strong focus on improving the user experience, with clearer routes and navigation, and refined messaging and calls to action. The new website should help elevate MCRC's digital presence, bringing it in line with the organisation's status as a world class research facility that will appeal to a varied internal and external audience of researchers, business leaders, healthcare professionals, patients and patient advocates.
Solution
We designed and developed a bespoke and flexible CMS (Content Management System) using the latest page builder technology, empowering MCRC web administrators to create and publish unique layouts around their content, instead of the content having to work around the CMS we had built for them.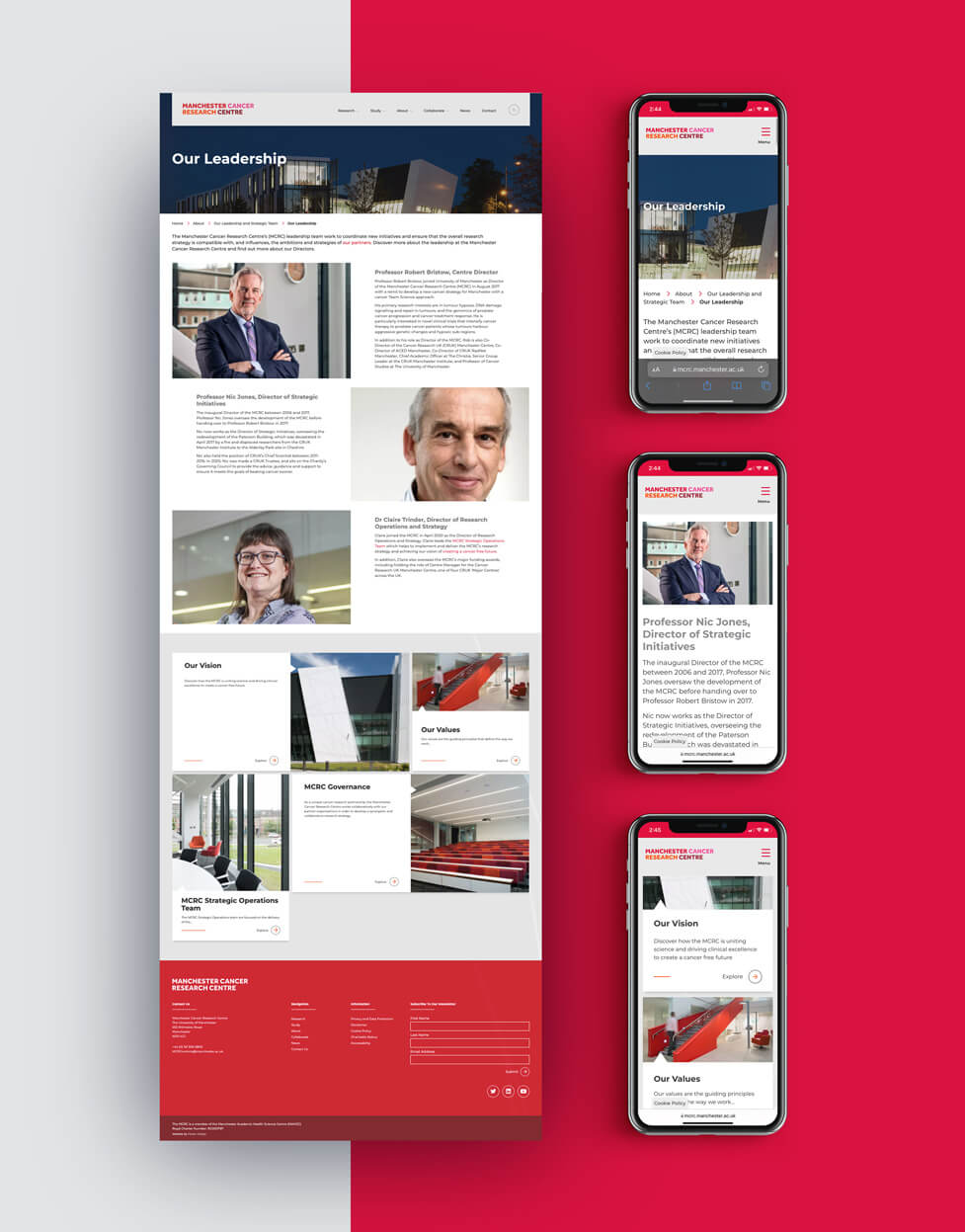 These unique layouts can be created by choosing from a series of highly curated, mobile responsive, pre-configured modular blocks which web administrators can select in any combination, number or order to perfectly fit their content and populate as desired.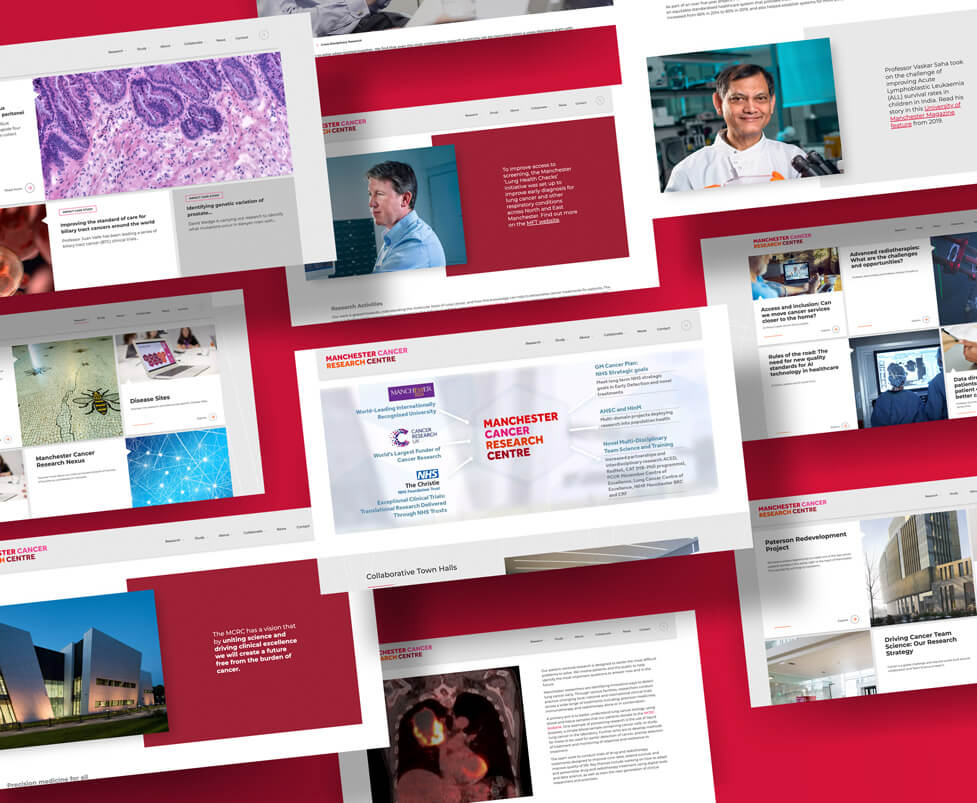 Each block provides a suitable UI (User Interface) to allow the user to add content efficiently, i.e., file browser, relationship field, and RTE (Rich Text Editor) or WYSIWYG (What You See Is What You Get), systems that allow content to be edited in a form that resembles its appearance once displayed as a finished web page.
The initial blocks are based on a wireframe output and provide a wide range of flexible options, however, the modular approach specifically allows for phased delivery of additional (or amended) blocks over time, keeping the look and feel of the website always fresh and current.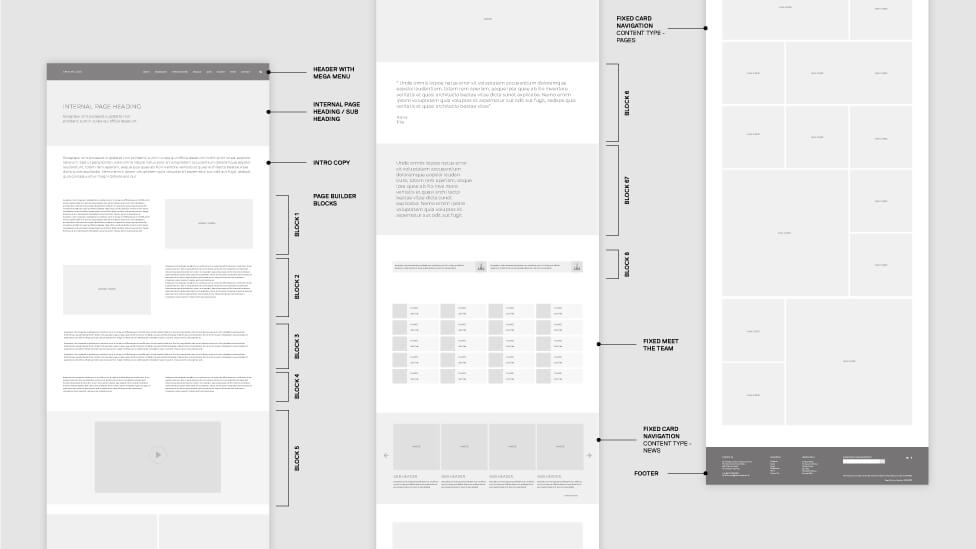 The page builder technology also allows for the inclusion of special purpose blocks that facilitate third party embeds, such as responsive video embeds (YouTube / Vimeo) or direct HTML / IFrame embeds.
The primary navigation provides a 'mega menu' style interface on large breakpoints and a 'full screen accordion' style interface on smaller breakpoints. In both cases, we designed and built the interface to support up to three levels of content hierarchy.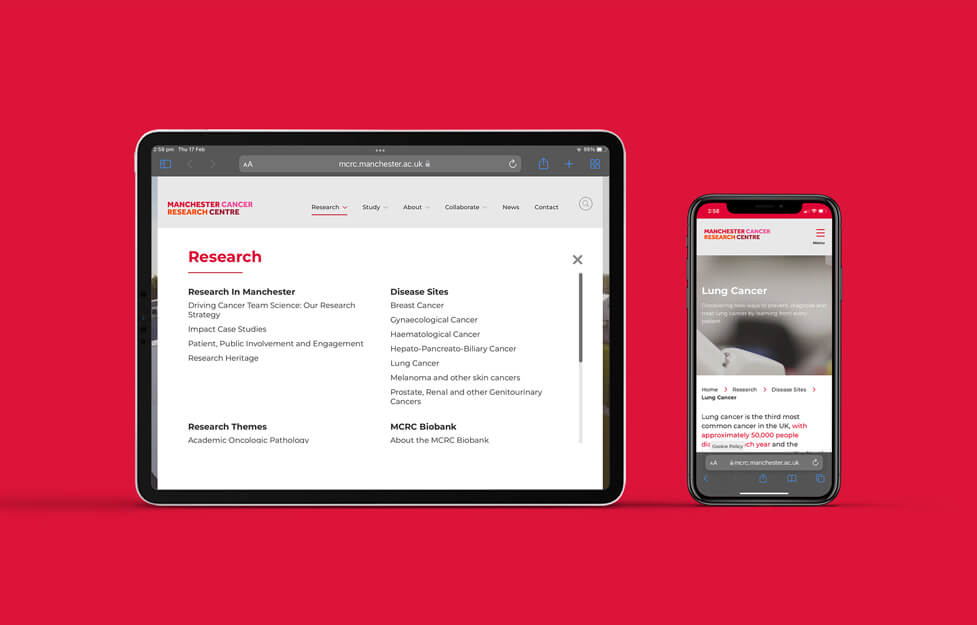 The fully responsive 'mobile first' templated system we built is based on five core responsive breakpoints. Flexible templates featuring card-based navigation allow editors to fully control and specify all aspects of the content independently of the destination, and support external links.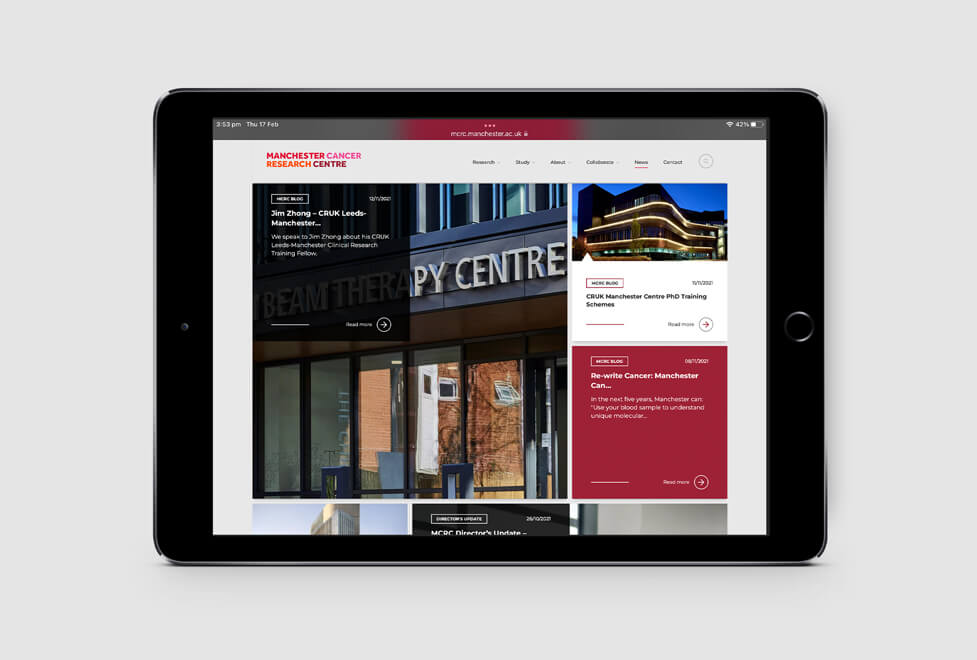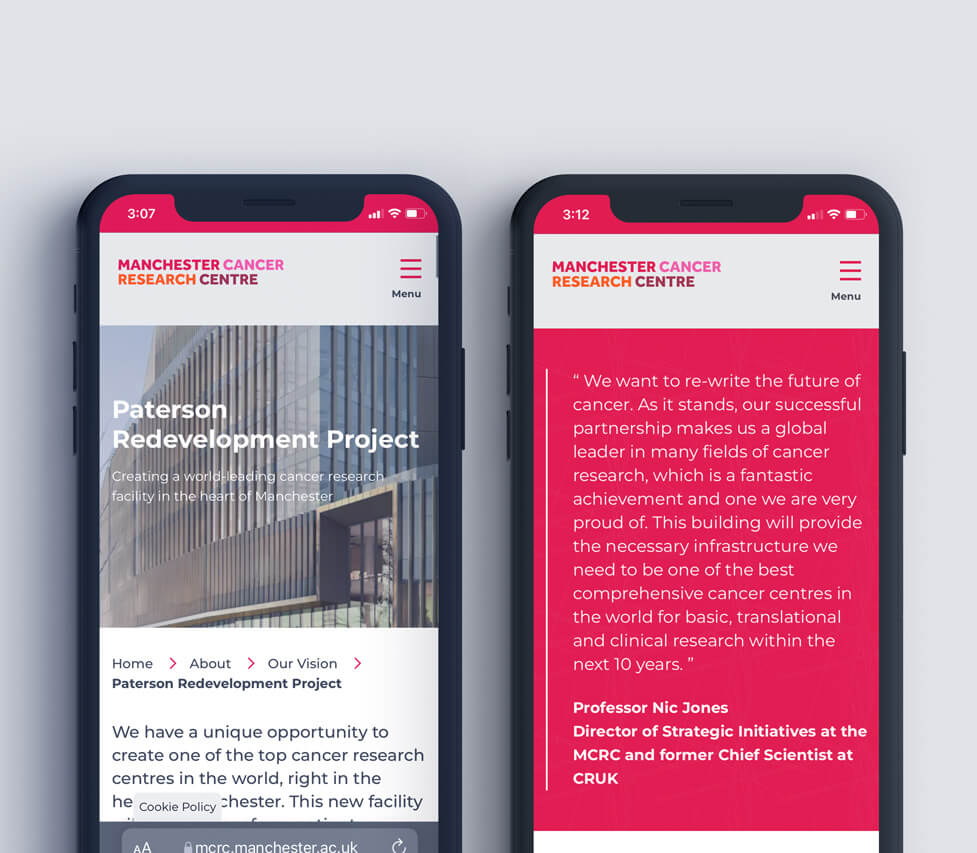 A feature included in the website redesign and build, which offers functionality and performance benefits as well as an engaging visual experience, is 'lazy loading'.
With lazy loading, images are initially served on the page in low resolution (with small file size and high blur), while the equivalent high resolution images are asynchronously loaded as they enter the viewport. The lazy loading process defers much of the page weight until after the page has rendered, which has a positive impact on page load speed and also benefits SEO performance; the high blur also adds a nice visual effect.
With increased visibility in the digital space, the new website acts as a one stop shop resource for cancer research activities in Manchester, with the latest news, research and stories from cancer researchers whilst enabling MCRC to showcase and document key collaborations with partners.
"The MCRC website has been one of the largest comms projects we've undertaken and has been beset by challenges including a global pandemic, working from home and a busy and difficult research landscape, but I honestly can't compliment the new website enough.

This has been a mammoth undertaking for the MCRC, and it's incredible that we've now crossed the finishing line. But throughout the entire project working with Parker has made the process much easier. From the excellent designs to the robust and intuitive backend of the website, it's everything I wanted and more.

Please pass my thanks onto the rest of the team who have helped to make this launch possible. We're incredibly impressed and look forward to seeing what we can do together in the future."

Communications Manager – MCRC and CRUK Manchester Centre
This project went beyond website redesign and improved user experience and functionality – the new website design helps promote engagement, understanding, connection and a renewed sense of community and pride amongst MCRC's staff, key stakeholders and audience. The result is a website that informs, engages and inspires, cementing MCRC's reputation as a world leading authority in the field of cancer research.