We produced a new company brochure design that gave our client's sales team a valuable tool to demonstrate the company's capabilities.
Challenge
Following the design of their new logo, Dynamic-Ceramic's next brief was to create a new company brochure to help launch their new brand and give the company's sales team a valuable promotion tool. The company brochure design had to feature general information about Dynamic-Ceramic, as well as specific information about the varied product range.
Solution
We created an oversized A4 8-page brochure containing all the general company information. Integrated into the inside back cover of the brochure was a die cut glued pocket which would take a series of A4 product-specific data sheets. The individual data sheets could then be designed and printed cost-effectively each time the company introduced a new product, without requiring the main brochure to be reprinted, a cost and time-effective solution.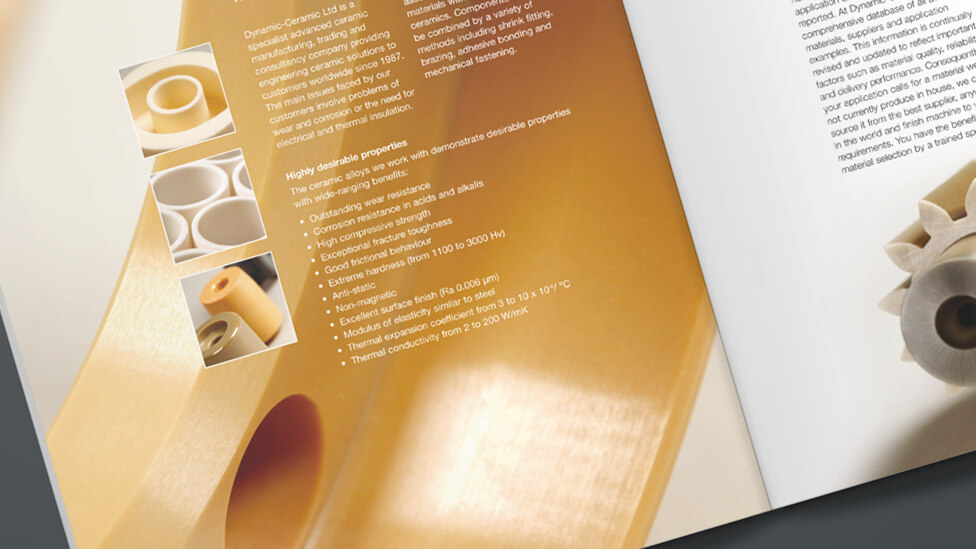 To complement the new logo and to bring the brand to life, we developed a photographic style featuring a wide range of components shot in a highly artistic way, creating interesting shapes, graphics and colours, whilst also showcasing Dynamic-Ceramic's manufacturing capabilities. These product shots were complemented with photographs taken in and around their manufacturing facility.
The stunning new brochure was printed onto a heavy weight silk stock, giving a crisp sharp bite to the print and great depth to the photographs. To protect the brochure, increase its durability and add a tactile, sophisticated quality, we finished the piece with a matt laminate to the outer cover.
Over the years we have designed a wide range of brochures to help our clients meet their goals. Click here to see some examples.