With rapid expansion and recruiting new employees every month, our client recognised the need for a corporate recruitment brochure design that would give potential candidates an overview of the benefits and expectations that come with working for the company.
Challenge
The main aim of this piece of collateral was to get across a number of key points within the brochure design, to both entice and reassure candidates that they where making a sound decision when joining the team and kick-starting their journey to meet their ambitious career goals.
Solution
Following this approach, we split the recruitment brochure into two sections – one dedicated to company history, location and general information, the other focusing on core areas and opportunities available to graduates working within the Financial Services team.
Have a look at other recruitment marketing ideas

that have helped our clients attract top talent.
The use of testimonials, photographs of current graduates and the use of 'flowing' graphic lines give a sense of journey and progress, all helping bring the brochure to life and providing a sense to candidates that this is a 'real' opportunity to drive their careers forward.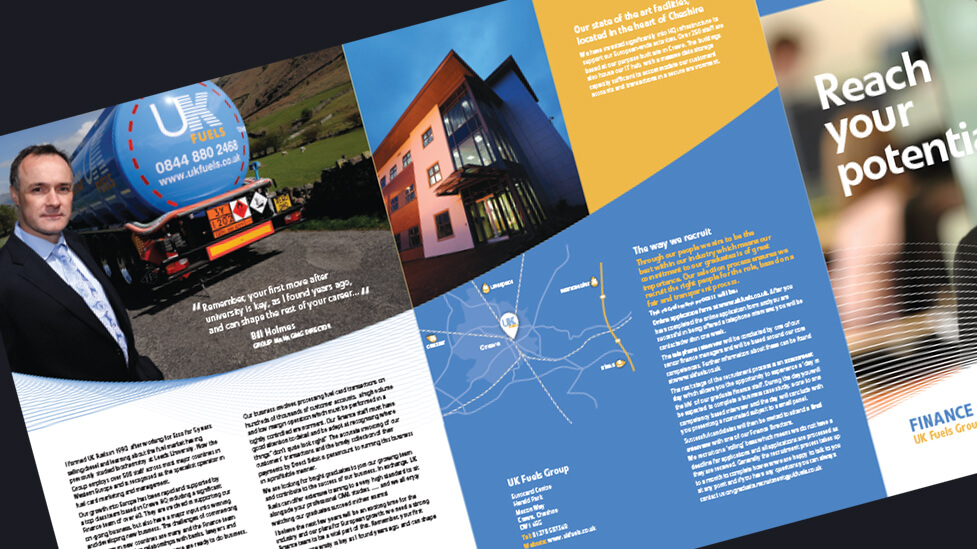 The corporate recruitment brochure enabled UKFuels to drive the graduate programme forward and provided the company with the means to reach and appeal to the top talent pool.