Aiming to maximise their investment in three major industry shows, DAI commissioned an exhibition animation to help them distill the complexity of their processes, and draw visitors into the stand.
Background
The Logistics and Supply Chain execution software solutions offered by DAI benefit – just in the UK – over 30 million people. Worldwide, our client supports more than 500 sites in 16 different countries, and for over 40 years DAI has been helping clients – both large-scale and niche retailers – remain competitive thanks to effective IT solutions they can rely on.
DAI's history of success providing fulfilment solutions to companies all over the world took them to exhibit at three major shows: Retail Week Live, Multimodal, and Intermodal Asia. Overall, an audience of thousands for DAI's ecommerce fulfilment solutions.
Challenge
In three large exhibition spaces, where DAI was mainly surrounded by exhibitors with larger plot sizes and stands, our client required an effective way to maximise their investment in the shows – a presence that would quickly attract delegates' attention, inspire curiosity and encourage them to spend time with our client.
Solution
Overall, the small exhibition space relies on visual simplicity and clear messaging to attract the crowds: a mixture of quality photography, playful illustrations and DAI's hexagonal brand shapes generate interest immediately.
The animation then acts as a hook for the audience – delegates who are already on the stand interacting with DAI's sales team, or passers-by who feel compelled to join in – and immerses them in the wide range of benefits offered by DAI's products.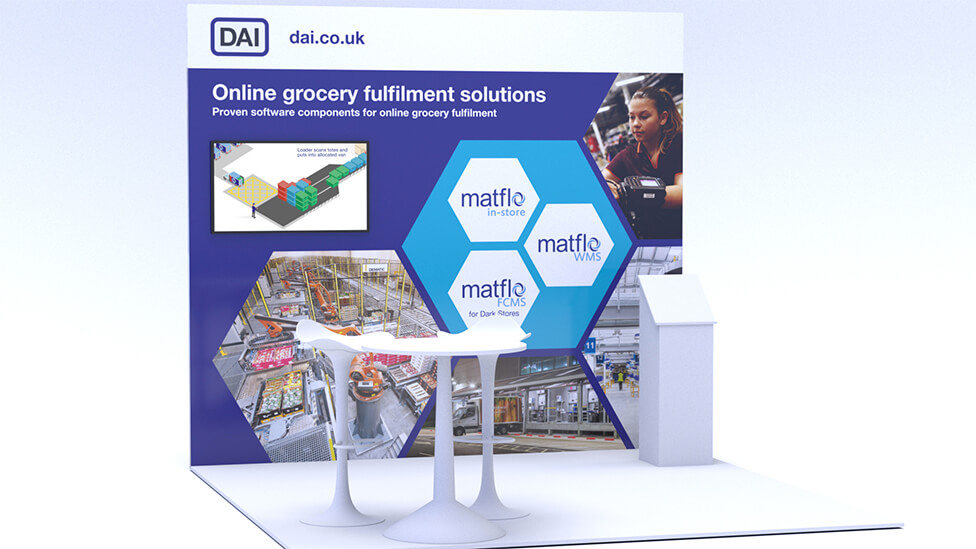 A simple hexagon pattern on the stand wall communicates the idea of structure, and helps draw attention to a screen where the exhibition animation looped throughout the day.
We produced two animations*, one covering DAI's Dynamic Transport Solutions and another to explain the benefits of the company's Fulfilment Centre Management System.
Both follow a clearly descriptive structure, brought to life through fresh illustrations and an animation style which, whilst playful, does not distract from the complex processes it helps define.
Our team went through a thorough process to deliver two complex animations that look simple to the viewer. Once our illustrator had finished his designs, they were ready for the animation production team.
The team approached these animations in a totally different way: instead of a more traditional approach where the various elements that will make up the animation are created first, and then followed by animation stages, the team worked "backwards".
Two big process maps were created, with a looping effect applied every 8 seconds. Our motion graphics artists then "zoomed in" on details using camera functionality within Adobe After Effects. For the viewer, this approach adds realism and aids in understanding the complexity of the processes.
All the different elements in the supply chain are performing their specific function simultaneously, just as they would do in a real-life logistics scenario. Everything ties in seamlessly.
One element within the animation may loop four times, another element in the process twice, a third only once. The full cycle is then repeated as many times as necessary.
The animation looks 3D, but was produced in an isometric 2D style to help DAI keep budget and timings to a minimum: this exhibition animation project was completed in just three days.
The use of vector illustrations allowed us to maintain quality when animating them.
(*) – we have included a combination of both animations for illustrative purposes.