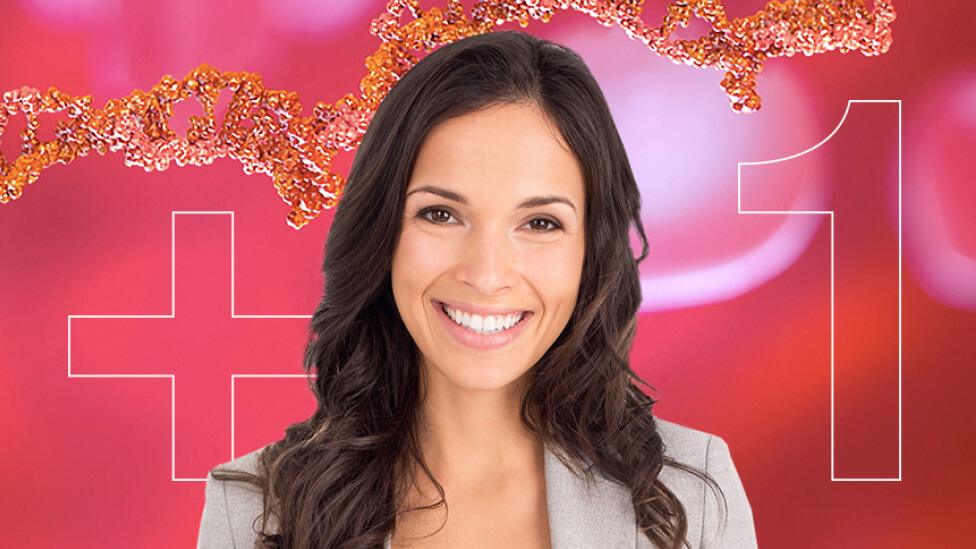 +1 is the concept of inviting someone you know to something special – a strong idea to encourage high levels of engagement in AstraZeneca's global employee referral campaign.
Result? Over 1000% increase in the number of referrals.
Background
AstraZeneca is committed to attracting great individuals, passionate about playing their part in helping patients around the world. Our client knows that a strong employee referral programme has several measurable benefits to the Company: referred employees are the first source of new hire quality, and show higher engagement, performance and retention rates.
Challenge
To support the process and ensure the success of the referral programme across AstraZeneca's global locations, our client needed to bring existing local – and differing – referral programmes together under one single concept. To maximise take-up of the fresh initiative, the lead concept and employee referral campaign roll-out had to be effective and engaging across different cultures, and translate in as many as 10 different languages.
Solution
We crafted a simple yet strong and confident identity to spearhead the new global employee referral campaign, an identity that speaks directly to the audience.
After testing different ideas with a set of diverse focus groups, +1 – the concept of inviting someone you know to something special – was the clear winner across different cultures and mother tongues.
Since launch of the +1 Global Employee Referral Programme, our client has seen a significant increase in both the number of referrals received and hires from referrals:

Over 1000% increase in the number of referrals received in Q3 vs. the same period previous year

Increasingly important source of hire – 21.9% of all external hires in the last 12 months vs. 5.5% in previous year

Lower time to fill position

Winner of the Brilliance in Recruitment and Retention Award at the HR Brilliance Awards
Based around the idea that people would only ever invite someone they know well, respect and would want to spend time with, +1 immediately inspires a sense of ownership and a feeling of making a personal difference: with every referral, employees could be changing people's lives.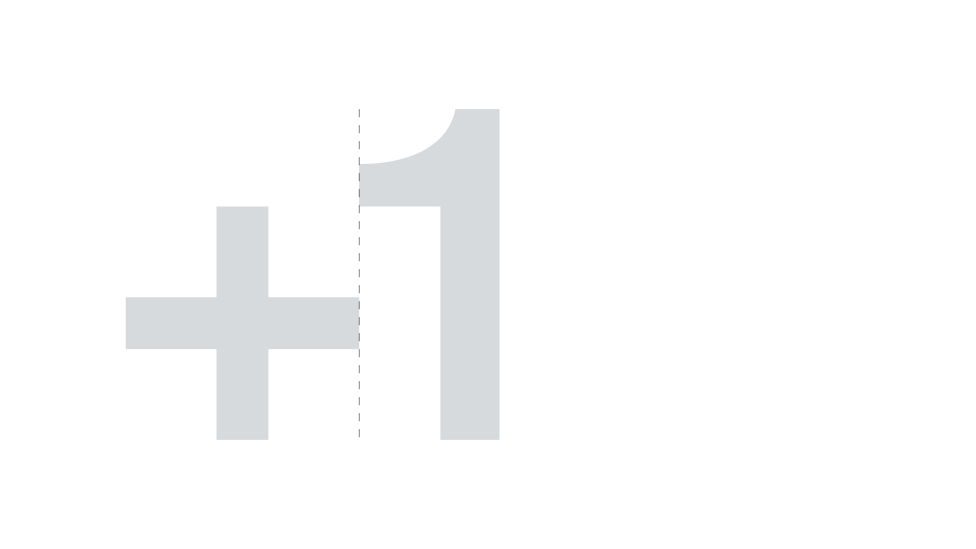 The identifier is a lock-up of two components – the +1 element and a descriptor that speaks directly to all audiences in 10 languages ("Your", "Ihr", "Tu", "Il tuo"…).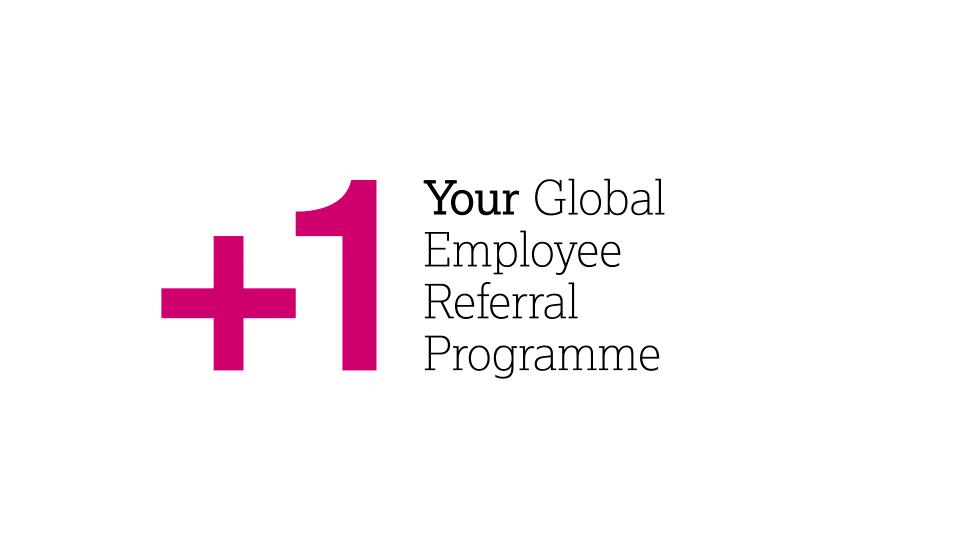 By making it personal, the employee referral programme identity adds credibility and encourages engagement. It makes employees feel noticed and appreciated, creating a powerful emotional connection, uniting everyone under a common goal, whatever role they perform or location they operate from.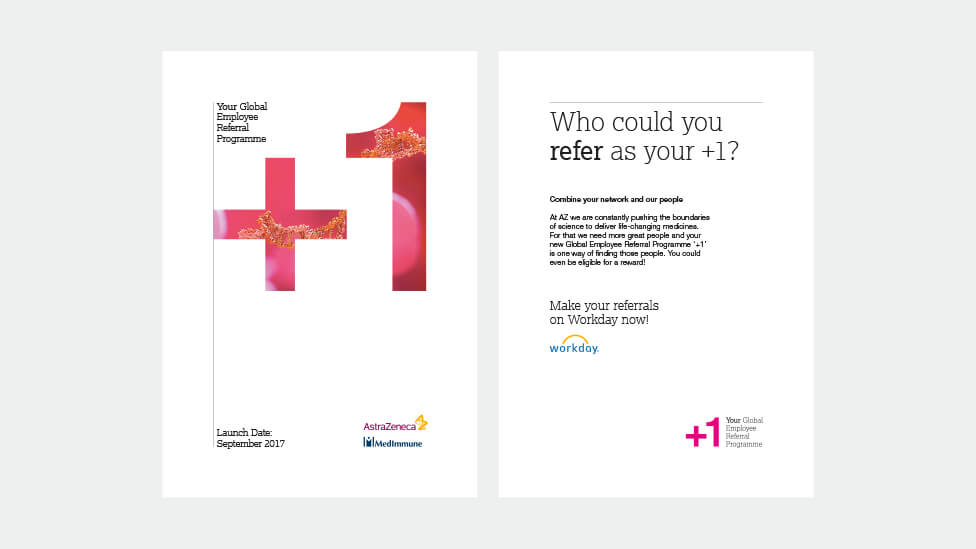 Its flexibility makes it easily adaptable to a wide variety of formats, both printed and digital. The +1 can appear in – and can be reversed out of – any of the AstraZeneca brand colours, and when space is limited, it can be used without the descriptor. Maximum flexibility for maximum engagement.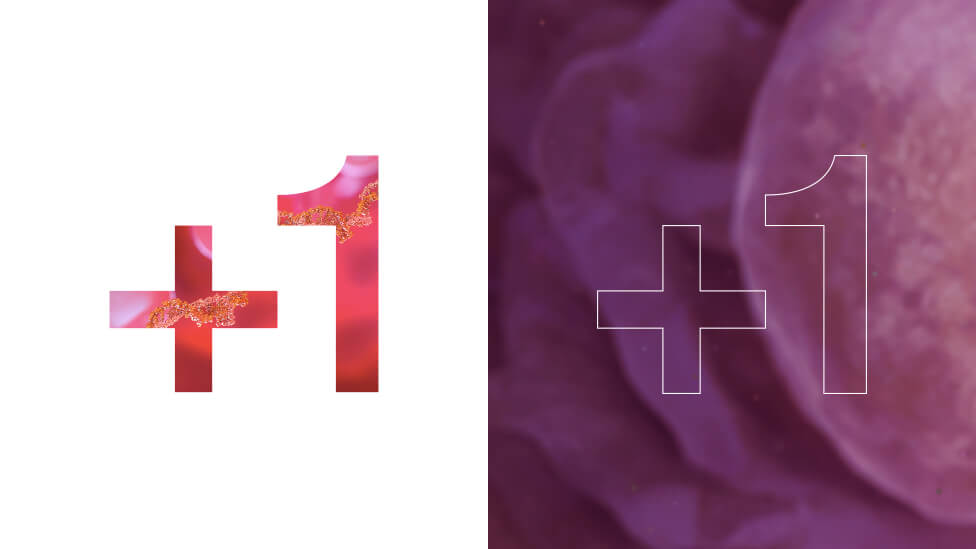 +1 can be a container for science images, which are accurate, realistic, and beautiful. It can also be outlined and placed on brand colour backgrounds. Colour versions can be placed over people images. The juxtaposition of people and science imagery is the central visual theme for +1.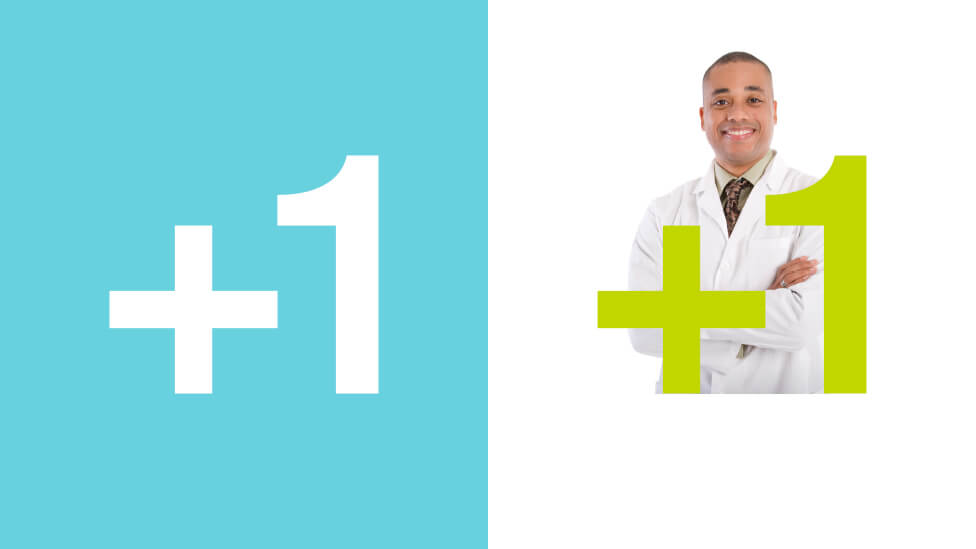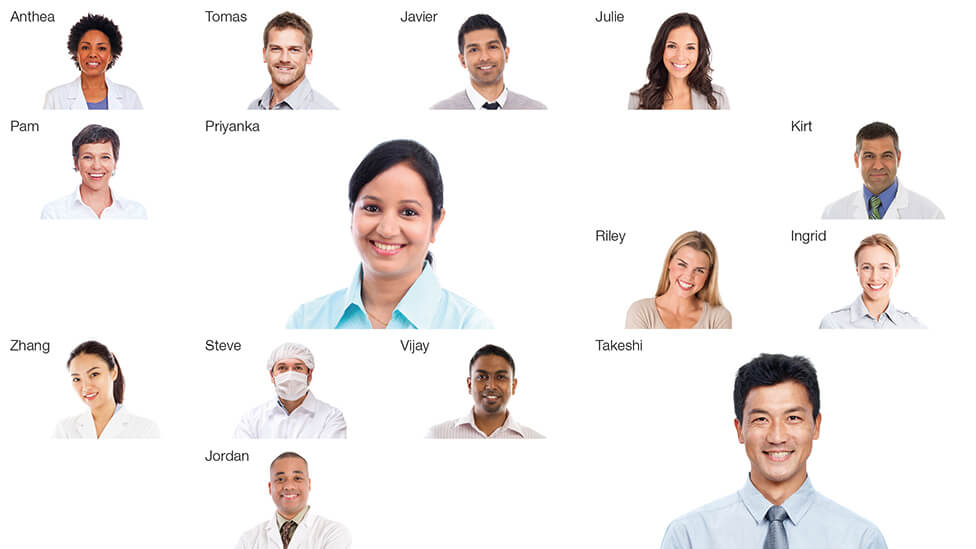 To represent a cross-section of AstraZeneca's global operation, we created 14 personas every employee could identify with. We even named them – Takeshi, Javier, Jordan, Ingrid, Vijay…
We produced an internal brand style guide, and a wide range of assets to encourage employees to immerse themselves in the programme, regardless of setting: branded office environments, posters, pull-up banners, email templates, badges, flyers, lanyards, T-shirts, leaflets.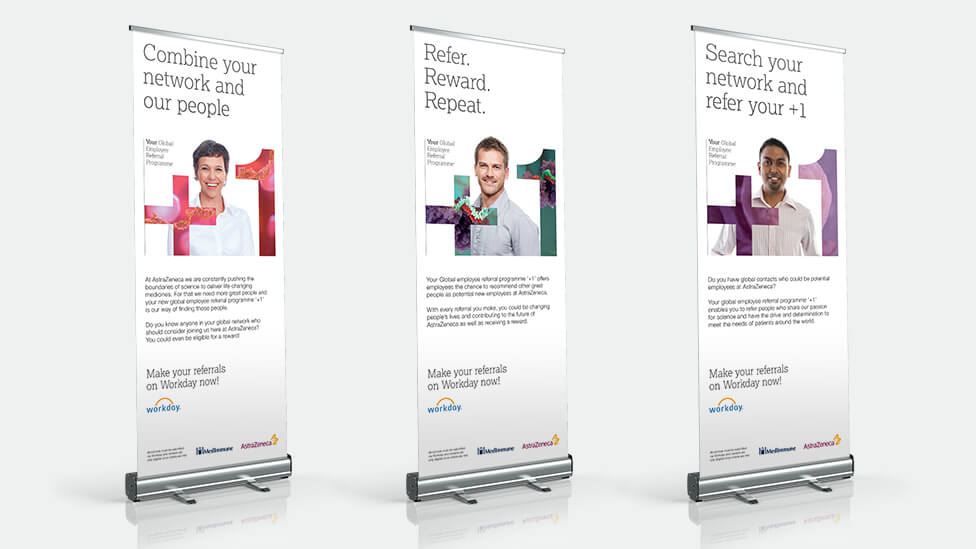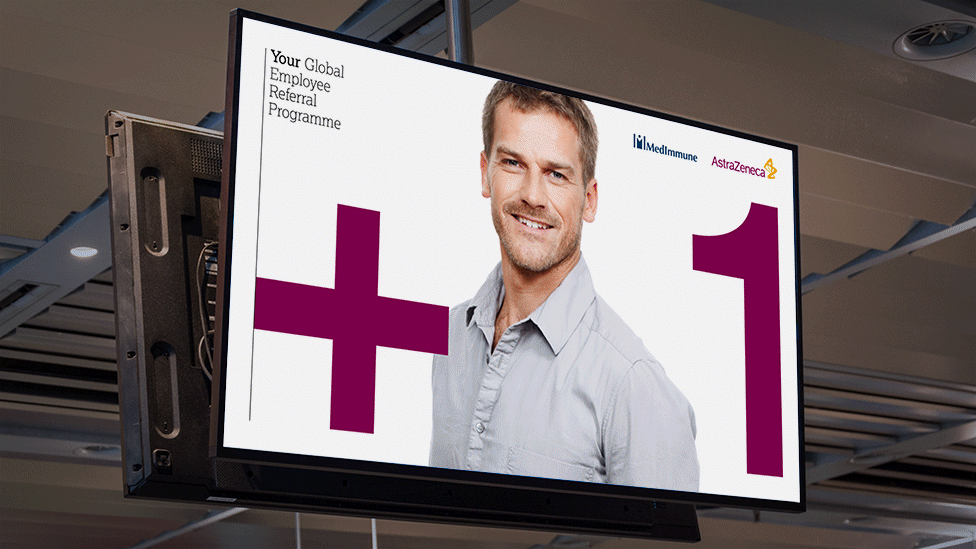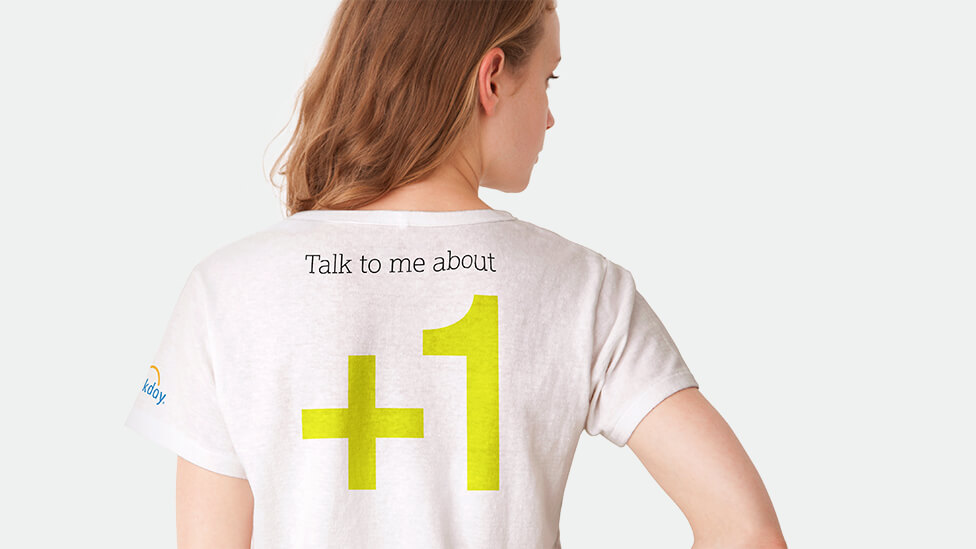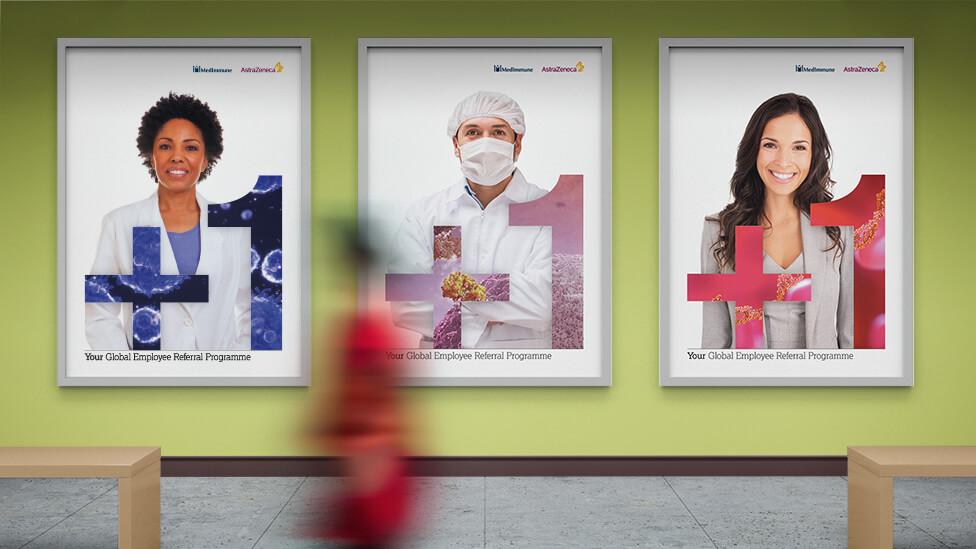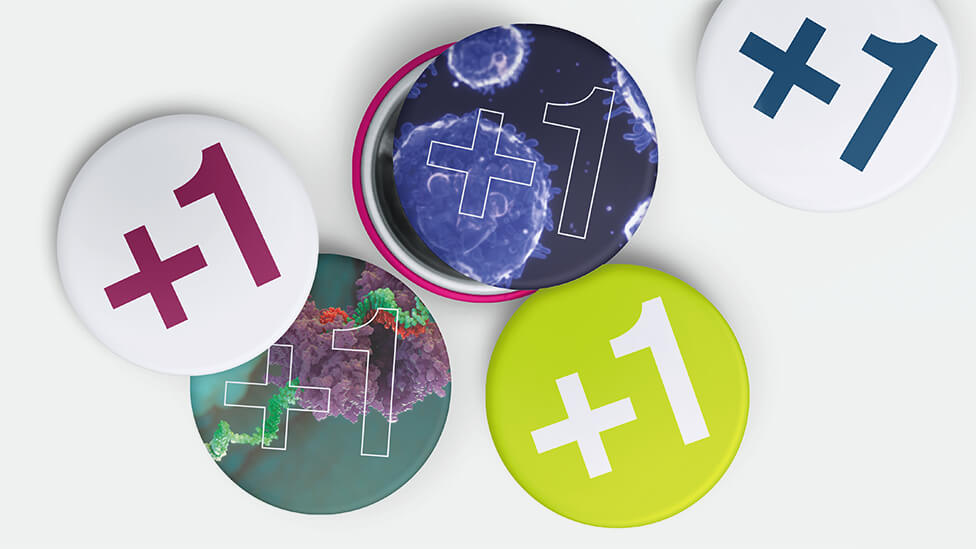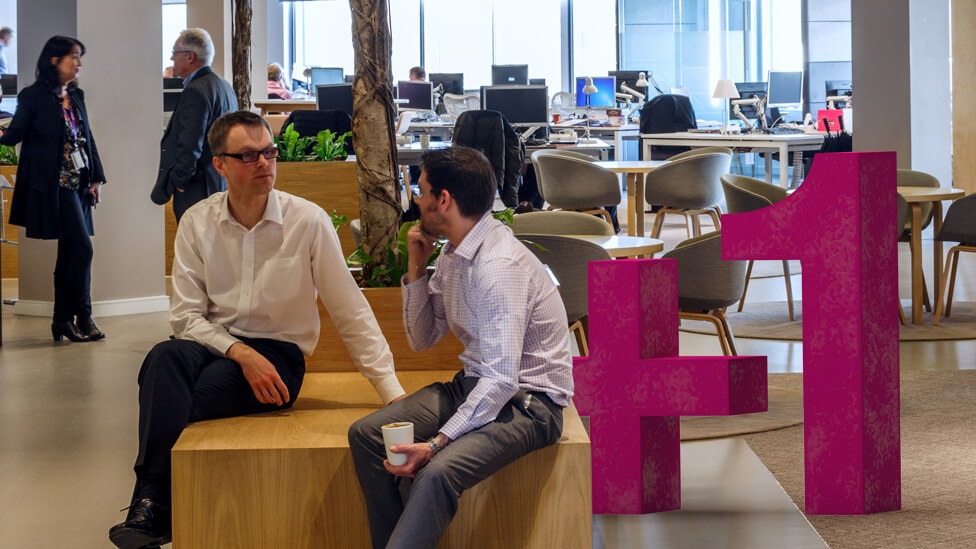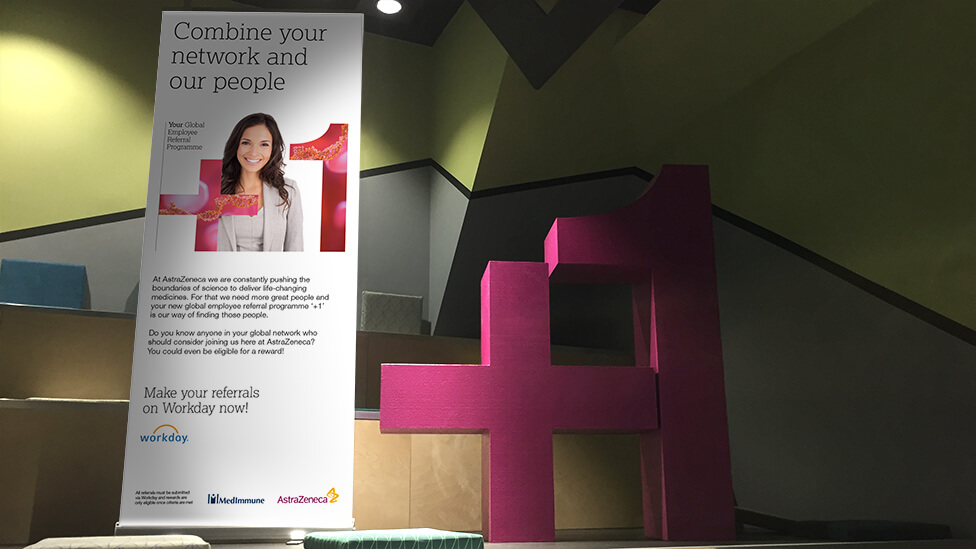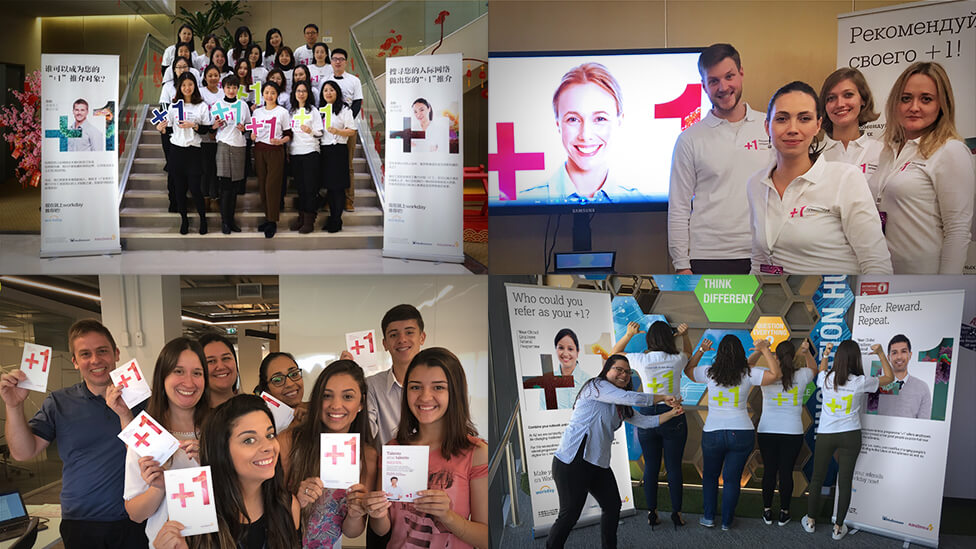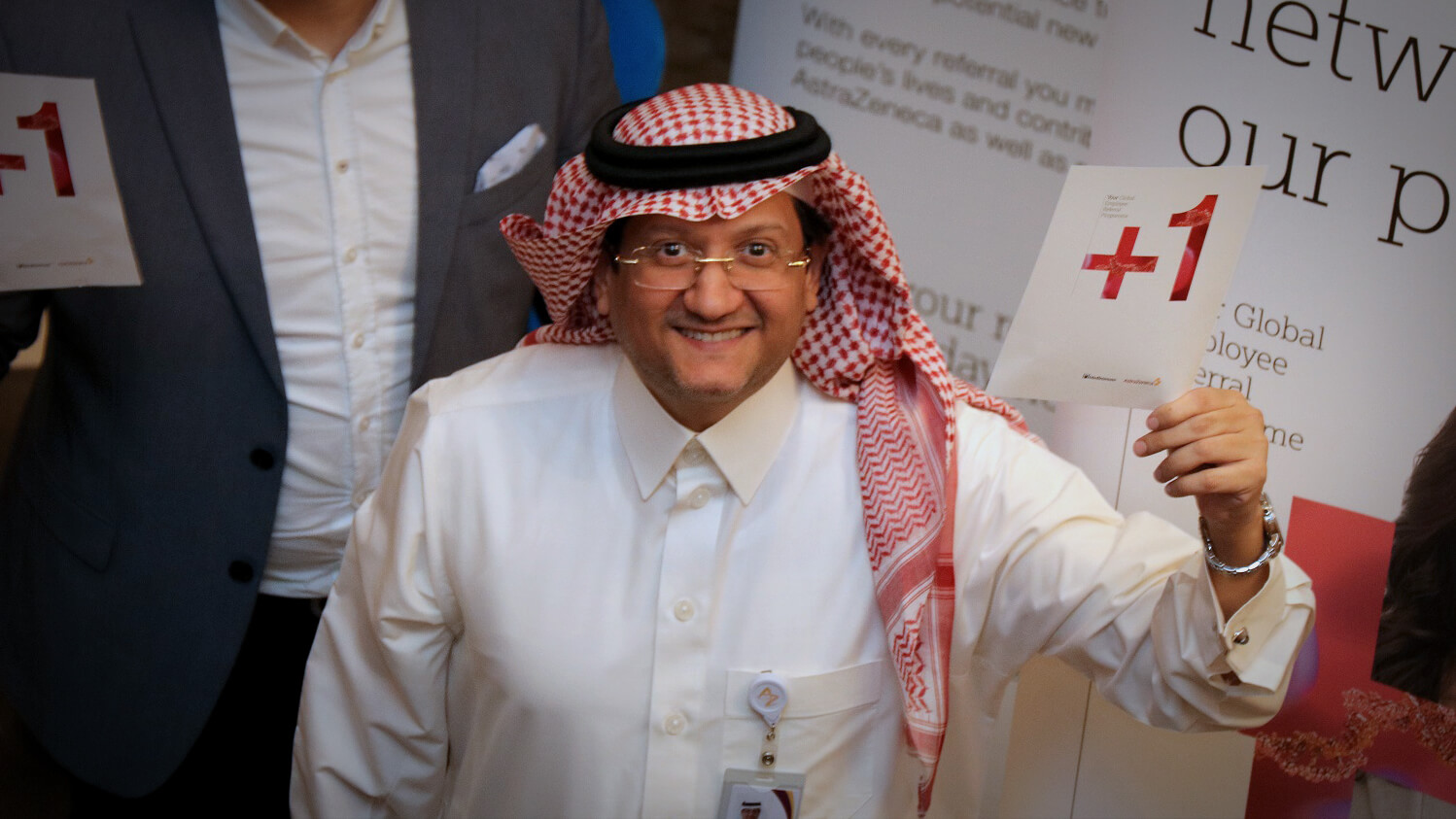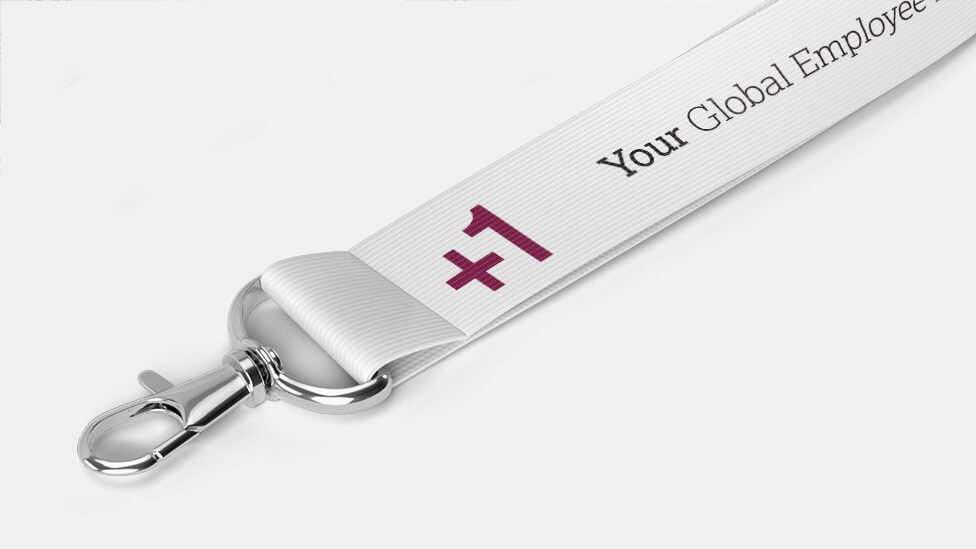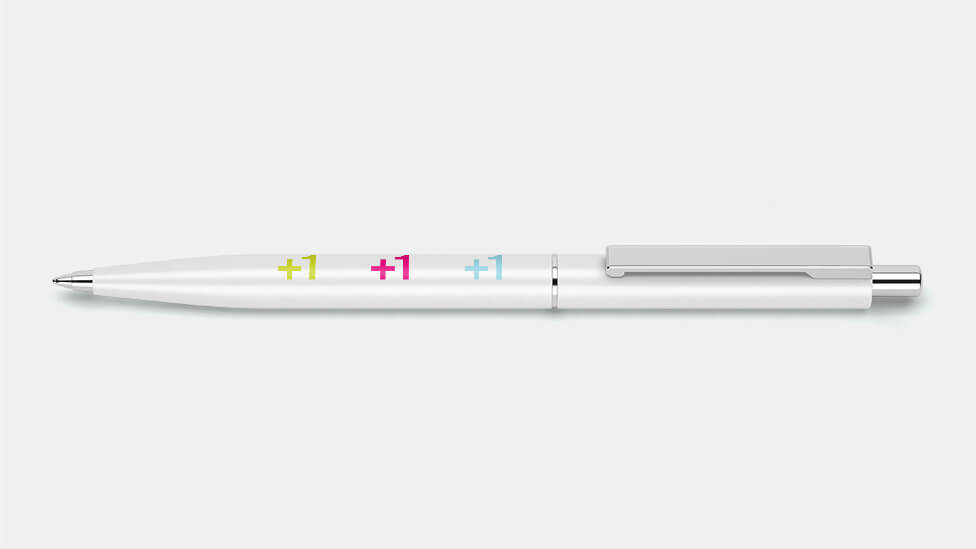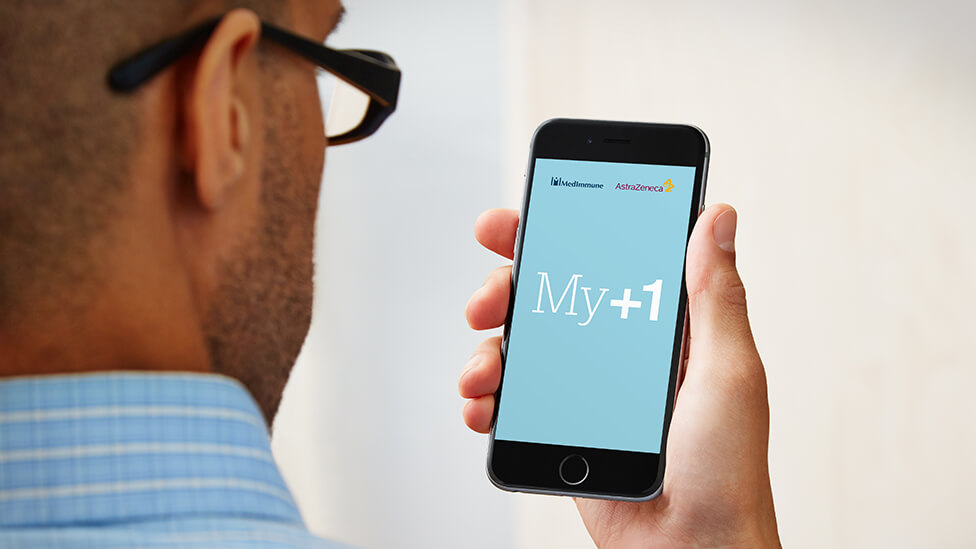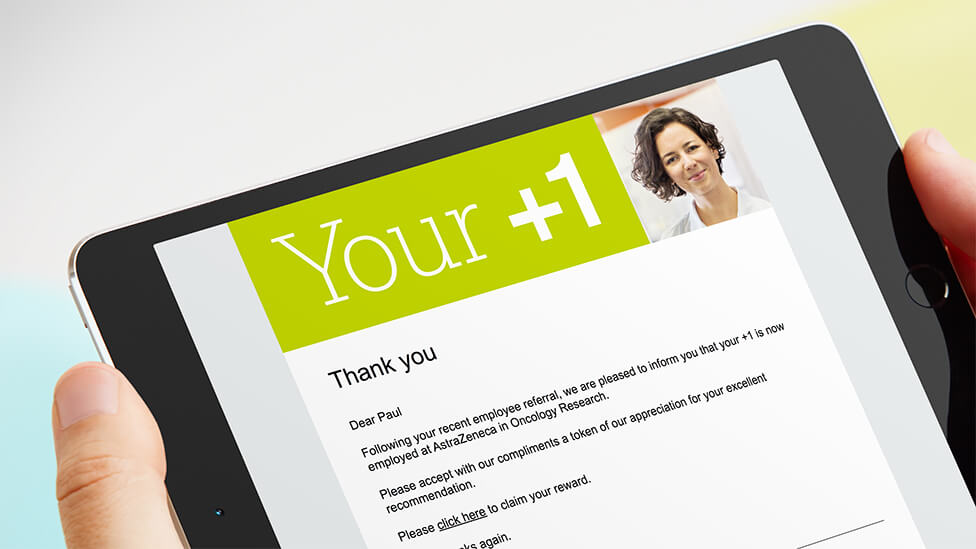 We also produced a video animation to support the launch.
The AstraZeneca team celebrate their HR Brilliance award.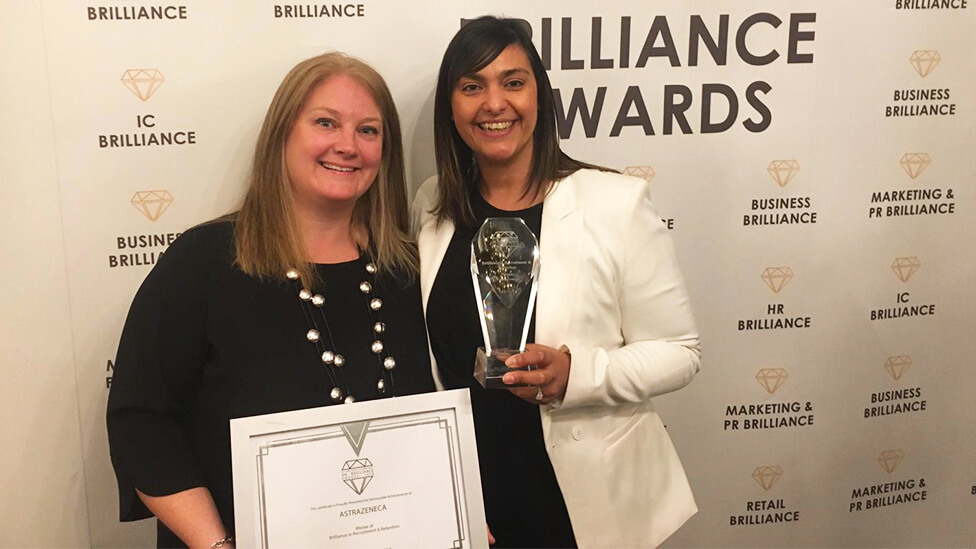 Have a look at other examples of successful employee engagement campaigns.