We designed a pop-up exhibition stand that communicated Salima's commitment to customer service thanks to clear messaging and friendly imagery of our client's crew.
Background
Salima supply event crew and staff for a wide range of promotions, product launches, sports events and concerts.
Challenge
Salima came to Parker Design with a brief to design and supply – as quickly as possible – a pop-up exhibition stand to help them promote their services and expertise at various trade shows.
Solution
Using our client's strong corporate orange and black colour tones, we designed, produced and installed a set of high visibility pop-up banners with clean, friendly professional photography featuring actual Salima crew members.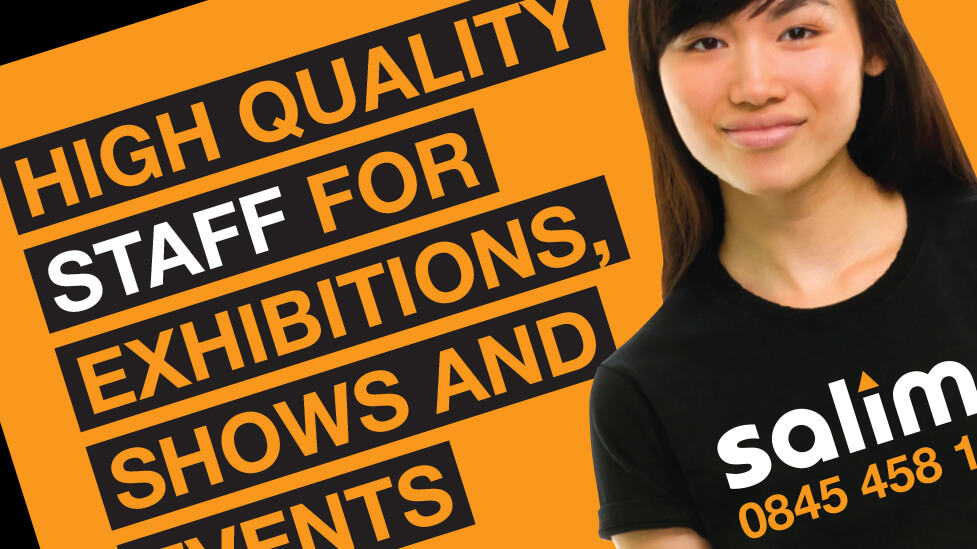 With the campaign relying on one pop-up stand, we maximised its impact by including just the right amount of information to attract the attention of delegates, quickly and effectively. Prominent font sizes and text highlight effects help passers-by hone in on the various messages.
Over the years we have helped clients of all shapes and sizes reach their goals

with a variety of exhibition design solutions to suit all budgets. Have a look here to find out more.
Printed on durable vinyl material, the pop-up exhibition stand is lightweight and easy to transport between the various venues where Salima had booked space, making it a very cost-effective marketing solution for our client. The end result set Salima apart from their competitors, and has been used several times since.