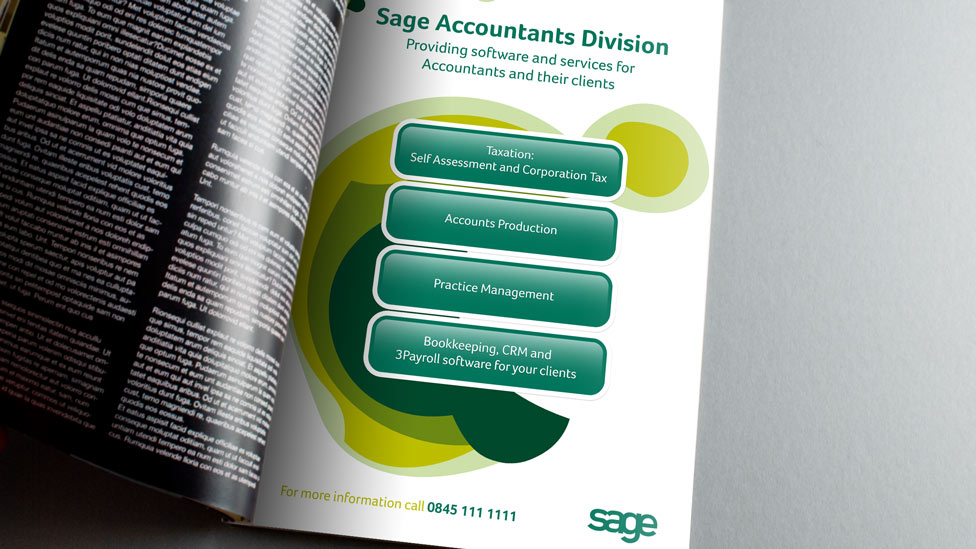 Thorough knowledge of our client allowed us to deliver an effective product ad campaign in record time.
Challenge
Late one afternoon, we got a call from Sage asking if it would be possible to create a product ad campaign for them in record time. The reason behind the urgency was that they had just been given a great discount on some last minute product advertising space in a leading accountancy publication, and wanted to take this opportunity to promote the services of their Sage Accountants Division.
Solution
After reassuring our client that we would get the job done, we started to pull a range of designs together. As we had worked with Sage on many campaigns over the years, we had an in-depth understanding of their brand and how to apply it to a variety of media, online and offline. Furthermore, our client knew that with our can do spirit, the advertising campaign would be in safe hands and would be delivered in time to meet the publishing deadline. We produced a series of creative concepts for our client to choose from and, once the preferred option received final approval, we produced the final advert, speedily firing it over to the publication and put straight onto press with plenty of time to spare.