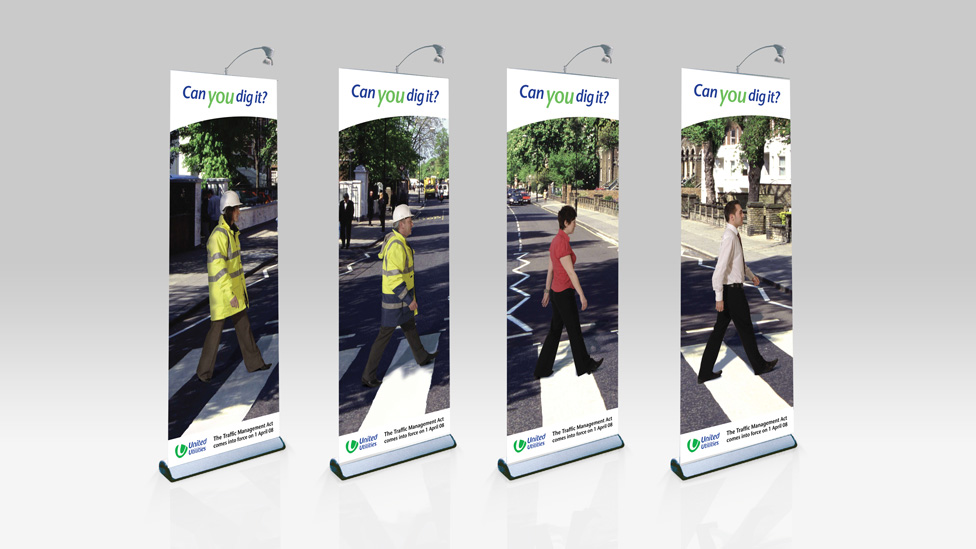 As part of a wider internal communications campaign for United Utilities focused around the launch of a new government Traffic Management Act, Parker Design produced a roll-up banner design series.
To tie in with the campaign theme, 'Can you dig it?' which was based around song titles, we sourced an up-to-date photograph of the famous Abbey Road zebra crossing and set about recreating the iconic scene from the Beatles' album cover.
Selecting 12 volunteers from across the different departments within United Utilities, we photographed each of them walking across the photographer's studio. The next job was to cut out each of the figures and using Photoshop, retouch them onto the famous Abbey Road zebra crossing. The image was then split into sections so that each person could be featured on a different roll-up banner design.
We have thrown pretty much everything at Parker Design over the past six months, from fast turnaround report covers to developing innovative exhibitions, and their response has been consistently enthusiastic, creative, helpful and always on time.
This painstaking approach gave United Utilities the flexibility to be able to pick and choose which combination of employees they wanted to make up the scene depending on where the roll-up banners were going to be situated during the tour of their offices – ensuring that wherever the banners were used there would always be a chance of spotting a team member on the banners.