Merry Christmas and a Happy 2017 from everyone here at Parker Design!
This year, we've created the ultimate quiz to test your knowledge of twisted Christmas films.
Over the past two weeks, we've been releasing one video clue a day of our team acting out a festive scene, and awarding prizes to those who could name the film.
But do you have the skill to name all 12 film titles?

If so, you could win our GRAND PRIZE – a year's worth of free cinema tickets.*
23rd December 2016 update – We have a winner!!
Well done to Joshua Tate for guessing all films correctly, and being picked by Santa's elves! Scroll down to reveal all 12 answers. Merry Twisted Xmas one and all and thanks for taking part!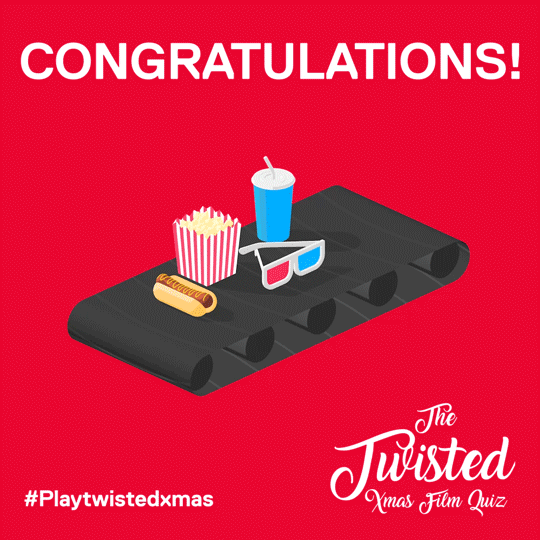 TO PLAY
See all 12 clues below, or on our YouTube channel.
To compete for the Grand Prize, send us an email with your answers to santa@parker-design.co.uk by midnight GMT on 22 December 2016.
Entries with the most correct answers will be entered into the Grand Prize draw for a year's worth of free cinema tickets.* We'll announce the winner on Friday, 23 December 2016 on our website and via social media.
Think you can beat our twisted quizmasters? Play today and put your film knowledge to the test – good luck!
THE CLUES
Day 1 Clue (1 December 2016)
Answer: The Snowman
Day 2 Clue (2 December 2016)

Answer: Home Alone
Day 3 Clue (5 December 2016)

Answer: Bridget Jones
Day 4 Clue (6 December 2016)

Answer: Batman Returns
Day 5 Clue (7 December 2016)

Answer: Die Hard
Day 6 Clue (8 December 2016)

Answer: Elf
Day 7 Clue (9 December 2016)

Answer: Life of Brian
Day 8 Clue (12 December 2016)

Answer: Bad Santa
Day 9 Clue (13 December 2016)

Answer: Love Actually
Day 10 Clue (14 December 2016)

Answer: Scrooged
Day 11 Clue (15 December 2016)

Answer: Trading Places
Day 12 Clue (16 December 2016)

Answer: It's a Wonderful Life
*Winner will receive a gift card equivalent to two standard cinema tickets per month for 12 months (estimated prize value not to exceed £360).
Terms and Conditions: Players must be 18 or over. One prize winner will be selected per clue each work day by draw. To qualify for the daily draw, participants must submit the correct answer to that day's clue by midnight GMT. Winners will be contacted for address information. Every effort will be made to contact winner and daily prizes will be sent out by post within 5 business days. Employees of Parker Design and members of their immediate families are not eligible to participate. The prize(s) that may be awarded to the eligible winner(s) are not transferable, redeemable for cash or exchangeable for any other prize. 
23 December 2016 update – please note this competition is now closed, thanks for taking part and Merry Christmas from everyone at Parker!