Virtual events – two words we've heard many times in the last few weeks, and that's because virtual events can be the alternative solution to the multitude of in-person events that have already been cancelled or postponed due to the Coronavirus pandemic. But is it a question of simply repurposing the content you planned to use for your cancelled event by adapting it for use virtually? Perhaps content should be totally original, or a combination of the two.
Whether as a standalone virtual event, or a hybrid where aspects from the more traditional in-person events are combined with virtual elements, adding a virtual dimension to your event will bring very real and tangible value. But how do you make the virtual experience as engaging for delegates as a live show or conference? You focus on content. And what do you need to do to arm yourself with content that really captures your audience's imagination?
Below are some key points to consider when planning your virtual event and what types of content will help you make it a success.
Focus on your goals
Virtual events have the power to reach and engage audiences if you maximise your investment by being clear about your goals from the outset. There is a danger that you may focus all your attention on the technology that will help you facilitate your virtual event, and there are many tools out there, some of them great, but they're just the vehicle.
Don't forget to establish what you want your virtual event to help you achieve, how you want your audience to feel before, during, as well as after the event:
Do you want your visitors to learn, buy, or take something away?
Do you want them to understand more about a new product, service or offering?
Once you've established what your goals are, it's time to start thinking about what type of content will help you reach your objectives. And there's so much you can do to bring your virtual event to life: pre-release previews, podcasts and downloads, webinars, 3D virtual product tours, 'meet the experts' live sessions, private social networks, virtual reality (VR), augmented reality (AR), chat boards, live presenters and speakers, video streaming, pre-recorded videos, training videos or animations, presentation materials, downloadable documents, branded backdrops and sets, product launch materials, and more.
Connect your identity
Once you've established your goals, you should consider branding for your virtual event and all its touchpoints – your event identity should connect and reach deep into the heart of your audience. Consider every aspect from the initial pre-promotional marketing, right through to presentations, collateral, video backdrops or even branded uniforms for presenters, to make sure you tell your story in a consistent and compelling way.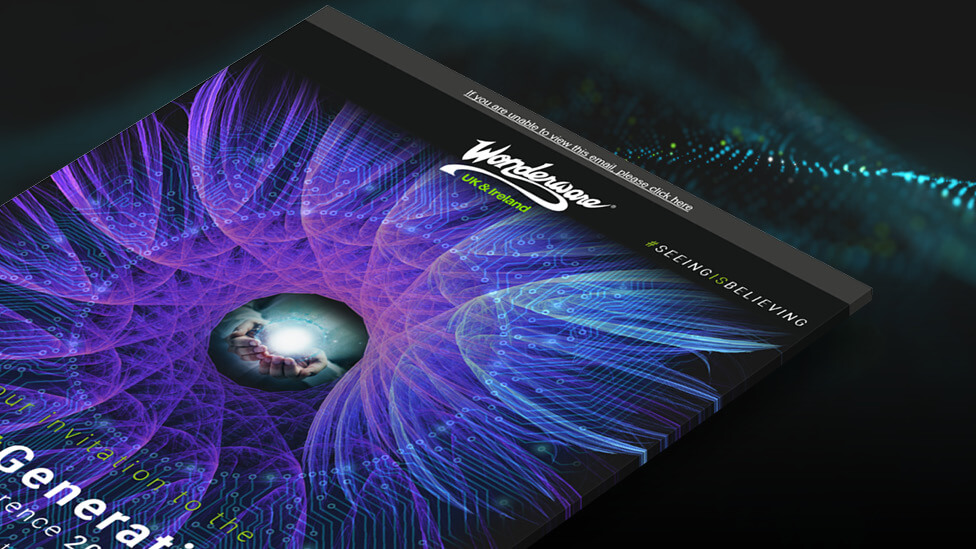 The human connection
With all the content that a virtual event can have, there should be a key point of focus to create an initial sense of intrigue and anticipation, drawing your audience in and making a human connection.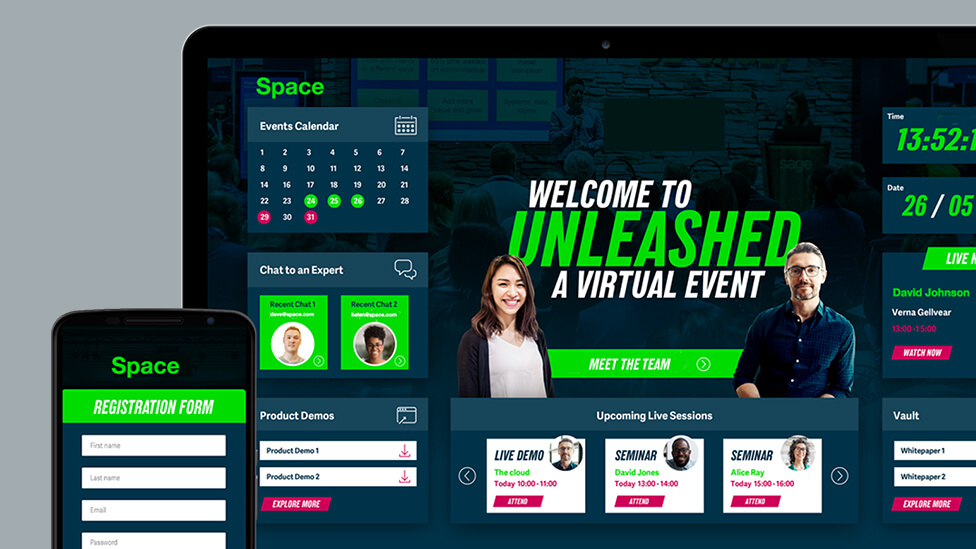 This could take the form of a live streamed broadcast from a highly regarded leading industry figure, or you could host a live Q&A chat session giving your audience the unique opportunity to pose questions directly to a panel of experts. People are key to establishing a connection between the real and the virtual.
Your portal into the virtual world
As with physical events, a virtual event needs to offer an exciting, engaging and memorable visual experience. Online, it must be easy for attendees to access using any device, and content should be simple and intuitive to navigate. It's important for the design of the user interface (UI) and user experience (UX) as well as the way attendees navigate the event to be attractive and well branded.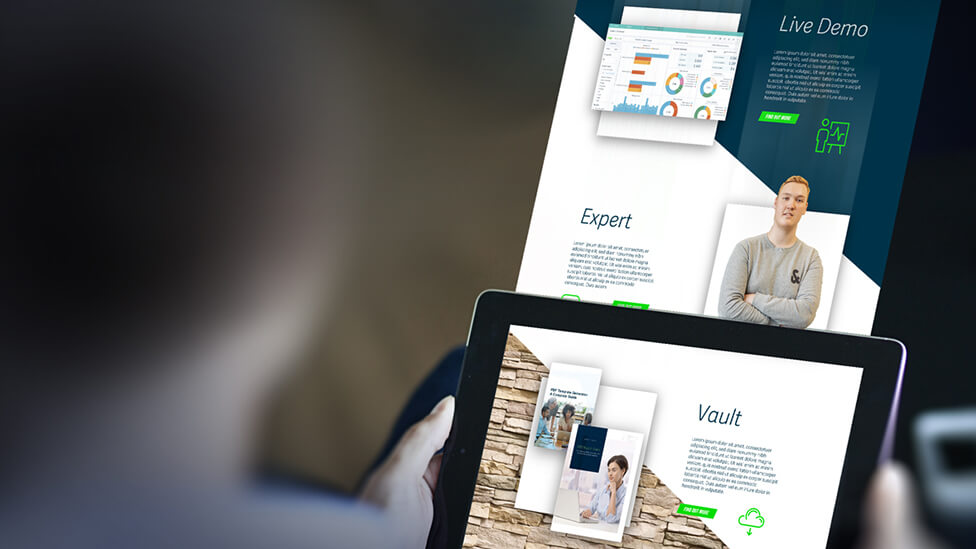 But make sure the design and build don't become a distraction away from the actual event itself: a simple dashboard, composed with an array of compelling content on offer, is quick to load and allows your content to remain the hero and focus of your virtual event.
Time to meet
Incorporating a high performance booking system into your virtual event makes arranging meetings easier for your attendees, presenters and event managers.
To help delegates connect on a personal level with your brand, increase engagement and add a personal touch, think of integrating touch-optimised interactive calendars with bookable seminars and one-to-one meetings with experts. You can also integrate back office calendar systems to provide an overall view of all seminars, live events and attendees. This will also allow you to collect valuable analysis data which you can share directly with your CRM system for future use.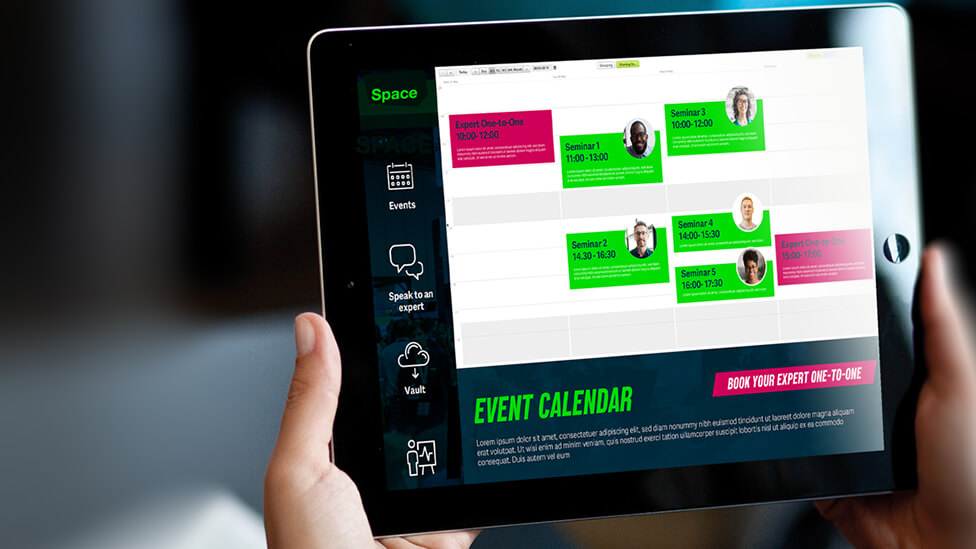 Have a chat
Working with third party APIs or social media integrations, as well as developing new APIs, will help deliver seamless experiences to your audience, ensuring that the code that powers it is lean, agile and maintained to the highest level.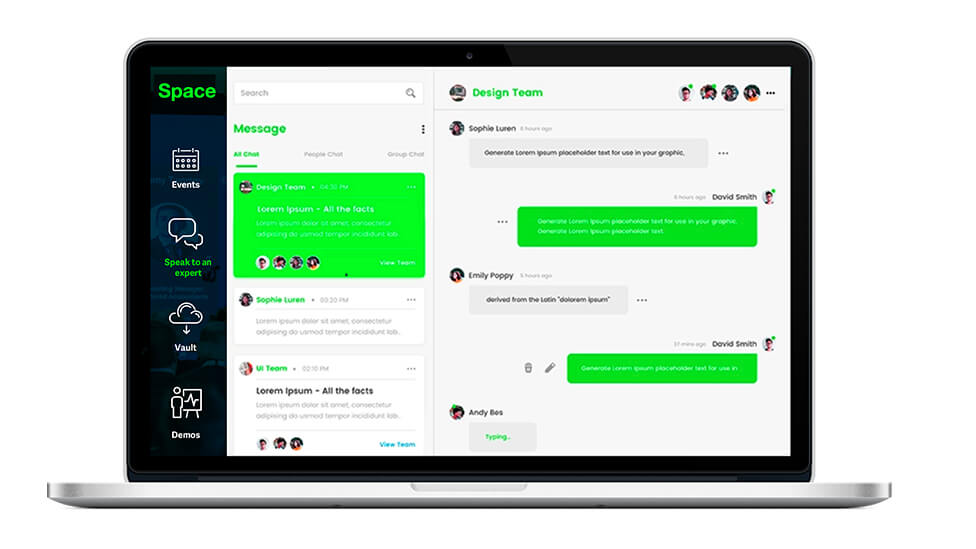 Whether it's creating interactive functionality, incorporating message boards, chat rooms, Q&As or video streaming services, we will always carry out rigorous tests across a wide range of browsers and devices.
Watch them watch
Building the next generation of events in the age of live streaming may require the integration of differing streaming technologies into your dashboard or portal. These technologies enhance the power of your virtual event to drive attendance, registrations, brand awareness and capture actionable insights.
And when your virtual event is over, you'll have a comprehensive view of all your data to understand the impact of your investment, and a complete set of attendee analytics, activities and data which you'll also be able to transfer seamlessly to your marketing strategies and CRM system.
Inform and entertain
Pre-recorded video content (for example, product promotions, educational films or training videos) can play a key role in your virtual event by building brand awareness, communicating ideas, demonstrating products or establishing human connections.
You should also consider animation and motion graphics: injecting some fun and lighthearted elements into your virtual event is a surefire way to keep your audience entertained, with a variety of design styles guaranteed to engage audiences by bringing your brand, product and message to life.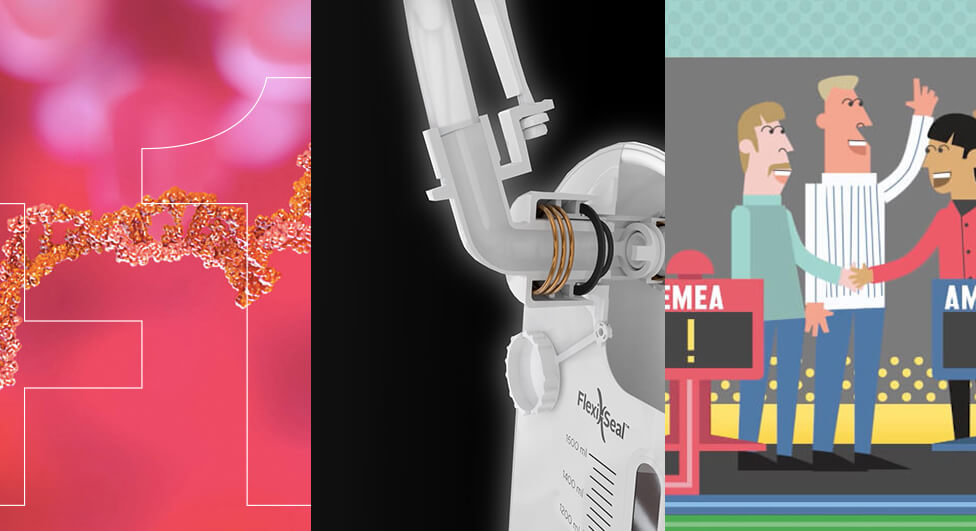 3D CGI animation creates captivating and realistic experiences that generate a deeper understanding of your product or service. With exploded views showing the inner workings of a product, or the ability to fly around or through it, you can give your audience a deeper understanding and create much greater connections.
Immerse in a new dimension
Integrating exciting and immersive new technologies such as augmented reality (AR), virtual reality (VR) and 360° visualisation will enable your audience to engage with your product or message in a whole new dimension. Immersive content encourages knowledge assimilation faster by enriching the experience, ensuring your event gets talked about long after everybody's logged off.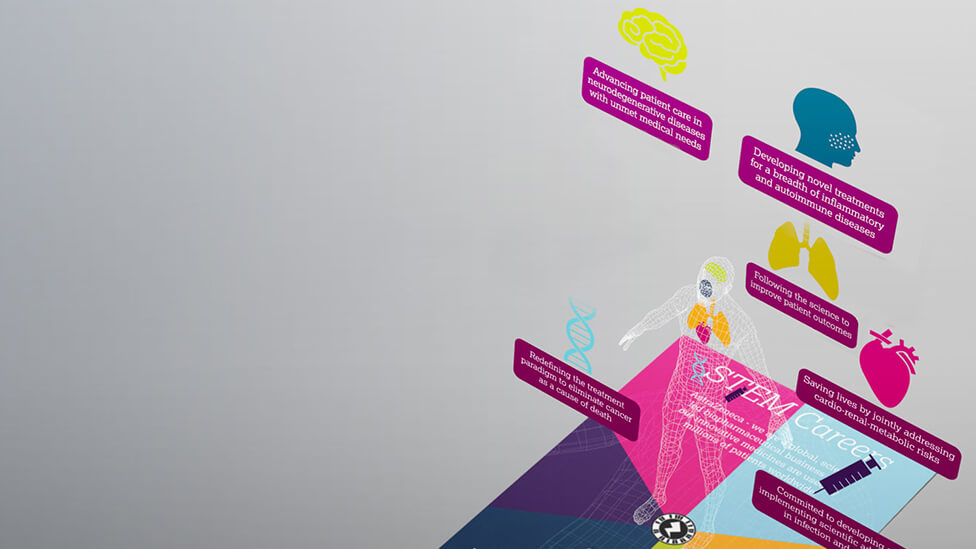 Download to add extra value
Maximise your audience's involvement by relying on innovative literature design and engaging downloadable content, the perfect complement to the live elements of your event, and which will continue to add extra value and understanding once the show's over.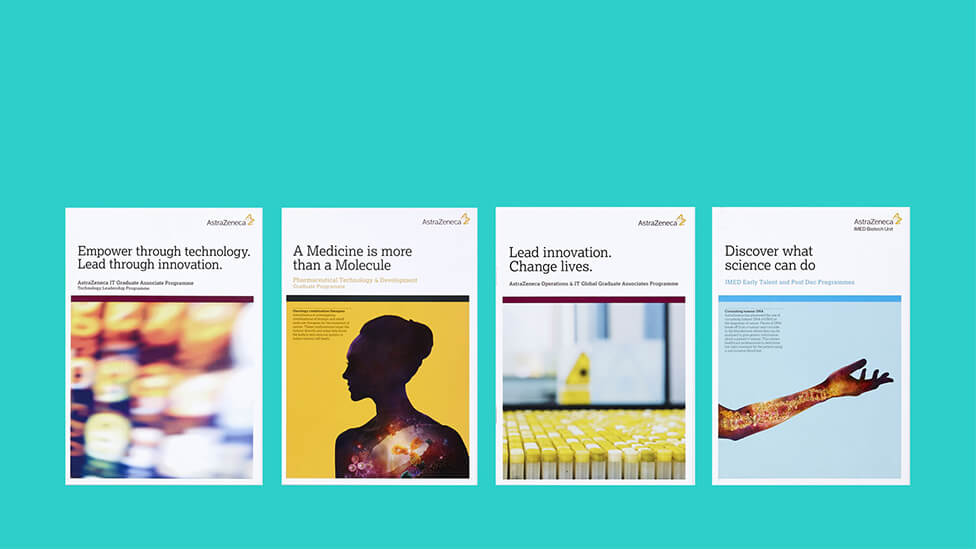 Clone, anything is possible
3D CGI models of exhibition stands can be adapted and enhanced to provide virtual clones of your physical stand, with clickable and interactive elements linking to dual purposed content such as video, downloads, podcasts, animation and live streams, direct from your physical stand to your virtual one.
This is a unique way of providing the best of both worlds – the face to face interaction that a physical event provides linking to the extended reach that virtual events achieve. Anything is possible.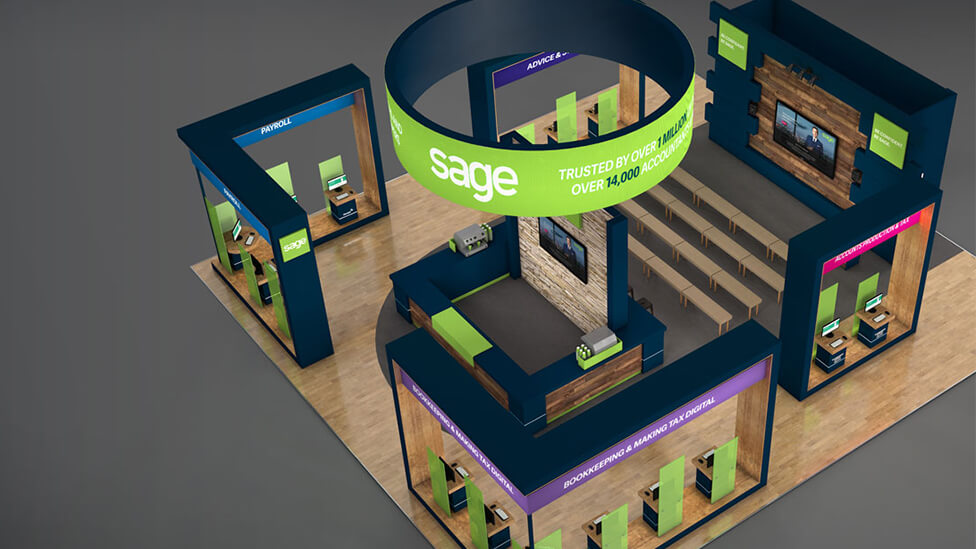 We strive to provide your audience with exceptional and exclusive content they can't experience anywhere else online, giving your audience a reason to turn up and engage, so get in touch if you think we can help elevate your next virtual event.