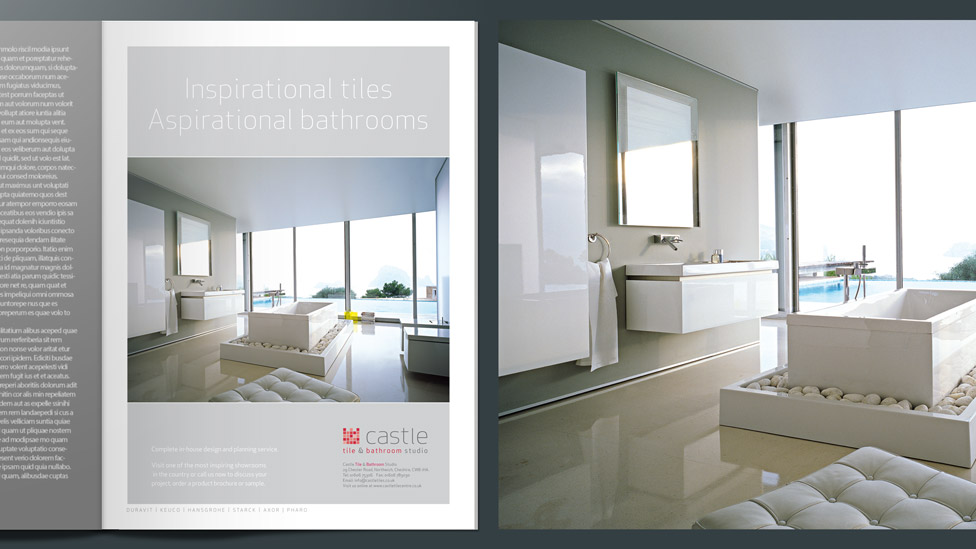 With this advertising design, simplicity was key. With photography this stunning, it was all about letting the product speak for itself.
Background
Our client specialises in exclusive and aspirational natural tile products and bathroom products from some of the world's leading brands. Having also designed their new logo, we reflected the beautiful simplicity of the products the company specialises in the clean and effective advertising design.
Solution
Whichever form advertising takes, it's about understanding the product and the target audience. It's then time to create the right kind of ad and placing it in publications that will reach the right audience.
Choosing to place their full page advertising in the prestigious Cheshire Life magazine, we decided that on this occasion, less was definitely more. With products of this nature, advertising isn't about selling boxes of tiles, or sets of taps, it's about selling the aspiration of what it would be like to relax in such a breathtaking bathroom. The prominent feature of the advertising design was the large format photography, complemented by an understated and yet truly elegant soft grey background, beautifully setting off the Castle branding. A simple headline set in subtle, sophisticated typography completed the ad.