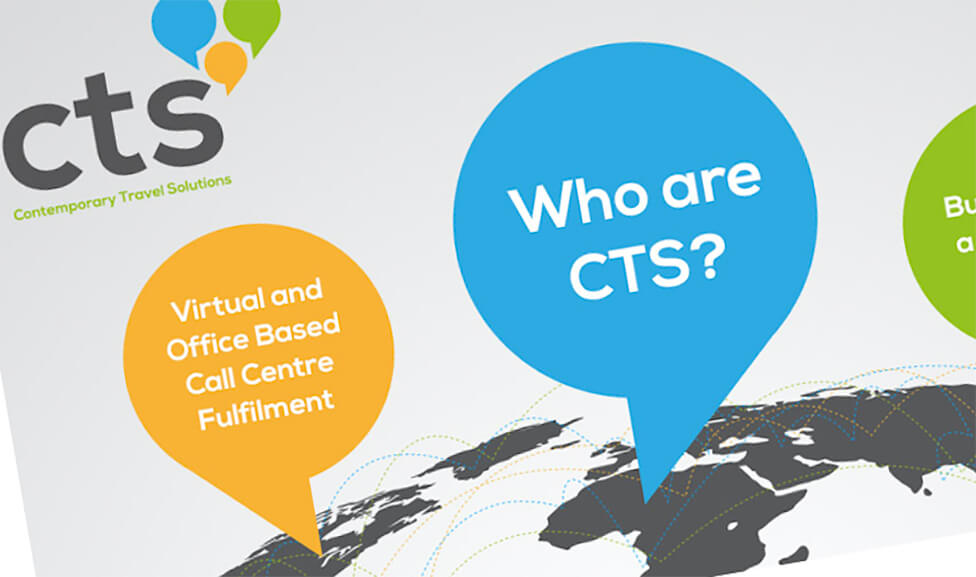 A fresh and dynamic B2B branding solution that helped our client start a different kind of conversation with its audience.
Background
CTS helps its customers take business to the next level thanks to bespoke outsourced fulfilment solutions exclusively for the travel industry.
Challenge
With the new B2B branding, CTS wanted to establish an identity that could help them communicate its unique values and offering to customers. We needed to take their brand in a new direction, to differentiate it from other businesses in the industry.
Solution
Our B2B branding solution is inspired by the strength of its people and their different approach. In an industry known for straight-forward, no-frills efficiency, we helped our client really stand out by demonstrating its dedication to service, communication and helping their customers make a connection with audiences.

The contemporary and colourful branding is a perfect reflection of the company's fresh outlook on call centre fulfilment, and lends itself perfectly to a wide variety of media.
The speech bubble shapes from the logo help communicate information about the company, and hint at the nature of the business, immediately establishing a connection with the audience.