Launching a new business-to-business consultancy in an industry dominated by large, well-known competitors, the Caja Group approached us to help them establish their niche brand with a memorable B2B logo design.
Challenge
Developing a B2B logo design that captivates your target audience and reflects the ethos of your brand is a unique creative challenge. Specialising in business transformation, change management and organisational effectiveness, our client's aim is to provide public and private sector organisations with an affordable alternative that helps people, processes and technology converge. However, without a recognisable identity, the new brand would struggle to gain momentum and credibility.
Solution
To engage in some truly "out of the box" thinking, we started with the company's name – Caja – which means "box" in Spanish. Creating a visual metaphor for viewers fit perfectly with Caja's innovative approach, so we developed a range of logo options that explored this concept.
The resulting B2B logo design was sleek, clever and instantly identifiable. To infuse energy and sophistication into the brand, we selected a high-contrast colour palette, which included a vibrant shade of green. As well as representing growth and freshness, green is also often associated with financial stability. With just the right mix of energy and credibility, this visual strategy strengthened the overall impact of the brand and gave Caja the flexibility to roll out its new identity in a variety of interesting and creative ways.
As well as the new B2B logo design, we developed a new suite of eye-catching stationery. Here again, we chose to "think outside the box" by positioning the logo outside the borders of the company's letterhead and business cards to further emphasise our client's unique approach to problem solving.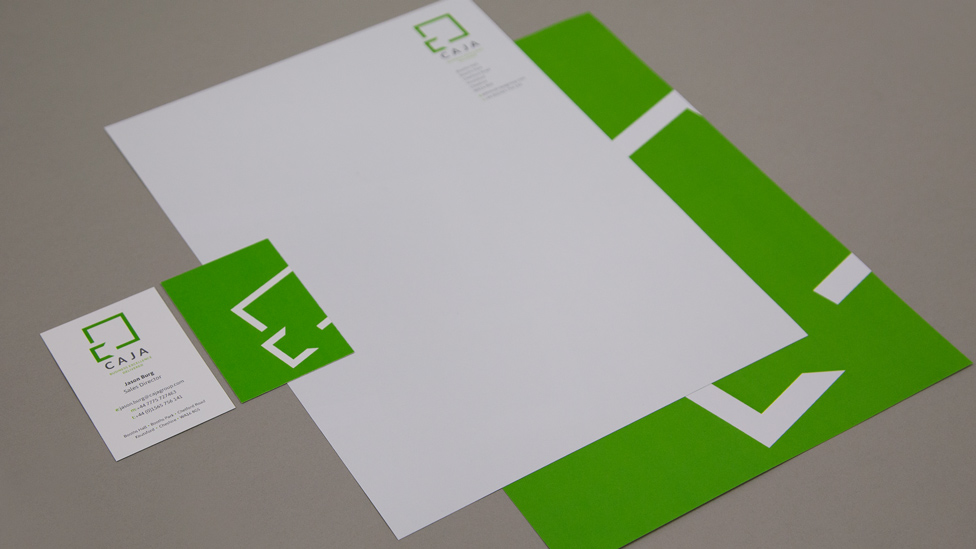 The new brand materials were officially revealed to clients and consultants at a launch event at the Caja Group's headquarters. Feedback regarding the B2B logo design has been overwhelmingly positive and is currently being rolled out across the company's other brand materials.