We designed a versatile corporate pull up banner that allowed Zychem to maximise their investment.
Challenge
To support the new brand and logo design we had created for Zychem, our client required a suite of A1 laminated posters and corporate pull up banner designs for their exhibition display.
Solution
With plans to use the exhibition materials at trade shows in the UK and globally, the most cost-effective approach was to create a series that could be used either as a set or individually.
Offering the maximum flexibility for Zychem's business development teams, these systems can be easily transported, and can be assembled by just one person if required.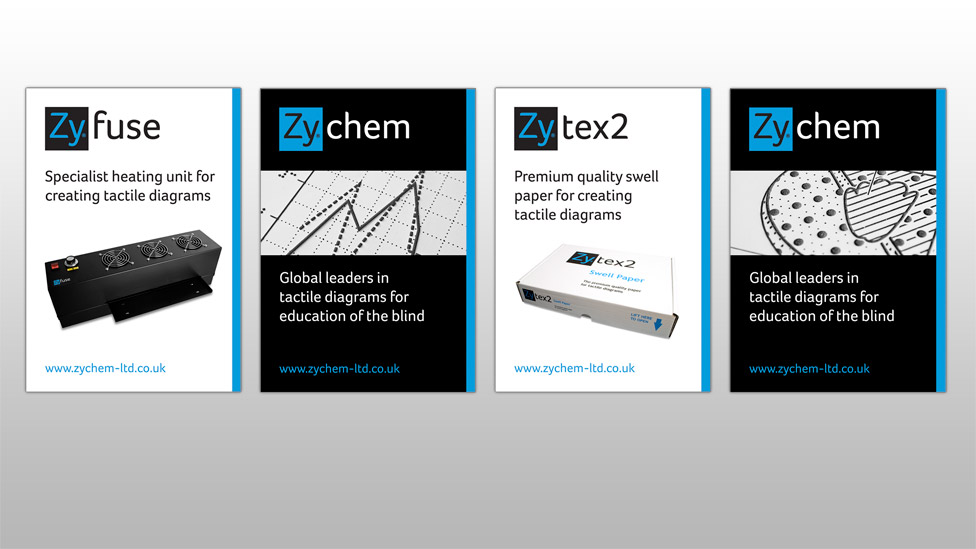 For the exhibition design, we maintained the minimal feel of the brand and complemented it with high quality product photography and vivid colour treatments. With the target audience in mind – partially-sighted individuals – we ensured that each poster and corporate pull up banner was easily legible and clear, focusing on key product messages.
"I would like to thank Parker Design for their excellent work in creating our new brand and associated collateral.

After 21 years supplying the same products, we approached Parker Design with a brief outline of what we wanted to change, including a new logo, product images, exhibition banners, packaging, etc.

The new company image and materials have just been introduced to our customers receiving such feedback as "Wow! Classy!!"; "Very, very 21st century".