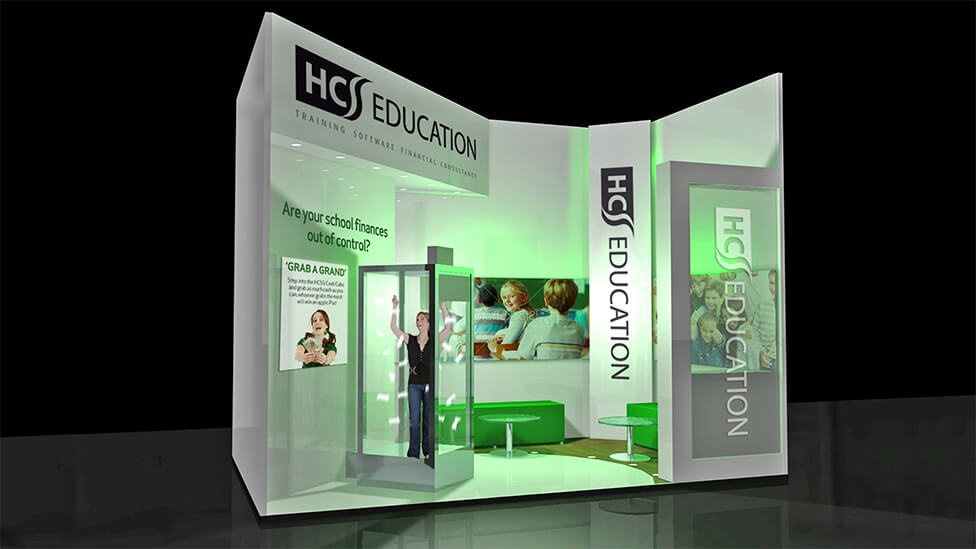 Striking in its simplicity, this custom stand design was conceived to attract the curiosity of delegates at the BETT Show.
Background
Our client is a leading expert in accounting and budgeting software for the Education sector, providing professionals with a tool that guarantees engagement and efficiency, and allows them to focus on teaching.
Challenge
Despite this being the first time that our client had a plot of a larger size than previous years, it was still relatively small compared to competitor plots around it. So our custom stand design had to command attention, by shining against the competition and attracting the crowds, within a conservative budget.
Solution
The stand relies on a fresh and simple design that turns it into a dynamic and successful marketing tool.
Branding is discreet yet prominent, immediately generating awareness from afar. Its position and vertical orientation trick the eye, adding the illusion of height to the stand, and stature and presence to our client's brand.
Clear Perspex walls, attractive recess lighting and a lack of solid barriers boost the clean feeling and openness of the custom stand design.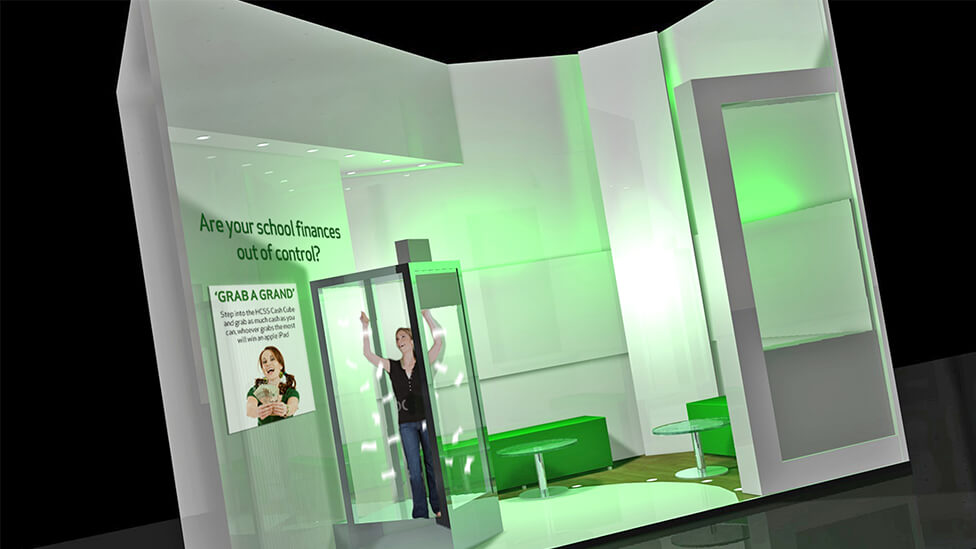 To also add an element of privacy, we turned the relatively compact area for tables and benches – where salespeople can discuss product benefits to attendees – into a welcoming and vibrant hub thanks to bright greens and contemporary materials.
Fun and interactivity also play a major role: delegates are immediately attracted to the stand thanks to a "cash cabin" where visitors can play the Grab a Grand game to enter a competition to win an iPad. Nodding to the financial nature of the services offered by our client and how they can help customers stay in control of their finances, the cash cabin starts blowing mock money in all directions as soon as players step into the booth.
We stayed away from including a TV screen, instead opting for engaging lifestyle photography, the interactivity of Grab a Grand, and a fresh and clean space to allow sales teams to personally interact with prospects.