We made Sage the talk of Accountex with a double decker exhibition stand made that boosted their social media mentions and generated nearly 400 qualified sales leads.

Background
A year earlier, Parker Design helped Sage leave a lasting impression on audiences at Accountex with a stunning interactive experience that wowed the financial services industry.
So, when you've totally dominated the show, where else do you go? Our answer – UP! – with an innovative double decker exhibition stand design.

Challenge
Sage was so pleased with the response to last year's stand that they asked Parker Design to come up with something even bigger and better to solidify its position as the market leader.

Solution
The competition was already responding by investing in more space for this year's show, so our creative team changed the game by arranging for our client to have the only two-storey exhibition stand at Accountex.

Featuring a larger demo area with 17 interactive iPad and PC stations, the stand offered visitors a chance to engage with Sage specialists, or try out the accounting software on their own.
Additionally, keynote speeches by industry experts were shown throughout the day in the 42-person seminar theatre, as well as being broadcast on video walls around the booth.
For a more relaxed atmosphere, guests could network and chat in the coffee lounge, or pick up one of the numerous wireless headsets around the stand to plug into the presentations or seek out information about individual products.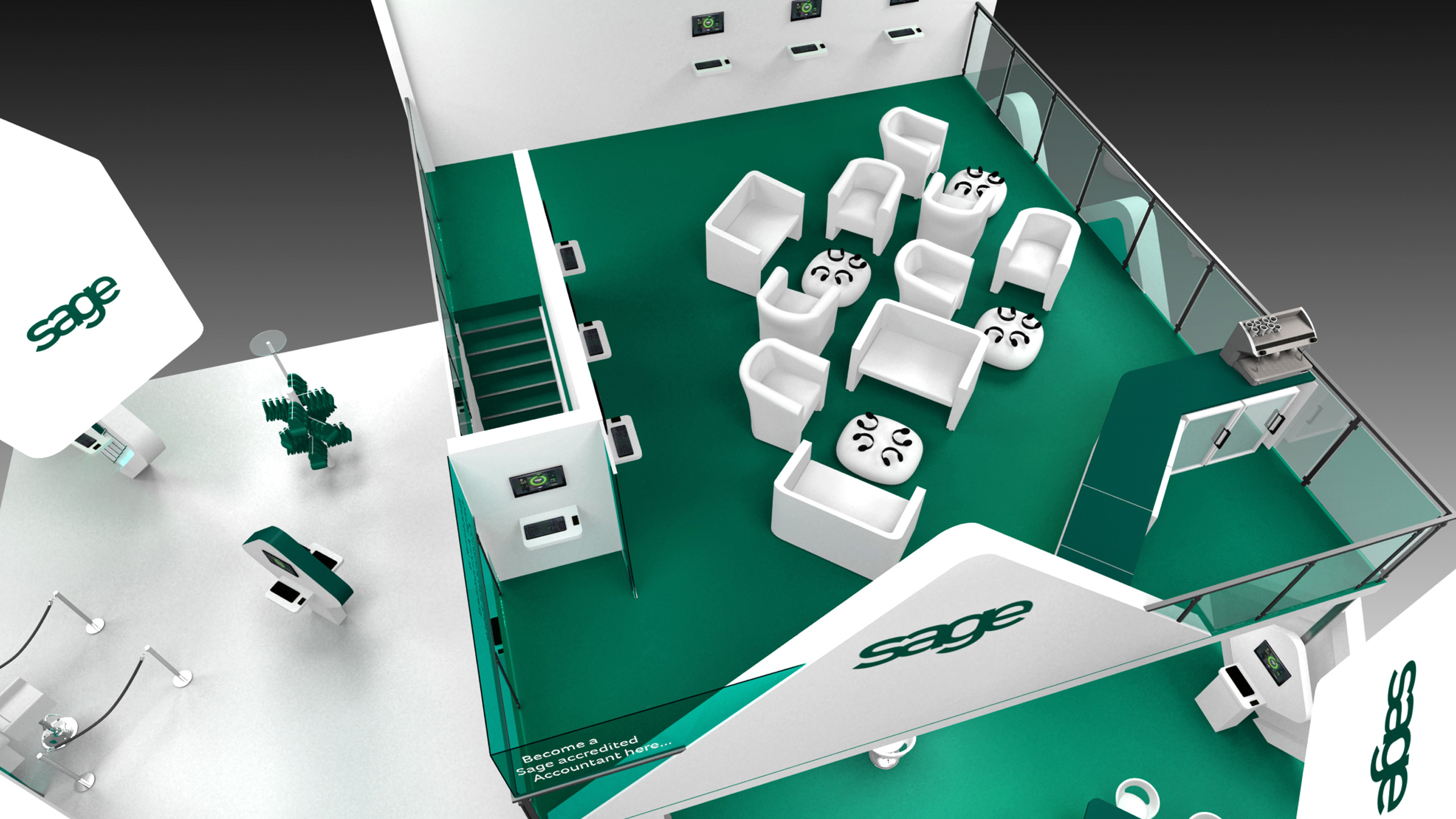 Select attendees were invited to pre-register for access to the VIP area on the upper deck where Radio Frequency Identification (RFID) was employed at entrances and exits. This technology treated visitors to a personalised experience where they were greeted by name at the door with their preferred drink waiting for them at the VIP champagne bar.
Upon exiting, VIPs used the RFID to select what Sage products they were interested in, what information they wanted to receive and what follow-up method they preferred – increasing engagement and delivering a wealth of information for the company's marketing and business development teams.
Result
The stand once again made Sage the talk of Accountex and generated 395 qualified sales leads. It also increased relevant social media activity on Sage's Twitter account by 1,184% and generated a 389% increase in re-tweets about the product.