We helped Alere attract visitors to their stand with an exhibition booth design that gave them a memorable and fun experience.
Two exhibition booths in one, two different brands, two different sets of graphics, two different yet linked messages – and just one night to build it all.
Challenge
Exhibition design can present many challenges, few more so than this exhibition booth design for Alere. Only gaining access to the QEII Conference Centre in Westminster at 11pm and the exhibition starting at 8am the next morning, we had to work through the night to make it happen.
Having looked after the exhibition booth design for Alere at the same show the previous year, we knew what challenges to expect when delivering a great looking booth overnight. And this year however, the challenge was doubled with a booth twice the size.
Solution
The concept for the booth design led visitors into the enclosed Alere side of the booth where they became 'contestants' in a mock game show. Compèred by a professional actor working to a prewritten script, and using a large wall-mounted plasma screen and hand-held electronic keypads, visitors were subjected to a suite of multiple choice questions, all related to healthcare pathways.
"We find working with Parker Design tremendously efficient.

Having direct access to their team of designers means that we can maximise our marketing spend. Not only that, they excel in the creative stakes and consistently deliver

a first class service that we've come to rely on, sometimes against very tight deadlines."
Once they'd cast their votes to all the questions, delegates continued their journey through the Alere side of the booth into technology partner company Health Smart's side of the booth. This side of the booth was kept more open and featured a long counter top with secure storage underneath, housing multiple PCs. On top of the counter were five computer monitors demonstrating the correct answers to the quiz, compared with the audience's answers. Plus another wall mounted plasma screen with a rolling demo of their software.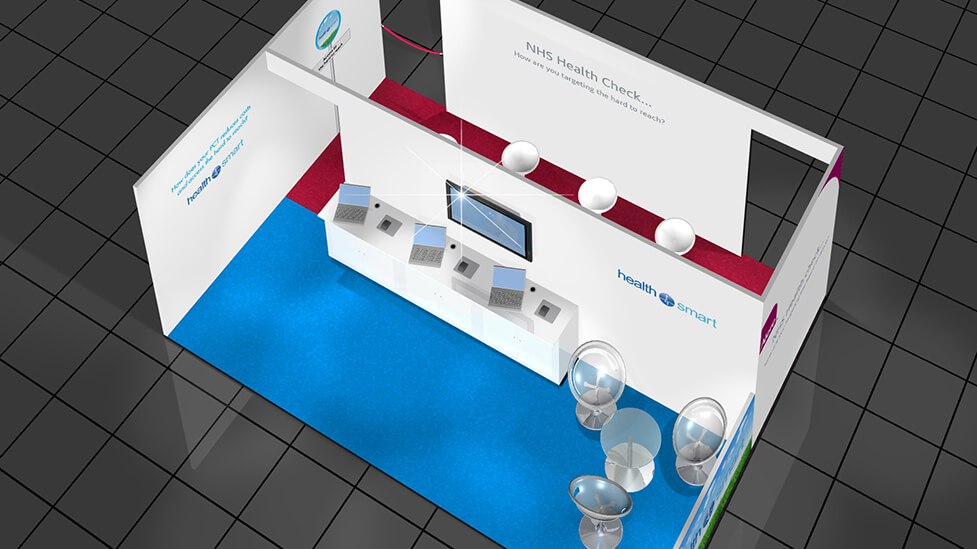 Two exhibition booths in one, two different brands, two different sets of graphics, two different yet linked messages – all built in one night. And yes, we did finish the build in time for the show's start at 8am. In fact, we were done and dusted and enjoying a well-earned coffee and bacon sandwich by the time the client arrived at 7:30am.