To help a socially conscious food company grab a piece of the lucrative healthy snack market, we unveiled their organic chickpea product – HIPPEAS – with a 'totally groovy' experiential roadshow design.

Background
UK consumers spend over £3 billion on bagged snacks each year. Green Park Snacks, an innovative global food company, asked Parker Design help them to build awareness and generate social media buzz about their new product, HIPPEAS – an organic chickpea puff.

Challenge
Our client wanted to launch HIPPEAS in a big way at the UK's premier summer food festival – Taste of London. With chickpea puffs being completely new to the UK market, and a compact 6m x 4.5m event space, we needed to maximise the brand's exposure and draw attendees in to sample the product.
Solution
Our team created an experiential roadshow design that would capture the hippy spirit of the company's playful brand and make a big impression on attendees. What better way to do that than with an oversized classic camper van?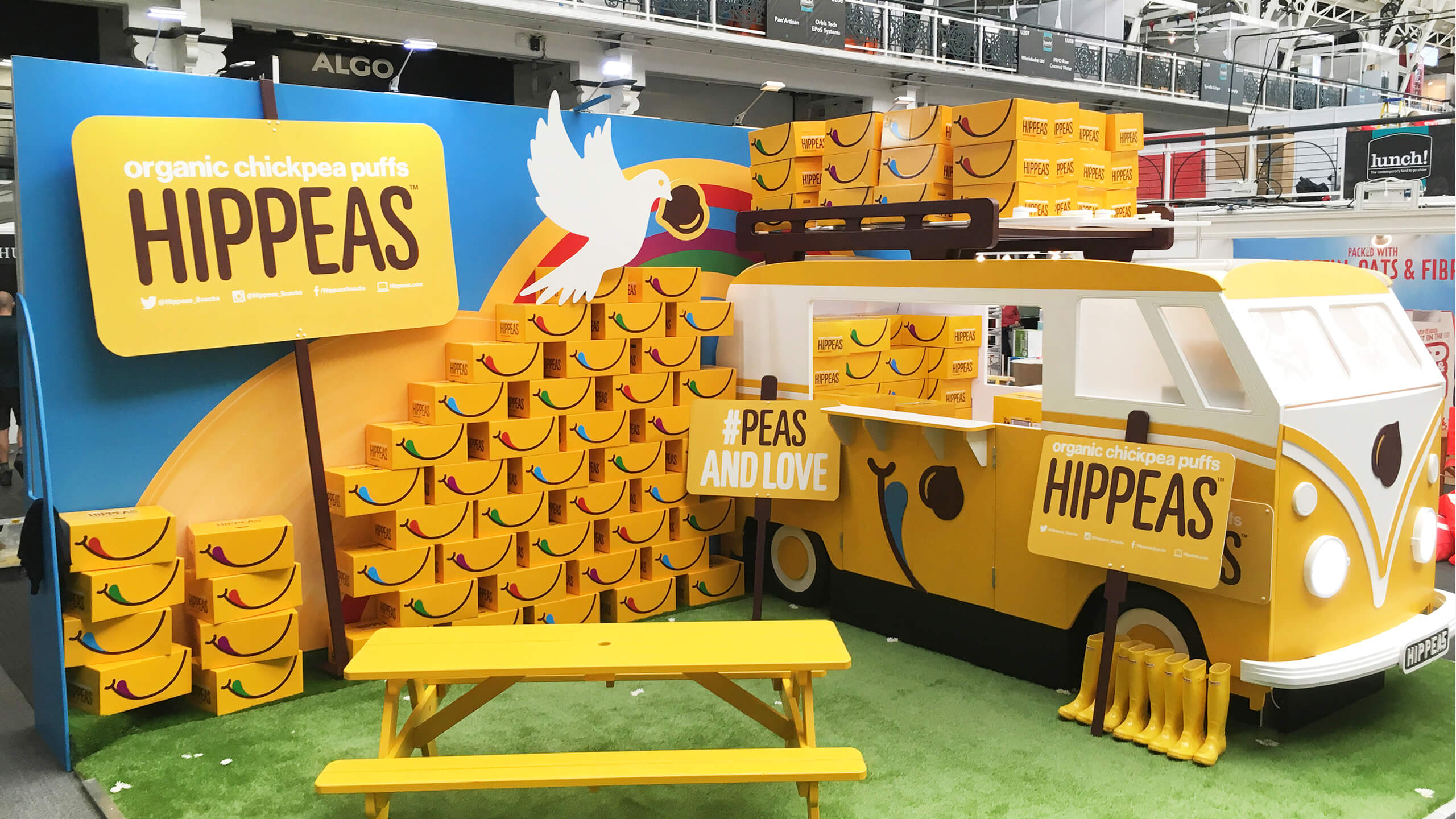 Since purchasing the real thing was cost-prohibitive, our team suggested recreating this classic 60s icon in a way that allowed our client to use it in multiple ways.
Slightly larger than an actual camper van, our version could be used by clients as a serving stall to distribute free samples to the public or a live DJ booth. This could be done from either side of the vehicle, or the client could choose to close off each side individually, if needed.
Continuing with the multipurpose theme, the vehicle's roof rack and surf board – which no hippy would be caught without – functioned as product storage space during the event, and could actually be placed across the doors to secure the camper van overnight.
Embracing the rebellious vibe of the brand and the era that inspired it, our design team added in AstroTurf – complete with daisies sewn into the lawn – and protest signage so that the client could create a bit of a stir at the event and encourage attendees to "Give Peas a Chance!"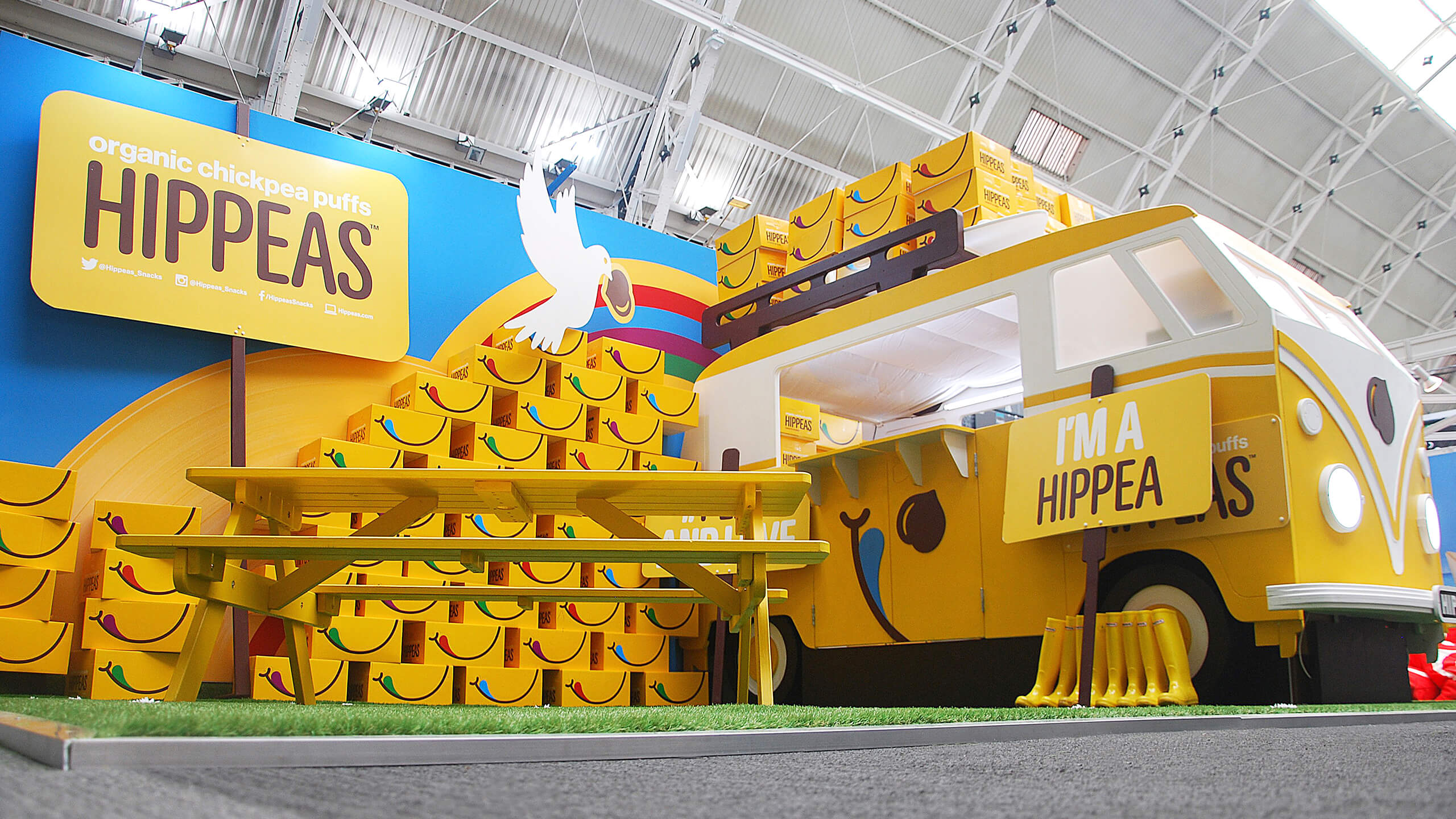 To surprise the client, we also fitted the van with working headlights to add realism.
The experiential roadshow design also featured a picnic table for additional seating and a full colour graphic against the back wall with 3D cut-out shapes to add interest and dimension.

To give the client additional engagement on Instagram, we rounded out the experiential exhibition design with a faux Polaroid speech bubble featuring the hashtag #peasandlove. This was widely used by event attendees and offered another way for HIPPEAS to connect with its core audience.
The experiential roadshow design was rolled out again later in the year at The Lunch Show, maximising our client's investment. As a result, our idea delivered true value for money, demonstrated an in-depth understanding of their brand and generated an enthusiastic response from event attendees.
The team received some amazing feedback…
"Simon (Hallows) took our original brief, evolved it and took it to a different level. The finished set totally surpassed our expectations and we are delighted to say we genuinely stole the show. Simon seamlessly managed all aspects of the process and was a pleasure to deal with throughout.

We are now planning our US launch and hope that Simon and Parker Design will be our partners on both sides of the Atlantic."

Partner, Green Park Snacks