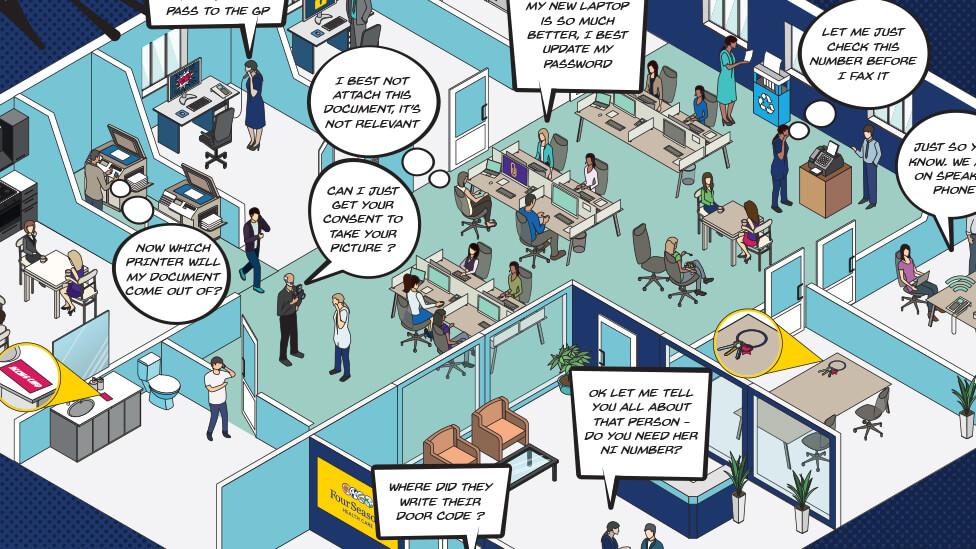 How do you remind 16,000 employees across over 250 locations of the importance of GDPR? With an internal communications campaign that creates impact without shock, is colourful, fun and yet professional, and at all times focused on achieving compliance with zero exceptions.
Background
To remind employees of the importance of GDPR, our client asked for our help devising an internal communications campaign that would reach thousands of employees working across the country. The majority of staff at Four Seasons Health Care homes have access to confidential resident information, so, although all teams were fully conversant with the new EU regulation, it was important for our client to reinforce its significance.
Challenge
Every element of the internal communications campaign had to be highly visible, and easy to recall, it had to stick in the mind of every single employee, permeating everything they do.
Although conceived to reach every employee, the internal communications campaign was mainly aimed at staff aged between 19 and 26, and over 45. With a significant age gap and a wide range of roles, the campaign had to inspire true collaboration across teams, generations and locations, it had to capture their imagination by inspiring a common sense of purpose.
Solution
A punchy and energetic style inspired by Pop Art offers immediate visual appeal, imprinting itself in the minds of employees, and successfully adapting to various, in some cases unexpected, internal communications formats.
The campaign logo transmits the energy and confidence required to work towards a zero exceptions scenario.
For a campaign that aims to gather everyone together, POW – Protect Our Workplace – is the perfect "call to arms". It's positive, yet demands immediate action, and it fits perfectly with the Pop Art-inspired look and feel of the campaign. The font's script style nods at the personal dimension, the overall human angle, of the project.
All campaign elements present bright and colourful stories focused on how compliance can be achieved at all times through collaboration and teamwork.
Posters –
Conceived to be strategically placed across 'home' and 'office' environments, they offer a fun way to remember how to deal with certain situations. The posters are highly visible and aim to reach everyone at the same time, reinforcing the idea that compliance will be achieved by working together as a team.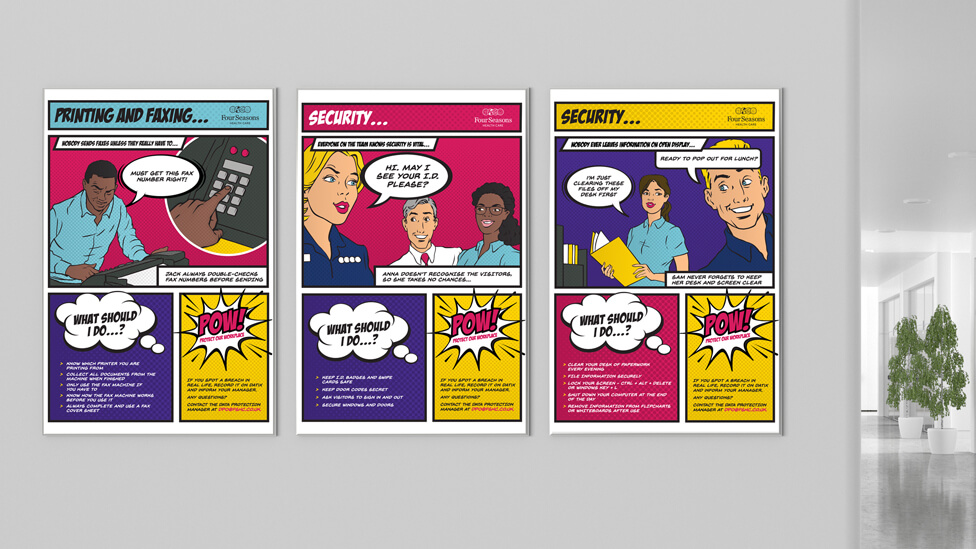 Spot the Breach posters encourage employees to maximise their learning through play, going beyond a sense of individual responsibility and accountability, moving to a wider "everyone is responsible, we're in this together".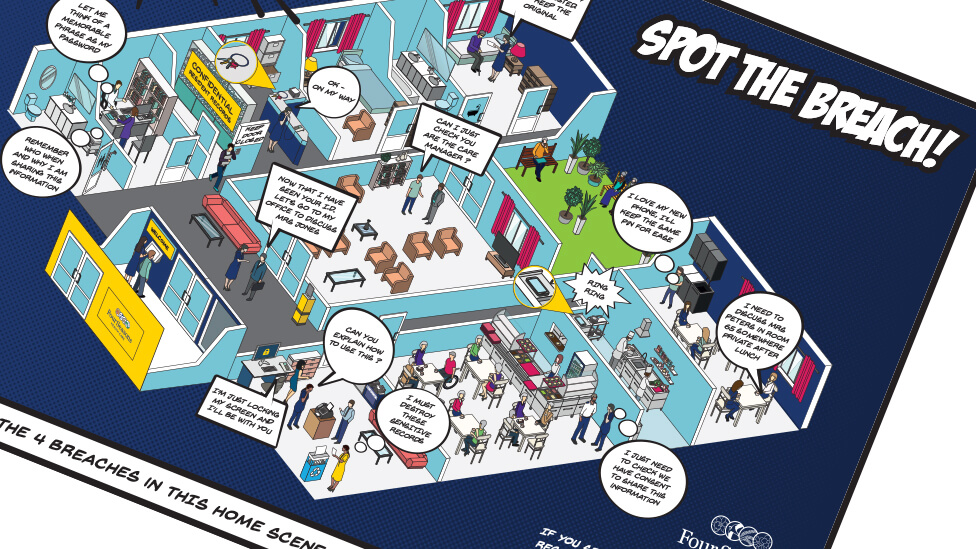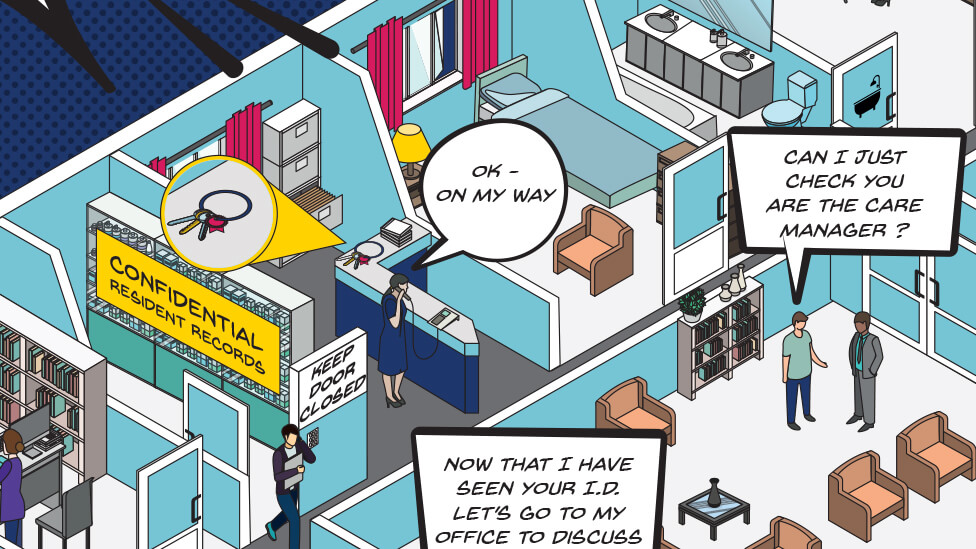 Booklet –
The same message is transmitted to 16,000 employees by the bold and playful hand-out: no negative connotations, an informal tone, realistic questions and positive and clear answers.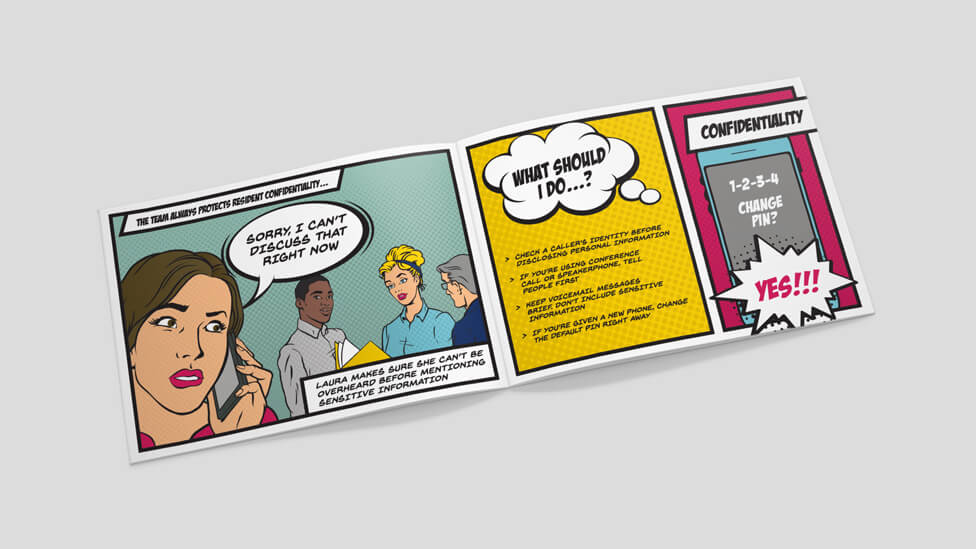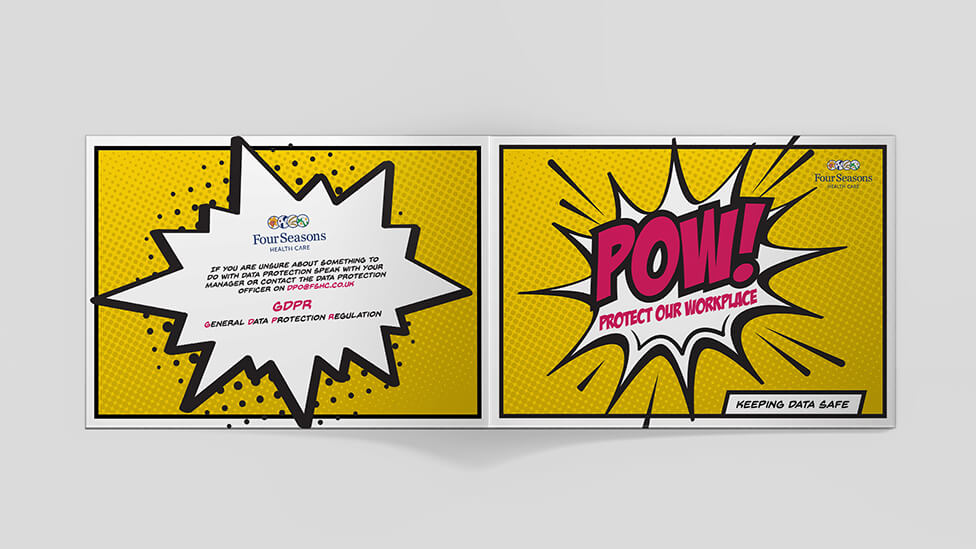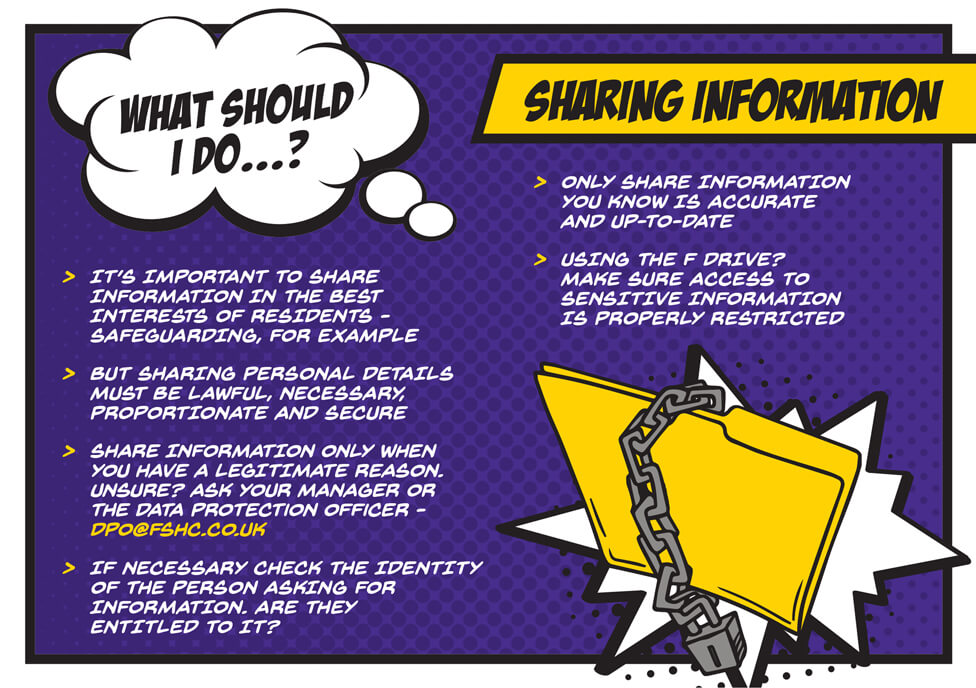 Animation –
The hero of the internal communications campaign.
Conceived as a training solution for face to face sessions and e-learning modules, the animation helps train staff through rich and engaging content. Its length* – 12 minutes – adds impact, and is perfectly balanced to encourage on-the-go learning, and at the same time paused reflection and team interaction.
The animation is full of life and assertiveness: moving across screens, panning in and out, it energises the audience and keeps interest levels high throughout.
But before we could move to the animation stage, black & white outlines come to life in the full storyboard we produced, thanks to the vivid brand palette.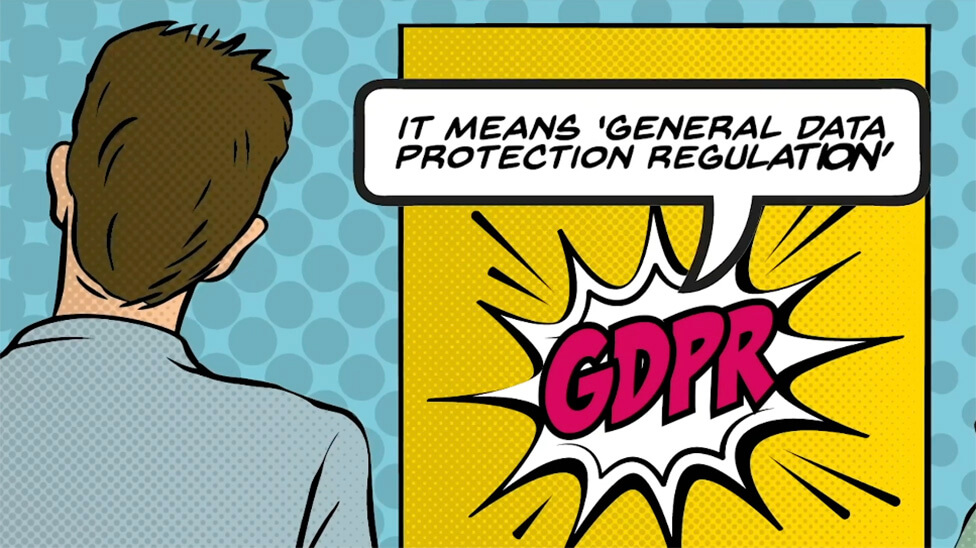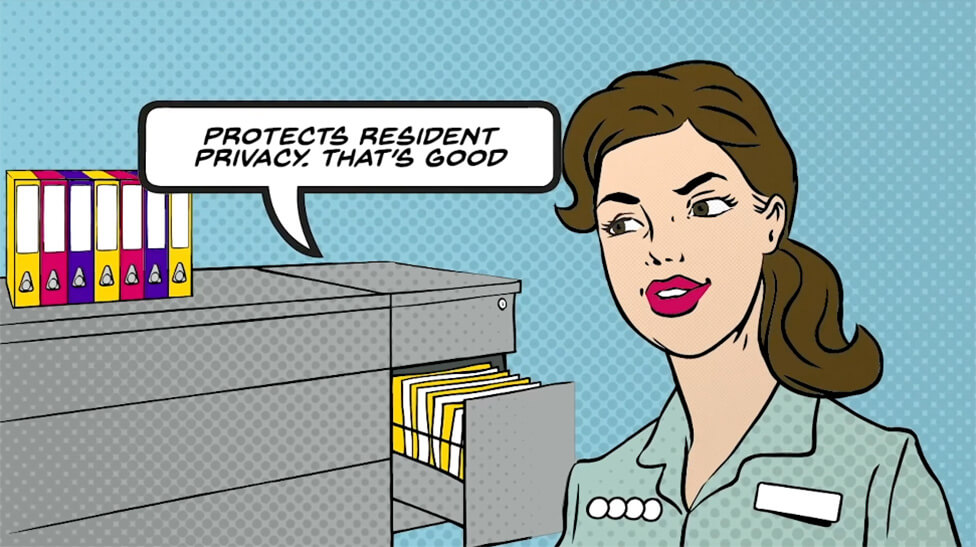 An approachable female voice is the perfect choice for a script that, like all other campaign elements, rejects blame in favour of true team cooperation.
To remind staff at all times of the gravity of GDPR, the campaign also includes Post-it deskdrops, leaflets and screen savers.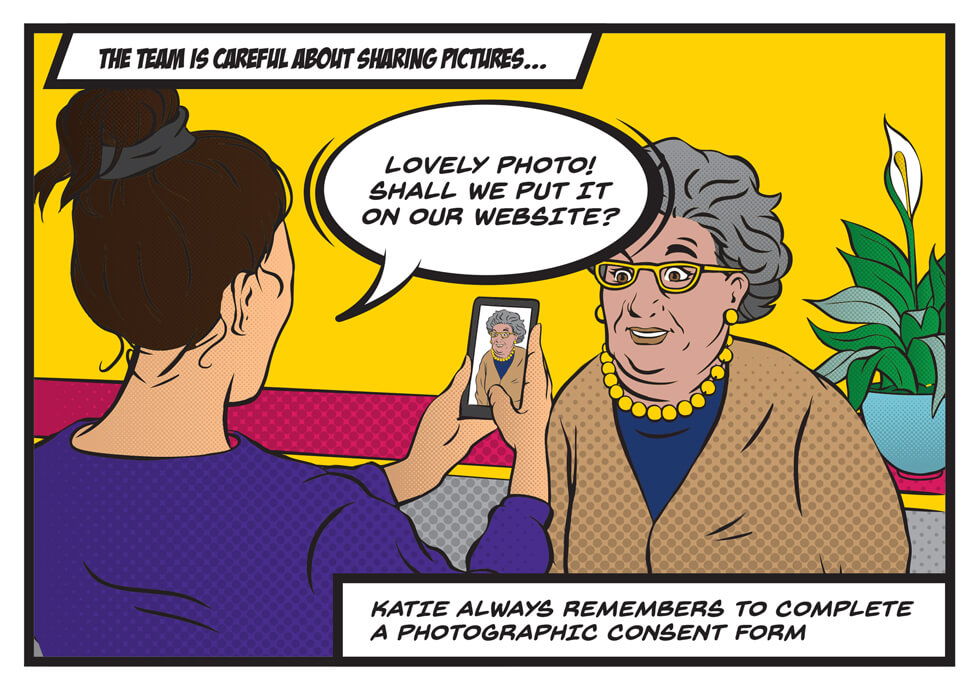 (*) – Here we show an edited version of the 12-min animated video, for illustrative purposes.