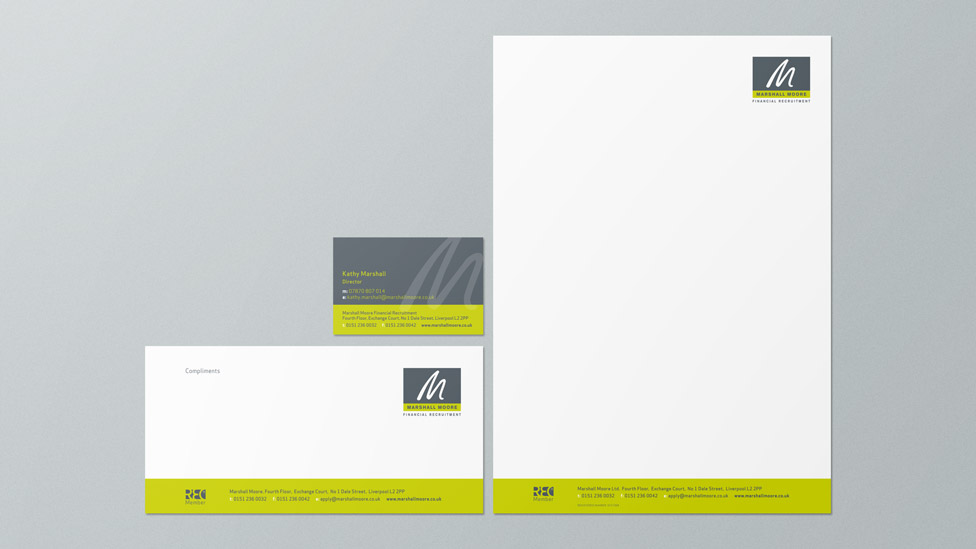 As part of a total rebranding exercise for Marshall Moore, Parker Design created a new letterhead design to showcase its fresh new look.
Following a successful logo redesign for financial recruitment consultants Marshall Moore, we set out to refresh their stationery and letterhead.
Taking the contemporary new logo and colour scheme, we created a striking new letterhead design together with accompanying stationery. Wanting to give the new logo maximum presence on the stationery, we allowed it to sit in its own space at the top right of each piece. The address details and contact numbers were housed in a sleek lime green band at the base of the design – adding a splash of colour, contributing to an overall contemporary feel and keeping the layout crisp and clean.
To give them extra impact we designed the business cards to be double sided – the reverse face carrying the solid petrol blue/grey corporate colour, featuring a ghosted swoosh 'M' and accented with the matching lime green band to tie them in with the letterhead design.
We paid special attention to the colour matching on the print to ensure the colours remained consistent on both uncoated and coated paper stocks.