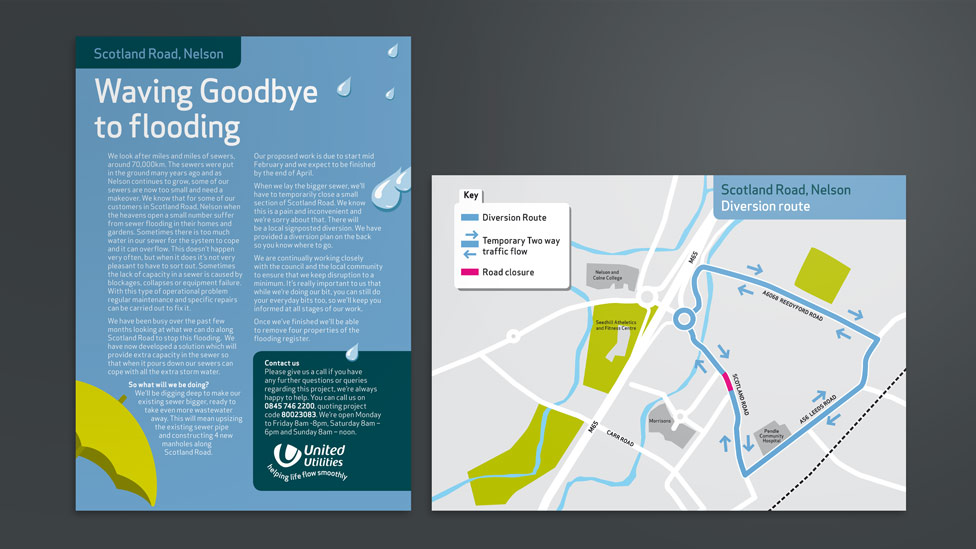 We helped United Utilities communicate they care about their customers with clear and simple map making that speaks for itself.
A large part of the design work we do for United Utilities' infrastructure maintenance programme involves map making. The company is highly focused on communicating clearly with the households and businesses in areas surrounding their essential maintenance works, so to clearly demonstrate precisely what kind of work, where, and how our client would be carrying it out, United Utilities produces a comprehensive range of printed collateral for each site.
Included in the information collateral are stylised and detailed maps which show key areas where works are being carried out, and potential causes of disruption or inconvenience to local residents and businesses. Our map making illustrators produce branded diagrams which are easily understood by residential customers and businesses alike. Based on highly detailed works schematics, our designers simplify the proposed plans into an easy to use style that gets our client's message across clearly and effectively.
Over the years we have helped our client United Utilities on a wide range of projects.