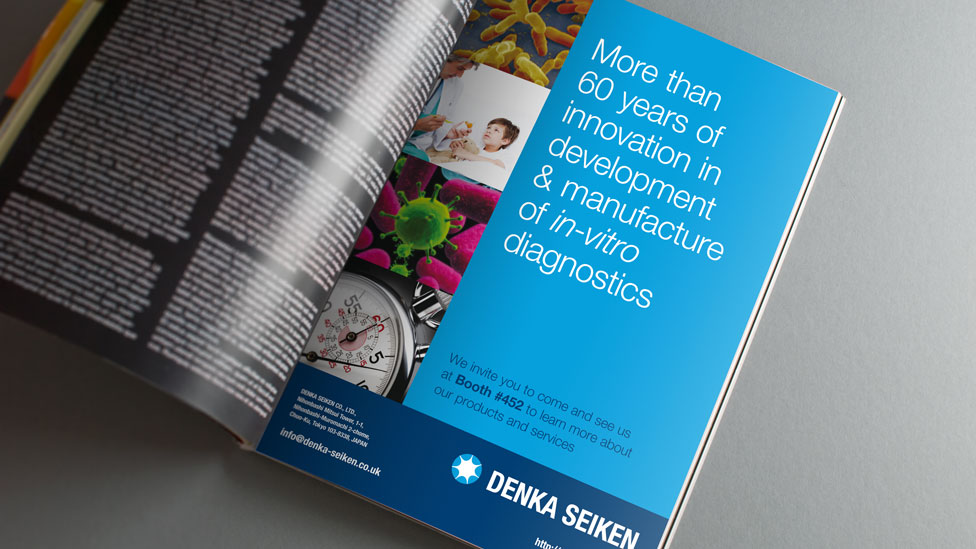 When Denka Seiken booked their exhibition stand at the Medica exhibition, they received a complimentary advertising space in the show handbook – a great opportunity to develop a simple and effective medical advertising campaign.
Background
Founded in 1915, Denka Seiken manufactures, trades and sells vaccines, immunological serums, bacteriological, and virological diagnostic reagents (for example, for use in rapid diagnosis antigen test kits for COVID-19). The company also produces building materials and petroleum products.
Challenge
To create an advert that would convey the scope of Denka Seiken's product offering and the experience the company has in the development, manufacturing and distribution of high quality in-vitro diagnostic equipment.
Solution
Utilising the existing Denka Seiken colour palette and brand elements, we created an advert that communicated all of our client's requirements. At the same time, we ensured it would be easy for the reader to digest the information in just a few seconds to provide them with a reason to visit the Denka Seiken stand on the day of the exhibition to find out more.
Striking scientific photography, concise copy and clever use of colour ensured the effectiveness of this simple medical advertising campaign.
We created a number of design concepts, and our client was so happy with them all that they asked us to choose the one we felt would work best to achieve their objective.