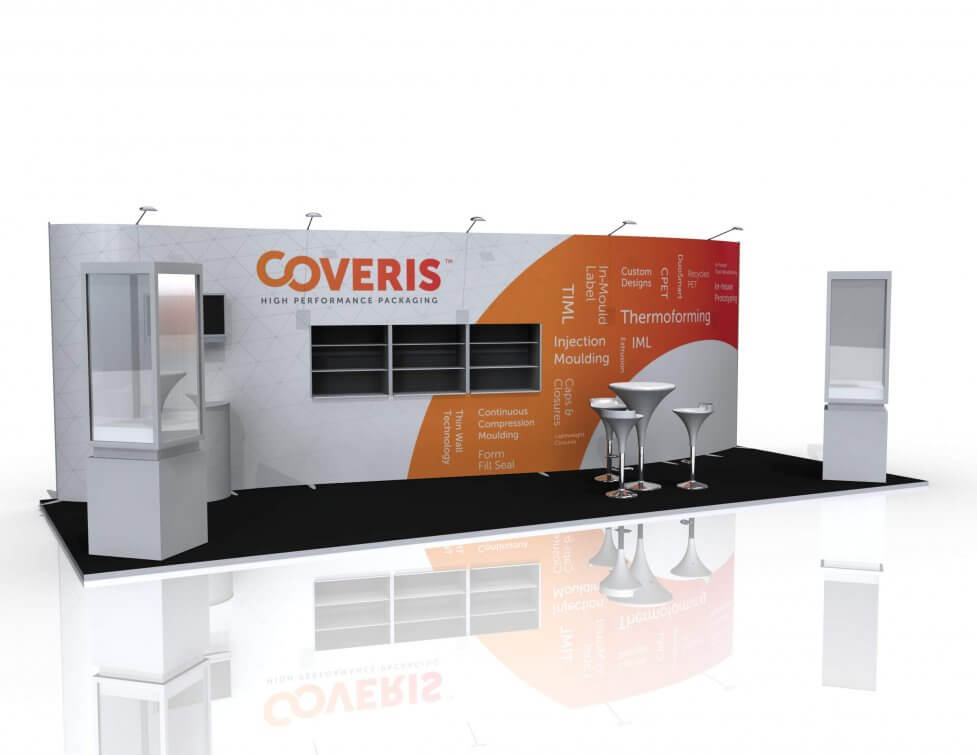 A fully customisable modular exhibition system that helped different Coveris teams promote their specific products and expertise at a wide range of industry shows.
Background
A global force in the development, manufacture and distribution of precision coated papers, films and speciality substrates, Coveris applies key technology platforms to develop high performance products for the most challenging industry applications, whether it's medical and optical technologies, digital imaging or electronics.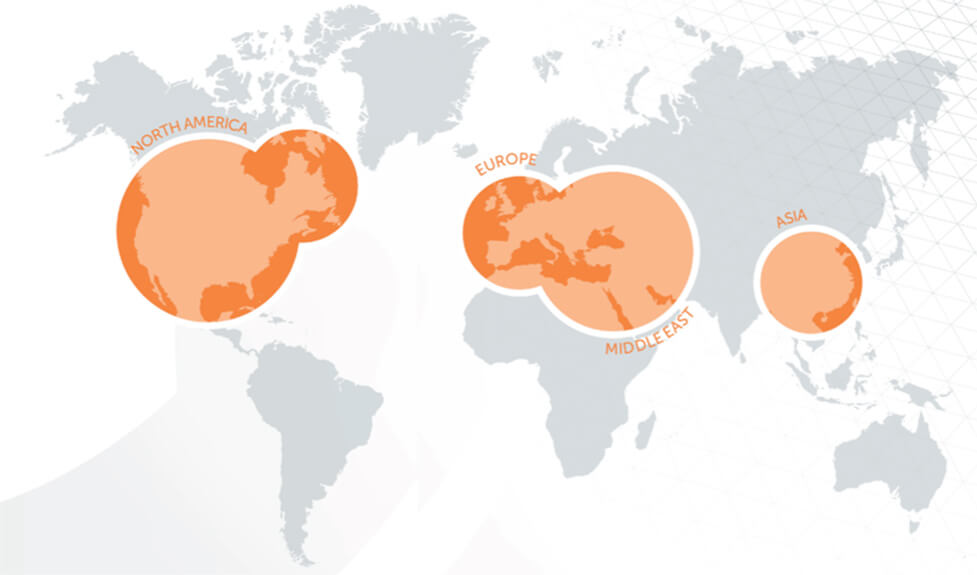 Challenge
Considering the wide range of shows on the industry's trade show calendar, and the different targets assigned to various departments, our client wanted to maximise their investment and time dedicated to exhibiting, while taking their corporate presence further than previous years.
Solution
We proposed a fully flexible modular exhibition system that succeeded at achieving both aims comfortably.
To give our client as much scope as possible, we started by proposing 4 potential configurations. With each option, we paid special attention to what we considered to be the key elements required to meet our client's goal:
presence in the exhibition hall
space, whether for promotion of materials or discussion with prospective customers
total flexibility, in design and configuration
storage
easy to build, dismantle and transport
Inspired by the rounded shapes in the Coveris logo, all 4 options feature a curved wall that helps to both maximise the relatively limited plot space while providing a sense of openness and welcome.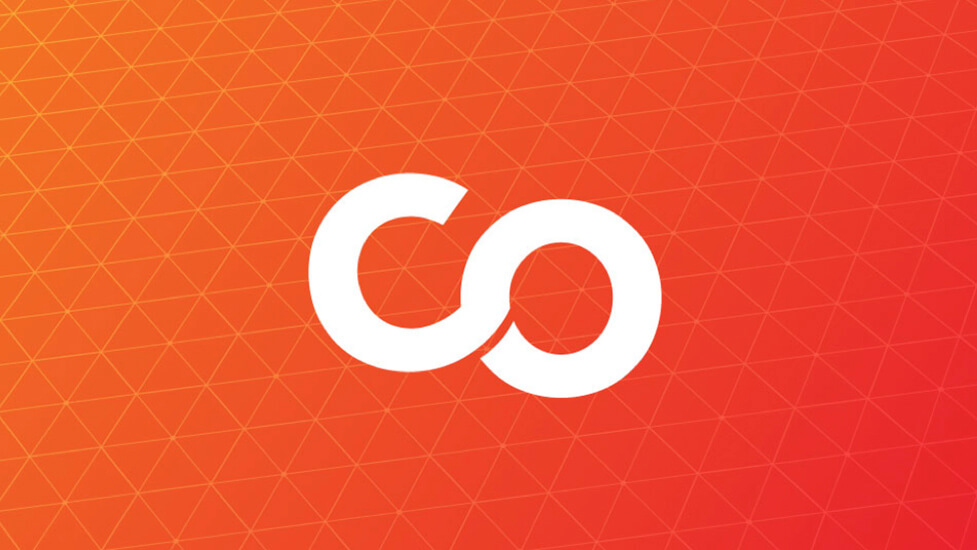 Option 1
In Option 1 above, the curved shape is prominent, with distribution of elements almost symmetrical within the space.
Option 2
Option 2 above softens the curve and gives centre stage to display shelving.
Option 3
Option 3 relies heavily on one single block of colour, while display areas are clean and minimal in contrast.
Option 4 – The chosen solution
The final version incorporates all required elements in harmony – collateral dispenser, counter, lighting, media bracket, informal seating area, integrated shelving and premium display cabinets.
The modular exhibition system is maximised as a space that encourages open discussion.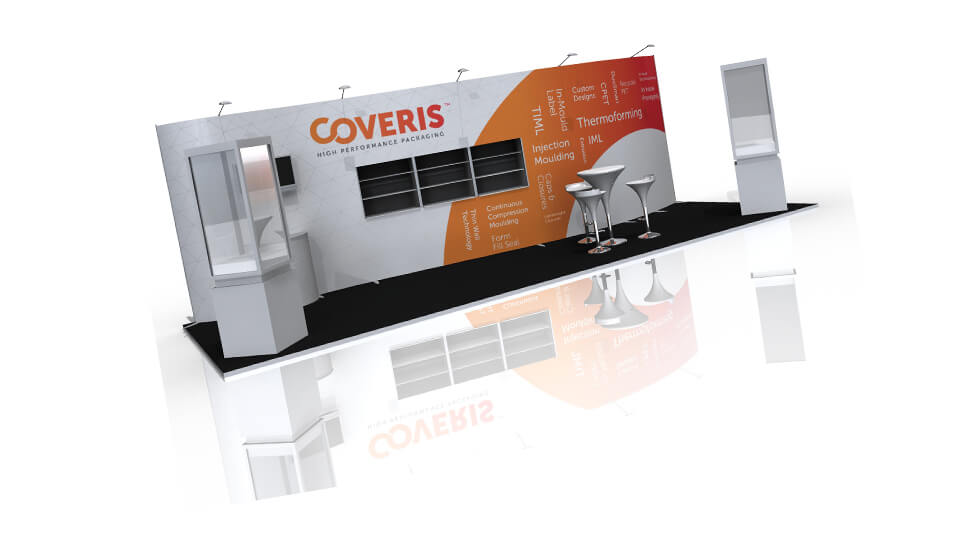 Almost a 50/50 split between crisp white tones and bright and appealing Coveris brand colours, the corporate logo has gained prominence thanks to a large font, and its top, almost central position on the stand wall.
The curve from the logo is carried through to one of the sides of the stand, becoming the perfect canvas to quickly draw attention to product benefits. The wall is fully customisable – can be extended or shortened, even bent into different shapes – and it also allows for changes in wall graphics.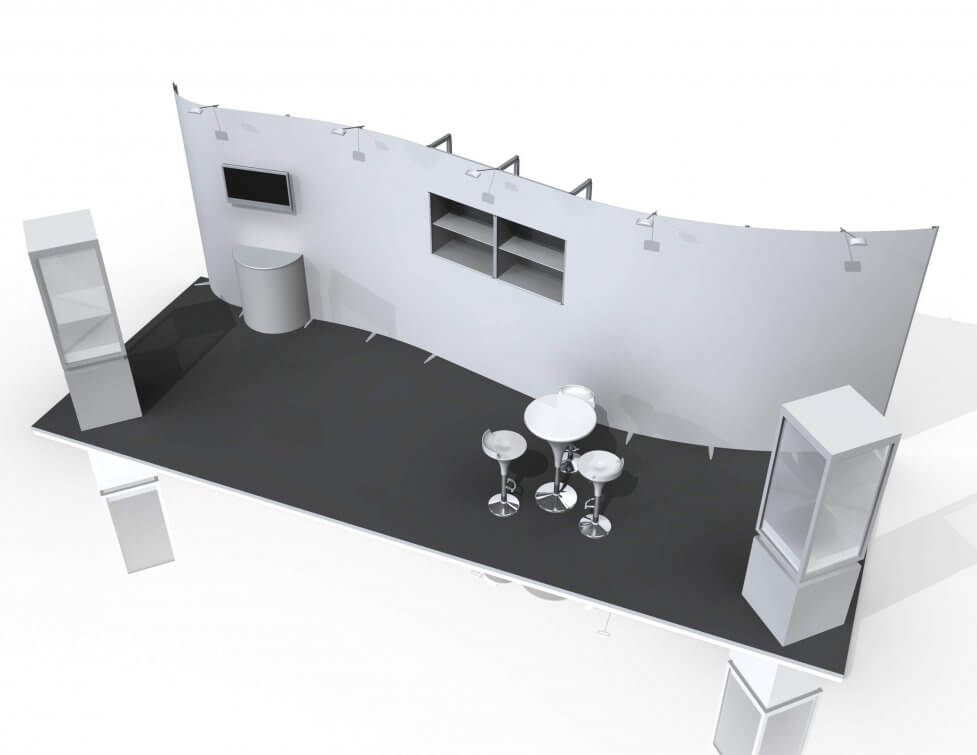 Whilst we offer a full storage, transportation and installation service, on this occasion we fully trained our client's teams to install the system themselves, enabling them to be fully self sufficient going forward.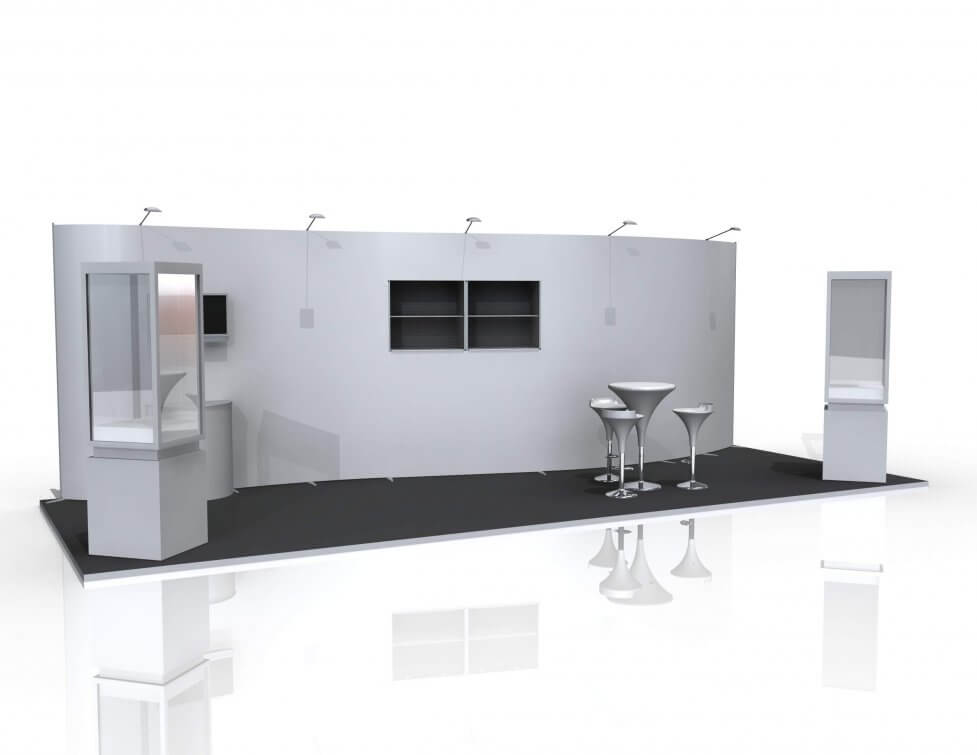 The modular exhibition system, which can be packed down into wheelie carry cases, proved to be an effective promotional tool for our client.