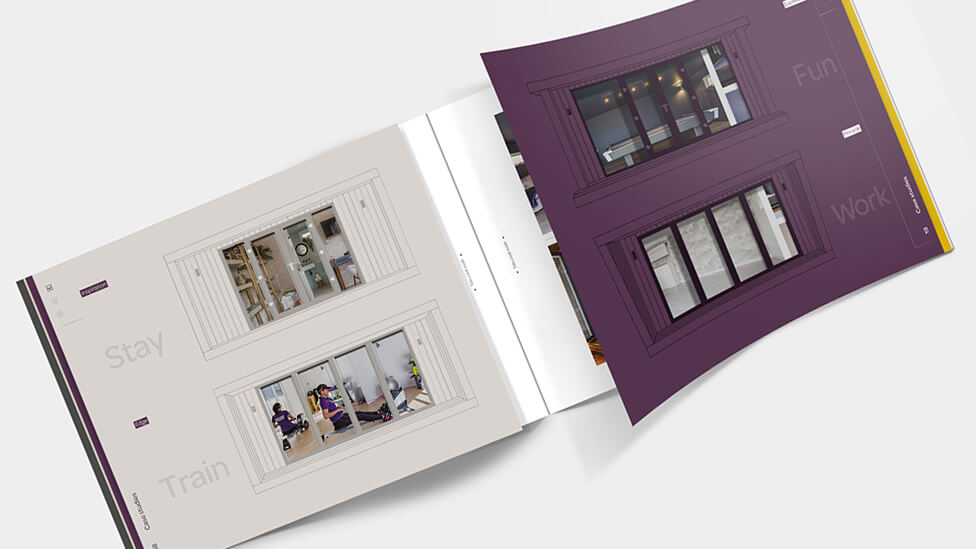 With this sales and marketing brochure design we helped Green Retreats reinvigorate their sales materials by highlighting the customer experience.
Background
Green Retreats, the UK's leading garden room company, have designed and installed over 12,000 garden rooms since they launched in 2005. The company prides itself in superior product quality, customer service and after-care.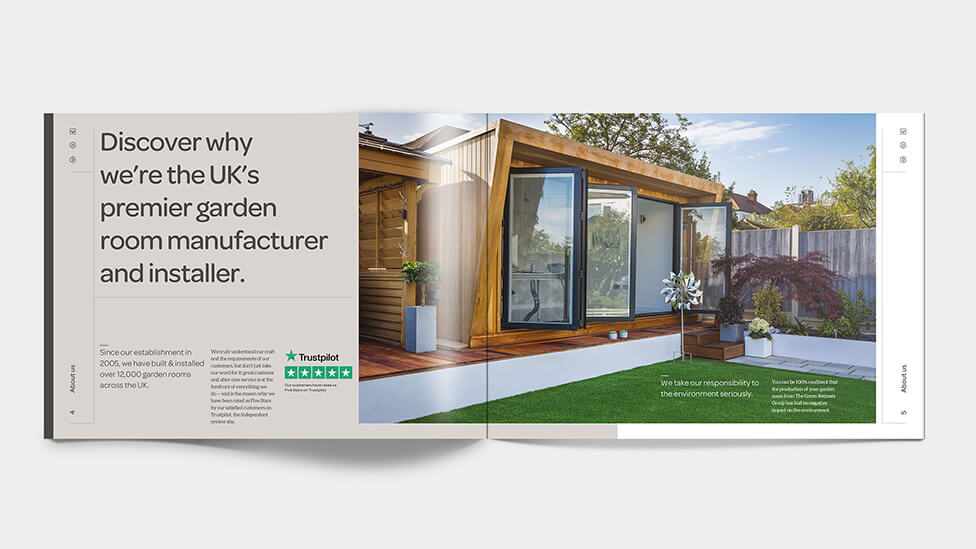 Challenge
With three sub-brands – The Garden Office, Green Retreats and Garden Studio – our client's sales teams had historically been relying on three separate brochures to promote their products and services.
Although a successful strategy in the past, our client had decided it was time for a new approach: to combine all three brochures and arm sales staff with one impactful sales and marketing brochure that would help them promote all their product ranges. But our brief went beyond that – the new brochure design would have to transmit not just the quality, precision and craftsmanship of the Green Retreats Group products; we'd also need to highlight the unique and inspirational customer experience offered by our client.
Solution
We started by splitting the new sales and marketing brochure into two sections – inspirational lifestyles, and the rigorous processes every build goes through. Each of the different sub-brands was given equal prominence, but with their own individual identity thanks to colour-coded pages to help readers identify the different product ranges available.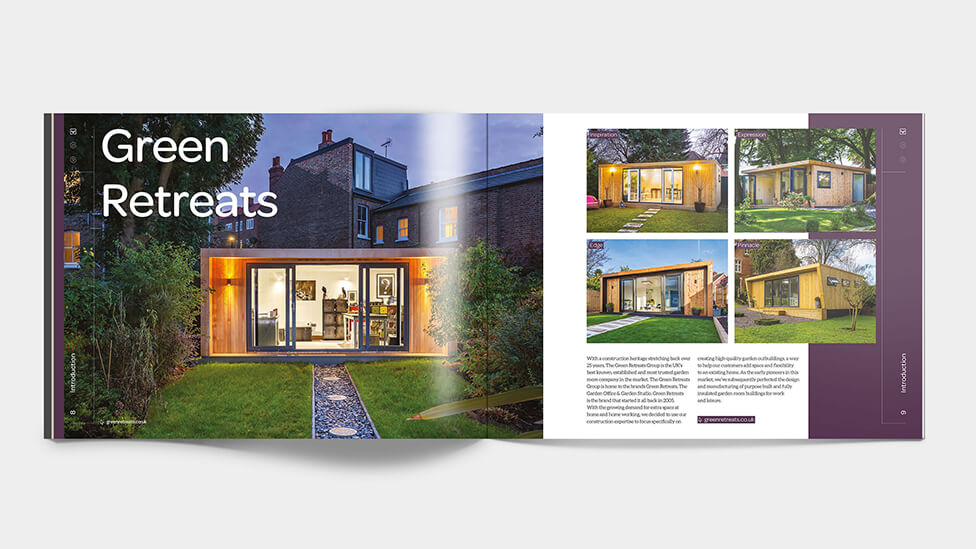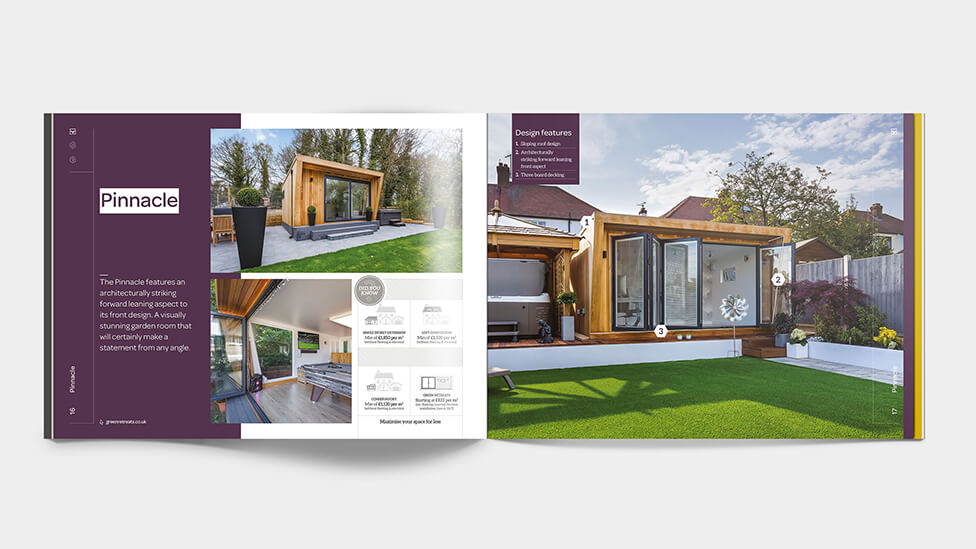 The different page layouts act as a reflection of the clean designs offered by Green Retreats, with copy and imagery helping inspire target audiences by highlighting the lifestyle benefits offered by each space.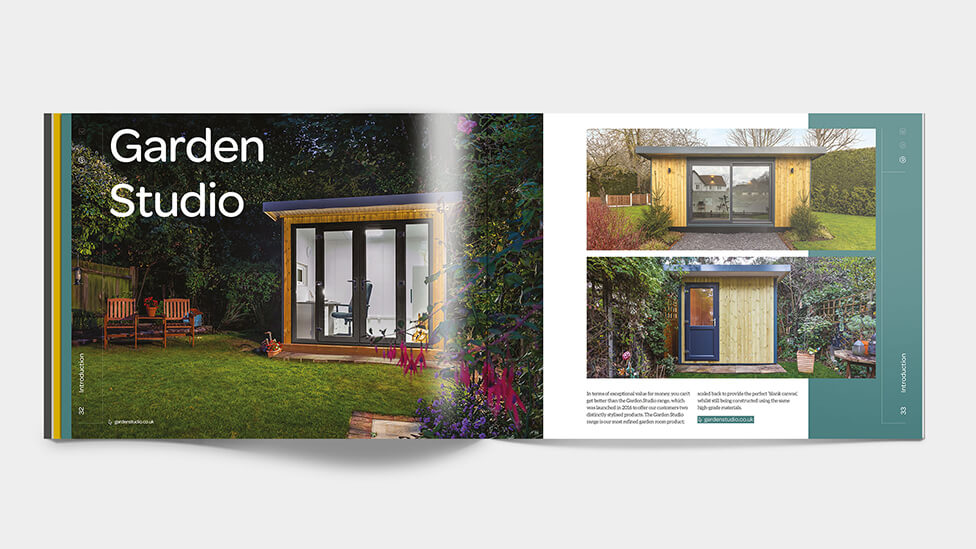 Page after page, the sales and marketing brochure design radiates inspiration and creativity. Like our client does, our design takes care of every detail, with some font treatments nodding to the concept of craftsmanship, and copy that draws readers in, full of positivity, inspiration and possibilities.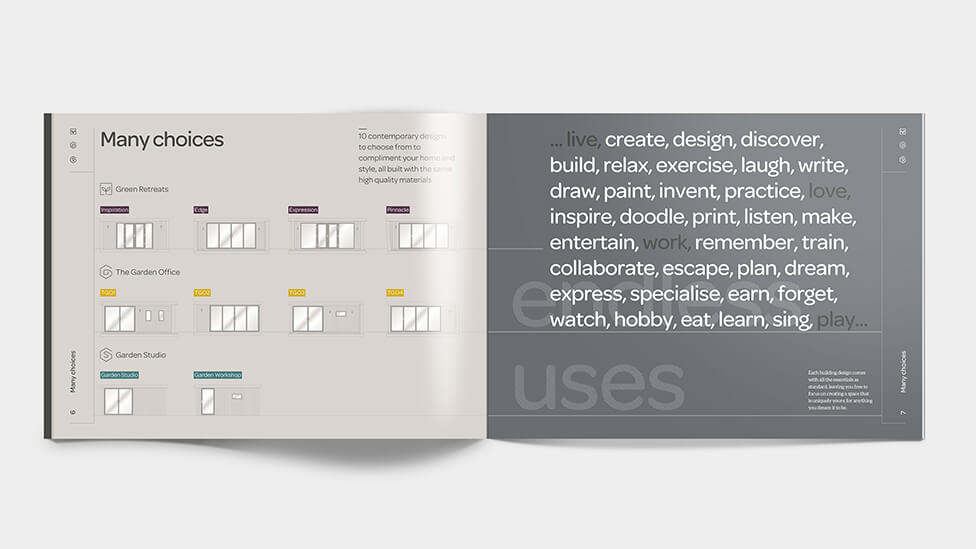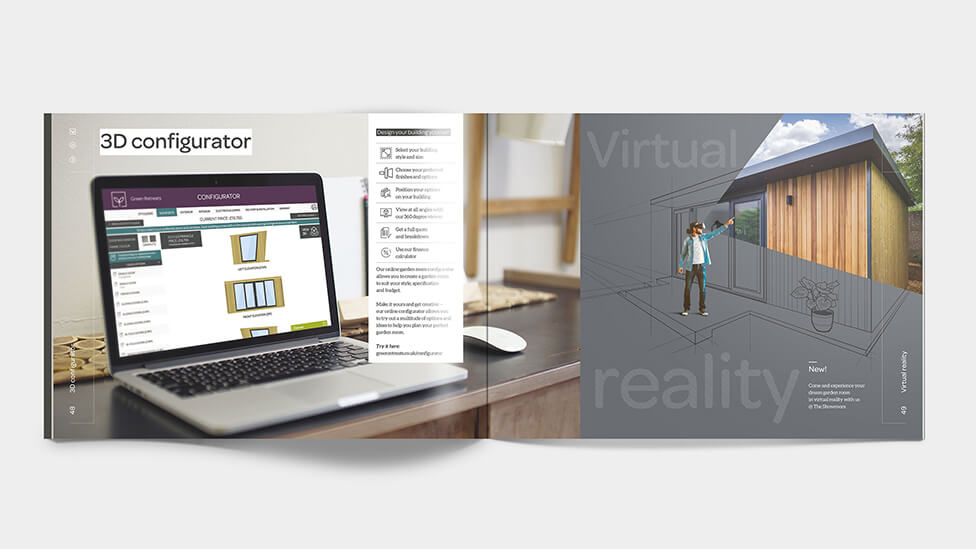 The sales and marketing brochure design is brimming with content and varied and interesting ways of presenting it – case studies, fold-out pages, transparent trace paper, illustrations and realistic renders, iconography and more – making it an attractive and playful piece of collateral.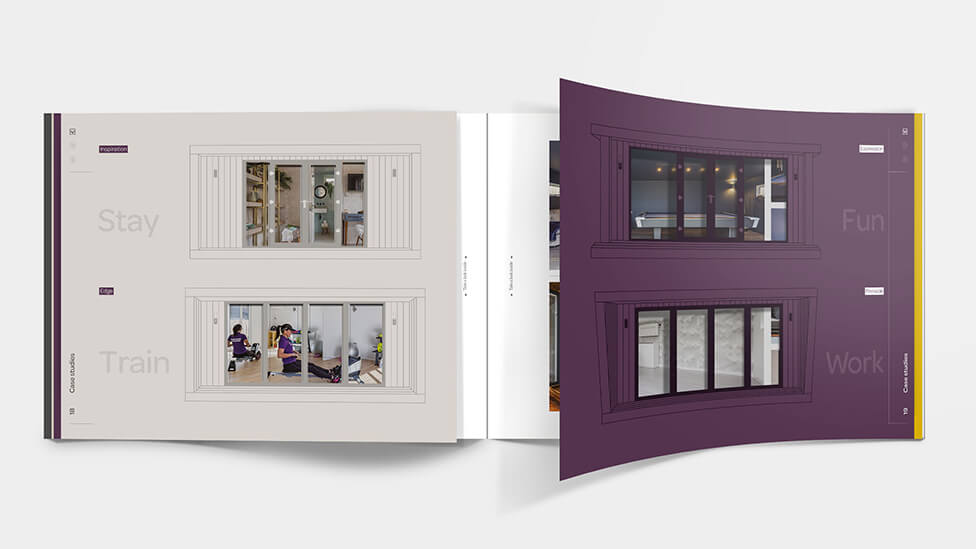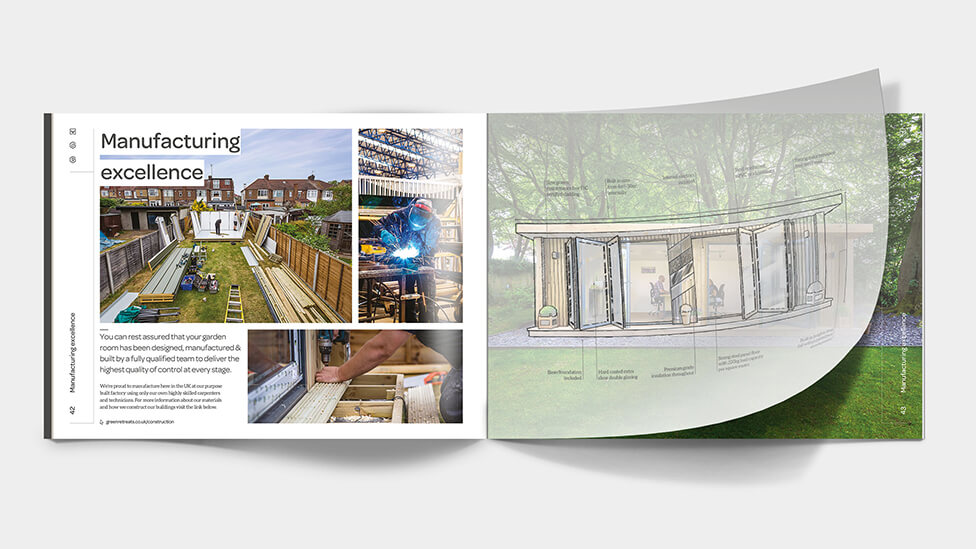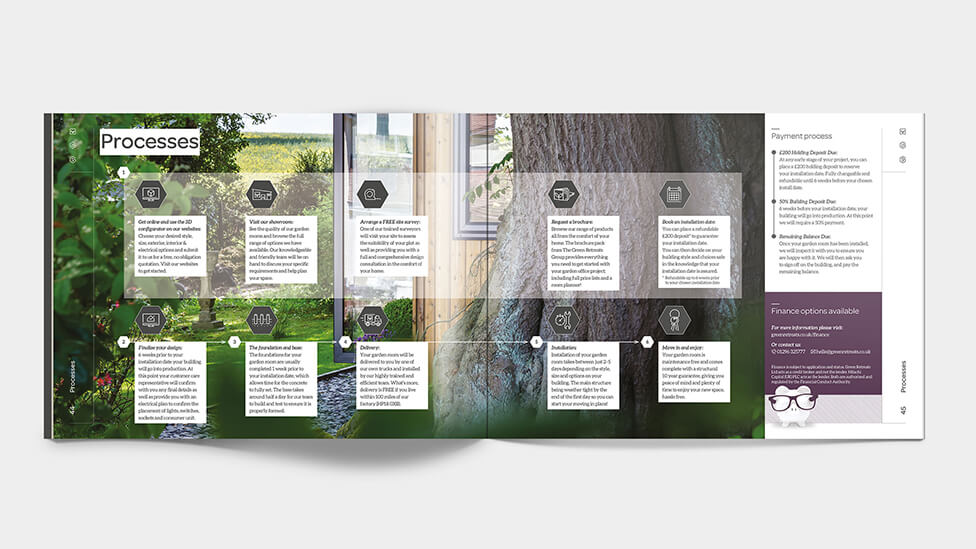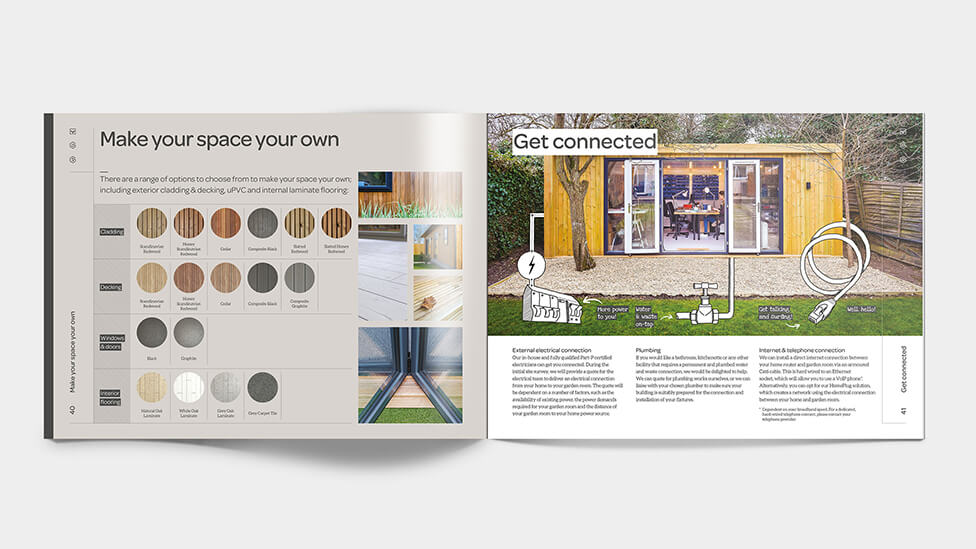 Inspirational photography sits next to sketches that remind customers of the creative and personalised nature of a Green Retreats experience, helping them visualise the wide range of options available for them to design their own space.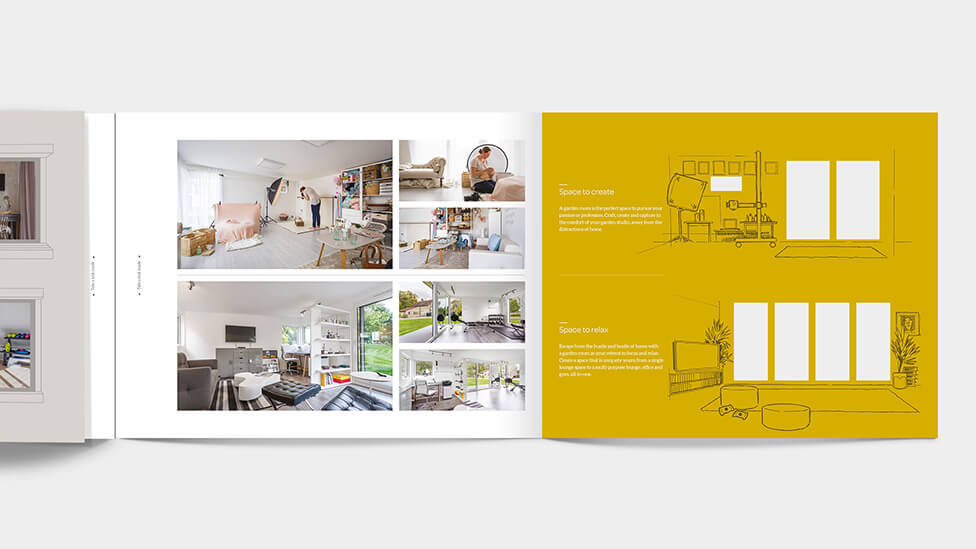 One of the highlights of the marketing brochure design is a realistic pop-up of a Green Retreats space. The watercolour treatment of the illustration and the tactile nature of the pop-up add an evocative sense of warmth, familiarity and fun that hooks audiences by inviting them to interact with it.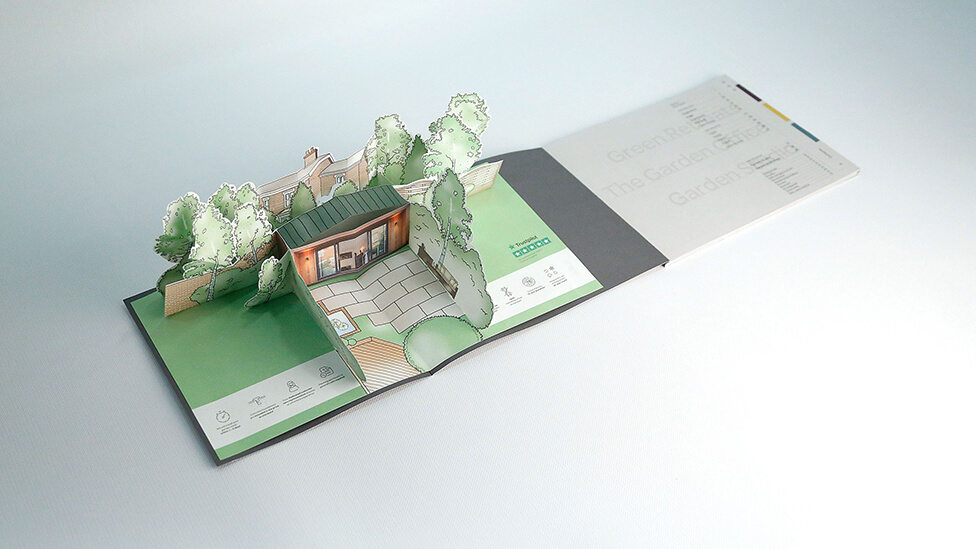 As the sales and marketing brochure was also designed to be mailed out in a portfolio case which also included a room planner insert, weight was a key consideration in the overall project. We chose recycled paper stock to not only help with weight considerations, but to also help Green Retreats highlight the importance the company places on sustainability.
We also managed the printing stage of this project: with a total print volume of 15,000, we created a prototype of the pop-up which was then manufactured in China, with the brochure being printed just outside London, and the pop-up added to the brochure in Birmingham – a practical solution that maximised our suppliers' expertise and cost-effectiveness.