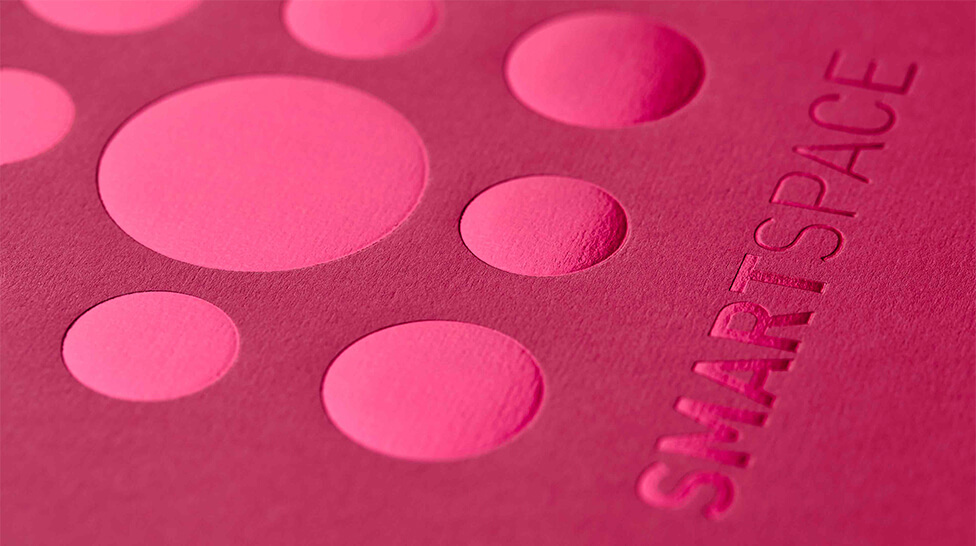 We helped our client inspire workplace change with an impressive staff engagement brochure that encouraged employees to embrace their new smarter working initiative.
Background
Our client cares about their clients, communities, creativity, and their staff. Firm believers in constant reinvention to guarantee success, our client had set out to spark creativity and true collaboration amongst employees by redesigning their office space in a ground-breaking way.
Their SmartSpace concept consisted of new inspirational workspace areas – office, lab, collaboration and community zones, that aimed to fuel world-leading research and ideas.
The brochure they asked us to produce would help the company share their renewed energy with all offices worldwide, with the aim to encourage employees to embrace the new initiative.
Challenge
We had to develop something that was more than just a brochure; it had to function as a brand book to help launch their empowering SmartSpace concept, and tempt everyone to pick it up as an engaging source of inspiration, information and motivation.
Solution
The craftsmanship at the heart of our client's longevity and success is reflected in each hand-made cover.
The brochure design encourages and inspires. The premium feel and formats, the materials and colours, and presenting the information in an engaging way throughout, help employees embrace change when interacting and working with their colleagues.
Our brochure is inspired by interior design. Different paper textures tease the reader about the innovative workspaces: we represented wood, leather, stone, brick, and even aluminium finishes.
Solid, bright colours, aspirational photography, illustrations and playful hand-made foldout pages add an element of interactivity that contributes to the idea of ownership of the brand book, and ultimately of the workspace.
We translated our client's SmartSpace concept into very tactile content in the staff engagement brochure itself: transparent trace paper is used as a pull out and doesn't distract away from the images.
Sims-inspired illustrations, drawn by our Creative Director, clearly laid-out zones, annotated areas, and infographics further add to the playful design and invite employees to fully immerse themselves in the new initiative.
We also produced a French version of the staff engagement brochure, and we're already working on other language versions.