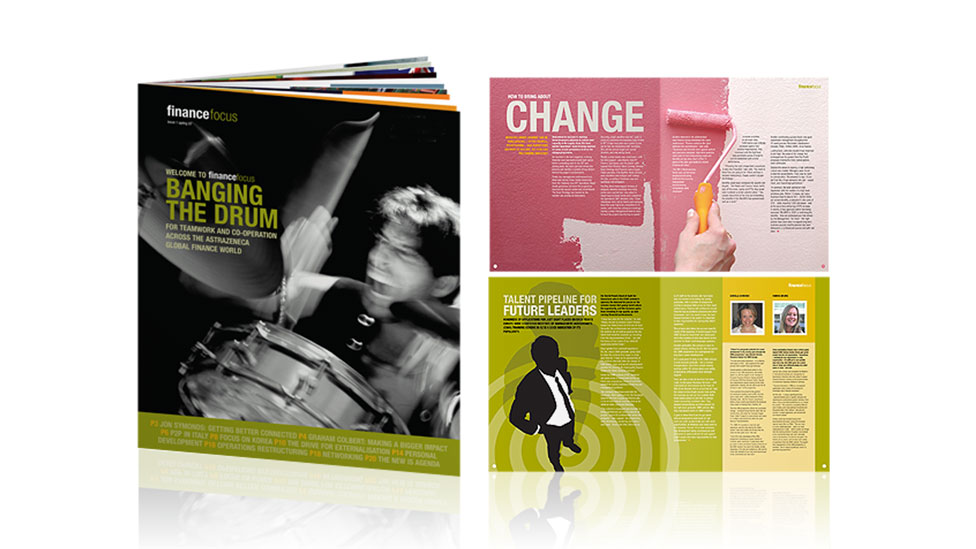 "Can you make it look sexy?" and "What do we want it to feel like?" – Two questions that helped us answer this brief with a strong staff newsletter that changes perceptions.
Background
Striking and memorable design is often a key factor when trying to change perceptions. And that's what this internal newsletter design helped achieve by turning the efforts of a team into cover headlines.
Challenge
"Can you make finance look sexy?" – that's what AstraZeneca's finance team asked us when looking for the right agency to work on their staff newsletter design. The newsletter had to feel and look different, and challenge people's expectations of a traditional newsletter design.
Solution
After answering "Of course we can make it look sexy!", we asked ourselves another question – "What do we want it to feel like?", instead of a more traditional approach of diving straight into designing the page layouts.
Focusing our thinking on less is more, we opted for a bespoke size smaller than A4, giving the newsletter a unique and very distinctive appearance.
Inside, we treated most articles as feature spreads and designed them with bold, contemporary typography, strong use of colour and evocative imagery that bring the content to life.
Using a mixture of photography and illustration throughout the staff newsletter we created a truly appealing piece of internal communications that maximised engagement.
An uncoated cartridge-style paper helped us achieve a strongly tactile feel, making the staff newsletter even more memorable by appealing to the senses.
"Working with Parker Design is a real pleasure. Nothing's too much trouble and 'going the extra mile' is part of the service.

They're pro-active, provide creative solutions, and do whatever's needed to meet tight deadlines and work within the agreed budget, to produce a quality product.

I'd recommend Parker Design to anyone."