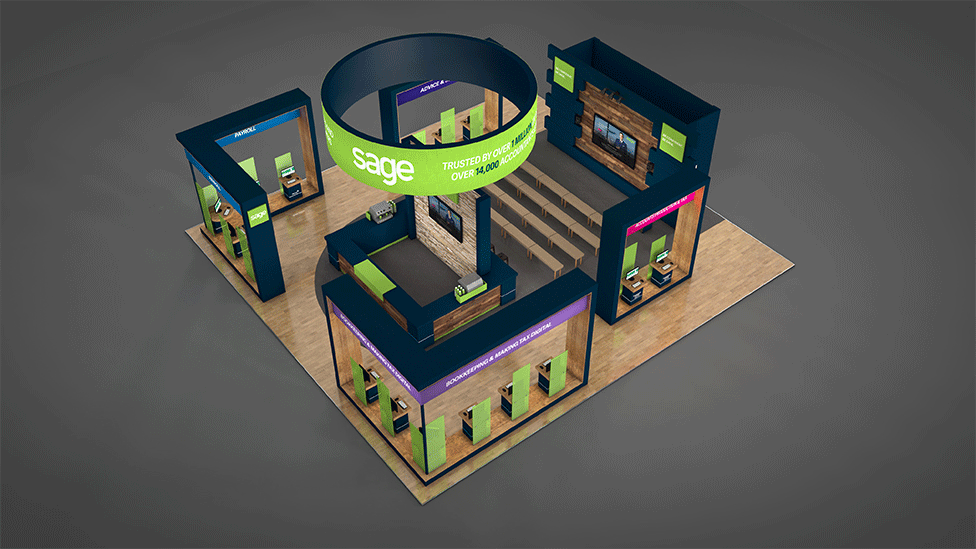 With this dynamic and imposing trade show stand we helped Sage showcase the scale of their operations and extent of services to thousands of delegates at Accountex.
Background
Accountex: Europe's number one gathering of accounting and finance professionals, and one of the most effective marketing tools in Sage's calendar.
With thousands of delegates descending on London's ExCeL from all corners of the country and beyond, every year Accountex provides professionals with the opportunity to network and discover the latest accountancy solutions to take their business further.
Challenge
Following the success of Sage's stand at Accountex the previous year, our brief was to take the existing design and configuration as initial inspiration, evolving it in a way that would help our client showcase the extent of their offering and expert solutions while encouraging interaction and discussion.
Solution
To transmit the scale of Sage's operations and breadth of services they offer, the design for this trade show stand focuses on the concepts of height, scale, and open collaboration.
The stand design is imposing yet dynamic thanks to solid, bright and welcoming hollow structures that act as a magnet for visitors.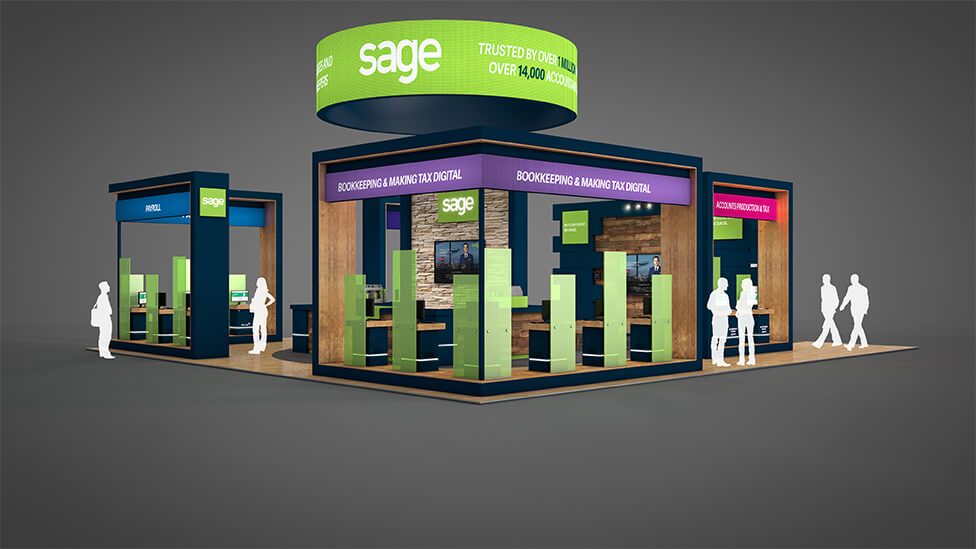 To command attention from all corners of the exhibition hall, we went as high as we were allowed by the organisers – a 7m-diameter circular rotating LED screen, suspended 6 metres above the floor, communicates Sage's authority.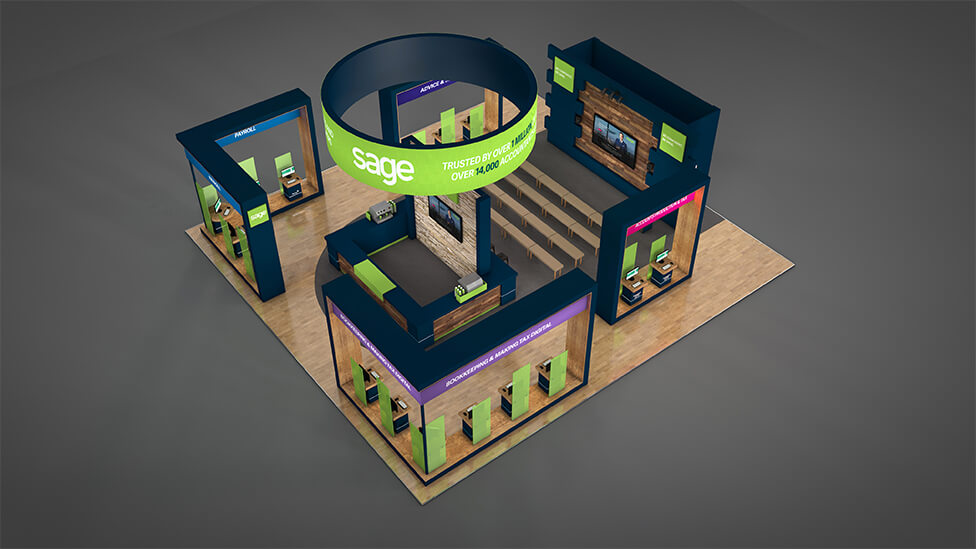 Paying special attention to wayfinding within the trade show stand, the open structure immediately attracts visitors, who can easily access it from all sides.
The lack of major physical or visual blocks provides an uninterrupted line of sight for both delegates and Sage staff, ensuring all areas of the stand are covered – whether to find out about everything Sage has to offer or to approach prospects located across the stand.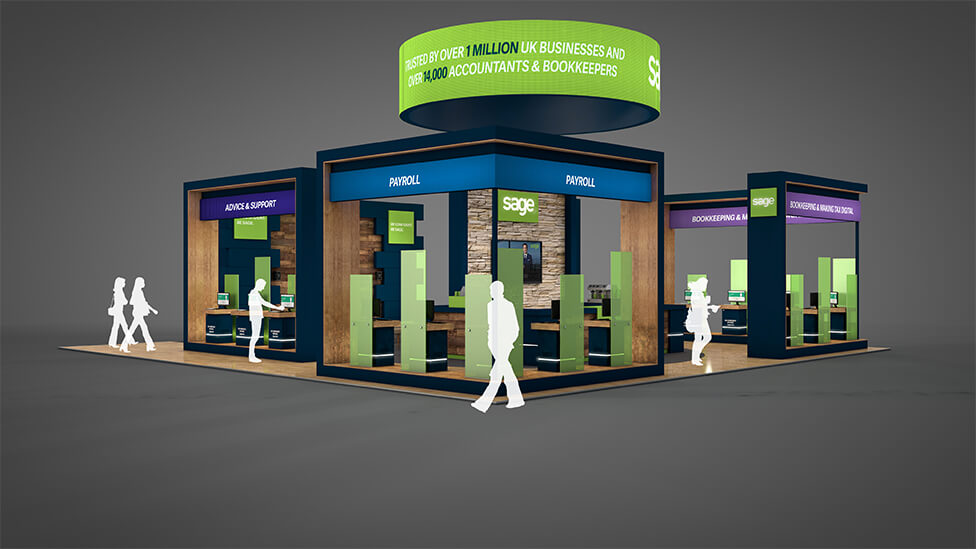 Colour-coded demo pods form a perimeter to showcase different areas of expertise, such as bookkeeping, payroll, etc.
Green perspex screens of different heights – the tallest at an imposing 2.5m – add a degree of privacy to the demo pod areas, whilst not concealing them completely. The different orientation of the pod areas (some facing out towards the hall, others inwards) add further visual variety and movement to the stand.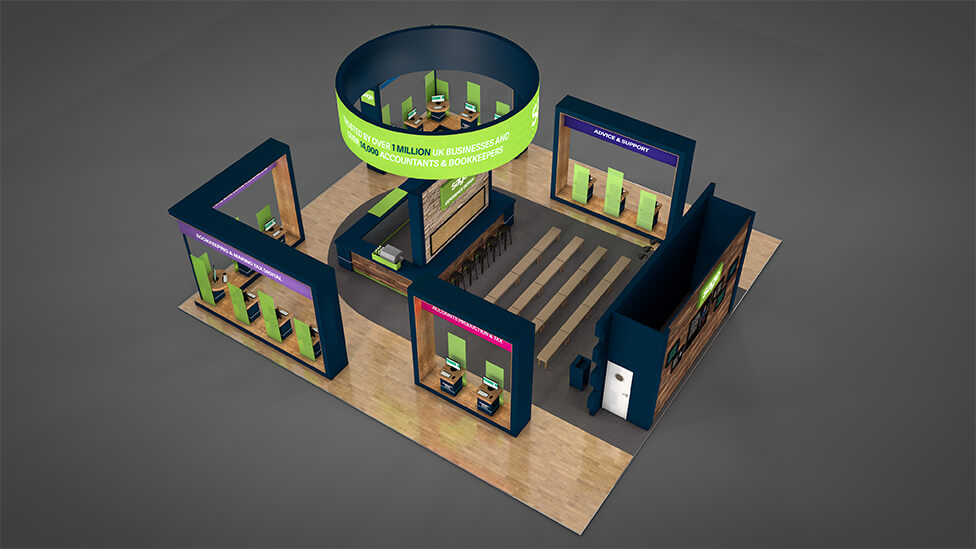 Each pod includes a secure and ventilated cupboard unit to house demo laptops and hide cabling. To keep the area clean and tidy, computer monitors and mice are connected wirelessly.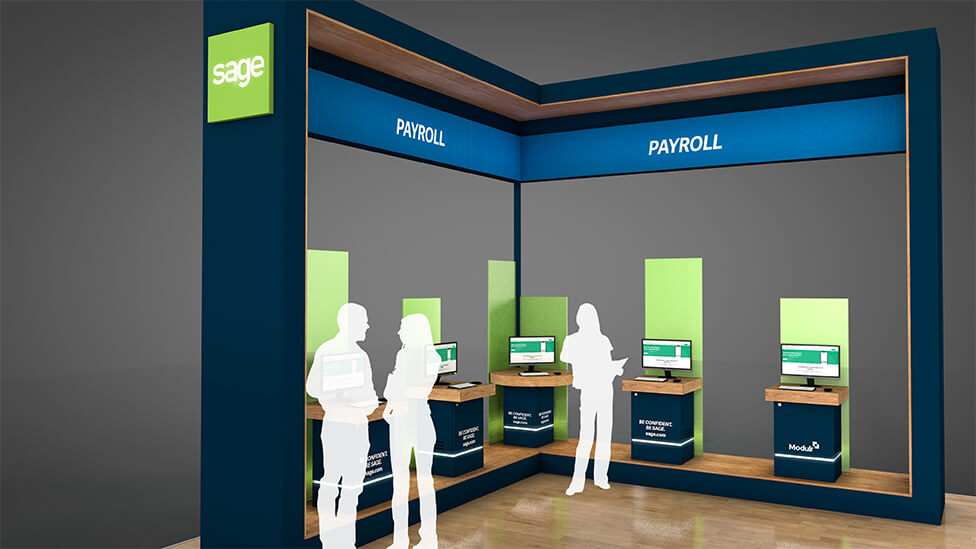 Instead of static screens or signs, we maximised Sage's time at Accountex with double-sided animated LED screens that acted as a ticker tape broadcasting product messages throughout the event.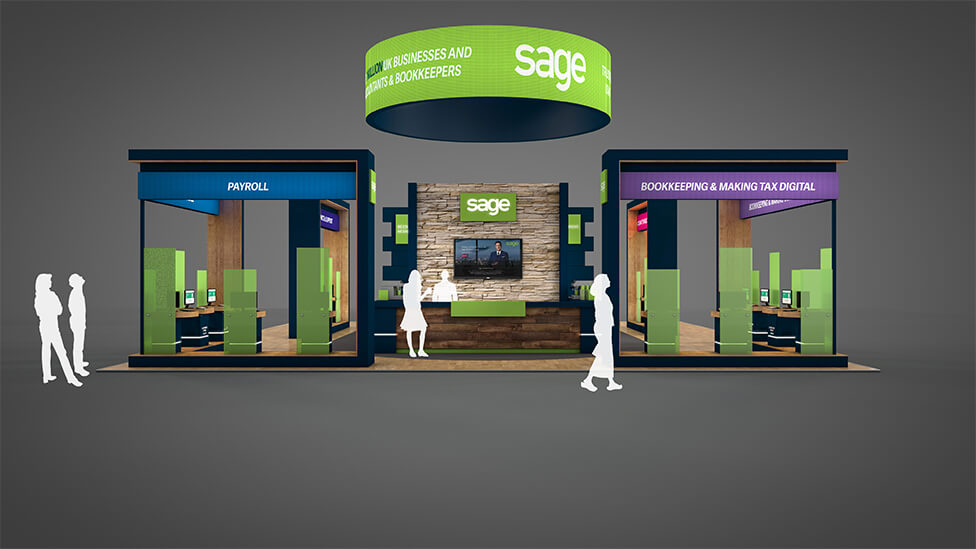 To demonstrate the effect it would have on the overall experience before Day 1, we produced a (low resolution) animation mock-up for the Sage team to visualise it in action.
An impactful approach that flooded Sage's stand, and beyond,
with an energising mix of light and colour
A range of colourful animations played on the various LED screens around the stand
During the 2-day show, Sage staff could choose to synchronise all messaging and play the same sting on repeat, or quickly flick from colour-coded wayfinding to guerrilla marketing mode, where we turned the entire stand Sage green.
Both options maximise impact.
Acting as a magnet for delegates, this creative approach helped reinforce the size and scale of Sage's capabilities, expertise and experience – Accountex turned green.
@sageuk's stand 720 – #Accountex turns green… Have a great #Accountex2019 team! – #accountants #bookkeeping #payroll #financialservices #exhibitiondesign #standdesign #experiential #experientialdesign pic.twitter.com/Er64QxRENh

— Parker Design (@parkerdesign) May 1, 2019
Back inside the stand, the central reception area welcomes visitors with Sage's now famous coffee.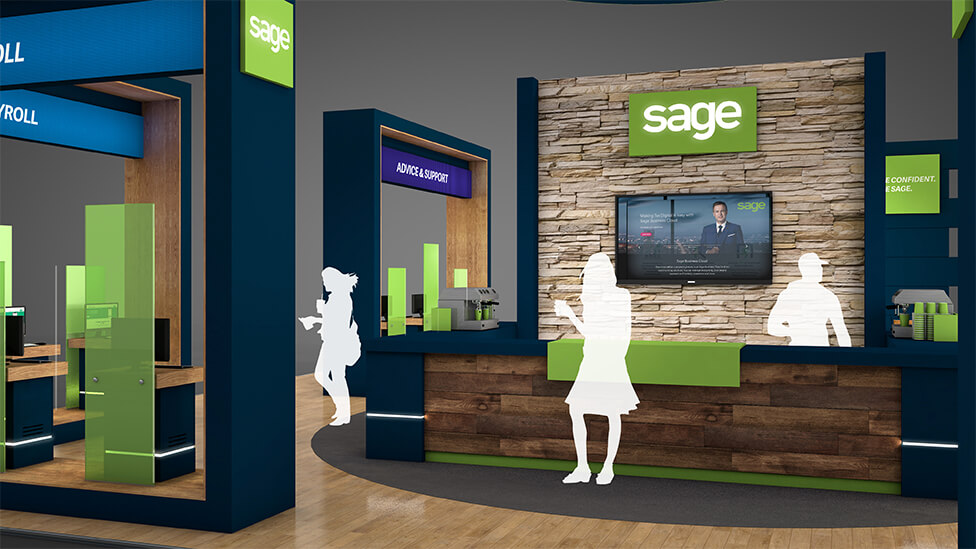 Strut cards entice everyone to pop into Sage's stand.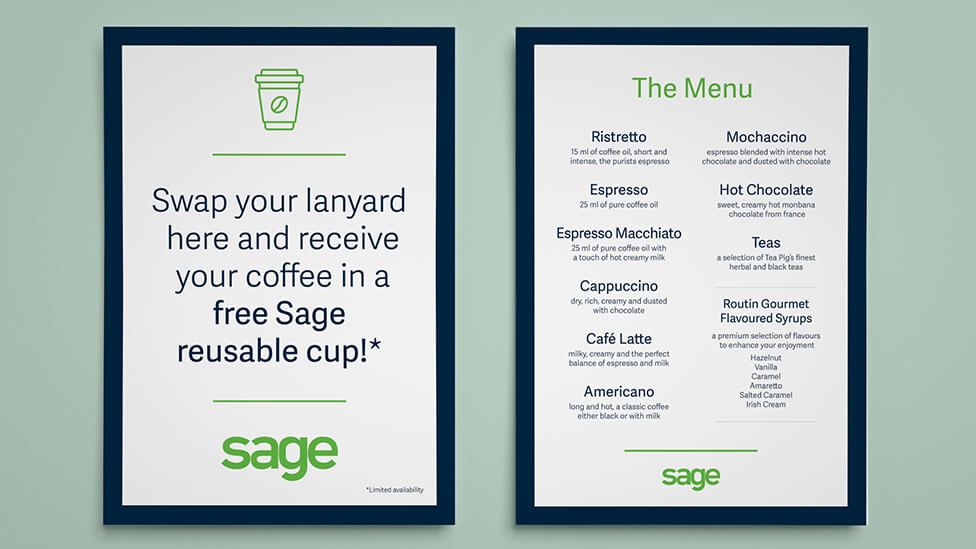 All set for day 2 ✅

Ready for another day full of #accounting insights and support from us? Pop along and don't forget your free coffee! ☕️ pic.twitter.com/iJU3MxYBRH

— Sage UK (@sageuk) May 2, 2019
Due to massive popular demand in previous years, this year we doubled up on the number of coffee machines and baristas, serving a staggering 2,500 coffees throughout the two-day show.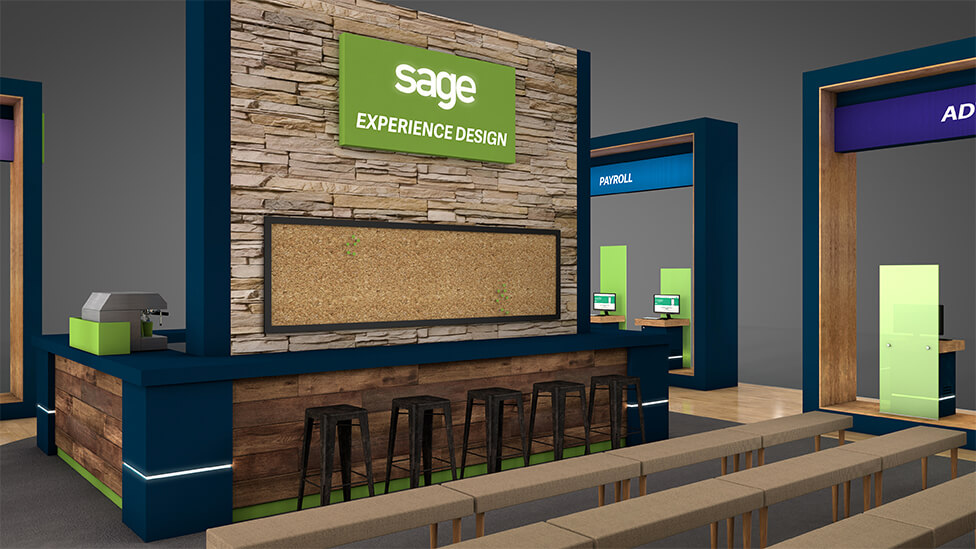 Behind the coffee area we incorporated a space where Sage's UX designers could take on suggestions from delegates for new software features.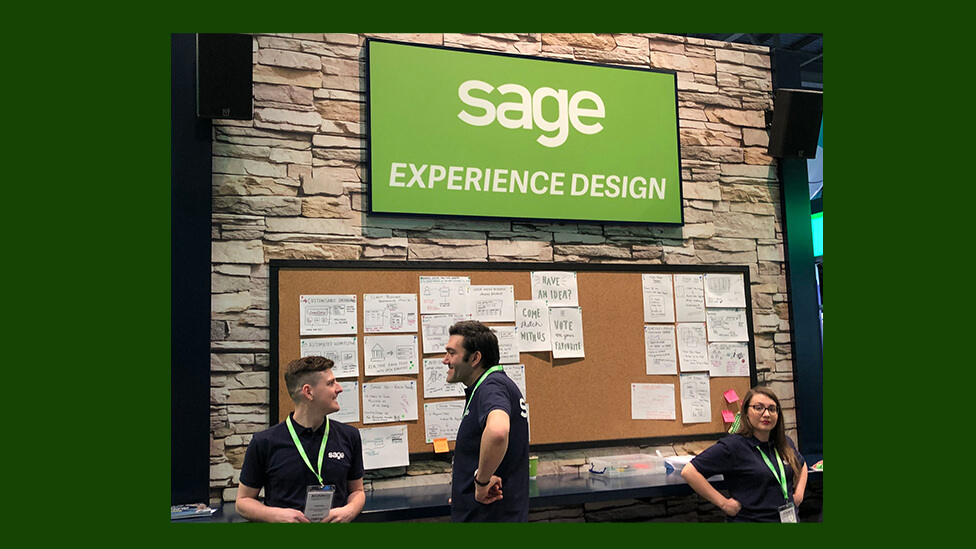 We also designed and built a 50-capacity – plus standing room – seminar theatre for keynote speakers to share their expertise.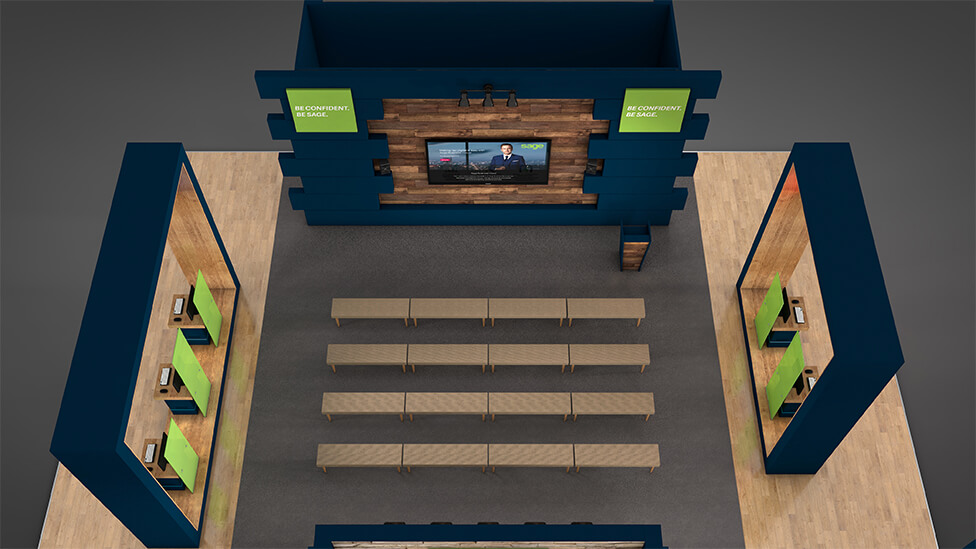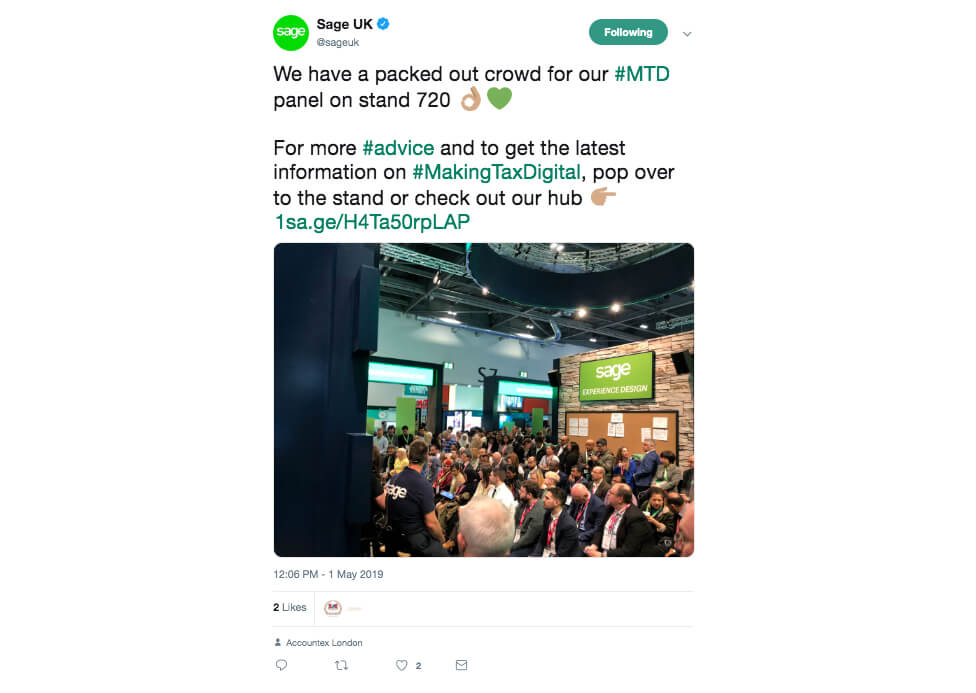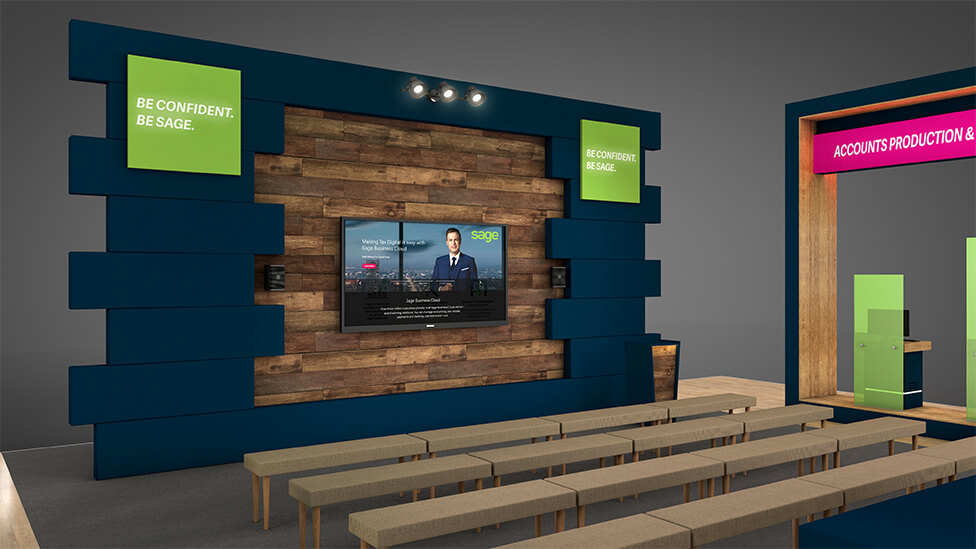 A 95" TV ensured everybody in the audience, including those sat at the back of the theatre, could easily see on-screen presentations.
The use of warm natural materials and informal bench seating all contribute to a comfortable and relaxed experience for delegates, while lightboxes offer a contrasting accent to the area.
We also maximised space at the back of the trade show stand – a lockable room accommodates AV equipment and doubles up as storage area.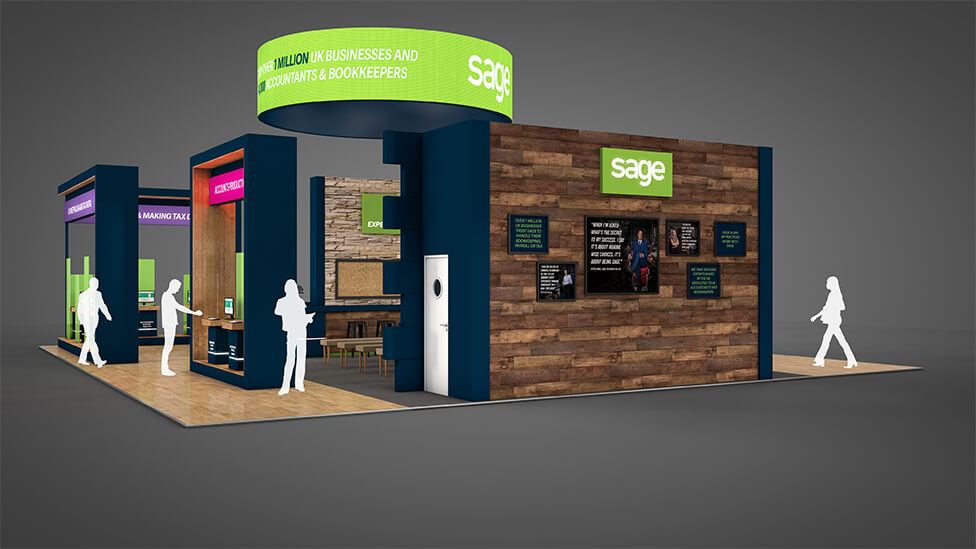 The back wall was used to hang a series of framed prints that reinforce core brand messages.
As well as providing Sage with a full trade show stand design and build service, we also created a variety of printed and digital teaser campaign materials, such as countdown web animations.

 These would reach audiences at various touchpoints, drumming up interest and whetting their appetite before Day 1.

Full page press ads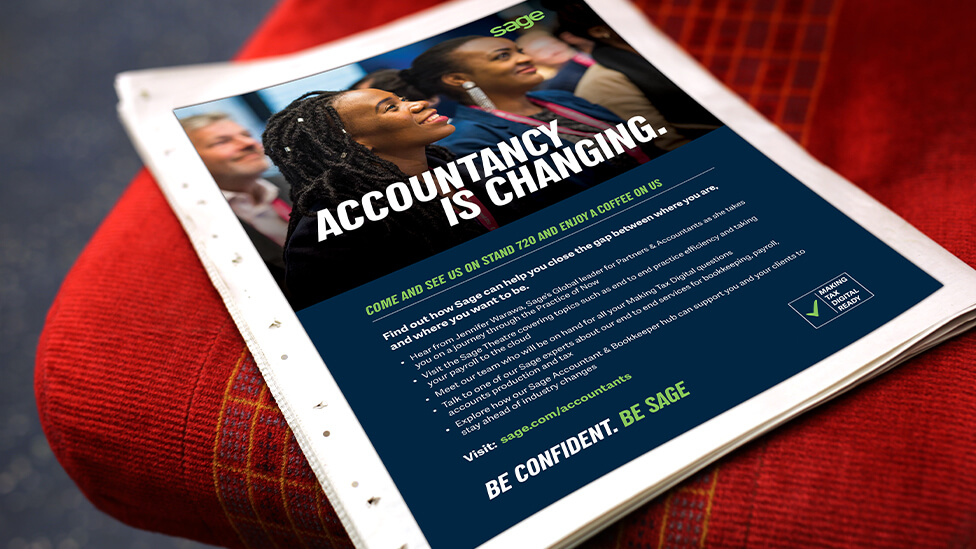 Email campaign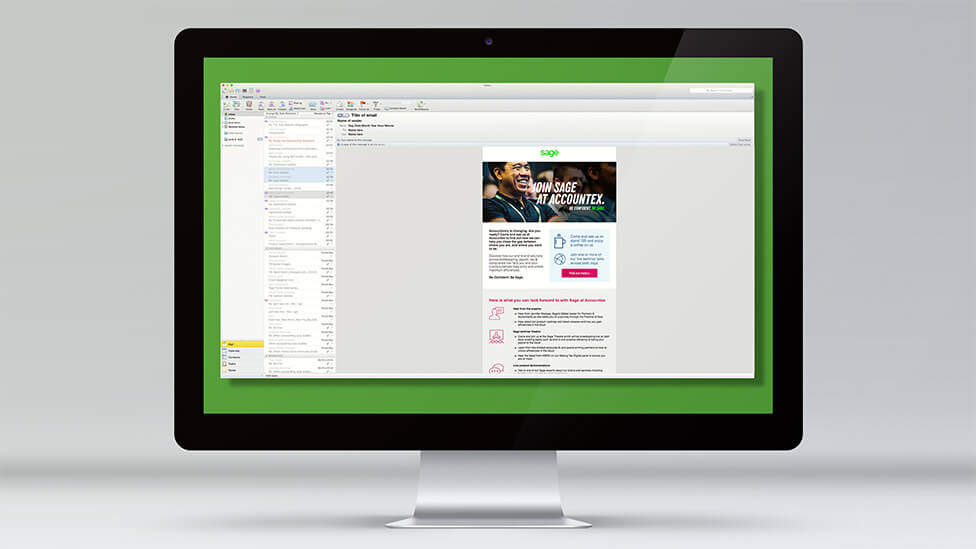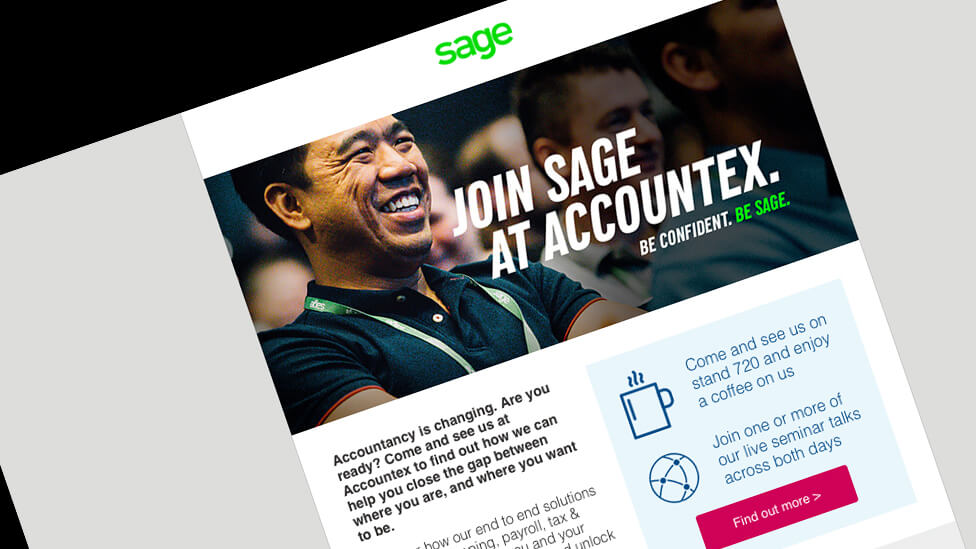 Social media assets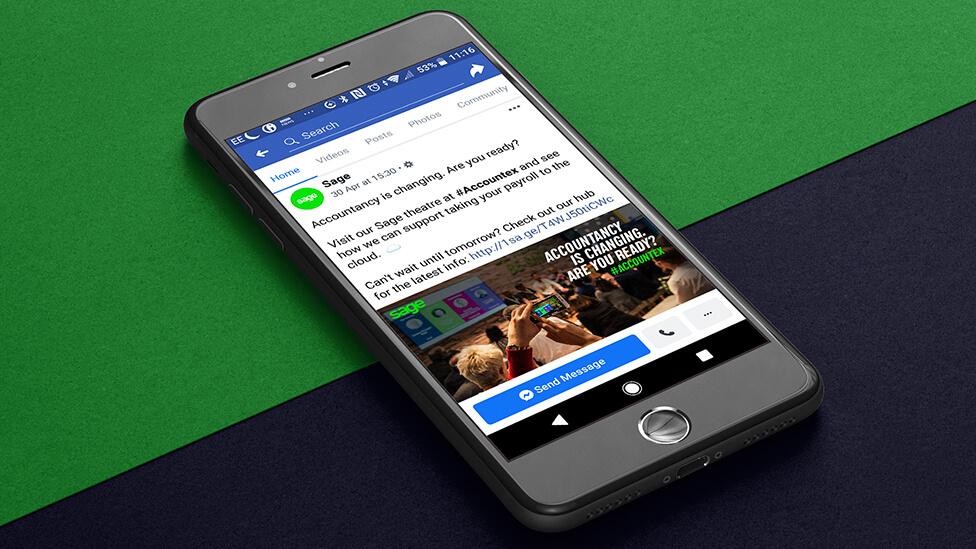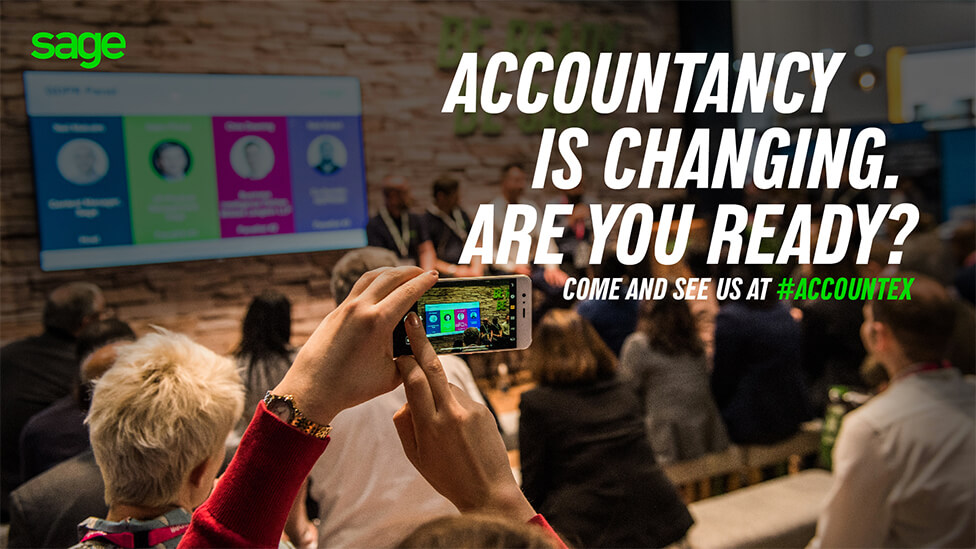 After weeks of anticipation, on arrival at ExCel delegates were greeted with a goodie bag inviting them to make their way to Sage's stand.
A simple A5 flyer inside the bag gives a quick snapshot of everything on offer at the stand, encouraging visitors to prioritise Sage's stand over competitors', and tempting them with the offer of free coffee.