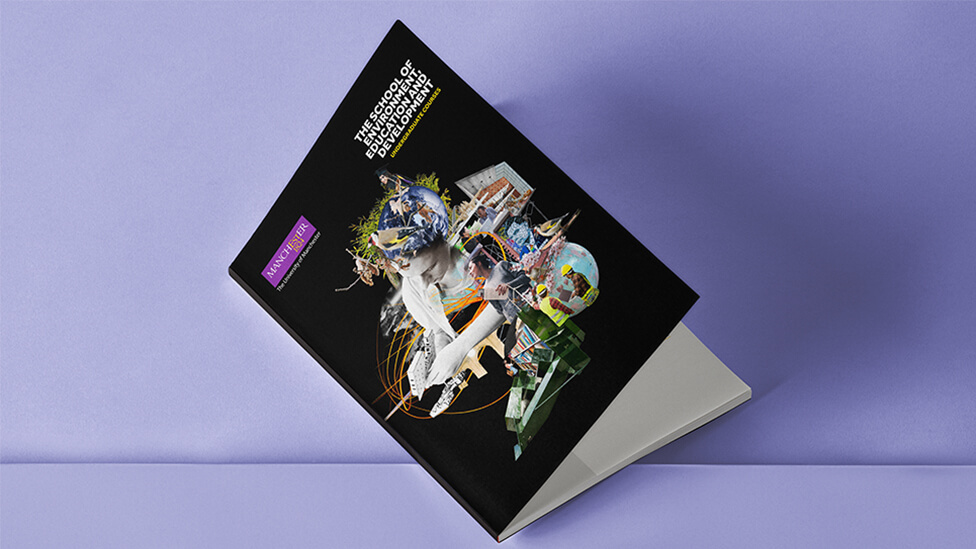 Going beyond university prospectus design, we provided a highly engaging magazine experience to hook the most ambitious students.
Background
The Faculty of Humanities at the University of Manchester is home to four schools:
Alliance Manchester Business School
School of Social Science (a unique combination of eight disciplines: Criminology, Economics, Law, Philosophy, Politics, Sociology, Social Anthropology and Social Statistics)
School of Environment, Educations and Development (a collaboration between five interrelated specialisms)
School of Arts, Language and Culture (teaching in nearly 20 languages and also internationally recognised in the fields of human cultures, beliefs and institutions).
With a target audience aged 18-21, and to attract the most ambitious students, our client competes with other Universities all over the country, with UCL, Leeds, Sheffield, Durham, Edinburgh, Liverpool, LSE and King's College London amongst its competitors, to name a few.
Challenge
The team at the Faculty of Humanities attend recruitment fairs globally, and they had decided it was time for a refresh of their prospectus design to continue to attract the best of the best. There was also a requirement for digital versions to hook students online.
Solution
We went beyond university prospectus design and provided a highly engaging magazine experience. Starting with the covers, we stayed away from traditional student photography, and instead focused on the student experience from a different angle: showcasing the variety of subjects and courses available with a highly original illustration. Commissioned specially from established artist James Dawe, the visual style is at the same time conceptual, very fresh and very forward-looking.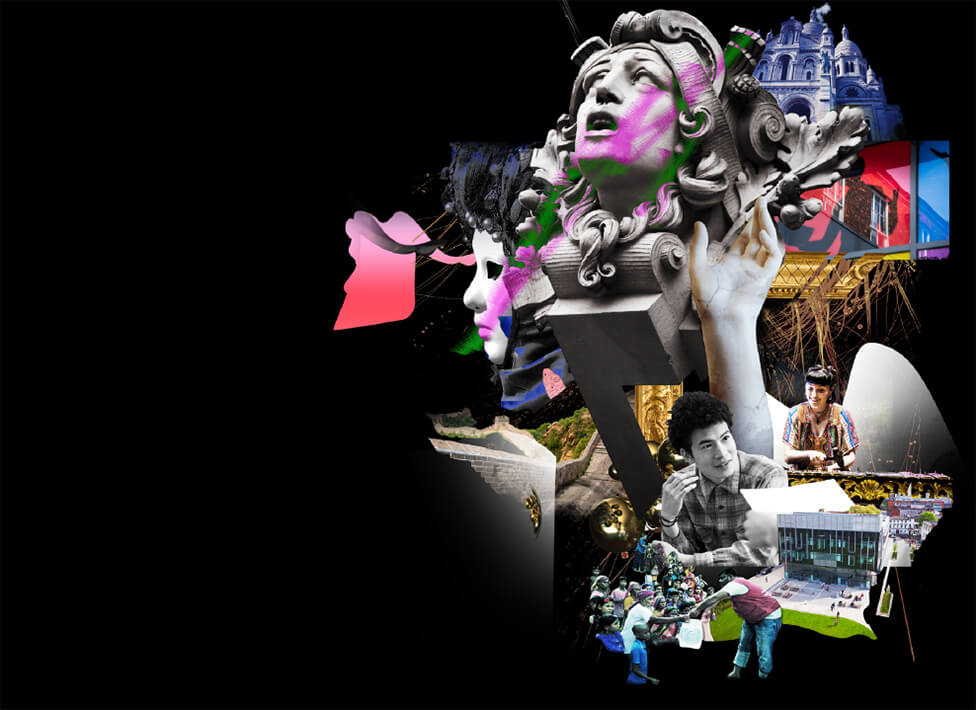 When we briefed James we were careful to ensure that no academic discipline within each school appeared to have more prominence than the other, that way giving the different teams at the Faculty the same level of consideration and respect.
A unique collage for each school, on a striking black background, turns the prospectus and what the University offers into an irresistible piece of communication.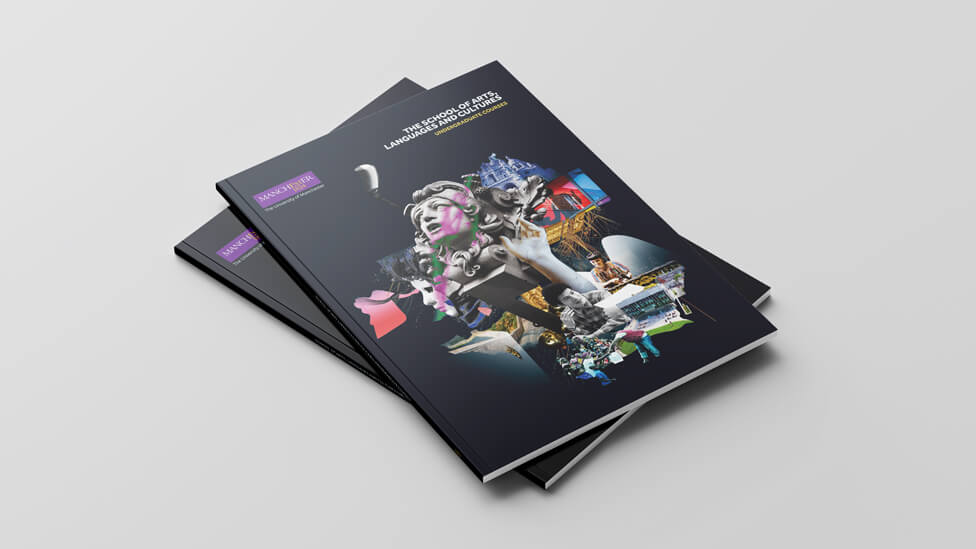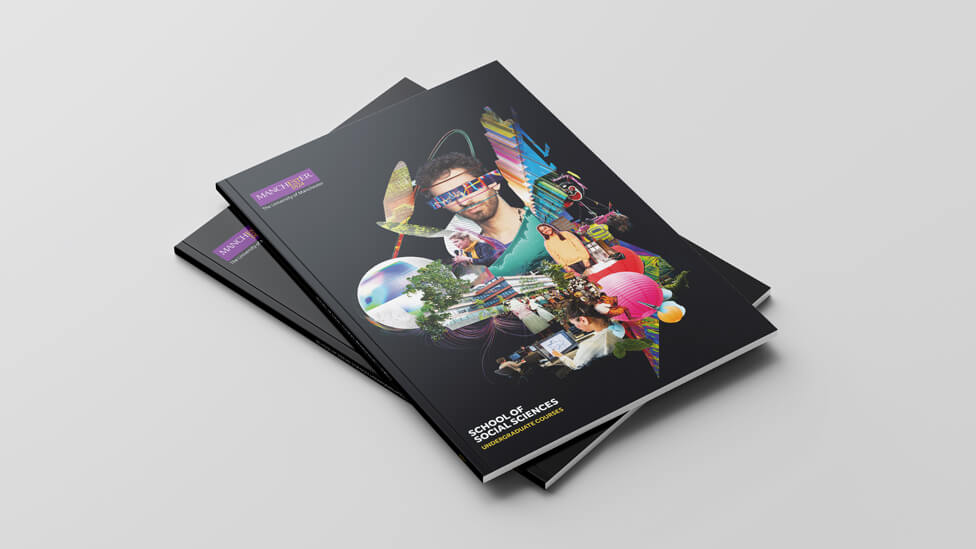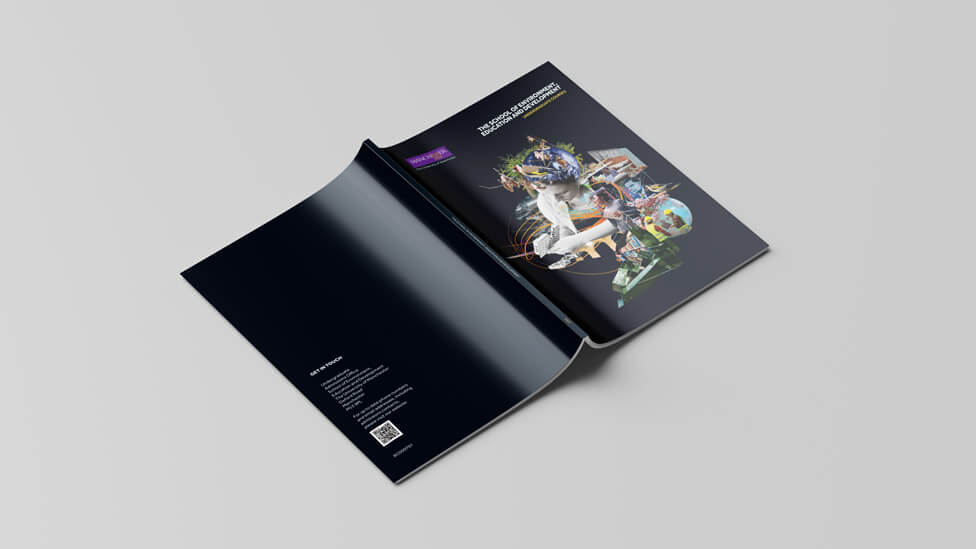 The collages have been repurposed for digital and social media assets, as well as merchandise.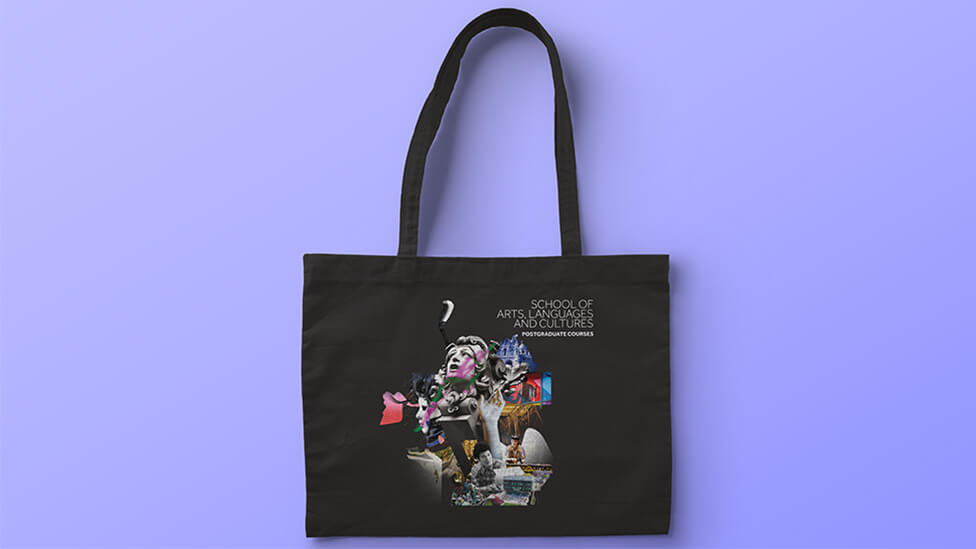 Inside the prospectus, and adhering to our client's brand guidelines, large amounts of information for each course are organised in a variety of ways: colourful double page spreads to introduce each subject, then drilling down to the detail with infographics, inspiring photography, Day in the Life features, various sets of icons that help with navigation, and visually interesting shapes.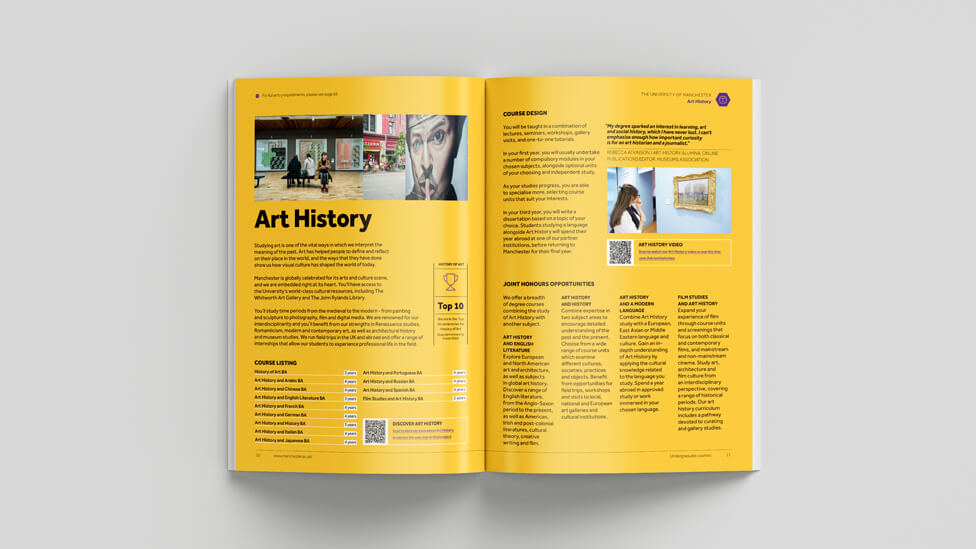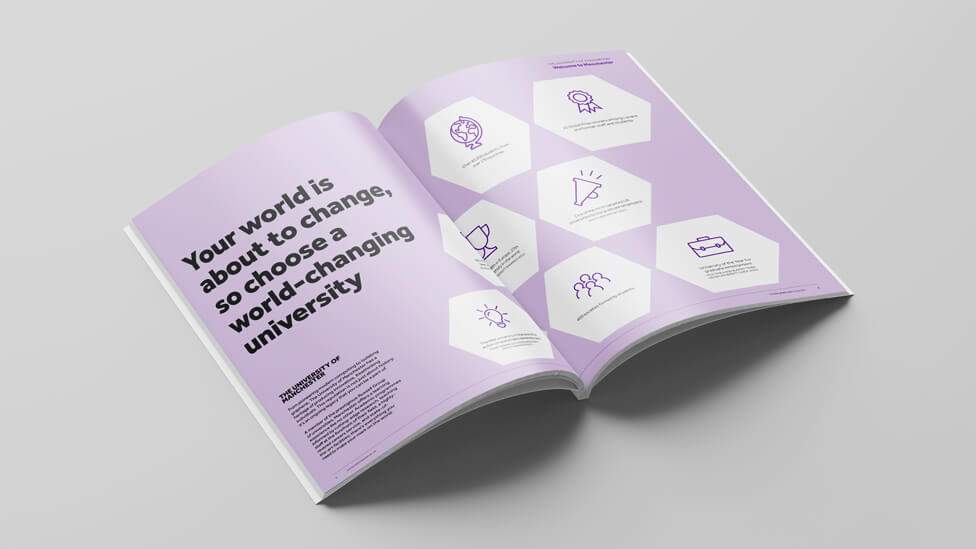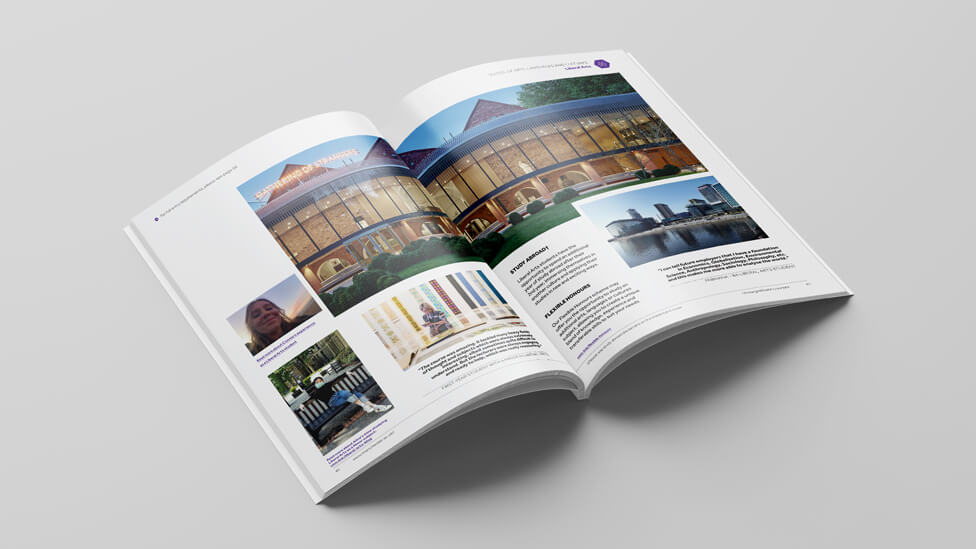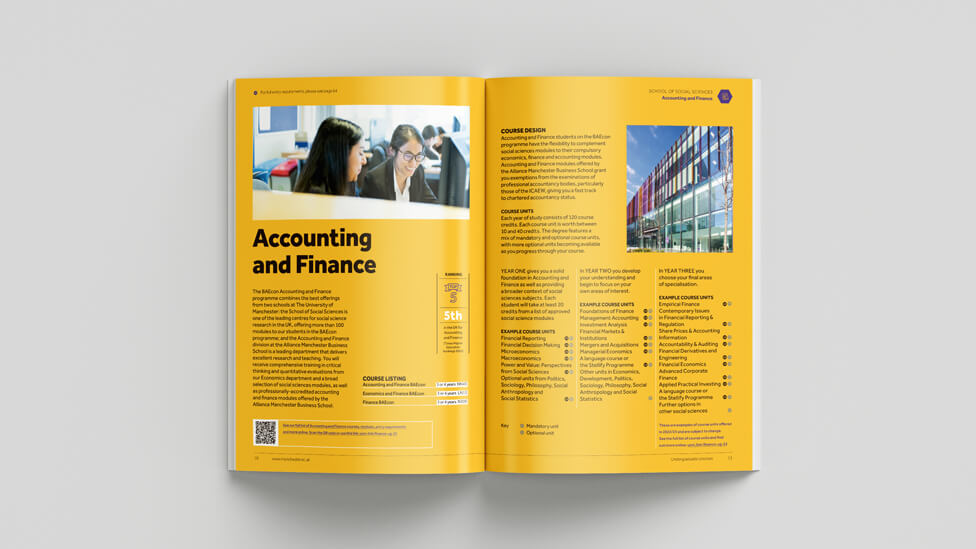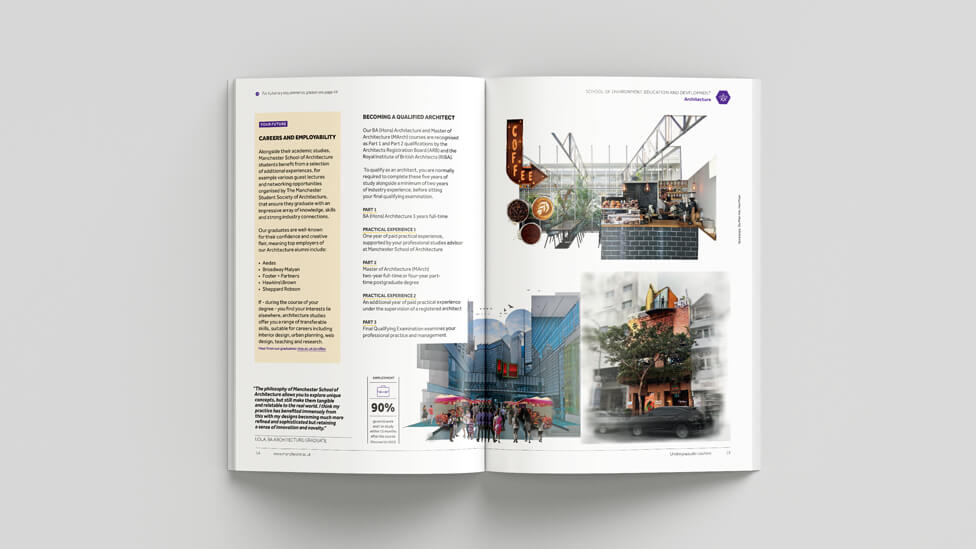 Visually exciting, the prospectus easily fits a lot of course information and specific entry requirements, fulfilling its purpose as an information piece.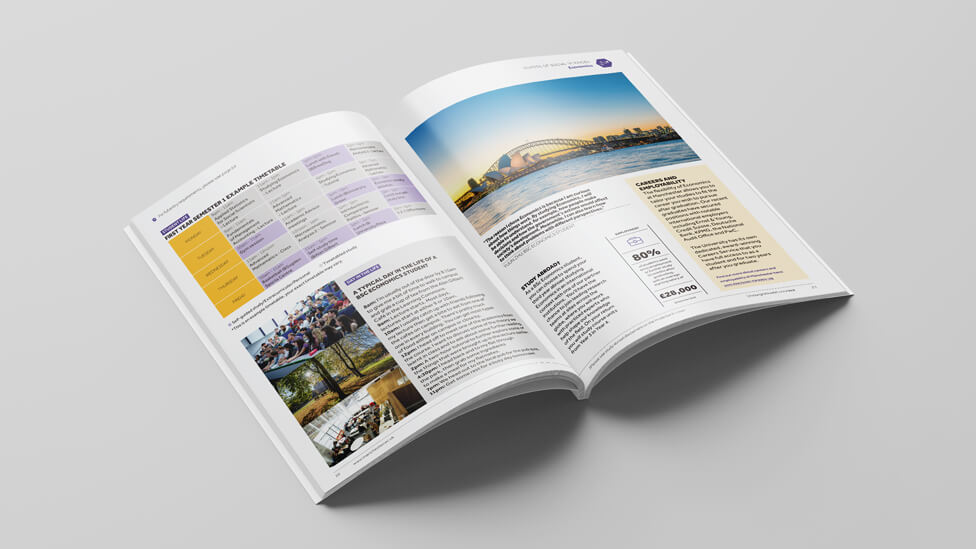 With so many different courses and associated Faculty stakeholders, and the amount of information we had to translate into an engaging University prospectus design, this required careful project management, so we scheduled regular meetings with our client and set up a Google drive to organise and share files with our client and guarantee version control.
Although we didn't manage the printing stage on this occasion, we made recommendations on the most appropriate paper stock and also advised on the print process.