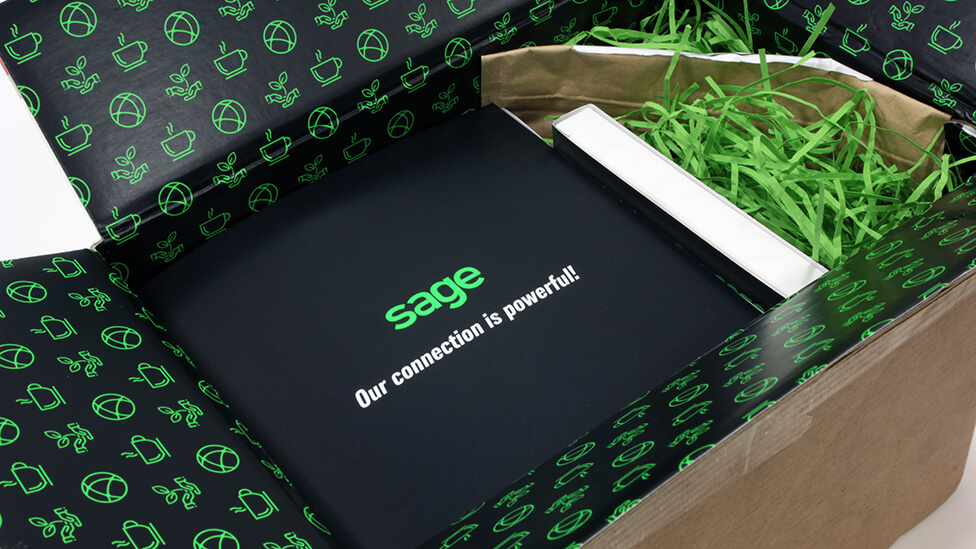 A welcome pack design that goes beyond just gifting, we created a memorable experience that feels personal and appeals to the senses and emotions, presenting Sage as a true partner.
Background
Sage is an enterprise software company, the UK's second largest technology company, the third largest supplier of enterprise resource planning software worldwide, and the largest supplier to small businesses. The company has over has 6 million customers all over the world, and offices in more than 20 countries.
Sage's Partner Programme has been supporting businesses worldwide for over 35 years. Currently, our client offers reliable innovative solutions and support to over 3 million small and medium businesses.
Challenge
Our brief was to design, procure, fulfil and deliver a welcome pack for Sage Partners that would transmit a true sense of value as well as a Thank You message for coming on board.
The welcome pack needed to be more than just a collection of gifts, it needed to be driven by an overarching theme that would carry a powerful message of true partnership and close collaboration between Sage and its Partners.
Logistics were a key consideration, as the packs were aimed at a curated selection of Sage Partners all over the world.
Solution
We put together an initial proposal that presented five different themes and visual concepts for our client to choose from. The chosen theme was "Fully Charged", underpinned by the concepts of human social connection (front of everyone's mind during the Covid-19 pandemic), wellness, helping organise the working-from-home desk, and a need for and awareness of always being "on", connected.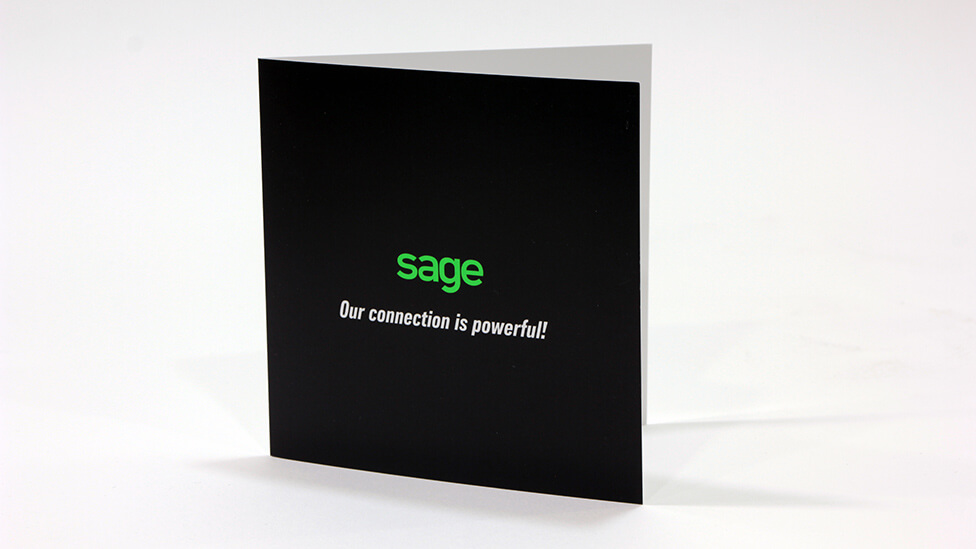 To set expectations from the start, we put together a set of 3D renders which we shared with our client when exploring various gift and packaging options.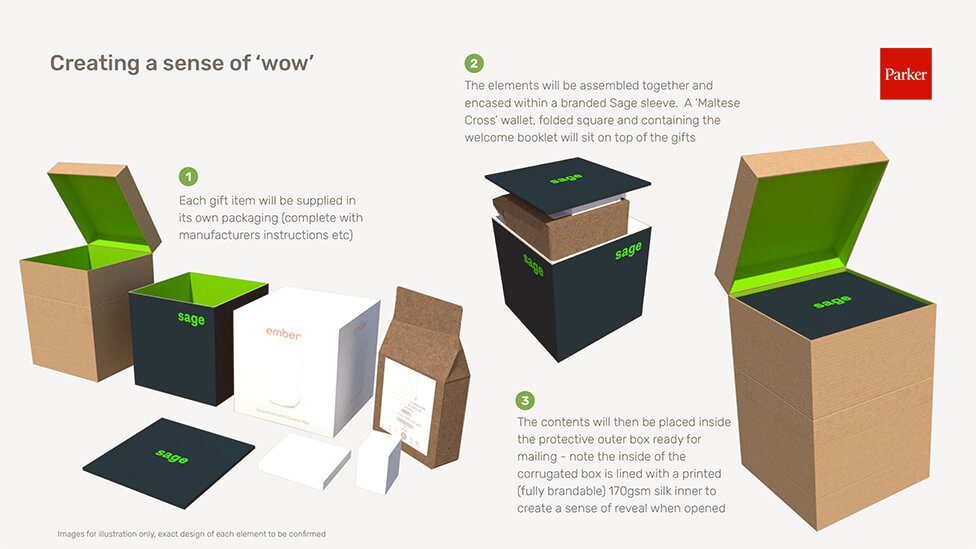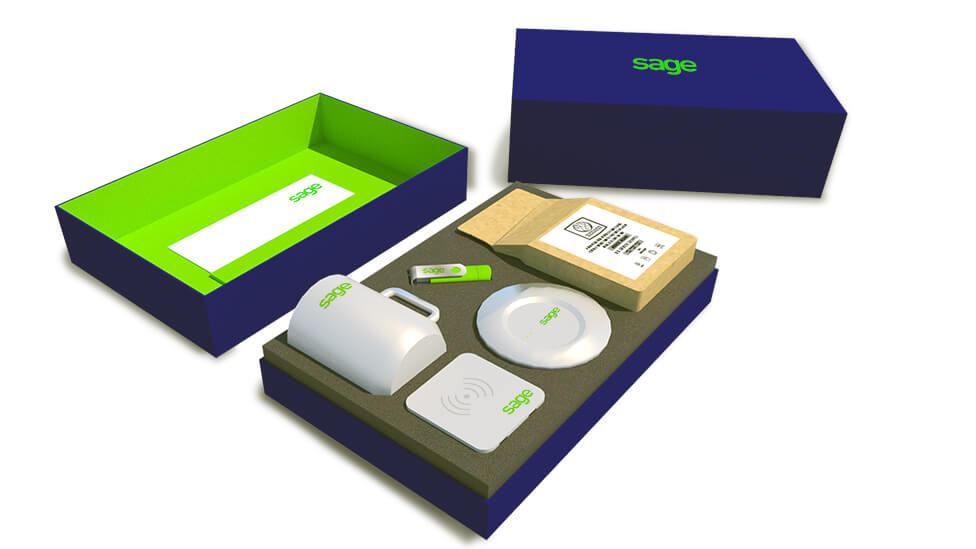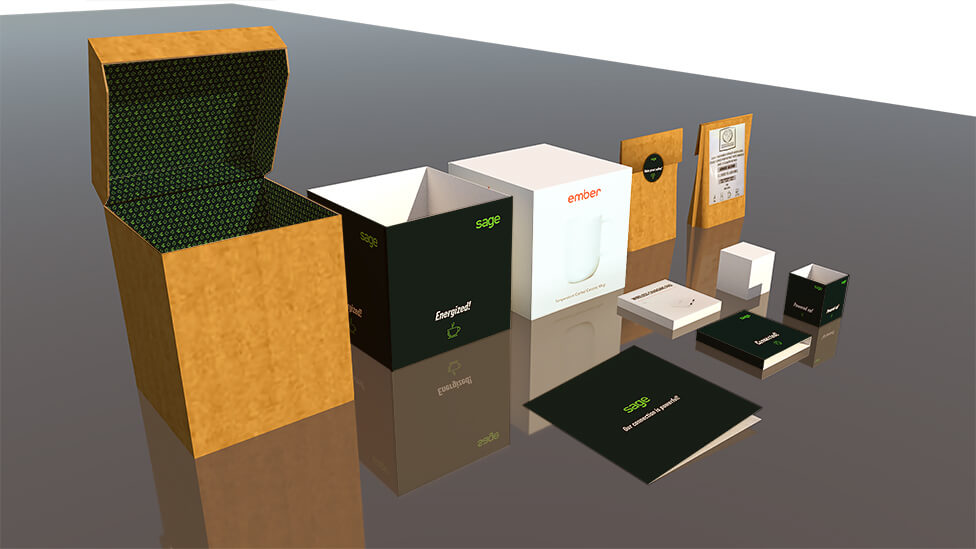 After weighing up various potential choices, we opted for a more sustainable and highly cost-effective solution that would also offer a premium experience to the recipient: packaging that provided a sense of theatre and surprise, and gifts that added an emotive and personal touch, as well as a perceived high value and a focus on technical innovation, in line with Sage's ethos.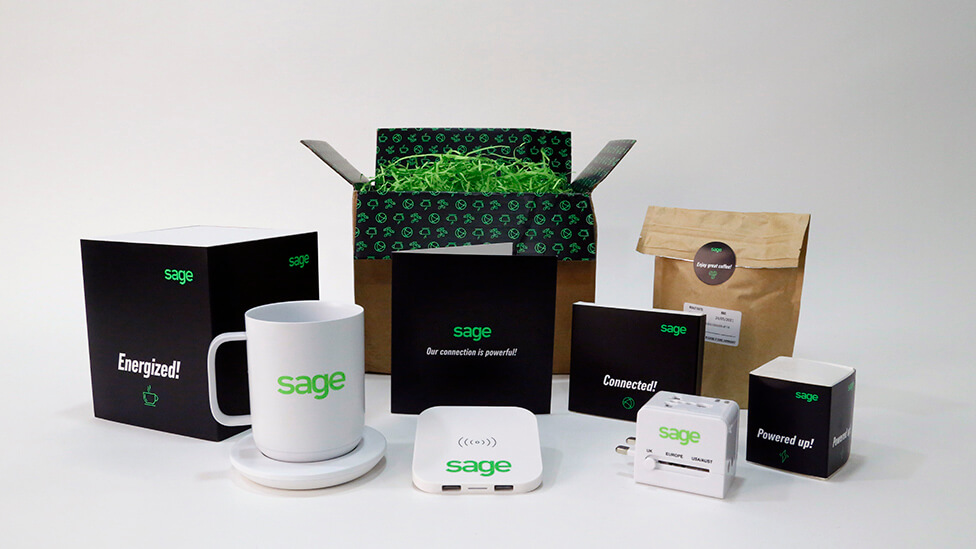 One of the stars of the show – a fully branded Ember mug.
More than just a drink warmer, Ember's technology builds the heating components directly inside the mug and includes precision sensors, allowing users to select and maintain their preferred drink temperature. As part of the welcome pack, the Ember mug goes beyond being just a fun, novelty device, instead symbolising Sage's constant focus on technical innovation, and establishing and nurturing close partnerships.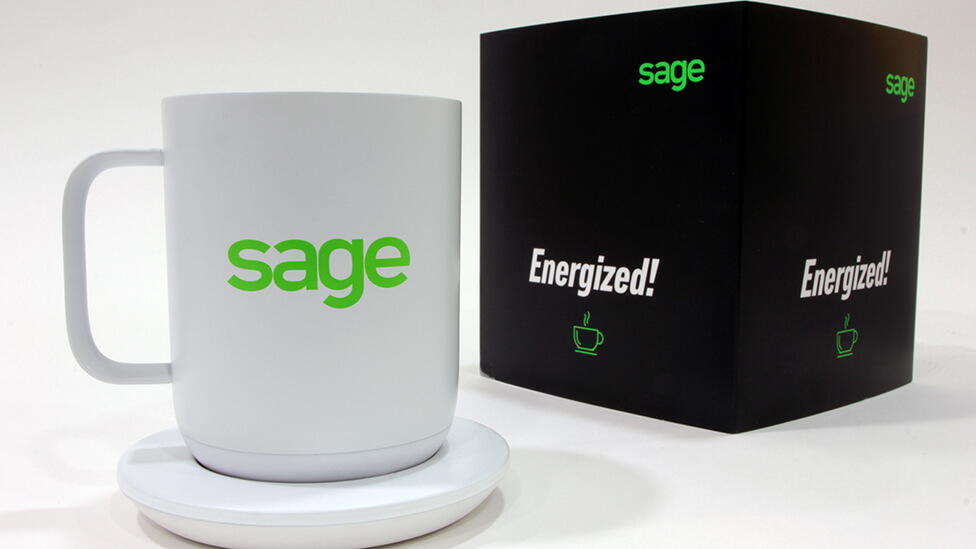 With only one supplier worldwide licensed to fully customise the Ember mugs, we procured them from the US before applying the Sage branding for a fully tailored and personalised experience. As well as branding the device inside, we also applied the brand architecture to customised slipcases, with pared down yet impactful messaging.
The connection theme and personal nature of the gifts continues across the collection: a wireless charging pad for mobile phones in its own customised sleeve, and even a universal power adaptor, which as well as nodding at the idea of staying connected wherever you are, also transmits the message that Sage has thought of every detail, considering partners all over the world.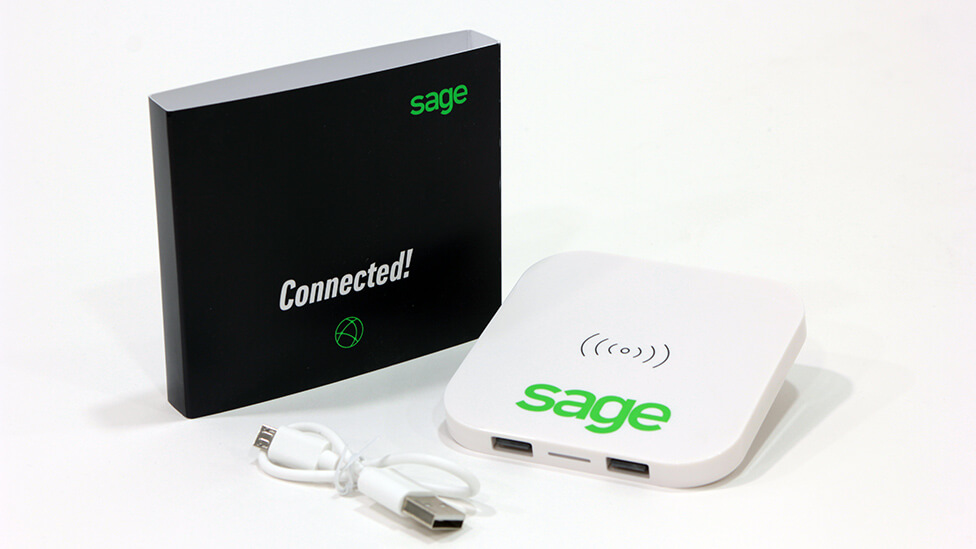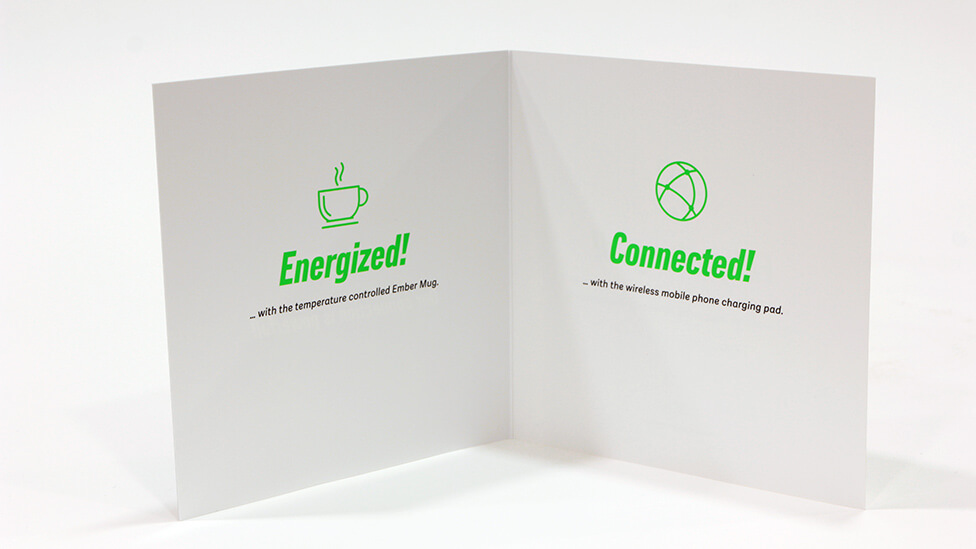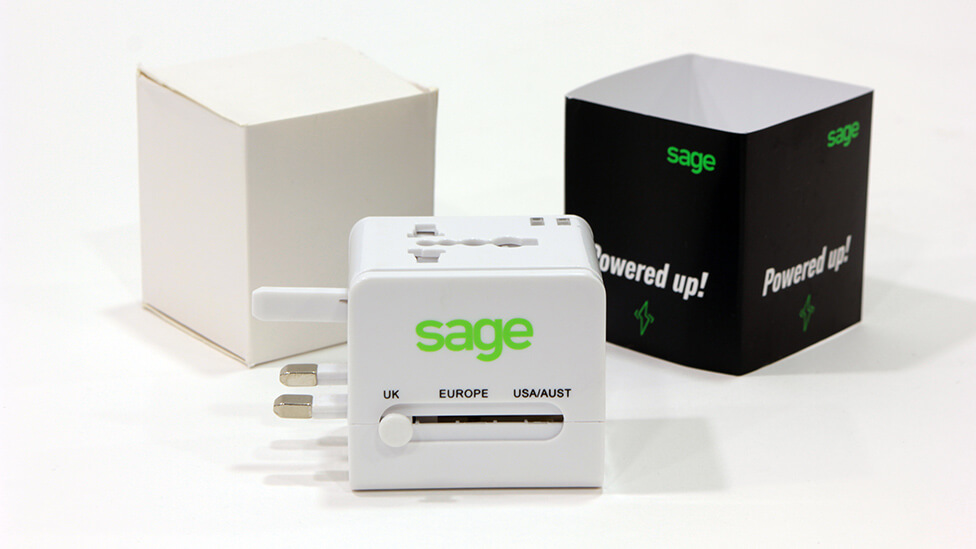 We kept the design timeless and generic, which not only maximises Sage's potential to target different segments of their audience, it also guarantees shorter turnaround times and keeps costs down.
The welcome pack also includes a bag of ethically sourced coffee beans from the Coffee Collective, one of Sage Foundation's 'entrepreneur heroes', founded by Army Veteran Alex Henderson. After 13 years in the army, Alex was medically discharged due to injuries sustained in service. Having suffered from deteriorating mental health, physical disability and PTSD, Alex made a fresh start thanks to the help of an Armed Forces charity and the support offered by the Sage Foundation.
Ensuring it didn't detract from other gifts, sourcing the coffee beans from the Coffee Collective, encouraging recipients to find out more about it and also about the Sage Foundation, added a truly personal touch as well underline Sage's philanthropic efforts.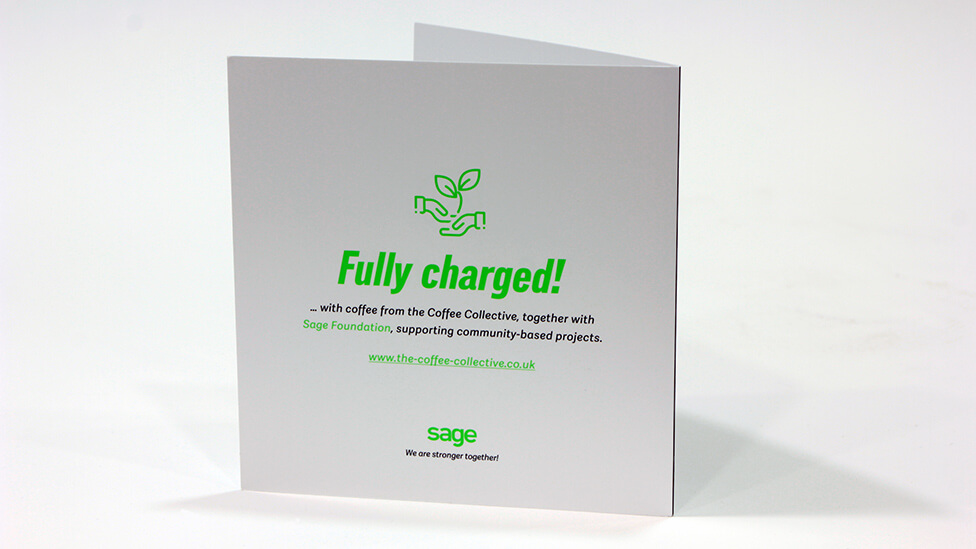 Packaging up the coffee beans in an eco-friendly wholesome pouch, we placed a branded sticker on it to secure the contents and reduce its size in almost half, an important consideration for the fulfilment and mailing stage.
Together with the Ember mug, including the coffee pouch reinforces the idea of meaningful conversation and feelings of trust and support, versus a cold, impersonal, more traditional business meeting scenario. Going one step further, the coffee aroma that emanates on opening the box says "Sage does care".
To guarantee a unique and memorable experience at every touchpoint, we gave as much thought to the packaging materials as to the gifts inside the box. To make recipients feel truly special and add a real sense of occasion, we looked at every detail.
We lined the inside of the made-to-measure box with a printed sheet, where a canvas of icons adds a sophisticated and premium feel; a layer of shredded paper in Sage's brand green not only offers protection in transit, it also adds intrigue, theatre and a sense that you're getting closer to what's inside, you can almost touch it.
By appealing to the senses – sight, smell, touch, even hearing – the welcome pack design is immediately embedded into the recipient's memory.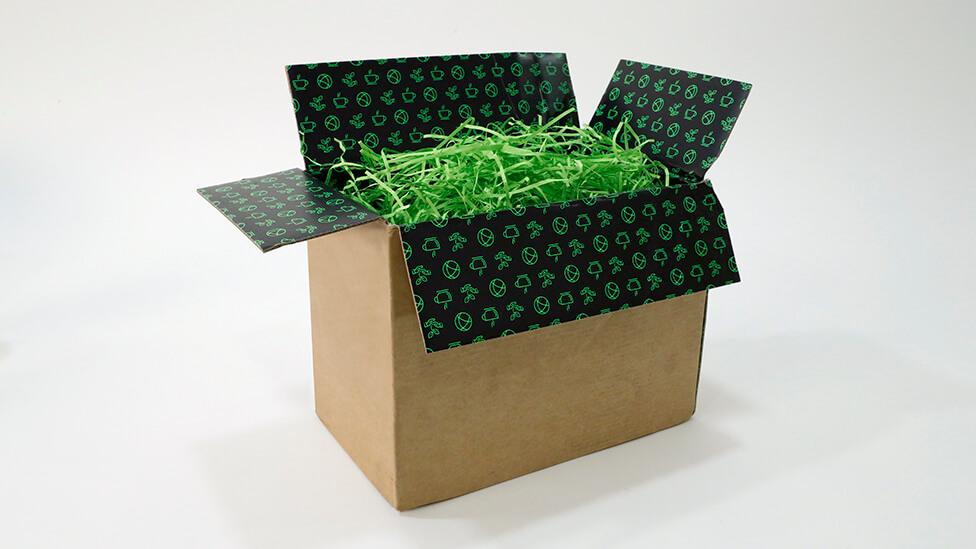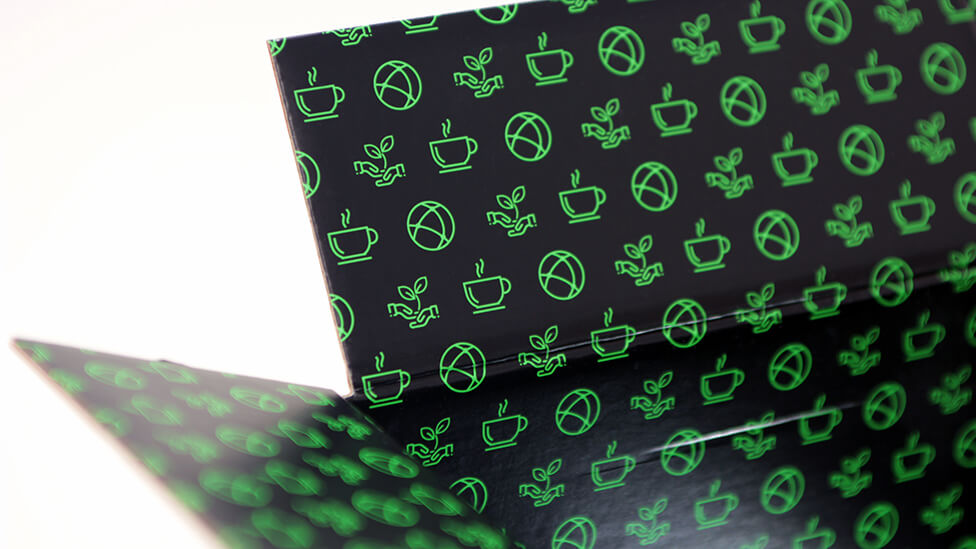 From a logistics perspective, the project was complex but also a success. Having to deal with international suppliers and ship the welcome packs to a wide range of locations such as Holland, Belgium, the US and Australia initially, we managed the whole process for our client, working with courier companies and customs authorities to ensure full compliance with the relevant tariffs and taxes for each country, to avoid any potential hiccups at the target destinations.
Able to track each parcel's full journey, we set up a shareable tracking database which allowed our client to see in real time which Partner had already received their welcome pack – the perfect trigger for Sage sales teams to follow up and call for a chat.
In total, we produced 300 packs, with 200 of them to be distributed across the UK, and the remaining 100 all around the world. Feedback has been overwhelming, with some recipients even sharing photographs of the welcome packs on their social channels.