An eye-catching and versatile window display advertising concept that can be easily adjusted to suit fixtures in multiple branch locations.
Background
Polka Dot Travel, an independent and rapidly growing travel agency, needed a new concept for its window display advertising. Known for the quality and expertise of its travel agents, the company had a reputation for exceptional service among existing customers, but was missing out on new business opportunities.
Challenge
With five prime branch locations throughout Wales and Shropshire, the company's retail window space needed to work harder to attract prospective customers in. Our client needed a window display advertising concept that was versatile, eye-catching and could be changed frequently to capitalise on seasonal travel trends. Our client also needed the solution to be cost-effective and easy for employees to update and maintain.
Solution
We developed a range of concepts, each carefully crafted to maximise the visibility of the window from the street and capture the eye of passers-by.
Leveraging the brand's vibrant colour palette, the chosen concept invited customers to "Check in for the holiday you deserve" with a combination of seasonal posters and travel offer cards. This solution ensured each branch could create bespoke messaging for their local market in a way that was highly visible and created a positive emotional response.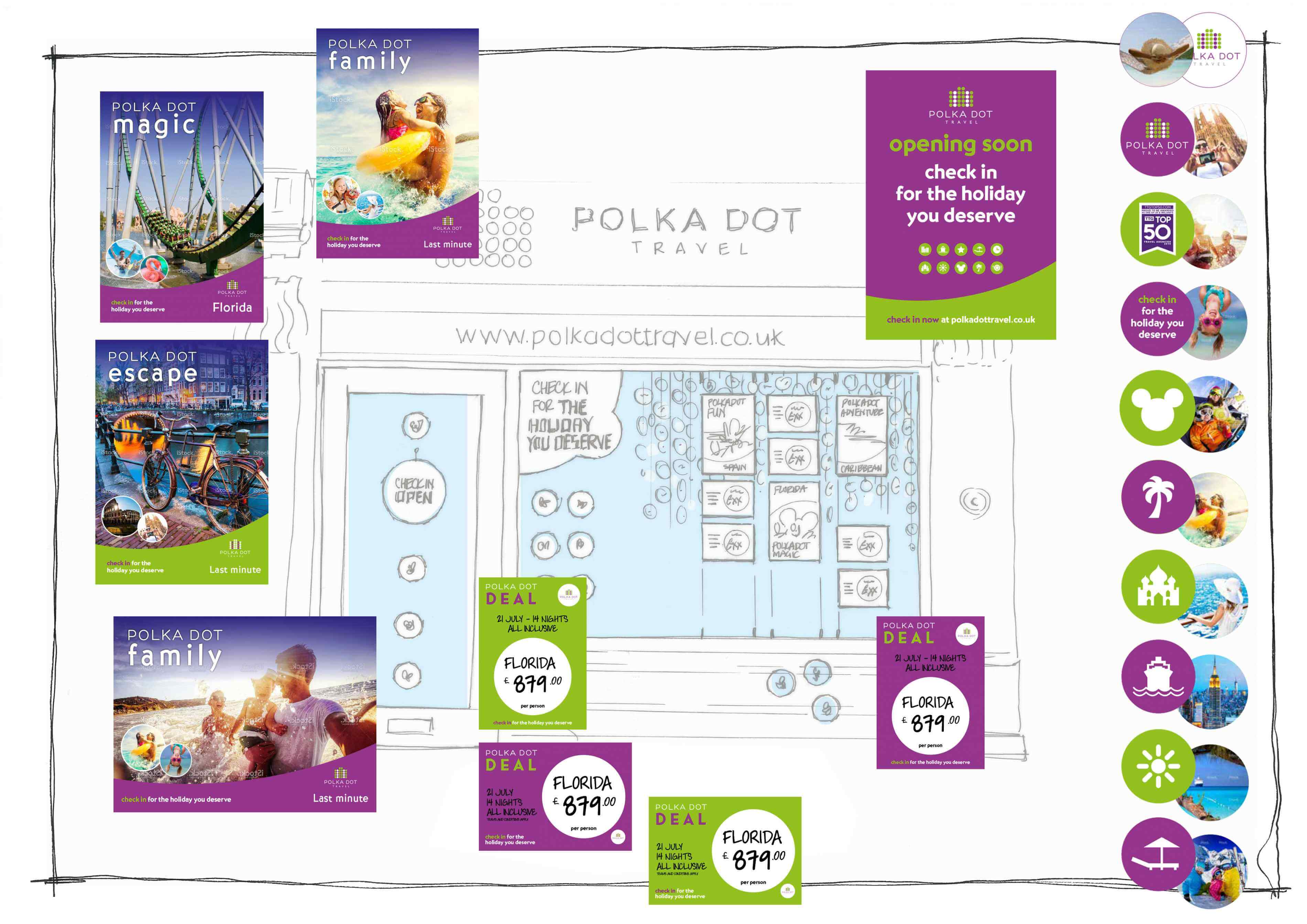 Highlights
Extension of the dot motif strengthens brand recognition while highlighting key sales messaging.
Static elements, such as window decals and a hanging photo mobile, are combined with flexible sales features that can be easily and cost-effectively changed by branch staff.
Travel posters can be refreshed seasonally to leverage interest in travel trends: ski holidays, city breaks, school holidays, etc.
Sales cards help potential customers visually zero in on last minute holiday deals, increasing foot traffic and enquiries.
The versatile window display advertising can be adjusted to suit fixtures in multiple branch locations.