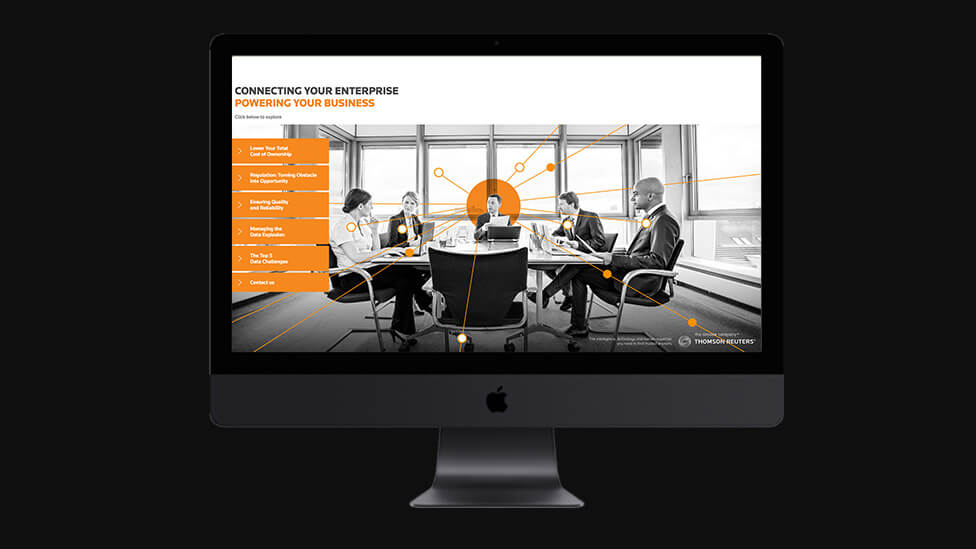 We supported Thomson Reuters in devising a customer retention marketing campaign that created real difference, putting customers first ahead of product, and helping improve retention rates amongst a large section of the Thomson Reuters Elektron customer base.
– 1704% increase in views – 7 million impressions from email and social media – 100% CTR –
Background
Thomson Reuters is a leader in managed services for financial markets all over the world. The company's Elektron Data Platform (TREP) delivers the data required by traders to make smarter decisions. And it does it thanks to better content, smarter analytics and controlled distribution – which allow traders to gain deep and actionable insights and deliver on opportunities, quickly.
With the Financial Services industry facing increased competition, customer retention rates are a key focus area for our client to ensure they remain a leading force in the industry.
Challenge
The brief was to help our client drive customer retention by moving from a product-centric approach, where a number of teams supported a variety of product messages, to a new customer-focused strategy that would be unified and coherent across Thomson Reuters teams.
The new strategy's aim was to expand customers' understanding of their existing subscriptions, and show how Thomson Reuters can help them with their data needs, ultimately increasing renewal rates and helping our client identify cross and up-sell opportunities.
Solution
The innovative strategy was twofold: simplify the messaging around enterprise data solutions to provide a seamless and consistent story, and through this, help customers understand the full value of their subscription.
A holistic approach – Individual product messages were replaced with a single unifying theme and emphasis: to promote Thomson Reuters Elektron Data Platform as a single entity.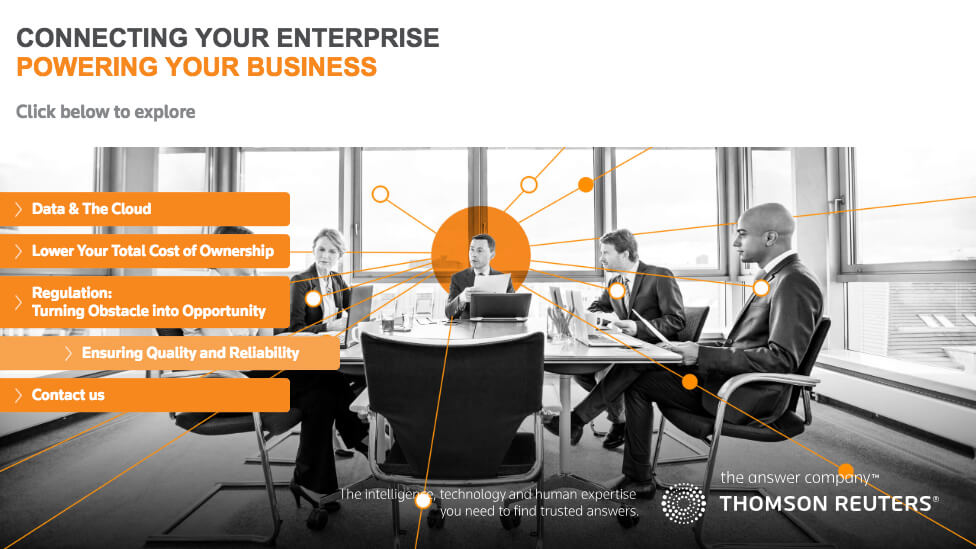 Customer challenge focus – The different products are now treated as capabilities within Elektron that help solve key customer challenges.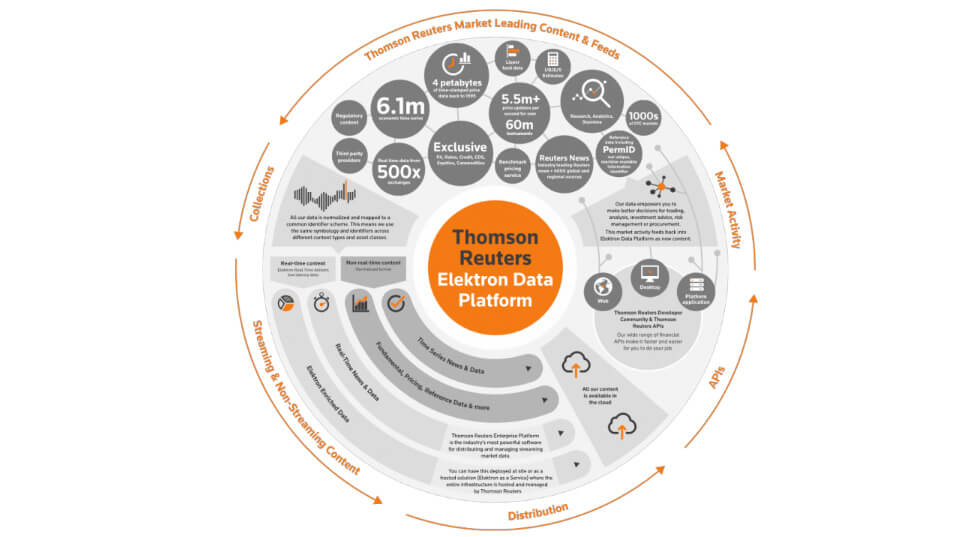 Moving from a product-centric to a customer-centric approach with this customer retention marketing campaign, five key customer challenges were identified. Working with subject matter experts, we devised a new suite of assets each month to discuss each challenge, which included videos, podcasts, blogs, webinars, white papers, infographics, animated infographics, interviews and interactive PDFs.
Views of assets grew significantly – achieving an overall 1704% increase

Email and social media benchmarks were exceeded – over 7 million impressions

Tailored emails resulted in very high engagement rates – C-Suite and Heads of Market Data got 23% and 17.3% open rate, and 17% and 100% click through rate respectively, far exceeding our client's benchmarks

Twitter –  5.8 million impressions and over 128,000 clicks to content

LinkedIn – 1.3 million impressions and over 6,000 clicks to content
Ultimately, the content linked back to how the Elektron Data Platform provides the solutions needed to address every individual challenge.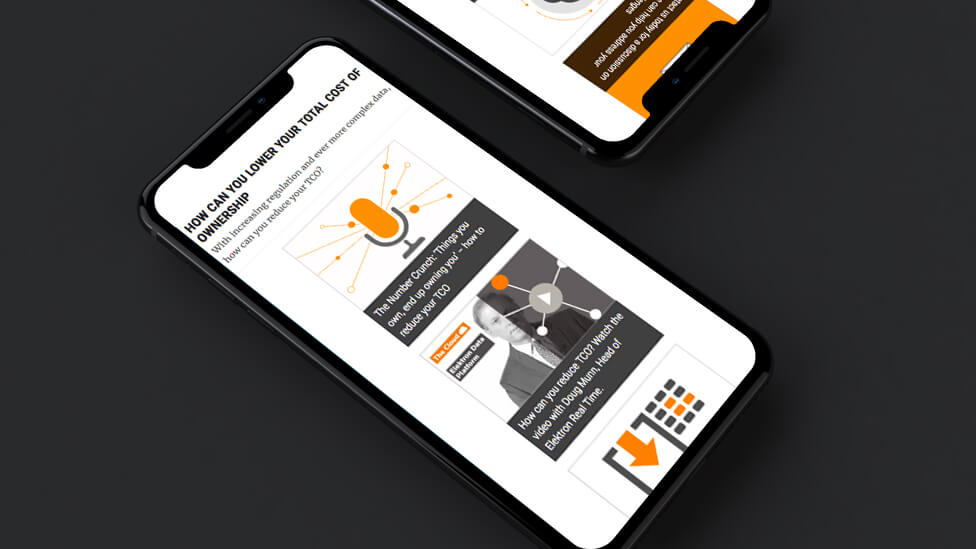 Persona-led Messaging – The target audience was split into five segments comprising decision makers and influencers. This allowed us to devise persona-led messaging, delving deeper into each customer challenge to identify specific challenges – for example, for data management, heads of market data are concerned about data costs, while traders wonder how to best derive insight from that data.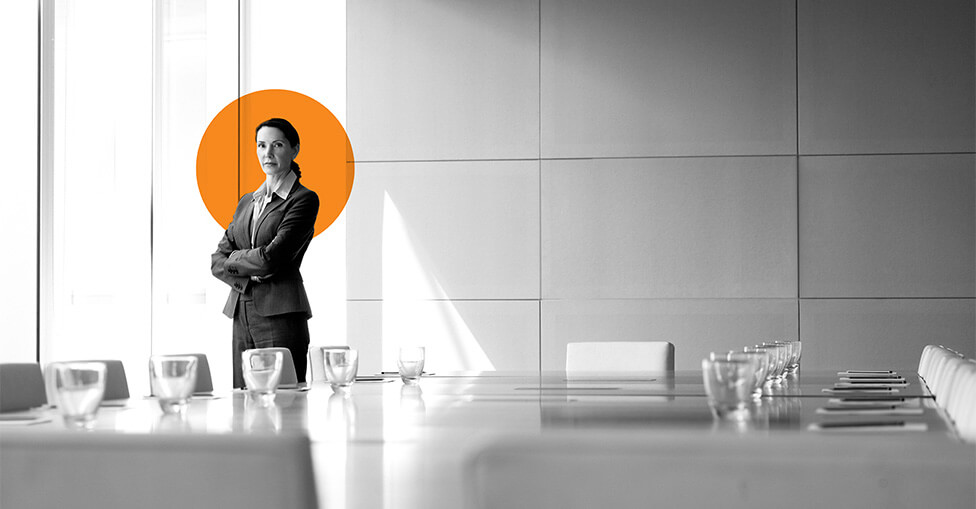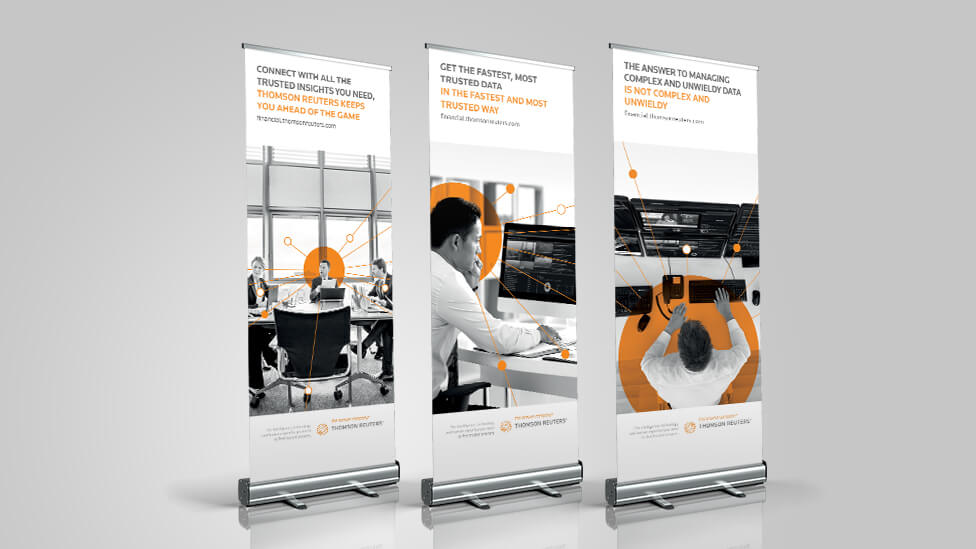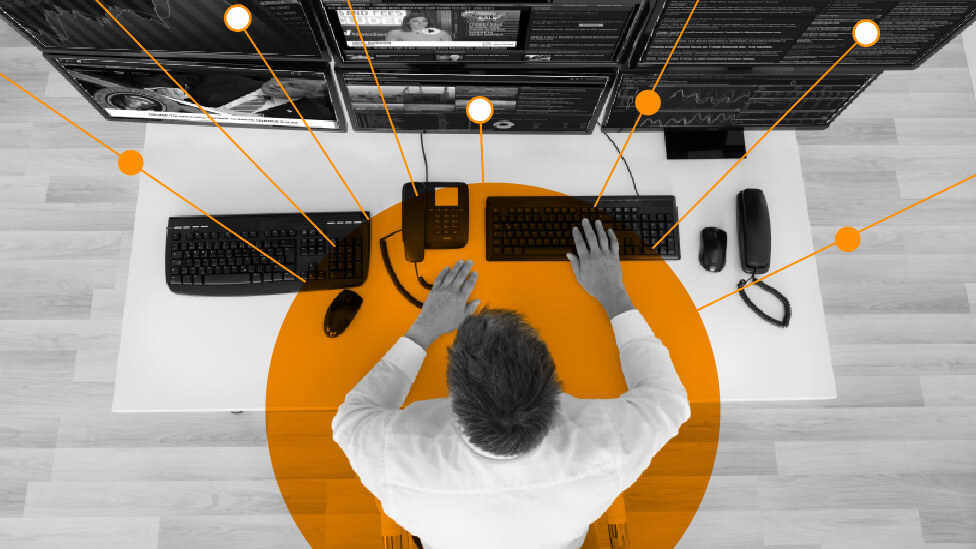 Prior to launch and in close collaboration with our client, we devised a messaging matrix which mapped the types of communications each persona would respond to, including proof points, the emotional hook and the creative headline.
Persona-led messages went directly to the challenges and pain points of each individual target, and allowed us to show how the Elektron Data Platform can provide more specific solutions. This also allowed our client to gain more in-depth analysis and insights from the results and responses, allowing them to see what message resonated best for each persona.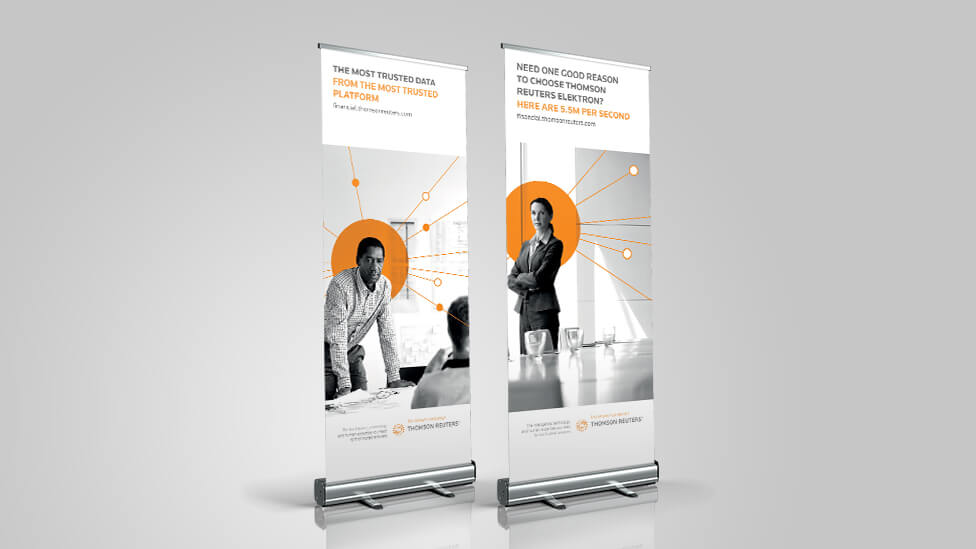 Visual identity system – Our visual identity system was purposefully crafted and executed to communicate the idea that Thomson Reuters provide answers their customers can trust. Images and headlines were designed to give each persona an individual visual identity that was used throughout the campaign, providing cohesion across all tactics and formats.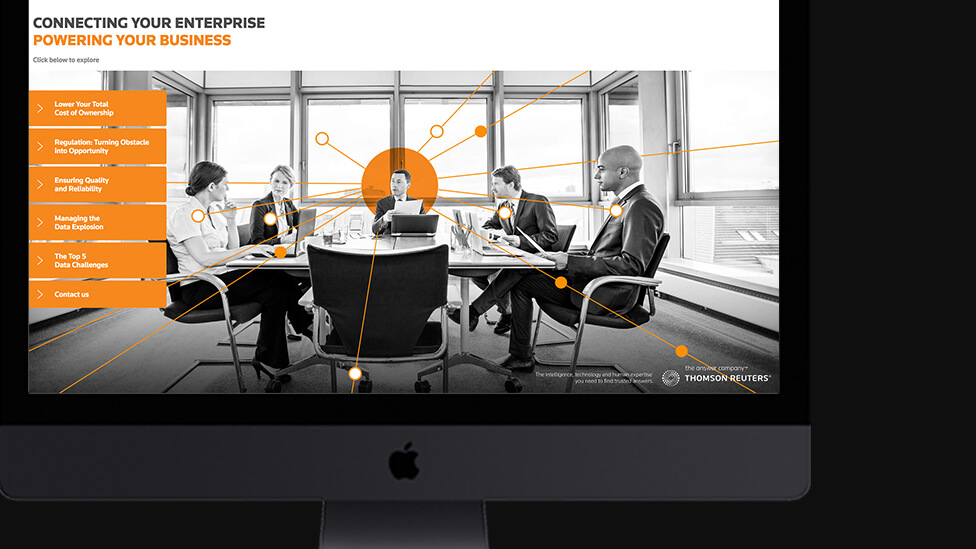 An orange dot represents Thomson Reuters, and becomes a key point of focus. The colour, one of the core brand elements, is used confidently to highlight a key message, and to reinforce the connection between Thomson Reuters and the trusted answers they deliver. Those connections, built on trust, drive value by tapping into individuals' emotions.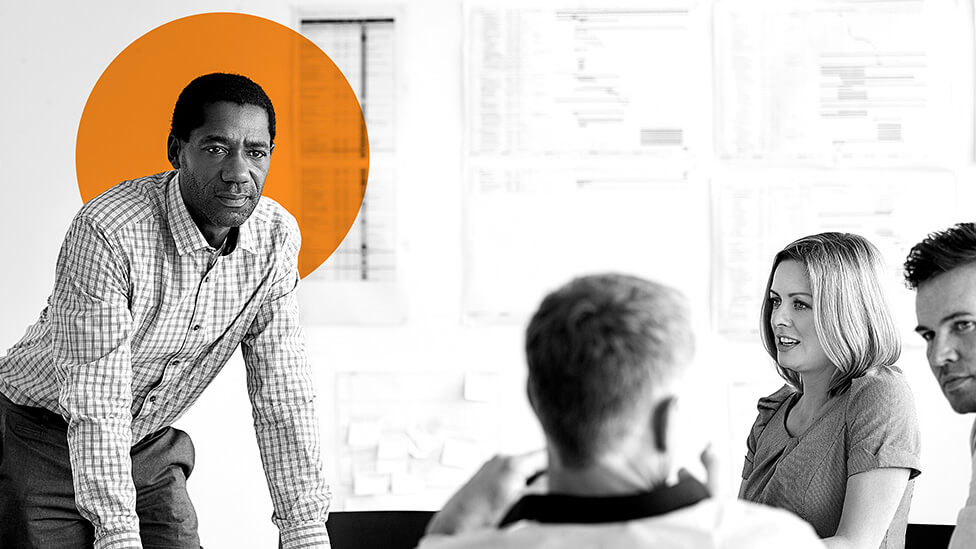 Following brand guidelines, the stock photography is natural and clear, relaxed yet focused. Its journalistic style presents realistic scenarios, and it's the perfect vehicle to support the message being delivered in a focused way.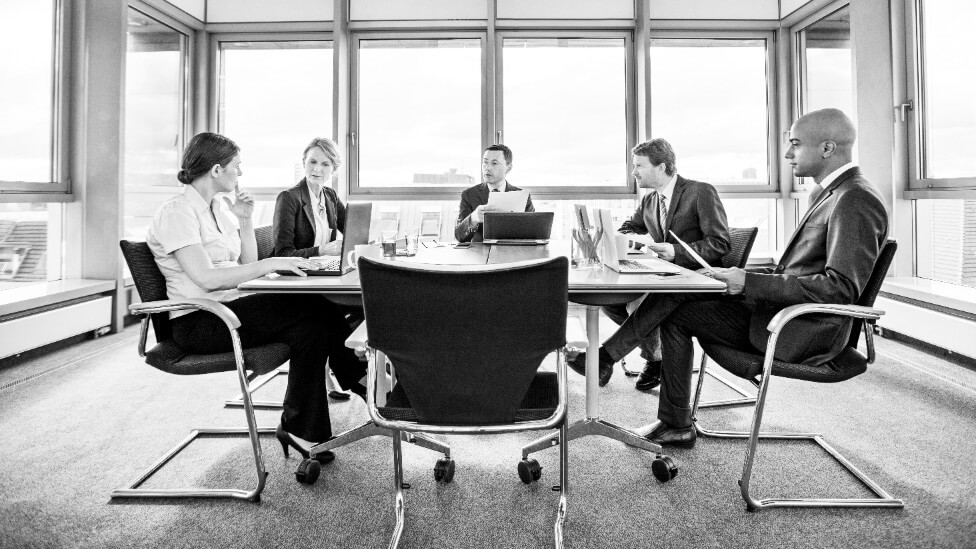 The images are overlaid with connectivity visual devices, a memorable and playful way of representing how data reaches users.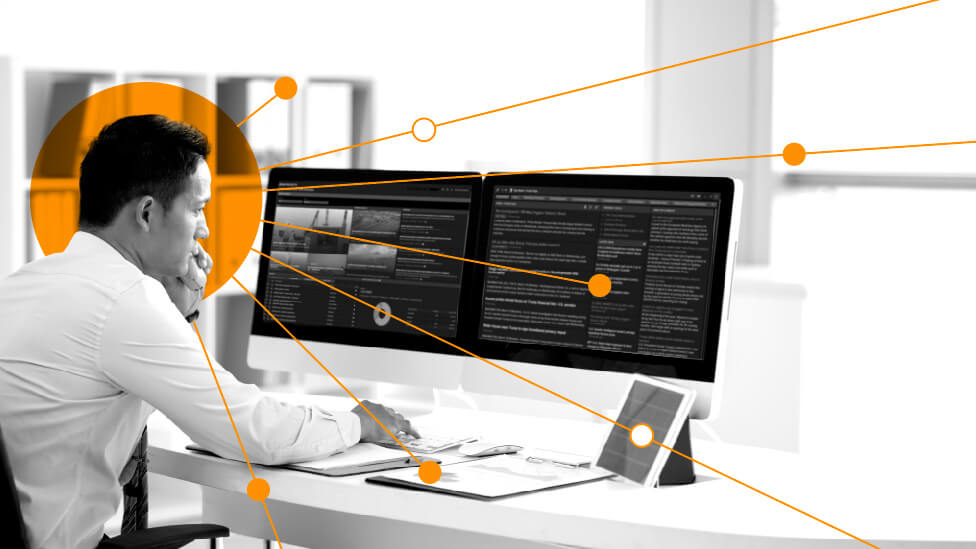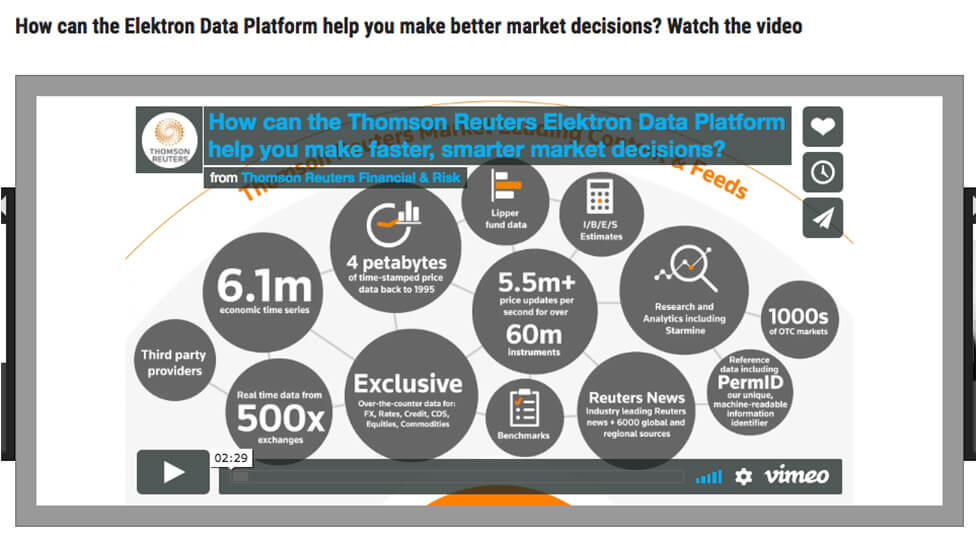 A major element in this collaboration with the Thomson Reuters customer retention marketing team was to help them provide informative and engaging rich content for the different customer segments targeted: thought leadership and product information pieces, as well as focusing on how the organisation comes across on all channels.
"The video infographic is going up for an Oscar! I mean it's really good…it really is. The customer retention marketing campaign is getting people to say "Now I get it!" That's the reaction I'm getting…"

– Head of Elektron Real Time, Thomson Reuters New York –

Thanks to the effectiveness of the campaign, the Thomson Reuters and Parker Design teams recently celebrated The Drum Marketing Awards nomination in the Finance and Professional Services Marketing Strategy of the Year category.