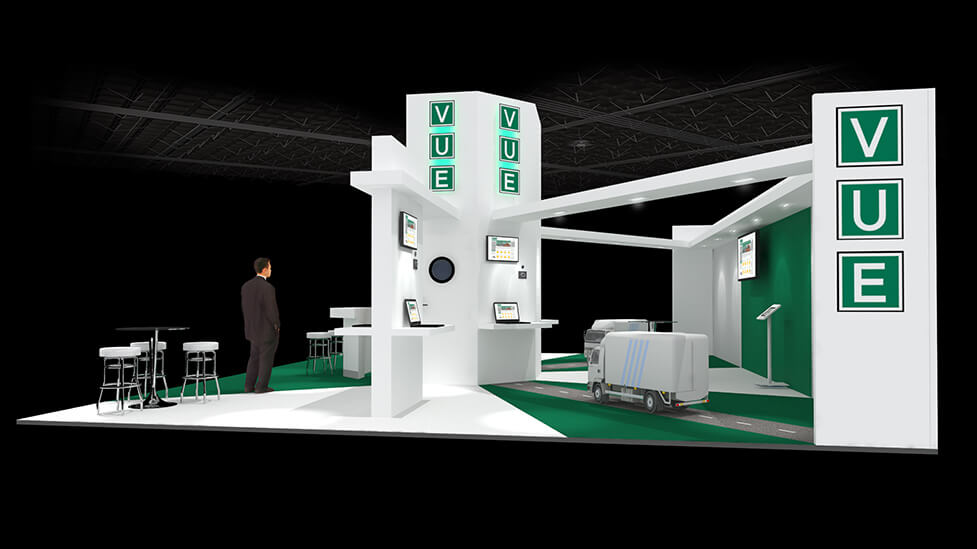 To help our client showcase its CCTV and telematics products, we created an open and welcoming event stand design that allowed delegates to experience the technology first hand by bringing an impactful real-life scenario inside the exhibition hall.
Background
Vue, a vehicle CCTV and telematics company, develops and designs equipment to support fleet risk management strategies and programmes. By influencing driver behaviour, Vue's solutions can help reduce the frequency and number of avoidable accidents, as well as help combat staged accidents and insurance fraud.
Challenge
With this exhibition design project, our client's goal was straightforward: to showcase our client's technology expertise. But this event stand design presented a number of challenges.
First of all, to really help our client showcase its innovative product line, we needed to gain a thorough understanding of the complex technology behind the industry-leading products. Only then would we be able to create an event stand design that worked as an effective sales and marketing tool.
The stand not only had to be designed, built, and installed. All equipment – 50 different individual components – had to be hard-wired and tested before the show opened its doors to the public.
Vue needed a fully functional experience, and with a busy exhibition calendar at the venue,

we only had 2 days for the build.
The stand would also have to be designed and built with scope for easy dismantling and reassembly to allow Vue to repurpose it for their new showroom, as well as future trade shows.
Solution
We created an exhibition solution that despite offering a wide range of possibilities for delegates, is open and airy, welcoming.
Giving careful thought and consideration to where every element would be positioned, the choice of clean lines and straight structures helped attract attention and define the delegate journey.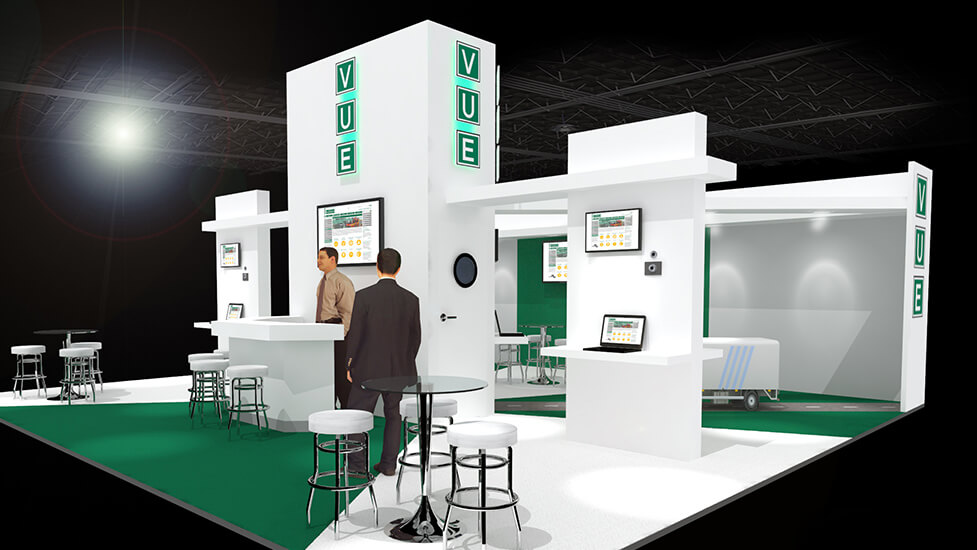 Keeping entry barriers to a minimum, the event stand design is clearly divided into four areas, including product demo and training areas, Vue Cloud and meeting zones. Contrasting carpet colours – crisp whites and deep greens – act as a visual funnel for visitors stepping foot into the stand, helping draw them to the reception area.
We paid special attention to the reception area, where a brightly coloured illuminated Vue logo helped draw visitors regardless of where they were located in the exhibition hall.
This created an entrance focal point to the stand, where visitors would be welcomed by VUE staff, before being directed around the various areas of the stand depending on their interest. VUE also served refreshments in this area at key times within the show.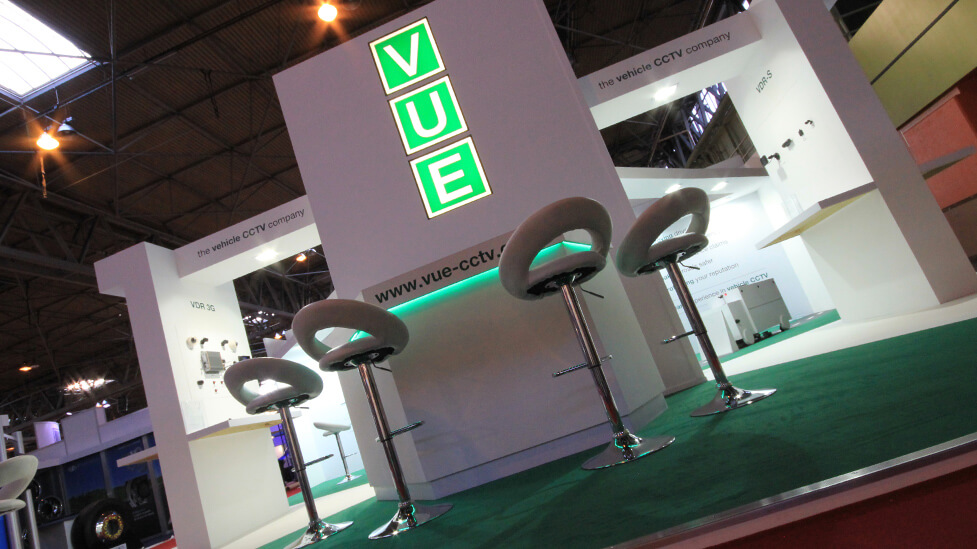 Making product demonstrations the focus of the stand, we brought a real-life scenario inside the exhibition hall. One of the main attractions to the stand was a fully wired and functional model truck on wheels, with integrated Vue technology. By placing it on a roadway graphic, visitors immediately visualise it in motion, adding to the energy of the overall experience.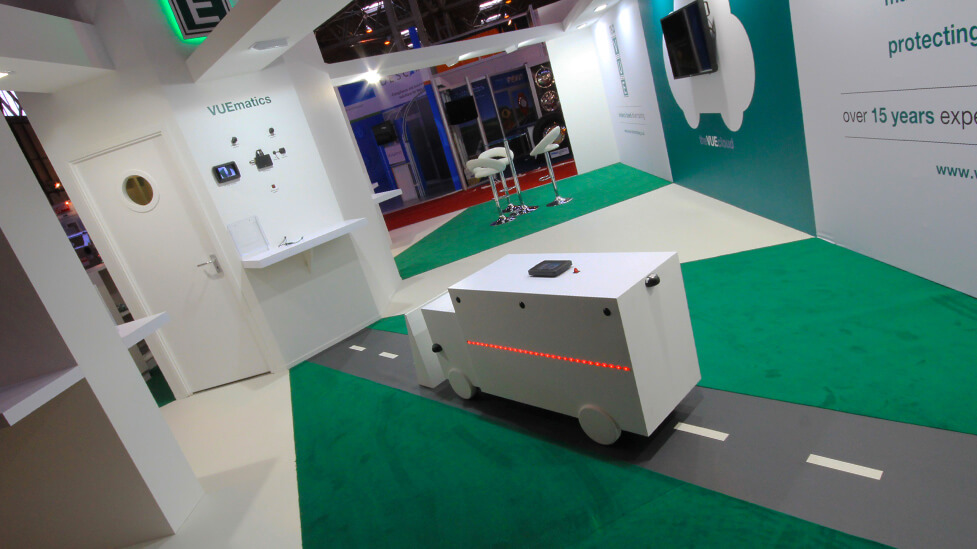 Being remotely driven towards a crash block, the miniature truck would trigger Vue's technology on impact, adding an element of realism that encouraged audiences to not only interact with elements within the stand, but to experience the technology and its benefits first hand.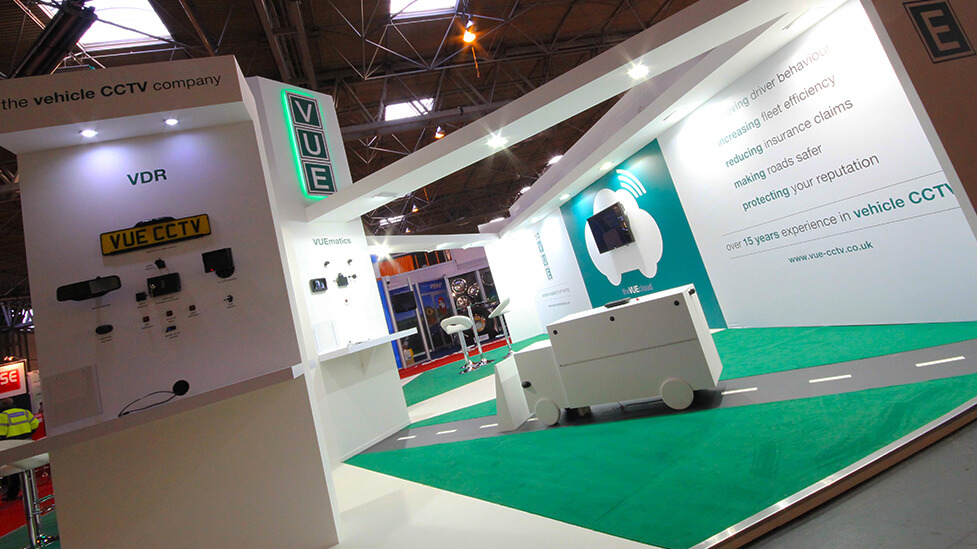 With stand walls dressed in flush-mounted demo Vue display units, the fully connected equipment would send real-time impact reports to wireless laptops within the stand.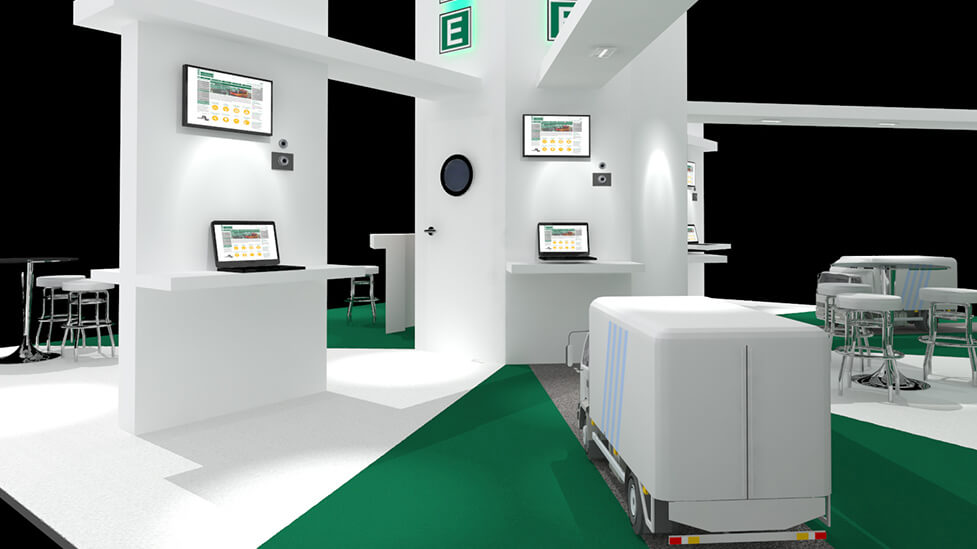 Open overhead structures and carefully positioned feature lighting helped Vue stand out at a show that achieved record visitor numbers.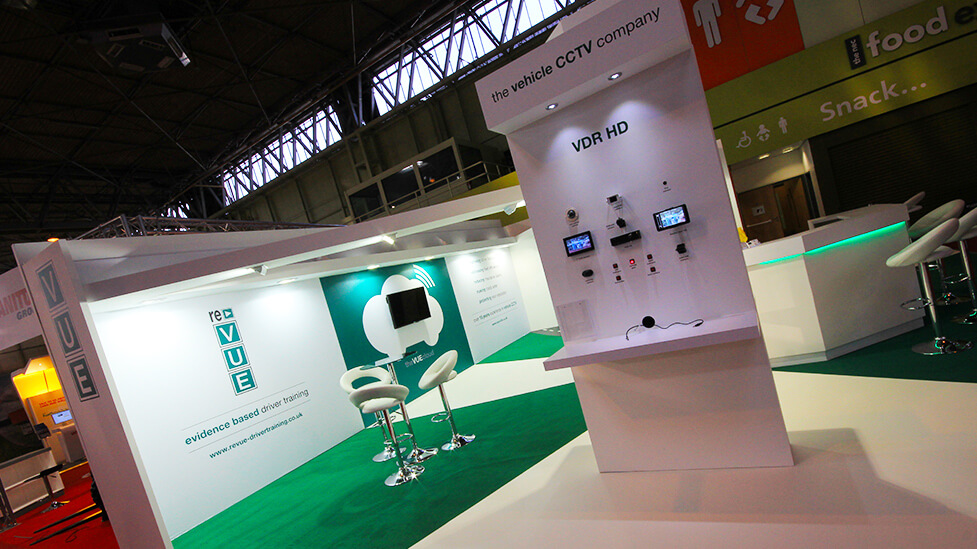 As well as acting as a beacon, the central tower served as a concealed storage and power distribution area.