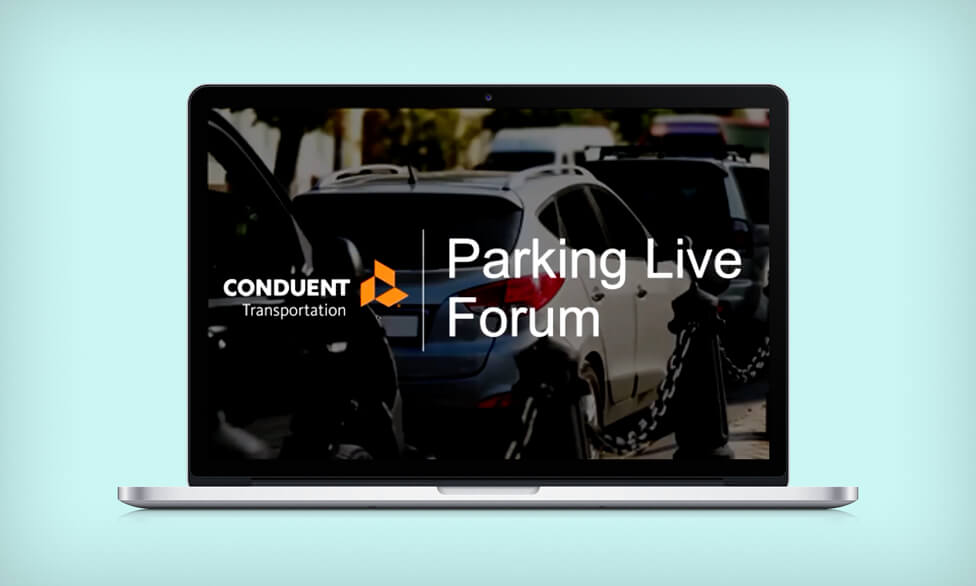 The seamless virtual event production and effective microsite design & build made a success of our client's first virtual offering: high registration numbers, deep engagement throughout the event, and high levels of interest post-event.
Background
Conduent integrates innovation in technology, end-user-focused solutions and highly developed analytics to deliver safer, faster and more economical experiences for travellers, and mission-critical solutions and services on behalf of businesses and governments.
Conduent's clients include over 500 government bodies and most of the Fortune 100 companies, across a wide range of sectors including Banking and Finance, Healthcare, Manufacturing, Travel & Hospitality, and Transportation.
Challenge
Following the cancellation due to Covid-19 of Europe's largest parking exhibition and conference, Parkex Live, which our exhibitions team had been discussing with Conduent, our client asked us to instead help them fully produce and deliver their own virtual offering. As well as a requirement for live virtual event production, we were also asked to design and develop dedicated virtual event registration and post-event microsites.
The virtual event would allow Conduent to discuss the latest innovations and developments with a hand-picked audience of existing clients, opening up a totally new communications channel for them. A key requirement in our new brief was to elevate the event to something other than just another online 'group call'; it had to be highly professional and engaging from a design, production, structure and functionality perspective, and throughout the full user journey, from registration stage through to post-event activities.
Solution
After a series of meetings to discuss and identify the best platform to design and host the virtual event, given the type of event, number of delegates and level of interactivity required, we opted for Zoom to deliver the live event. For the design of the registration and post-event microsites, we used Adobe XD for its design and online client approval process capabilities.
We worked with our virtual events and broadcast specialists to deliver a seamless and truly engaging virtual event production. The event – which we scheduled for 3PM UK time as a number of the panellists would be joining from the US – was anchored by one of Conduent's Regional Directors and comprised of segments delivered by key industry leaders before concluding with a roundtable panel discussion featuring global experts from across the sector.
Rehearsals took place a couple of days before the event went live, and an hour before start time, we opened the Zoom session as a green room with only the speakers and the technical team to carry out checks before going live, checking camera angles, lighting, microphones and do a final run-through.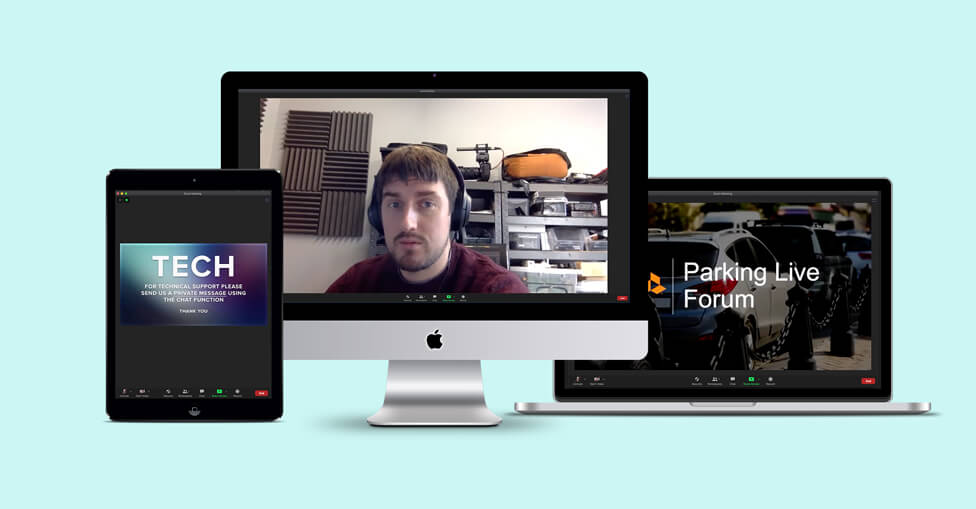 To make the event crisp and energetic, our virtual event producers had full control over everything. They controlled all the feeds and what went live on attendees' screens: presentations slides, cuts to full frame, cuts to speaker and back to slides, etc.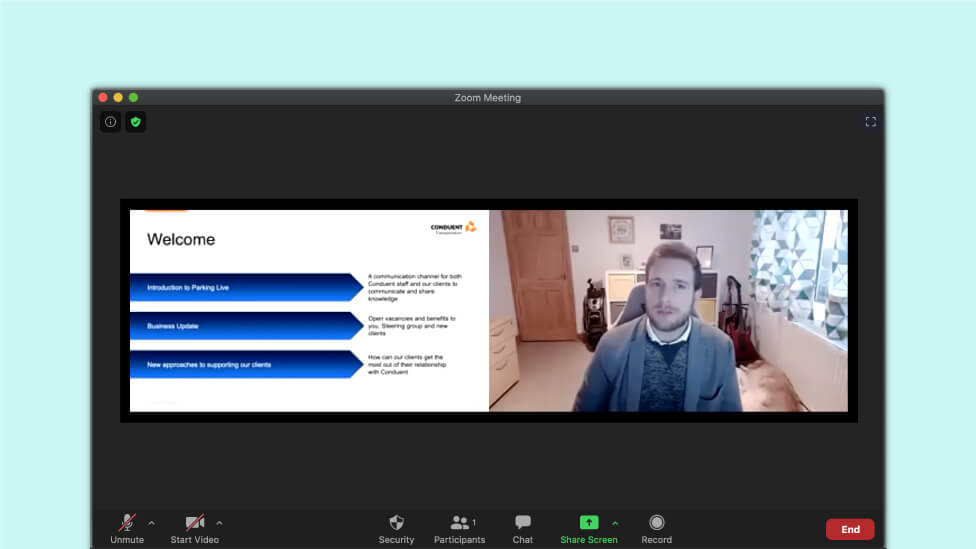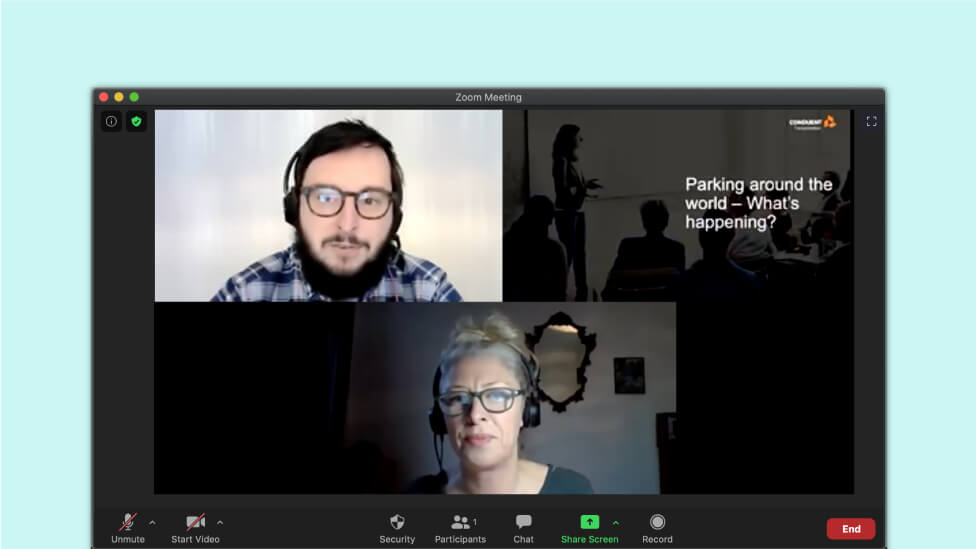 To guarantee a seamless flow, we muted the audience's microphones, added a 'raise hand' function, and included a text chat facility for attendees to post their questions in real-time throughout the event, enabling the moderator to screen questions and direct them to the relevant speaker. With an open Q&A session at the end, our virtual event producers had the control to unmute individual attendees' microphones, as well as turning their cameras on and off.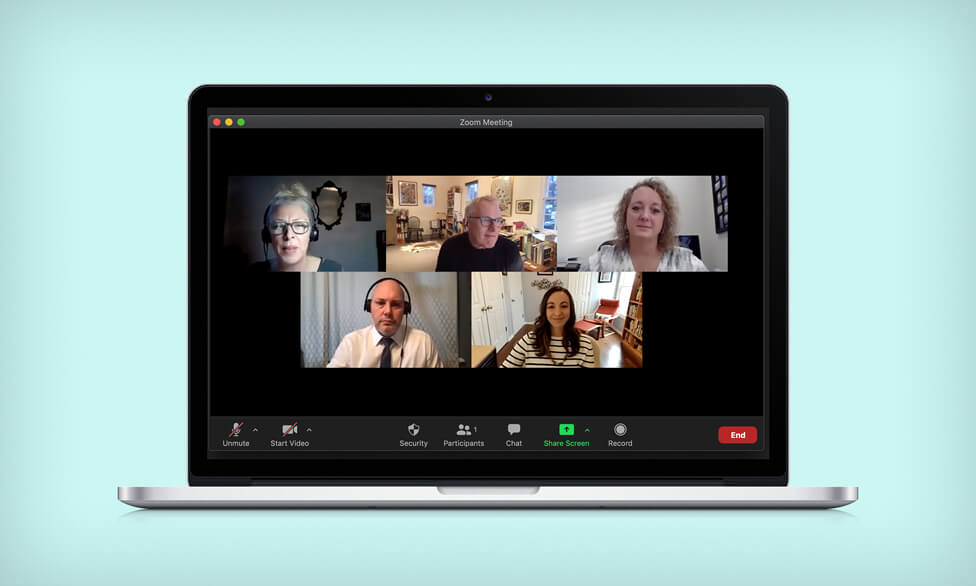 We recorded the whole session and edited it so that once the event had taken place attendees could replay it from the same microsite we had designed to generate awareness of the virtual event and encourage registrations.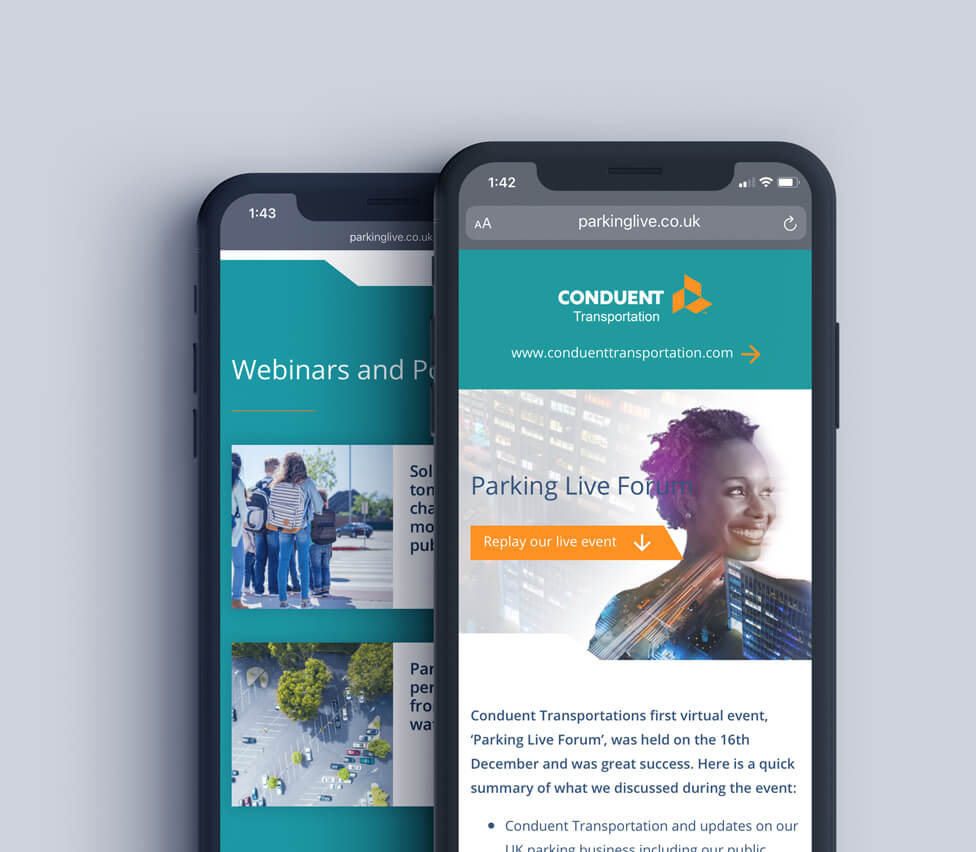 The virtual event saw almost 100% guest take-up after the invite-only launch, and maintained numbers throughout. Overall, feedback from our client and attendees was that the event had very high production values, was engaging and technically sound, flowed smoothly and offered highly interesting content that sparked meaningful conversations.
To guarantee success before the virtual event went live, we also needed to pay careful attention to the full audience journey – from branding, through to invites, registration stage, and post-event experience.

We developed the brand for the event and its name to reflect Conduent's corporate brand, and created an invite-only registration microsite aimed at encouraging a high number of sign-ups.
To generate interest and intrigue, our client sent individual emails with an invite-only link to the registration form. As an additional hook, the email also included the event's agenda and content containers with insights articles and news linking through to Conduent's website.
We pushed the registration page live one month before the event, and monitored and shared registration stats with Conduent so they could see what the uptake was.
To encourage sign-ups, the form is simple in design and only requires a name and email address.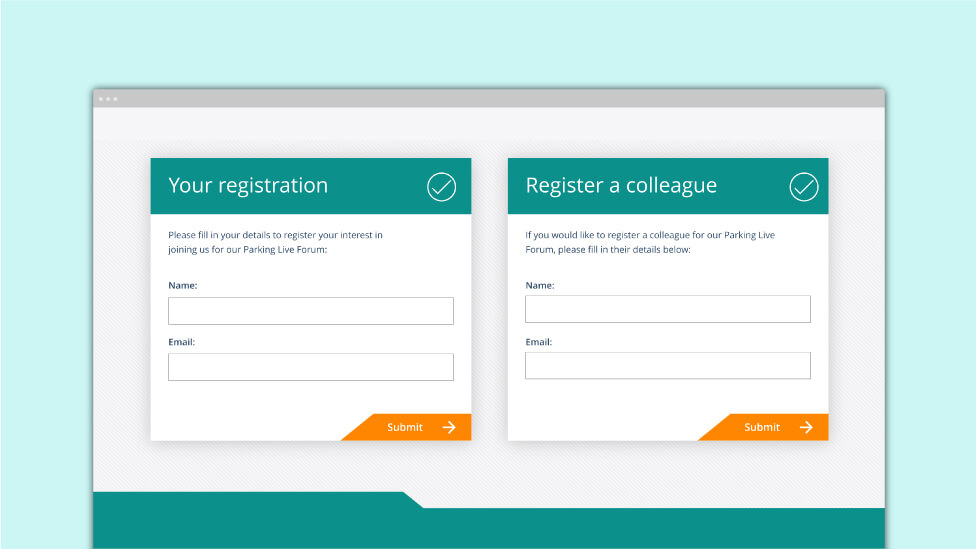 Adding the option to register a colleague rather than a friend allowed Conduent to expand the event's audience without losing control of which companies would be attending. The registration form also piqued interest by including an Insights and News section at the bottom of the page.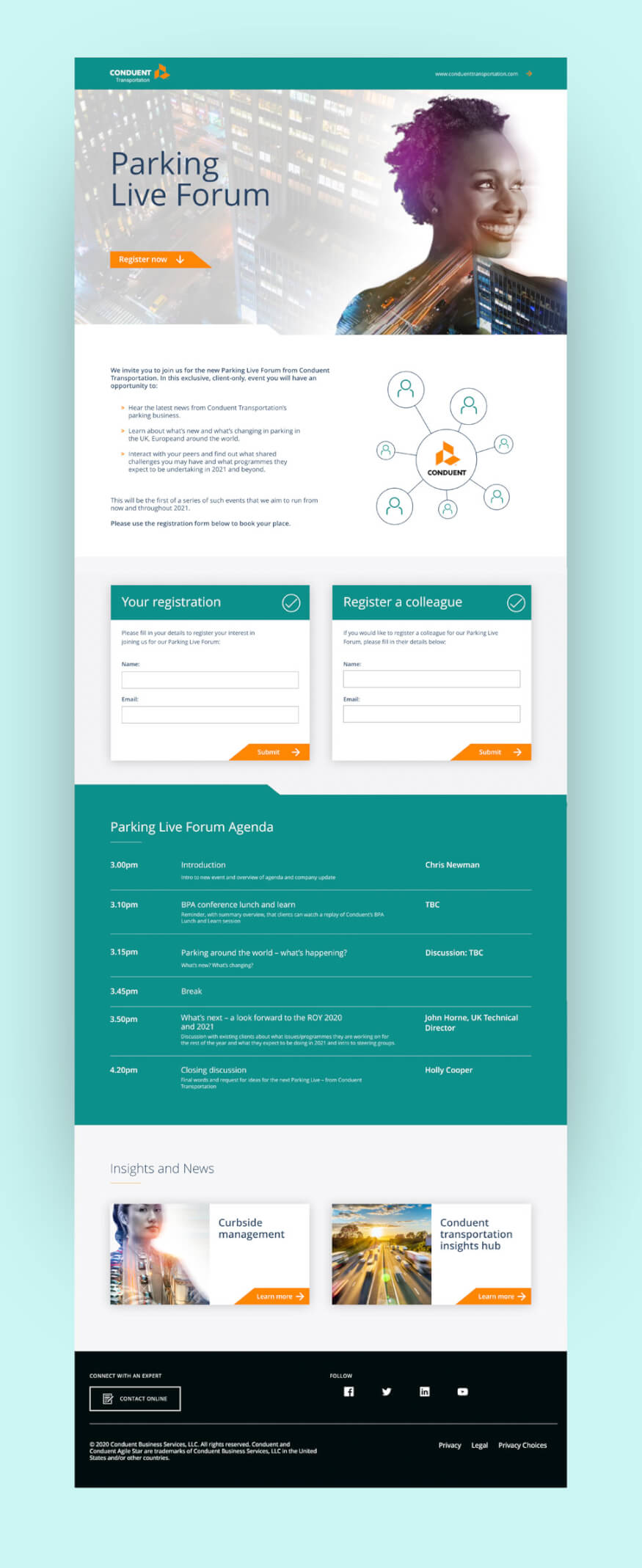 Once the live event was over, and to minimise disruption to the audience, we used the same URL that had directed them to the registration page, with the CTA now changed to Replay Parking Live Forum, allowing attendees to watch a recording of the event or share with colleagues who weren't able to attend.
The post-event landing page also contained other on-demand content, with the aim of increasing dwell time, repeat visits and keeping engagement levels high post-event.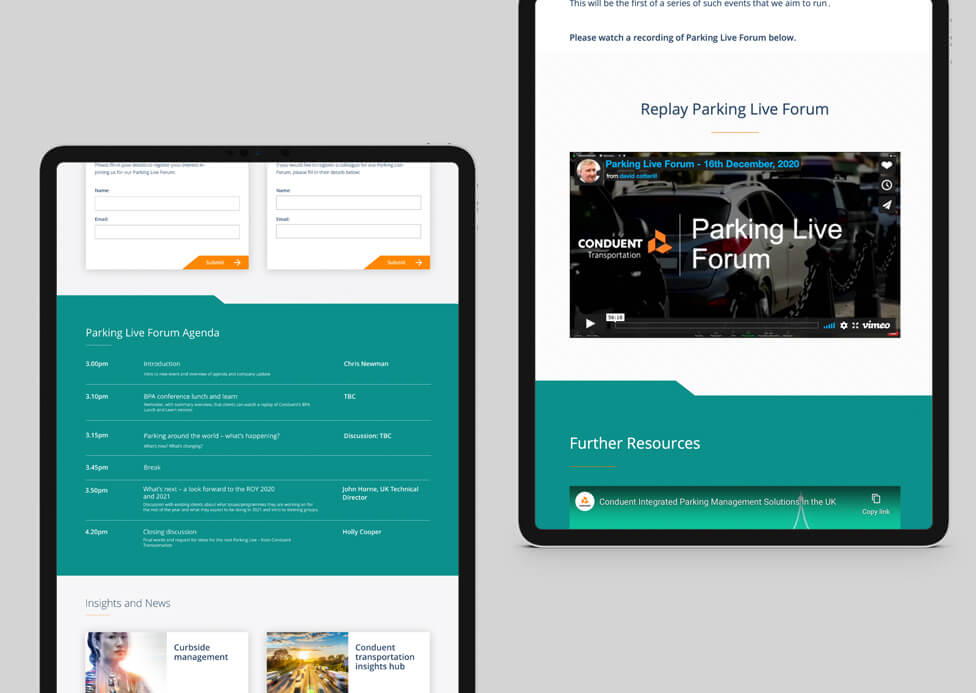 We're already planning the next virtual event production with our client. As their ongoing virtual event programme grows in popularity, we continually research and evaluate potential alternative platforms to deliver the events, depending on our client's requirements.