This fundraising advertising project helped raise awareness and inspire people to donate.
Background
Fundraising advertising has to create an immediate emotional connection, being careful not to abuse shock tactics that could alienate an audience that may already feel inundated with similar messages. Information and calls to action have to be displayed clearly in order to inspire the audience to donate.
We recently worked with Triple S Sports & Entertainment Group on fundraising advertising to be included in the programme for the football icon's testimonial match between Manchester United and Everton. The match, that saw the only two professional clubs the footballer has played for compete against each other, was a very high profile event for media and fans alike.
One of England's most loved footballers, Wayne Rooney is also a sporting legend all over the world. Recognising how fortunate he has been throughout his career, the star has formed the Wayne Rooney Foundation, where he hopes to give something back.
The initiative supports the work of charities such as Alder Hey Children's Hospital, NSPCC, Claire House Children's Hospice, and also Manchester United Foundation. All charities help vulnerable children and young people, a cause very close to Rooney's heart.
The Wayne Rooney Foundation runs events to raise vital funds, including the testimonial match that required this fundraising advertising.
Solution
The look and feel of the ads is inspired by the Foundation's website, and they focus on the player interacting with the people he supports.
We selected the most appropriate images from a bank of Wayne Rooney photography: the tone of the imagery is positive and inspiring, transmitting a message of encouragement and change.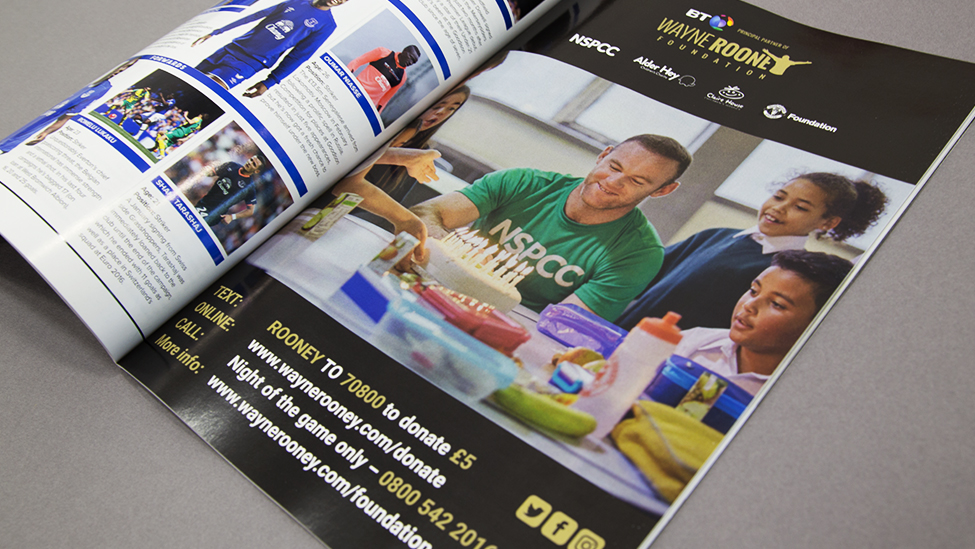 We created a series of assets to support the Foundation's efforts: two Wayne Rooney Foundation ads to sit in the programme designed by Manchester United, one Wayne Rooney charities information advert, one centre circle pitch mat.
We also created an advert to promote the services offered by Triple S.